Discussion
Top 25 Open Championship rankings
GULLANE, Scotland -- Well the pressure's on now!
Last week, I let my 4-year-old and 6-year-old have their own top-25 list picking golfers randomly from a pile of index cards. I have a sneaking suspicion that if their list has better results than mine, I might have to co-sign their new ESPN employment deal while I'll look for work in a kitchen washing dishes.
Daddy's gonna need some aspirin. Here we go:
Player Analysis Best ...

Read full story
THE OPEN CHAMPIONSHIP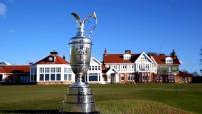 The Open returns to Scotland and Muirfield for the first time since 2002. Who will hold the Claret Jug this time around?
ROUND 4
ROUND 3
ROUND 2