Discussion
Round 2 Open Championship grades
GULLANE, Scotland -- As I sat and watched golf today in my kilt I felt more and more Scottish by the minute. That being said, my grades for Round 2 may be a "wee bit" on the kilted side of golf. I have no idea what that means, but here ya go! Top five in the world and a couple of extras.
Tiger Woods World Ranking: No. 1 | Score: 71 (2-under)
But wait, he shot a worse score than in Round 1, so how can you give him a better grade? Because ...
Read full story
THE OPEN CHAMPIONSHIP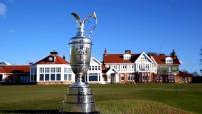 The Open returns to Scotland and Muirfield for the first time since 2002. Who will hold the Claret Jug this time around?
ROUND 4
ROUND 3
ROUND 2