Discussion
Round 2 PGA Championship grades
ROCHESTER, N.Y. -- Mother Nature put out some perfect scoring conditions. Didn't mean everyone took advantage of 'em. Still, everyone has a job to do. Mine is to put out grades every day after the round. If you don't like the grade you should ... play better. Ha ha!
Tiger Woods World Ranking: No. 1 | Score: 71-70
Yes, your grade is worse that Phil Mickelson's even though your score is better. We knew Phil was going to struggle after Round ...
Read full story
THE PGA CHAMPIONSHIP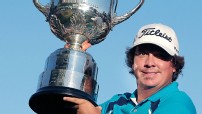 Jason Dufner exorcised the ghosts of PGAs past with a resounding victory at Oak Hill.
Gene Wojciechowski
SUNDAY