Discussion
Round 3 PGA Championship grades
ROCHESTER, N.Y. -- Saturday is called Moving Day because it's a golfer's chance to move either up or down the leaderboard. It's also the chance to improve his grade, unless you got an A-plus. In any case, there were plenty of surprises on the course Saturday by the top five in the world. Here come the grades!
Tiger Woods World Ranking: No. 1 | Scores: 71-70-73
Good thing you spent that time on the range yesterday after your round. You missed ...
Read full story
THE PGA CHAMPIONSHIP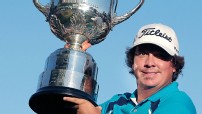 Jason Dufner exorcised the ghosts of PGAs past with a resounding victory at Oak Hill.
Gene Wojciechowski
SUNDAY