Discussion
Who will taste victory at Oak Hill?
ROCHESTER, N.Y. -- Quick, somebody get this PGA Championship one of Jim Furyk's energy drinks. Because if ever a major needed a Sunday pick-me-upper, this is it.
Nothing personal, but Glory's Last Shot should be well rested after a third round that featured about as much drama as a documentary on lift, clean and replace. Even those creepy husbands on those ED ads (and could we see a few more of those during the telecast?) nodded off during Saturday's play.
It ...

Read full story
THE PGA CHAMPIONSHIP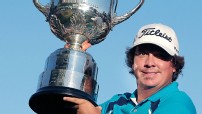 Jason Dufner exorcised the ghosts of PGAs past with a resounding victory at Oak Hill.
Gene Wojciechowski
SUNDAY