Discussion
Day 3 Presidents Cup U.S. grades
DUBLIN, Ohio -- Because Mother Nature has decided she hates golf and threw a huge monkey wrench into the Presidents Cup match schedule, my grades are like Phil Mickelson's Frankenwood … a combo of Friday's and Saturday's play for the U.S. squad. Some said I was a bit hard on my grades for Day 1, my answer to that is: Play better!
Keegan Bradley Foursomes: 1-0-0 ; Four-ball: 1-1-0; Overall: 2-1-0
Even after withstanding being down early ...
Read full story
THE PRESIDENTS CUP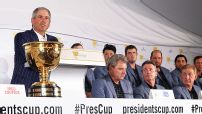 Yes, the U.S. won (again) at the Presidents Cup, but what could have been a Sunday spark simply fell flat. Bob Harig
PRESIDENTS CUP -- DAY 4