--- September 2014 ---

--- August 2014 ---

--- July 2014 ---

--- June 2014 ---

--- May 2014 ---

--- April 2014 ---

--- March 2014 ---

--- February 2014 ---

--- January 2014 ---

--- December 2013 ---

--- November 2013 ---

--- October 2013 ---
World Golf Championships-Accenture Match Play Championship
The Golf Club at Dove Mountain - Marana, AZ
Sunday, February 23
Championship Match
Jason Day (2) def. Victor Dubuisson (7), 23 holes
Third Place Match
Rickie Fowler (14) def. Ernie Els (8), 19 holes
Semifinals
Jason Day (2) def. Rickie Fowler (14), 3 and 2
Victor Dubuisson (7) def. Ernie Els (8), 1 up
Saturday, February 22
Fourth Round
Bobby Jones Bracket
Jason Day (2) def. Louis Oosthuizen (8), 2 and 1
Ben Hogan Bracket
Rickie Fowler (14) def. Jim Furyk (5), 1 up
Gary Player Bracket
Ernie Els (8) def. Jordan Spieth (3), 4 and 2
Sam Snead Bracket
Victor Dubuisson (7) def. Graeme McDowell (4), 1 up
Friday, February 21
Third Round
Bobby Jones Bracket
Louis Oosthuizen (8) def. Webb Simpson (5), 5 and 4 Jason Day (2) def. George Coetzee (14), 3 and 1
Ben Hogan Bracket
Jim Furyk (5) def. Harris English (9), 1 up Rickie Fowler (14) def. Sergio Garcia (2), 1 up
Gary Player Bracket
Ernie Els (8) def. Jason Dufner (4), 1 up Jordan Spieth (3) def. Matt Kuchar (2), 2 and 1
Sam Snead Bracket
Graeme McDowell (4) def. Hunter Mahan (8), 21 holes Victor Dubuisson (7) def. Bubba Watson (3), 1 up
Thursday, February 20
Second Round
Bobby Jones Bracket
Louis Oosthuizen (8) def. Henrik Stenson (1), 4 and 3 Jason Day (2) def. Billy Horschel (10), 22 holes Webb Simpson (5) def. Brandt Snedeker (4), 4 and 3 George Coetzee (14) def. Patrick Reed (11), 21 holes
Ben Hogan Bracket
Harris English (9) def. Rory McIlroy (1), 19 holes Sergio Garcia (2) def. Bill Haas (7), 3 and 1 Jim Furyk (5) def. Charl Schwartzel (4), 3 and 2 Rickie Fowler (14) def. Jimmy Walker (6), 1 up
Gary Player Bracket
Ernie Els (8) def. Justin Rose (1), 20 holes Matt Kuchar (2) def. Ryan Moore (7), 1 up Jordan Spieth (3) def. Thomas Bjorn (6), 5 and 4 Jason Dufner (4) def. Matteo Manassero (12), 2 and 1
Sam Snead Bracket
Bubba Watson (3) def. Jonas Blixt (11), 2 up Graeme McDowell (4) def. Hideki Matsuyama (5), 1 up Victor Dubuisson (7) def. Peter Hanson (15), 3 and 1 Hunter Mahan (8) def. Richard Sterne (16), 2 up
Wednesday, February 19
First Round
Bobby Jones Bracket
Henrik Stenson (1) def. Kiradech Aphibanrat (16), 2 and 1 Jason Day (2) def. Thorbjorn Olesen (15), 2 up George Coetzee (14) def. Steve Stricker (3), 3 and 1 Brandt Snedeker (4) def. David Lynn (13), 20 holes Webb Simpson (5) def. Thongchai Jaidee (12), 3 and 2 Patrick Reed (11) def. Graham DeLaet (6), 1 up Billy Horschel (10) def. Jamie Donaldson (7), 6 and 5 Louis Oosthuizen (8) def. Nick Watney (9), 1 up
Ben Hogan Bracket
Rory McIlroy (1) def. Boo Weekley (16), 3 and 2 Sergio Garcia (2) def. Marc Leishman (15), 22 holes Rickie Fowler (14) def. Ian Poulter (3), 2 and 1 Charl Schwartzel (4) def. Kevin Stadler (13), 3 and 2 Jim Furyk (5) def. Chris Kirk (12), 2 and 1 Jimmy Walker (6) def. Branden Grace (11), 5 and 4 Bill Haas (7) def. Miguel Angel Jimenez (10), 4 and 3 Harris English (9) def. Lee Westwood (8), 5 and 3
Gary Player Bracket
Justin Rose (1) def. Scott Piercy (16), 1 up Matt Kuchar (2) def. Bernd Wiesberger (15), 3 and 2 Jordan Spieth (3) def. Pablo Larrazabal (14), 2 up Jason Dufner (4) def. Scott Stallings (13), 19 holes Matteo Manassero (12) def. Luke Donald (5), 5 and 4 Thomas Bjorn (6) def. Francesco Molinari (11), 2 and 1 Ryan Moore (7) def. Joost Luiten (10), 1 up Ernie Els (8) def. Stephen Gallacher (9), 19 holes
Sam Snead Bracket
Richard Sterne (16) def. Zach Johnson (1), 5 and 4 Peter Hanson (15) def. Dustin Johnson (2), 4 and 3 Bubba Watson (3) def. Mikko Ilonen (14), 2 and 1 Graeme McDowell (4) def. Gary Woodland (13), 19 holes Hideki Matsuyama (5) def. Martin Kaymer (12), 2 and 1 Jonas Blixt (11) def. Keegan Bradley (6), 2 and 1 Victor Dubuisson (7) def. Kevin Streelman (10), 5 and 4 Hunter Mahan (8) def. Gonzalo Fernandez-Castano (9), 3 and 2
Now
Jason Sobel
@JasonSobelESPN
PM RT: Meet Wyatt Worthington II, the second African-American club pro to play the PGA, who's now inspiring others. es.pn/2a2PVjJ
Darren Rovell
@darrenrovell
In 1972, a Scottish taxi driver promised to name his son after the winner of The Open Championship. Days later Lee Trevino Everest was born.
ESPN Golf
@ESPNGolf

No letdown for Henrik Stenson in opening 67 at 98th PGA Championship es.pn/2akDPS6
ESPN Golf
@ESPNGolf

Jimmy Walker leads PGA Championship after 65; Henrik Stenson two shots back es.pn/2ahfsB1
Darren Rovell
@darrenrovell
John Senden's putt dropped into the cup 24 seconds after it stopped rolling snpy.tv/2azhX7n (H/T @PGATOUR)
ESPN Golf
@ESPNGolf

Andrew 'Beef' Johnston's following continues to grow at 98th PGA es.pn/2a88sGY
ESPN Golf
@ESPNGolf

PGA Championship -- Dustin Johnson tied for 143rd at PGA after opening 77 es.pn/2ai50wm
espnW
@espnW
Azahara Munoz has three individual titles. Now she's striving for team & country success: es.pn/2aBNJ0n pic.twitter.com/bfNmQ0eGyN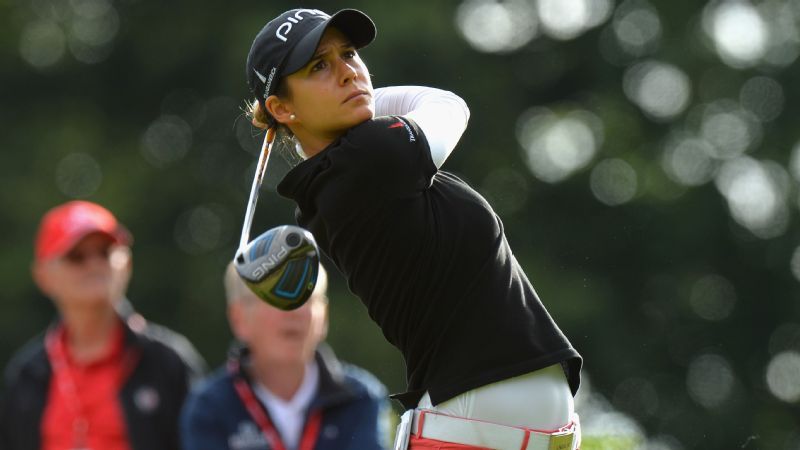 Ian O'Connor
@Ian_OConnor
Phil Mickelson, the last man standing from Tiger Woods' time. espn.go.com/golf/pgachampi…
Jason Sobel
@JasonSobelESPN
It's after 7 p.m., there's only one group left on the course, and Rory McIlroy is still trying to figure things out on the practice green.
Kevin Maguire
Golf

After struggling with 35 putts en route to a 4-over-par 74 in Round 1 of the PGA Championship, Rory McIlroy returned to the putting green at Baltusrol and as of 6:30 p.m. ET, he was still working on that portion of his game.
Michael Collins
ESPN Senior Writer

Playing together at the final major of 2016, this year's major winners finish: Henrik Stenson (The Open) -3, Danny Willett (The Masters) +1, and Dustin Johnson (U.S. Open) +7
Bob Harig
@BobHarig
A 77 for Dustin Johnson with just 1 birdie and 2 doubles. Not many could have seen that coming. #PGAChamp
Jason Sobel
@JasonSobelESPN
In Dustin Johnson's last seven starts, he had a scoring average of 68.68 with no score worse than 73. He shot 77 today with just one birdie.
Michael Collins
ESPN Senior Writer

Why do I love golf? Dustin Johnson on the 18th hole hit it in the water and then off a tree yet STILL had a chance to make a par. You love the rollercoaster even if you throw up at the end!
Justin Rose
@JustinRose99
Level par 70 tied 36th #USPGA #RoundOne 🔴🔵🔵🔵🔴🔴 pic.twitter.com/fhTeWoprhk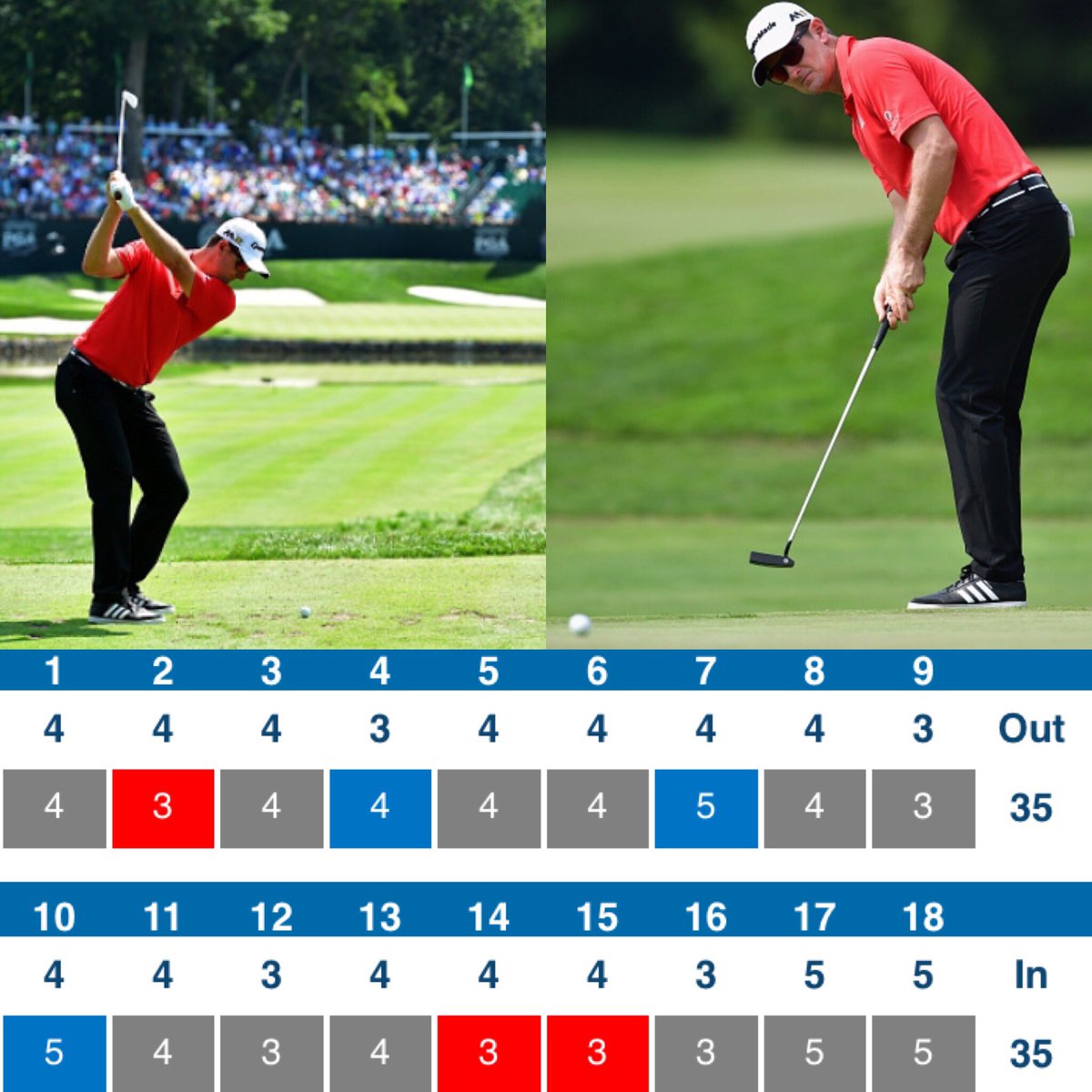 Michael Collins
ESPN Senior Writer

Exactly where Rory McIlroy needs to be after his 35 putt +4 day at Baltusrol.
Michael Collins
ESPN Senior Writer

On the 18th hole, Henrik Stenson's 3 wood just carried 291 yards in the air, maybe we should try bowling instead of golf. Dustin Johnson just took a driving iron and flew it 296 yards... into the water. Let's keep playing golf, it is after all, drive for show!
Michael Collins
ESPN Senior Writer

Not even the longest hitters can get home on the 636 yard par five 17th hole right? Well Dustin Johnson didn't hit the green but he was pin high in the bunker right. Won't mean anything if he doesn't make the birdie putt from 13'6" though... And it doesn't mean anything. DJ stays at +6.
Michael Collins
ESPN Senior Writer

Jordan Spieth gave himself a makable eagle chance on the 18th hole and left it a foot and a half short! That would have finished him in red numbers instead he makes birdie and finishes at Even. One double bogey on the front, two birdies on the back.
Michael Collins
ESPN Senior Writer

From the 18th tee it's 379 yards to the end of the fairway... Bubba Watson just hit it thru the fairway!!
Jason Sobel
@JasonSobelESPN
Martin Kaymer. Every two years, man.
Michael Collins
ESPN Senior Writer

In the conditions he played in, Martin Kaymer's 66 (-4) is definitely the round of the day even though he finishes round 1 in 2nd place.
Michael Collins
ESPN Senior Writer

The last two holes at Baltusrol (17 and 18) are par fives. They're playing the easiest on the course but they are very different holes. 17 is playing 636 yards and has zero eagles playing just barely under par 4.92. The 18th is playing 548 yards, has 5 eagles (so far), and more than double (63) the birdies than the 17th (31). Stroke average is 4.57.