Fan gives double-eagle ball to club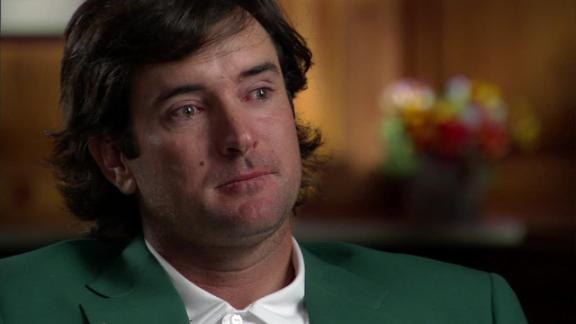 Bubba Watson Emotional
Sunday Conversation: Bubba Watson emotional with Tom Rinaldi after winning the Masters.
Bubba Watson Emotional
AUGUSTA, Ga. -- The golf ball sat at the bottom of the left pocket of Wayne Mitchell's green cargo shorts.
"I've got a zip on it," Mitchell said of the zipper pulled tight across the pants leg.
He might have considered a safety deposit box.
Mitchell owned -- for a few hours, at least -- one of the most famous golf balls in Masters history. He got it Sunday afternoon after Louis Oosthuizen double-eagled the par-5 2nd hole, pulled the Titleist from the cup and, incredibly, underhand-tossed it toward the patrons seated behind the green.
SportsNation: Keep, return, or sell?

The fan who caught Louis Oosthuizen's double eagle ball will return it to the club. What would you do in his place?
• Cast your vote!
It landed in the hands of Mitchell, a 59-year old from New Tripoli, Pa., who was making his fifth trip to the tournament.
"Actually, the biggest fear I had was that I was going to drop it," Mitchell said before eventually giving the ball to Augusta National officials later in the afternoon.
Club officials declined to divulge whatever arrangement was made for the ball.
The double eagle was the Masters' first-ever on the 575-yard hole and only the fourth overall. Oosthuizen, the 2010 British Open champion, landed a 4-iron shot on the front part of the green and then watched as it rolled all the way toward and into the hole, traveling a total of 253 yards. The ball, with a red No. 4 and the letters "L N J S" emblazoned on it, could have become even more historic -- and valuable -- if Oosthuizen had won the Masters. But the South Africa native lost in a two-hole playoff to Bubba Watson.
Not surprisingly, a pair of green-jacketed Augusta National members were waiting for Mitchell as he and his wife, Jocelyn, gathered their things after the final pairing of the day played through.
"Welcome to Augusta," said one of the smiling members to Mitchell. "Happy Easter."
The members couldn't have been more polite. They asked Wayne Mitchell where he was from, introduced themselves to Jocelyn Mitchell and brought Wayne Mitchell a bottle of water. "Well, we're so glad you're here," said the other member.
Of course, the club likely wanted the ball for itself -- or to return it to Oosthuizen.
[+] Enlarge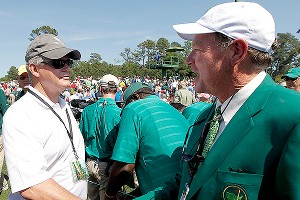 Streeter Lecka/Getty ImagesAugusta National officials declined to divulge whatever arrangement was made for Louis Oosthuizen's ball with Wayne Mitchell, left.
At first, one of the members tried to shoo away a handful of reporters that had walked out to the second green, but Wayne Mitchell took the time to stop and chat about his new possession.
Turns out Mitchell, a once-a-month golfer, had been sitting in a front-row chair since 10:30 a.m. Sunday. The other couple he was with had left a little bit earlier.
"I've sat there before," he said. "It's a great place to watch because you can see a lot of golf coming in there."
Earlier in the day, Mitchell had told a few people sitting nearby that "it'd be kind of neat to see an eagle" made on the hole. Instead, he saw a double-eagle that vaulted Oosthuizen from third place to sole possession of first, from 7 to 10-under par.
Was he surprised that Oosthuizen tossed the ball away rather than keep it?
"Frankly, I wasn't really thinking about it," Mitchell said. "I'm not a souvenir chaser. For me, it was just one of those moments. The ball came at me and I put my hand out."
Moments after he got the ball, Mitchell was asked if he would consider giving it to the club?
"I'd certainly listen," said Mitchell, who added that he wasn't concerned about the value of the ball.
And if Oosthuizen wanted a mulligan on the tossed ball and asked for it back?
"If he wants it back, have it back," he said. "Absolutely."
Mitchell and his wife planned to leave the course late in the afternoon. They had an early evening flight out of an executive airport in South Carolina.
"I came here anonymous today and I don't feel as though I'm anonymous anymore," he said.
The Augusta National members circled back to speak with the Mitchells. A couple of golf carts were there to take them back to the clubhouse area.
"What a fabulous job," said a member to Mitchell.
"All I had to do was sit there," Mitchell said.
And then they were off. The negotiations began and ended shortly thereafter.
Columnist / College Football reporter
ESPN.com senior national columnist
Joined ESPN in 1998
Author of "The Last Great Game"
SPONSORED HEADLINES
MORE GOLF HEADLINES
MOST SENT STORIES ON ESPN.COM
2012 MASTERS
They broke the mold when they made Bubba Watson the golfer -- if there was one for the new Masters champion. Gene Wojciechowski
Championship Central
2012 champion:
Bubba Watson
Course:
Augusta National Golf Club
Where:
Augusta, Ga.
Yardage, par:
7,435 yards, par-72
Past champions:
Complete list
MONDAY
SUNDAY
MORE COVERAGE
MASTERS.com
FANTASY GOLF
MASTERS MOMENTS VIDEOS