China's Tianlang Guan, 14, at 1 over
Updated:
April 11, 2013, 10:29 PM ET
ESPN.com news services
AUGUSTA, Ga. -- Tianlang Guan put off his homework for a few hours, grabbed the snack his mom had made and went out to play with his friends.
His playground was Augusta National and the world had tuned in to watch the 14-year-old from China, the youngest player ever to tee it up at the Masters and youngest at any major in 148 years.
That's some play date.
More 2013 Masters Coverage

With an opening-round 73 at the Masters, 14-year-old Tianlang Guan from China proved he didn't just show up at Augusta National hoping to play 36 holes, writes Farrell Evans. Story
• Collins: 1st-Round Grades
• Four-Ball: Can Sergio Keep It Going?
• 1st-Rd. Scores | 2nd-Rd. Tee Times
"I felt a little bit nervous on the first tee," Guan said. "But I hit a great tee shot and, after that, everything feels comfortable. ... I just had fun today. Pretty much fun."
Played great, too.
Guan made a 15-footer from off the fringe to birdie his final hole Thursday, finishing with a 1-over 73. As the ball rolled into the cup, the crowd around 18 gave the teenager a standing ovation, with two-time Masters champion Ben Crenshaw leading the cheers for his young playing partner.
Play like this again Friday, and he's got a shot at making the cut.
"I'm telling you, he played like a veteran today," Crenshaw said. "Played a beautiful round of golf. He stays well within himself. He's very confident and, obviously, beautiful hands. His thought process never got rushed. Very patient. Very, very, very impressive."
He wasn't the only one who was impressed. The same "wow" murmurs could be heard on every hole, as fans -- young and old -- marveled at the eighth-grader who was holding his own with the greatest golfers in the world.
"That's the 14-year-old."
"Fourteen? You're joking!"
"Fourteen? That's amazing."
"It's amazing. Absolutely amazing," said Lisa Nichols, whose folding chair, from the 1998 Masters, was older than Guan.
And more than a little bit humbling.
Master-ing His First Try At Augusta

At 14, China's Tianlang Guan is the youngest player ever to compete in the Masters. He hardly showed it, carding a 1-over 73 in his opening round. That bested the first-time scores of three legends who led off Thursday's festivities at Augusta with the ceremonial tee shots. Here's a look:
Debut
Player
Age
Score
2013
Tianlang Guan
14
73
1955
Arnold Palmer
25
76
1959
Jack Nicklaus
19
76
1954
Gary Player
18
77
-- ESPN Stats & Information
"It makes me feel a little lousy," 15-year-old Daniel Thrailkill said sheepishly. "I do (play). I can't play as good as him, though."
About the only person who didn't seem impressed with Guan was Guan himself. He strode onto the first tee with confidence, shaking hands with Crenshaw and Matteo Manassero, who three years ago, at 16, became the youngest person to make the cut at Augusta National, and their caddies.
He gave a long look down the fairway before taking a few warm-up swings, then stepped up to the tee and let it rip.
At 5-foot-9 and about 150 pounds, he doesn't hit it anywhere close to the big guys. But he rarely strayed from the fairway, and his short game more than makes up for what he lacks in length.
He got his first birdie on No. 3, chipping to about 12 feet past the hole and rolling it in. After his drive on the long par-4 No. 5 sailed far right, he recovered with a nice shot to just below the green, then chipped within 3 feet.
And though he didn't have the distance to reach the green on the par-5 15 in two, he got close enough to give himself a makeable birdie putt.
"(Adam Scott) and I were talking about it, joking a little bit, if we would have been here at 14 years old, we would have been shaking," said Sergio Garcia, who knows a little bit about being a phenom. "It happened to me at 16 when I played the British Open and I thought I was going to miss it on that first tee shot, so I can't imagine how he must have felt."
If Guan was nervous, he never let it show. Didn't show any emotions, really. There were occasional smiles, a fist pump when he rolled a putt in for a birdie, a polite touch of his cap to acknowledge the cheers of the crowd.
But the baby-faced teenager never looked flustered, and there was never a hint of the petulance.
That was certainly impressive considering he was the second youngest player ever to compete in a major. The youngest was Young Tom Morris, who played the 1865 Open Championship and shot a 60 in his opening round with one caveat -- the course was only 12 holes, according to ESPN Stats & Information.
"People were very nice to me," Guan said. "And I feel comfortable on the course."
If he ever did get overwhelmed, Guan knew his parents were only a few feet away.
After having breakfast with their only child -- potatoes, beef, rice, vegetables and stir-fried eggs -- Hong Yu and Han Wen followed him for the entire round, joined by several family friends. But unlike the parents of some other young stars, they didn't seem overbearing or caught up in their son's results.
[+] Enlarge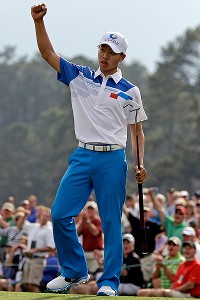 AP Photo/Darron CummingsTianlang Guan was pumped up after draining a birdie putt on No. 18 that gave the 14-year-old a 1-over 73 in his Masters debut.
After Guan's second shot on the first hole, while everyone else followed the flight of the ball, Han Wen watched his son, breathing a sigh of relief when the youngster nodded in satisfaction. He clapped enthusiastically after every shot -- his son's and those of his playing partners.
Asked if his son would turn professional soon, Han Wen answered, "Not for a long time, maybe. Amateurs have fun. Enjoy it."
But if Guan keeps playing well, surely there will be pressure on him to turn pro before he's out of high school.
Golf is only beginning to catch on in China, making it a huge untapped market for the tours, sponsors and television. Guan is the first Chinese player with real star potential, and don't think golf's marketing gurus aren't already envisioning him as the Asian Tiger Woods.
There was even a little something Tiger-esque about the reaction Guan got Thursday. The galleries buzzed when he walked by. Kids followed him from hole to hole, running ahead so they could stake out spots to watch him.
"He's going to come right by us!" 12-year-old D.J. Kellar exclaimed after Guan's second shot on No. 2 landed on the right side of the fairway.
Pretty heady stuff for someone who arrived at Augusta National with six textbooks stuffed in his bag. Guan still goes to public school back home -- math, English and history are his favorite subjects -- and he spends at least 90 minutes a day studying.
But Guan is wise enough to know he's not going to contend at the Masters.
Not this year, at least.
"But I think I can win in the future," he said, flashing a smile.
Information from The Associated Press was used in this report.
2013 MASTERS

Adam Scott lived the charmed life, except when it came to majors. That's all a thing of the past after his Masters playoff win. Gene Wojciechowski
Champ Central
2013 champion:
Adam Scott
Course:
Augusta National Golf Club
Where:
Augusta, Ga.
Yardage, par:
7,435 yards, par-72
Past champions:
Complete list
SUNDAY
ANDY NORTH'S MASTERS TOP 10
MASTERS.com
FANTASY GOLF
MORE COVERAGE
MOST SENT STORIES ON ESPN.COM