Can Tiger make a Sunday run?
And who else has what it takes to challenge the leaders at Augusta National?
Updated:
April 13, 2013, 11:20 PM ET
ESPN.com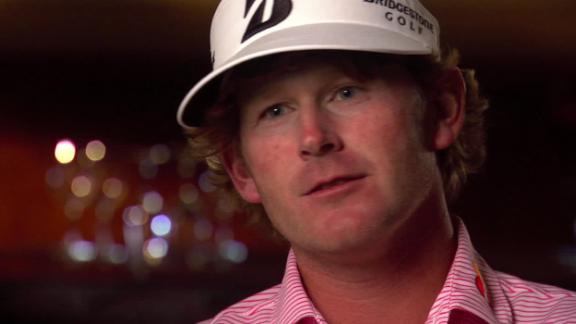 Snedeker's Masters Regret
Brandt Snedeker talks about his disappointing final round at the 2008 Masters.
Snedeker's Masters Regret
NEXT VIDEO
With 13 players within five shots of the lead, Sunday at Augusta is sure to provide plenty of late-afternoon drama. What does Tiger Woods need to do to have a shot at a fifth green jacket? Which two contenders are most likely destined for a head-to-head showdown?
Our experts tackle these topics and more heading into the final round of the Masters.
---
1. What does Tiger need to shoot on Sunday to have a shot at a fifth green jacket?

Get all of ESPN.com's latest news, highlights and commentary about the world's most talked-about golfer. Tiger Tracker
Paul Azinger, ESPN.com TV analyst: He needs to really shoot a good score, I feel, because the trend is that the winner comes out of the last pairing. Nineteen of the past 22 Masters, that's been the case. And he is currently four shots out of the lead, so if either of the leaders shoot a little under he's got to shoot a 66 just to tie. I think he's in a tough spot and I think he knows it.
Farrell Evans, ESPN.com senior golf writer: With the difficulty of the course, the leaders aren't going to do much better than 11-under par. So I'm guessing Tiger needs to post -- at worst -- a 67 for an 8-under total to put some pressure on the leaders. It might not be enough, but if Tiger gets to 6-under on the front on Sunday, he could quickly change the complexion of this tournament.
Bob Harig, ESPN.com senior golf writer: A 66. That offers the opportunity for Woods to get into a playoff even if the leaders, Brandt Snedeker and Angel Cabrera, still shoot under par.
Gene Wojciechowski, ESPN.com senior national columnist: At the very least, 67, but probably more like 66. I don't think Brandt Snedeker, Adam Scott, Angel Cabrera, Matt Kuchar -- some of the guys ahead of him -- are all going to wet themselves Sunday.
---
2. If you had to pick two players who will be going head-to-head going to the back nine on Sunday, who would they be?
Paul Azinger: I think it's going to be Brandt Snedeker and Angel Cabrera. They're in the last group and I truly believe that the most confident guy right now and the guy who appears to be playing the best golf is Brandt Snedeker. He ended last year the hottest player in the game. He started this year [as] the hottest player in the game and then he got hurt. I feel he has become one of the best three or four players in the world.
Farrell Evans: The two players in the final group: Brandt Snedeker and Angel Cabrera. They are both tough competitors with the advantage of playing behind everybody.
Bob Harig: Snedeker and Adam Scott. Snedeker was having the best year outside of Tiger before his rib injury, and appears to be back on track. And Scott would be a terrific story given his troubles at the Open Championship last year.
Gene Wojciechowski: Some combination of Scott-Woods, Snedeker-Scott or Snedeker-Woods.
---
3. Which player outside the top 5 could make a major move during the final round?
Paul Azinger: I believe it's going to be Matt Kuchar or Tiger Woods. I include Kuchar because of the kind of player he is and because he has a lot of experience here. He finished third here last year, so he can draw on his experience.
Farrell Evans: Tiger. He knows how to win majors. Now it's time for him to finally win one from back in the pack on the last day.
Bob Harig: Tiger. He's only four back, and although he's never won a major from this position, he has rallied seven times from three shots or more back in PGA Tour wins.
Gene Wojciechowski: How about a guy named Eldrick? I sort of like that guy's chances.
---
4. How far down the leaderboard still has a realistic shot to win the Masters?
Paul Azinger: I'd say 3-under (T-7). If a player at 2-under (T-9) came back to win this tournament, I think it would be as big a surprise as the Europeans winning the Ryder Cup last year because of the difficulty of the course and the players in front of them.
Farrell Evans: The guys at 3-under par -- Tiger and Tim Clark.
Bob Harig: Woods believes you can be six back going into the back nine and still win, but four seems more realistic, especially with eight players within four strokes.
Gene Wojciechowski: Woods says anybody within six strokes of the lead going into the final nine has a chance. I'm not so sure about that. I'll go with anybody who is inside the top 10.
SPONSORED HEADLINES
MORE GOLF HEADLINES
MOST SENT STORIES ON ESPN.COM
2013 MASTERS

Adam Scott lived the charmed life, except when it came to majors. That's all a thing of the past after his Masters playoff win. Gene Wojciechowski
Champ Central
2013 champion:
Adam Scott
Course:
Augusta National Golf Club
Where:
Augusta, Ga.
Yardage, par:
7,435 yards, par-72
Past champions:
Complete list
SUNDAY
ANDY NORTH'S MASTERS TOP 10
MASTERS.com
FANTASY GOLF
MORE COVERAGE