Commentary
Round 3 grades for the Masters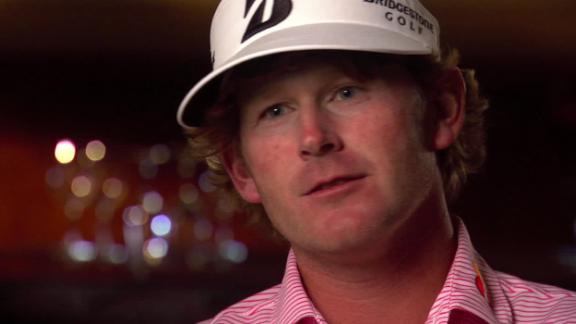 Snedeker's Masters Regret
Snedeker's Masters Regret
NEXT VIDEO
More Masters Grades: ROUND 1 | ROUND 2
Tiger Woods World Ranking: No. 1 | Scores: 70-73*-70 (-3)
Five birdies on the day and you'd think World No. 1 would be atop the leaderboard. Alas, major No. 15 looks a bit out of reach for Tiger unless he finds a way to shoot a bogey-free 65 on Sunday. Is a miracle too much to ask for ... again?




Rory McIlroy World Ranking: No. 2 | Scores: 72-70-79 (+5)
After a birdie at the third hole, he looked prime to make a run. Then the song "The Wheels On The Bus Come Falling Off" got stuck in his head and a back-nine 42 killed any hopes of winning his first green jacket. At least his tooth wasn't hurting.




Justin Rose World Ranking: No. 3 | Scores: 70-71-75 (E)
Want to know how tough the greens at Augusta were? Just ask Rose. Three three-putts after hitting 15 greens in regulation -- 35 putts total -- and he's getting worse every day (31-32-35). What, are you planning on hitting every green Sunday and having 40 putts? C'mon, man!




Luke Donald World Ranking: No. 4 | Scores: 71-72-75 (+2)
Twenty-eight putts! Wait, what? That should be an A, right? Not if you hit only eight greens in regulation and go 0-for-4 in sand saves. Maybe the beach isn't somewhere you need to hang out on Sunday -- you don't have strong enough sunscreen.




Brandt Snedeker World Ranking: No. 5 | Scores: 70-70-69 (-7)
Bogey-free and the three birdies he made came on the back nine, adding 15 greens and a statement that "this course tries to sucker you into firing at flags." Play like that tomorrow, Brandt, show 'em you're no punk!




Louis Oosthuizen World Ranking: No. 6 | Scores: 74-76 (+6)
Missed the cut. Probably spent the day relaxing and watching golf from a couch somewhere.

Adam Scott World Ranking: No. 7 | Scores: 69-72-69 (-6)
He misses an A by only one bogey. I will say he's going to need fewer than 31 putts if he wants to get fitted for a green jacket on Sunday. Still, he is Australia's best hope to get its first Masters.




Steve Stricker World Ranking: No. 8 | Scores: 73-70-71 (-2)
Roller-coaster ride for Stricker, who at one point gets to 4-under only to make a double bogey at the 18th with his second three-putt of the round. He can't win, but he can still finish in the top-5 with a great day.




Phil Mickelson World Ranking: No. 9 | Scores: 71-76-77 (+8)
Nine greens and 30 putts. Great idea working so hard on finding a driving 3-wood for Augusta National. Didn't you write a short-game book? Maybe a little light reading tonight would be in order. At least pop in the DVD for a quick refresher.




Matt Kuchar World Ranking: No. 10 | Scores: 68-75-69 (-4)
So you're saying there's a chance? In this case, yes. Hitting 13 greens and having only one three-putt allows Kuchar the chance to do something special on Sunday. The course will play firm and fast, so his lack of length won't be a factor.




Keegan Bradley World Ranking: No. 11 | Scores: 73-73-82 (+12)
A 14-year-old kid beat you by five shots, Keegan. And you shot 82 with only one three-putt. I'm giving you an A because you are a true professional and you are coming back tomorrow to play alone and finish.




Jason Day World Ranking: No. 36 | Scores: 70-68-73 (-5)
I will give him credit -- he held steady for 17 holes -- but proved all it takes when you've never won a major is a par lip-out. Follow that up with a bogey on 18, and you can see where sometimes playing prevent defense (33 putts) prevents you from winning.




Angel Cabrera World Ranking: No. 269 | Scores: 71-69-69 (-7)
Talk about fighting back! Two three-putts, and at one point he looked like he was going to fall apart on the back nine. But a birdie on No. 16 and a closing birdie at the 18th gives him the confidence that just might win him his second green jacket.




Fred Ridley
I want the chairman of Augusta National's competition committees to be a DJ in his next life, because the man can spin like the best turntable Masters I have ever danced to. And I mean that as a compliment. "You can find him in the club, bottle full 'a bub ..."



Senior writer/video talent for ESPN.com
Worked for several players as PGA Tour caddie
Former stand-up comedian
SPONSORED HEADLINES
MORE GOLF HEADLINES
MOST SENT STORIES ON ESPN.COM
2013 MASTERS

Adam Scott lived the charmed life, except when it came to majors. That's all a thing of the past after his Masters playoff win. Gene Wojciechowski
Champ Central
2013 champion:
Adam Scott
Course:
Augusta National Golf Club
Where:
Augusta, Ga.
Yardage, par:
7,435 yards, par-72
Past champions:
Complete list
SUNDAY
ANDY NORTH'S MASTERS TOP 10
MASTERS.com
FANTASY GOLF
MORE COVERAGE