Cabrera, Snedeker lead at 7 under
Updated:
April 13, 2013, 10:27 PM ET
ESPN.com news services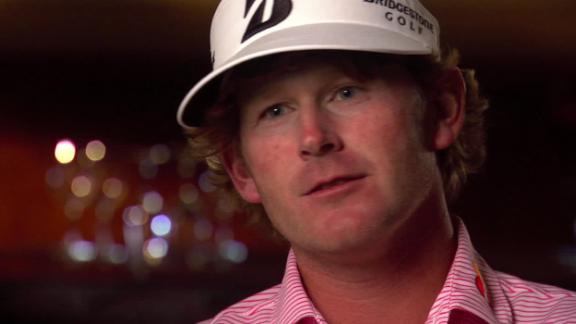 Snedeker's Masters Regret
Brandt Snedeker talks about his disappointing final round at the 2008 Masters.
Snedeker's Masters Regret
AUGUSTA, Ga. -- The longest, strangest day at the Masters for Tiger Woods began with a text message from his agent Saturday morning to meet with Augusta National officials nearly six hours before his tee time. It ended some 10 hours later with a relieved fist pump for a key par that kept him in the mix for another green jacket.
It was far different for the two guys atop the leaderboard.
Brandt Snedeker, an emotional wreck when he last contended at the Masters five years ago, was the model of calm as he opened with 12 pars and fired off three late birdies for a 3-under 69.
More 2013 Masters Coverage

Five years ago, a teary Brandt Snedeker threw away his shot at winning the Masters. Sunday in Augusta, he gets his shot at redemption, writes Farrell Evans. Story
---

The ruling that imposed a 2-shot penalty on Tiger Woods might not pass the sniff test of right vs. wrong, but it was the correct call after several bad ones, writes Gene Wojciechowski. Story
• Collins: Third-Round Grades
• 3rd-Rd. Scores | Final-Rd. Tee Times
"I'm not here to get a good finish," Snedeker said. "I'm not here to finish top 5. I'm here to win, and that's all I'm going to be focused on tomorrow. I realize what I have to do to do that, and I'm going to do everything I can to make sure that happens."
Angel Cabrera, who virtually has disappeared from the world scene since he won the Masters four years ago, felt comfortable on a difficult course as he birdied two of the last three holes for a 69 to join Snedeker in a share of the lead. It marks the third time in the last six years Cabrera has been in the last group at the Masters.
"That helps you to be more calm and have that experience," Cabrera said. "It all adds up and helps."
They were at 7-under 209 heading into a final group that figures to be as dynamic as ever, with 13 players separated by five shots, a list that includes major champions (Woods, Cabrera), aging champions (Bernhard Langer) and a half-dozen players who have been on the cusp of majors before.
Masters officials discovered late Friday evening that Woods had taken a bad drop in the second round and should have added two shots to his score.
He was assessed the penalty -- but not disqualified for signing an incorrect card -- before his round.
"It certainly was a distraction early," Woods said after three birdies on his last seven holes for a 70. "It happens and you move on. I was ready to play come game time."
So was Snedeker.
He's been building toward a moment like this for the past year, and he seized his chance on a glorious afternoon by playing without a bogey. It was only two months ago when Snedeker was regarded the hottest player in golf when in three straight weeks he was runner-up to Woods, runner-up to Phil Mickelson and then won at Pebble Beach. His momentum was slowed by sore ribs that kept him out of golf for a month, though he appears to be hitting his stride.
Cabrera A Weekend Warrior
Angel Cabrera shares the lead with Brandt Snedeker at the Masters. He has posted nine straight weekend rounds at Augusta under par, second most in the event's history. Here's a look:
Players
Rounds
Years
Tom Watson
14
1976-83
Angel Cabrera
9*
2009-13
Hale Irwin
9
1974-78
Tiger Woods
7
2000-03
Nick Faldo
7
1989-92
Raymond Floyd
7
1975-78
* Active streak
-- Elias Sports Bureau
"I've spent 32 years of my life getting ready for tomorrow," Snedeker said. "I'm going to be disappointed if I don't win. Period."
Cabrera, whose two major titles include a Masters win in 2009, has plunged to No. 269 in the world.
"I've been working very hard for this moment," Cabrera said through an interpreter. "And I've got to take the opportunity."
For Adam Scott, it's a chance at redemption.
He was runner-up at the Masters two years ago, though the fresher wounds are from last summer at Royal Lytham & St. Annes, where the Australian bogeyed his last four holes and finished one shot behind in the Open Championship. Scott rammed home a 25-foot birdie putt on the 17th hole for a 69 and was one shot behind.
Two more Aussies, Marc Leishman (72) and Jason Day (73), were another shot behind, giving the blokes from Down Under as good a chance as ever to give their country some happy memories from Augusta National. It's the only major an Australian has never won, a point driven home with every mention of Greg Norman losing a six-shot lead on the last day in 1996.
"Obviously, to win the Masters would be incredible," Scott said. "It would be great for Australia. We've never looked better odds-wise going into a Sunday, except that one year in 1996. It's going to be a hell of a round tomorrow."
Day was in the lead for most of the day, going 18 straight holes without a bogey until he missed short par putts on the last two holes.
Matt Kuchar (69) was three shots back, and Woods was right behind.
The key for everyone was simply to stay somewhere around contention, and that wasn't easy. Rory McIlroy was only three shots out of the lead when he took a bogey on the seventh hole. Little did Boy Wonder realize that it would start a nasty cycle. With a pair of 7s on his card on the back nine -- wind shifts led to a triple-bogey on the 11th and a double-bogey on the 15th -- he shot 42 on the back for a 79.
"

I've spent 32 years of my life getting ready for tomorrow. I'm going to be disappointed if I don't win. Period. I'm not here to get a good finish. ... I'm here to win.

"

-- Brandt Snedeker
"I play 7 through 11 in 5-over par and basically my chances in the tournament are gone," McIlroy said. "So it's very disappointing. I feel like I have been playing well coming in here and it's just a frustrating day here."
Former PGA champion Keegan Bradley had an 82, while Mickelson shot 40 on the back nine for the second straight day and had a 77.
"I just played terrible. There's no way around it," said Mickelson, who sits at 8 over for the tournament and had back-to-back double-bogeys on Nos. 11 and 12. "I'm just not hitting very good golf shots, missing it in bad spots and not really knowing which side I'm going to miss it on. So my play has been beyond terrible, and that's certainly disappointing."
Tianlang Guan, the 14-year-old from China, went his second straight round without a birdie and had a 77. He was still smiling, soaking in his weekend at Augusta as the youngest player to make a cut in a PGA Tour-sanctioned tournament.
Meanwhile, Snedeker takes an amazing streak into the final round. He has gone 27 consecutive holes without a bogey at Augusta National, and he has a clear plan of what he needs to do be fitted for a green jacket.
"If I drive the ball in the fairway and play the par 5s well tomorrow, I'm going to have a really good day."
Information from The Associated Press was used in this report.
SPONSORED HEADLINES
MORE GOLF HEADLINES
MOST SENT STORIES ON ESPN.COM
2013 MASTERS

Adam Scott lived the charmed life, except when it came to majors. That's all a thing of the past after his Masters playoff win. Gene Wojciechowski
Champ Central
2013 champion:
Adam Scott
Course:
Augusta National Golf Club
Where:
Augusta, Ga.
Yardage, par:
7,435 yards, par-72
Past champions:
Complete list
SUNDAY
ANDY NORTH'S MASTERS TOP 10
MASTERS.com
FANTASY GOLF
MORE COVERAGE