No Nicklaus at St. Andrews? Say it isn't so, Jack

By Bob Harig
ESPN.com
Archive
DUBLIN, Ohio -- Ceremonial golf is not Jack Nicklaus' idea of a good time. It's something he has struggled with for years, especially since he waved good-bye from the Swilcan Bridge at St. Andrews five years ago.
[+] Enlarge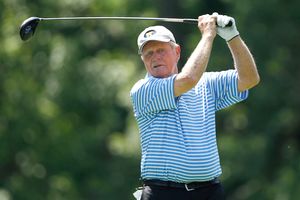 Scott Halleran/Getty ImagesJack Nicklaus said Wednesday that he didn't want to spoil the memory of his farewell at St. Andrews as he walked across the Swilcan Bridge for the final time in 2005.
Nicklaus put his game on display for a nine-hole skins game Wednesday at Muirfield Village, site of his Memorial Tournament which begins Thursday. He hit an opening tee shot in April to begin the Masters with Arnold Palmer. He teamed with Tom Watson in January at the Champions Skins Game.
But he won't participate in the Champions Challenge next month at St. Andrews.
It is a disappointing decision for the Open Championship, which is celebrating its 150th anniversary at the home of golf by inviting every living past champion to participate in a four-hole competition over the Old Course's first, second, 17th and 18th holes on July 14.
Nicklaus was one of only four to send his regrets, along with Kel Nagle (who is 89 years old), Johnny Miller and Nick Price.
It would certainly be nice to have them all, but especially Nicklaus, who more than anyone since Bobby Jones has been linked to the historic course.
He loved the Old Course from the first time he saw it in the early 1960s, won two of his three Opens there (1970 and 1978), was given an honorary degree in 1984 by the University of St. Andrews, and said his stirring good-bye to major championship golf in 2005 when the old brick buildings shook as he birdied his final hole.
Geez, they even put Nicklaus' likeness on a 5-pound note.
"What I felt like was 2005 was pretty good," Nicklaus said Wednesday. "It was my last time being involved in a major event. It was perfect. I really didn't want to go back."
Certainly many in the golf world were hoping he would participate, especially when you consider that the likes of Arnold Palmer and Lee Trevino are planning to be there, as well as tournament entrants Tiger Woods, Greg Norman and Tom Watson.
Even Seve Ballasteros, who had four operations for cancer in 2008, is making every effort to be at St. Andrews, where he won in 1984.
Nicklaus raised a few eyebrows earlier this year when asked about the subject. On two separate occasions, he more or less said he would attend only if Royal Bank of Scotland (RBS) -- with whom he has an endorsement deal -- wanted him to be there.
"It really revolves around the Royal Bank of Scotland," he said at the Masters. "If they want me to come and do work, yes. Am I going to go on my own to play four holes of golf at St. Andrews? No."
The comment drew laughter, but it really didn't go over that well. In essence, Nicklaus was saying he would attend only if he was being paid to go as part of his deal with RBS.
Anybody but Nicklaus probably would have taken a beating over such remarks, but given all the good Nicklaus has done for the game, he got a pass -- likely because there was hope for a better explanation.
"I said at Augusta unless RBS wants me to go back," Nicklaus clarified on Wednesday. "I have a contract with them and a lot of times I entertain clients and they'll request that I'm at a certain place.
"And I went to them and I said I really didn't want to do this. And they honored my request.
"It [2005] was so good, the people were so good, their feeling of seeing me the last time. ... I just didn't want to spoil that."
Fair enough.
But that doesn't make it any easier to take. It is hard to envision a celebration of the Open at St. Andrews taking place without the Golden Bear in attendance.
'Unplayable'
The subject matter almost begged for an author's take on the Tiger Woods scandal that is still playing out, so it is no surprise that a couple of books have already hit the market in recent weeks.
But Robert Lusetich's "Unplayable" is not a rundown of Woods' alleged mistresses and affairs. It is a book that was in the works well before the events of Nov. 27, 2009, sent the world's No. 1 golfer into seclusion and Lusetich back to his computer.
At that point, Lusetich -- a former correspondent for The Australian daily newspaper -- had already written most of what was supposed to be the story of Woods' return to golf in 2009 following a serious knee operation that took place soon after his epic 2008 U.S. Open victory.
The revelations of infidelity came as a shock to Lusetich, who gained a good deal of insight into Woods through on-the-record conversations with caddie Steve Williams and by attending every PGA Tour event Woods played.
That meant there was some rewriting to be done, and Lusetich did a nice job of framing each tournament with what may or may not have been going on in Woods' personal life.
The book is divided into chapters that correspond to the tournaments in which Woods played, although it is not a shot-by-shot account of what happened. Lusetich manages to work in various exchanges with Woods at tournaments throughout the year, examines in great detail Woods' work with instructor Hank Haney -- who has since resigned -- and Woods' struggles with his swing, and points out that 2009 was a complicated year for Woods even before all the revelations.
Harig's head-scratcher of the week
There have been recent rumblings that the PGA Tour is exploring the possibility of designating a handful of "lesser" tournaments and requiring the top 50 players to pick one each year that they must play. The question: What took them so long?
While the details would have to be worked out, it is certainly the start of an excellent discussion.
Regular PGA Tour events -- those outside of the majors, WGCs and invitationals -- more or less pay the same in sponsorship dollars to stage the events. But they don't get the same payoff with their fields, which can translate to smaller attendance or smaller television ratings.
It is a tough problem, because the PGA Tour has always been about allowing its players to choose their own schedules. As long as they play the required minimum of 15 tournaments, there is no problem.
Unfortunately, the number of "must-play" events in recent years has grown. After the four majors and three WGCs, there are also the Players Championship and four FedEx Cup playoff events. Throw in Jack Nicklaus' Memorial Tournament or the Quail Hollow Championship -- both of which also draw strong fields -- and the top players have very few holes to fill.
Add it up, and certain events suffer, such as the Bob Hope, Zurich Classic of New Orleans, Valero Texas Open, RBC Canadian Open and Wyndham Championship.
There are certainly others, but say the tour chose those five tournaments. In theory, it could require the top 50 players on the previous year's money list to commit to one of those five events.
It doesn't completely solve the problem -- what if the players all pick the same one or two? -- but it's a start, and much more manageable than asking players to play every tournament once in four years or even increasing the minimum number of tournaments played.
So you want to play ...
Muirfield Village. Well, you will need to be invited by a member or join Jack Nicklaus' pride and joy just outside of Columbus, Ohio. Muirfield is a private club that became a dream of Nicklaus soon after he won his first Open Championship at Muirfield in Scotland in 1966. Hence, the name Muirfield Village.
Then came the process of finding land near his hometown, and the dream became reality, with a groundbreaking in 1972, opening in 1974 and then the Memorial Tournament, which was first played in 1976. Nicklaus has designed numerous courses, and is hard-pressed to name a favorite, but Muirfield is undoubtedly special to him.
"Let's just say that I've obviously spent more time here, more effort, and worked harder on this golf course to get it more the way I want it probably than any other golf course," Nicklaus said.
Nicklaus won the tournament twice, in 1977 and 1984, and defending champion Tiger Woods is a four-time winner.
Bob Harig covers golf for ESPN.com. He can be reached at BobHarig@gmail.com.
Birdies and Bogeys
BIRDIES

Johnson
1. Zach Johnson. He hadn't been in contention all year, but when given the opportunity at the Colonial on Sunday, Johnson delivered by making putts from everywhere. It was his seventh PGA Tour victory and the fourth straight year he has won a tournament.
2. Luke Donald. A week after blowing a great chance to win the European Tour's signature event, the BMW PGA Championship, the Englishman bounced back to claim the Madrid Masters, his first victory in four years.
3. Tom Lehman. With birdies and eagles flying all around him, Lehman stayed calm and managed to work his way into a playoff at the Senior PGA Championship, where he claimed the top prize when Fred Couples and David Frost faltered.
BOGEYS

Mickelson
1. Phil Mickelson. Lefty's inconsistency is one of the factors that makes him so compelling, but we didn't see that flameout at Colonial coming.
2. Mark Calcavecchia. Perhaps the PGA Tour's loss will be the Champions Tour's gain. Calc says this week's Memorial Tournament is his last on the PGA Tour as his 50th birthday looms. No doubt, he'll love the no-cut events. Good for Calc, bad for the PGA Tour.
3. The world golf rankings. Does it make any sense at all that Luke Donald is now among the top 10 in the world -- after winning for the first time in four years?
Notable
• The Memorial has attracted another strong field, with winners of 18 of the 23 PGA Tour events entered this year, including Ernie Els, Jim Furyk, Phil Mickelson and defending champion Tiger Woods.
• In addition to Mickelson, who won this year's Masters, the Memorial also has all four major winners from 2009 -- Angel Cabrera, Lucas Glover, Stewart Cink and Y.E. Yang.
• Luke Donald moved into the top 10 in the world at No. 9 after his victory at the Madrid Masters, giving England four of the top 10 golfers in the world. The others are No. 3 Lee Westwood, No. 7 Ian Poulter and No. 8 Paul Casey. Americans have four of the top five spots with Tiger Woods, Phil Mickelson, Steve Stricker and Jim Furyk.
• Donald heads the field at the Celtic Manor Wales Open, site of the 2010 Ryder Cup, but just four members of the 2008 European team are entered -- Miguel Angel Jimenez, Soren Hansen, Oliver Wilson and Graeme McDowell.

Pavin
• U.S. Ryder Cup team captain Corey Pavin skipped the Senior PGA Championship last week and the move looked good as he tied for seventh at the Colonial, where he became the fourth Champions Tour player this year to record a top-10 finish on the PGA Tour.
• The decision to award the 2013 Presidents Cup to Muirfield Village was more or less a payback for Jack Nicklaus, who captained the team four times, going 2-1-1. Nicklaus helped give the event legitimacy and his course will now hold the distinction of having hosted a Ryder Cup, Solheim Cup and Presidents Cup.
Nicklaus, who will be 73 in 2013 downplayed any chance of him being the captain. "I related to all the players through my other teams I captained, everybody on my teams I played with,'' Nicklaus said. "And I don't think it would be right for the team to have a captain that doesn't relate to his players.''
Quotable
"Sitting there the whole time, I was afraid to open my mouth. I just wanted to listen. It was incredible. ... I had lunch with him two days in a row. I can't believe I'm doing this. It was pretty cool. He sent me a nice note after Quail Hollow, which was really nice of him. So he's tracking my progress a little bit.''
-- Rory McIlroy, who had a long chat earlier this year with Jack Nicklaus, before winning at Quail Hollow
Catching up with the '09 champ
Last year's win at the Memorial for Tiger Woods was about as impressive as a victory could be. He hit his driver beautifully, rallied on the final day and birdied the final two holes for what turned out to be a 1-stroke victory over Jim Furyk. All was looking good.
Who would have believed a year later that so much would be in doubt? Woods begins play at Muirfield Village having played just three tournaments, the last two of which he did not finish -- one due to a missed cut, the other due to a neck injury that caused him to withdraw from the Players Championship.
Woods has never been this far into any of his professional seasons without a victory, and there is so much to sort out: his injury, his swing, his mental state. This should be an interesting week to gauge where Woods is in his return, especially considering his record at Muirfield, where he has seven top-four finishes in 11 starts, including four victories.
Memorial picks
Horse for the Course. Kenny Perry. He is making his 22nd appearance at the tournament, where Perry has three victories and six top-10s and has made 16 straight cuts.
Birdie Buster. Zach Johnson comes into the Memorial hot off his victory at Colonial, where he shot back-to-back 64s on the weekend.
Super Sleeper. Sam Saunders. Making just his sixth start on the PGA Tour as a professional, the grandson of Arnold Palmer has made the cut in three of his last four events with a tie for 17th at the Honda Classic his best result.
Winner. Jim Furyk. The runner-up to Tiger Woods last year is coming off a surprise missed cut last week but would have his first three-victory season.
Numbers Game
Can Tiger win a fifth Memorial title this week? Or will Lefty keep alive his streak of besting Woods head-to-head? Justin Ray shares those odds and more. Blog