Louis Oosthuizen opens American golf journey

By Bob Harig
ESPN.com
Archive
LOS ANGELES -- He is the Champion Golfer of the Year but this week Louis Oosthuizen is visiting one of the world's most famous cities for the first time -- not that he's been able to find his way around Tinseltown just yet.
"I've never been here," said the reigning British Open champion, who will play in the Northern Trust Open at Riviera Country Club in Pacific Palisades, Calif. "I'm still looking around for [the] Hollywood sign. Once I [see] that, I'll know I'm in L.A."
[+] Enlarge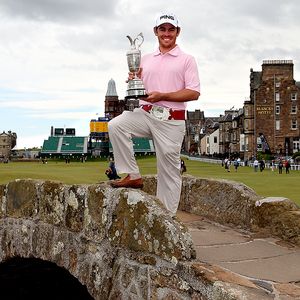 Ross Kinnaird/Getty ImagesLouis Oosthuizen clutches the Claret Jug after lapping the field at St. Andrews last July. He makes his debut as a member of the PGA Tour at the Northern Trust Open this week.
Admittedly still a bit jet-lagged, having played 12 hours removed in Qatar two weeks ago, Oosthuizen certainly could not have come from any farther away.
Oosthuizen is from South Africa, where he lives on a farm. His modest upbringing included mentoring from three-time major champion Ernie Els and financial help through the Big Easy's foundation.
Perhaps the closest Oosthuizen had ever been to Hollywood prior to this week was via the "Shrek" movie character for which he has sometimes been nicknamed, because of his gap-toothed grin.
But there is no denying the impact of his major championship at the Old Course, the 7-stroke victory last July at St. Andrews that is still stunning because of way he dominated throughout the last two rounds.
It might not have been the stuff of Hollywood, but it was pretty impressive, nonetheless.
"It was a big thing that happened for me last year, winning the Open," Oosthuizen said. "It was only my second win in Europe and being that big a tournament ... but I had great people around me, and Ernie helped me quite a bit, and my management and everyone did a great job. ... I'm still trying to keep my feet on the ground."
Oosthuizen was forced to keep his feet off the ground last fall after a freak hunting accident led to torn ligaments in his left ankle.
While the injury kept him from doing any kind of a victory lap after his St. Andrews victory -- and denied him the chance to play in the Grand Slam of Golf or at the Alfred Dunhill Links Championship back at the home of golf -- it forced him to take a break.
Oosthuizen spent six weeks at home, which in the big picture of his career might have been a good thing.
"That's probably the only time ever I've got six weeks off," Oosthuizen said. "I normally take a one or two week break, which is fine for me, then I want to start playing again. But it was a great time spending with the family and just to see what it meant to a lot of people back in South Africa, as well.
"I think I got a bit settled in [during] those six weeks. I think probably if I would have gone on playing, it might have taken me a bit longer, but the six weeks did me very good."
Bob Harig's mailbag
Who will get off to a fast start to the 2012 PGA Tour season? Should the tour change how it opens the season? Drop ESPN.com golf writer Bob Harig a line, and he'll respond to some of the best questions. Ask Harig a question
Oosthuizen, who has taken up PGA Tour membership after his Open victory, skipped the season-opening Hyundai Tournament of Champions. He stayed in South Africa and won the Africa Open for his third European Tour title.
After playing two weeks in the Middle East, he is now in America to start a four-tournament run that will take him through the WGC-Cadillac Championship. He'll then head to Spain to defend a European Tour title before returning for the Houston Open and the Masters.
"It's going to be a lot of flying around," Oosthuizen said, "but I need to give myself that opportunity, and I should be able to pull it off."
LPGA opener
The LPGA Tour begins its official season this week in Thailand, but perhaps the bigger news is that the women's circuit has seemingly worked out the issues with its first domestic event, the RR Donnelley LPGA Founders Cup event next month in Arizona.
The tournament has received a lot of attention because commissioner Michael Whan set up the event so that all of the prize money would be donated to charity -- players would not be paid but compensated in the form of hotel rooms and travel.
It is a noble idea, but one fraught with problems, especially in a tough economy in which many LPGA players struggle to make a living.
Then came this hurdle: While Whan announced a "mock'' purse of $1.3 million for the event -- players won't get prize money but will get credit for money earned on the money list -- the tour was only going to be donating $500,000 to charity.
That rankled a few players, and Whan last week announced a new plan. A "purse'' of $1 million, with the top-10 players being able to donate to a charity of their choice, and another $500,000 being donated to the LPGA Foundation.
Paula Creamer, among others, was outspoken about not giving all of the "purse'' to charity, so Whan made some changes and now Creamer is on board.
If nothing else, the tournament is giving the LPGA attention, whether it is considered good or bad.
Creative Celebration
Mark Wilson is still glowing from his second victory of the year at the Waste Management Phoenix Open, which was preceded by his beloved Packers winning Super Bowl XLV. The Wisconsin native, who now lives outside of Chicago, said he heard from many friends who had two televisions on at the same time to watch the Packers and the golf. The tournament had to be concluded on Monday because of frost delays.
Among the more interesting ideas presented to him in the aftermath of his victory was a celebration on the green in which he would have duplicated putting on the championship belt, a la Green Bay quarterback Aaron Rodgers.
"Matt Kuchar's text stands out best to me,'' Wilson said. "When I won, I should have done the little championship belt thing that Aaron Rodgers did when the Packers won. That would have been really cool.
"It was funny because J.J. Henry actually had that idea for me on the range as we were warming up on Monday morning. But we still have five holes to go. He said go finish this off and give us the little Aaron Rodgers championship belt. It's fun to have your peers congratulating you and in your corner.''
Just wondering ...
... about the recent move by the USGA to put more emphasis on the Official World Golf Ranking in determining the U.S. Open field.
No doubt, the move to extend the top-50 deadline to the weekend prior to the championship is a good one. It was silly that players such as Rickie Fowler and Justin Rose -- who had moved into the top 50 on the eve of the championship -- were denied a spot last year because of that timing.
And yet, the USGA has eliminated the money list categories from the previous year for the PGA Tour and European Tour, while still keeping the PGA Tour's Tour Championship qualification. Anyone who finishes among the top 30 in the final FedEx Cup standings, which can get quite volatile, earns a spot in the following year's Open. (There is no such stipulation for the European Tour's Race to Dubai.)
Of ongoing concern will be the world ranking and whether so much emphasis should be placed on it. All of the major championships now use it for a big part of their qualification process. And if there is debate about who is No. 1, which over the past year has been a pretty healthy argument, does it follow that there would be the same questions about those players ranked between 40th and 60th?
The two-year process for determining the world ranking -- with more emphasis placed on the most recent year -- can make for some odd occurrences that are sure to be highlighted with so much at stake.
Bob Harig covers golf for ESPN.com. He can be reached at BobHarig@gmail.com.