Keegan Bradley's PGA win wasn't a fluke

By Bob Harig
Archive
[+] Enlarge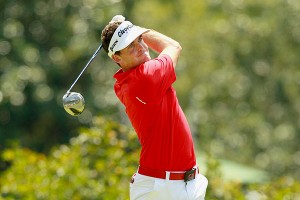 Kevin C. Cox/Getty ImagesOf the three players who won majors on their first attempt, Keegan Bradley was the best prepared.
The numbers, certainly in this case, are not a fluke. There is a reason Keegan Bradley became just the third player in nearly 100 years to win a major championship in his first attempt.
Trot out all the clichés you want about experience and needing to put yourself in position a few times and even the one about learning from failure.
Then consider that Bradley won the PGA Championship Sunday at Atlanta Athletic Club having never before played in one of the game's four biggest championships.
It just doesn't happen that way, making the victory in a three-hole aggregate playoff over Jason Dufner all the more improbable.
Yet, if you judge the small body of Bradley's career to date against that of the last two players who won majors in their first attempt, you'd probably take the latest PGA Tour rookie winner's résumé.
At least Bradley had won a tournament on the PGA Tour earlier this year. He had Nationwide Tour experience and won twice as a professional on the Hooter's Tour.
Ben Curtis and Francis Ouimet accomplished their victories with even fewer credentials.
• Ouimet, 1913 U.S. Open. Just 20 years old and using a 10-year-old caddie named Eddie Lowery, Ouimet's playoff victory over British stars Ted Ray and Harry Vardon is often credited with helping put golf on the map in the United States. It was a huge upset victory because Vardon and Ray were among the top players of the era.
Follow On Twitter

Want great insight into the game of golf in 140 characters or less? Follow @BobHarig.
Ouimet, who became the first player to win the U.S. Open as an amateur, only entered the tournament played near his home in Brookline, Mass., at the urging of a United States Golf Association official who knew he had won a Massachusetts amateur event. He was also just the third American to win the tournament, which began in 1895. The following year, Ouimet won the U.S. Amateur, having never before qualified for the tournament. He would win the event again in 1931 and play in the first eight Walker Cups. Ouimet played in just one British Open and one Masters, from which he withdrew. He never competed in the PGA Championship because he remained an amateur and the event is for professionals only.
But it's what he did -- and the experience he had -- before winning the Open that makes his achievement all the more remarkable. Among many other honors, Ouimet later had a caddie scholarship named in his honor that still prospers today.
• Curtis, 2003 British Open. It had been 90 years since Ouimet captured the U.S. Open in his first major appearance, again showing just how improbable Curtis' victory was at Royal St. George's.
Consider that Curtis had never finished in the top 10 in any PGA Tour event, had never even played a links, a type of golf clearly in need of experience. Then there is how he got into the tournament.
Ranked 396th in the world at the time, Curtis was among the top eight players who were not already exempt at the Western Open two weeks prior. Curtis tied for 13th and was the third player selected from that category -- one that is no longer used.
Before the British Open, Curtis had earned less than $200,000 and was in danger of losing his card.
Starting the day two strokes back of Thomas Bjorn and a star-packed leaderboard, he beat the likes of Tiger Woods, Vijay Singh and Davis Love III, despite playing the final 7 holes 4-over par. But none of the other contenders could take advantage, and when Curtis holed a 10-footer for par on the last hole, it stood up.
Consider that Woods was just a year removed from having won seven of 11 majors, and that Singh was about to go on a tear that saw him soar to No. 1 over the next two seasons.
• Bradley, 2011 PGA Championship. Bradley, 25, at least had the experience of having captured a PGA Tour event earlier in the year at the HP Byron Nelson Championship, where he prevailed in a sudden-death playoff over Ryan Palmer.
Still, that victory was not enough to get him a spot in the U.S. Open or British Open. And he entered the PGA ranked 108th in the world -- or 288 spots ahead of where Curtis was ranked heading into the British Open eight years ago.
Bradley, in fact, would have been a factor in the rookie of the year race without his victory. He had finished 15th the week prior at the Bridgestone Invitational and had two other top-10s along with another six top-25 finishes. So Bradley was adapting to life on the PGA Tour very nicely.
Yet, that in no way prepares you to win a major championship on your first try, as history attests.
Tiger and the Presidents Cup
In terms of recent accomplishments, Tiger Woods should not even be part of the discussion for an at-large selection to the U.S. Presidents Cup team that will take on an international squad in November in Australia.
He's played in just eight qualifying events this year and is nowhere close to earning his way onto the team by being among the top 10 point earners (presently 28th). And he will play no more qualifying events, as he is skipping this week's Wyndham Championship and is not eligible for the first three playoff events in which players can still earn points.
Sam Greenwood/Getty ImagesDespite his troubles, U.S. Presidents Cup team captain Fred Couples insists on using an at-large selection to pick Tiger Woods.
Yet captain Fred Couples has said again he plans to pick Woods for the 12-man team when the selections are announced after the Tour Championship next month.
For the second time in two weeks, Couples made it clear to the Golf Channel he will take Woods, who might not play an official tournament again until the week prior to the Presidents Cup.
"Tiger's a guy I want on my team,'' Couples said. "I can't imagine not having him on the team. If he has to be picked there will be somebody upset, because they probably had an incredible year. He'll be great to have on the team.''
Yep, there's going to be some folks upset, because Woods has not done it on merit. And why would Couples say "if he has to be picked'' when that is clearly the case?
Right now, Rickie Fowler and Bo Van Pelt hold the 11th and 12th spots, while PGA champion Keegan Bradley, who has two victories this year, moved up to 18th. Somebody is going to get left out, and it will be awkward.
While Couples has the right to pick whoever he chooses -- and Woods certainly showed himself worthy at the last Presidents Cup, where he went 5-0, and at last year's Ryder Cup, where he was 3-1 -- charges of manipulation are sure to be prevalent.
Conspiracy theories will abound, such as Couples was under pressure from (pick one) the PGA Tour, Australian interests or the television networks, both at home and abroad. When you consider the tournament is being played in November and will be shown on tape delay in the United States, there is even more pressure to have the world's most recognized golfer be part of the competition.
That will, of course, leave the Presidents Cup open to plenty of criticism.
Competition or exhibition?
Just wondering …
… … if Ryo Ishikawa's decision to take up special temporary membership on the PGA Tour for the rest of this year means he is serious about playing full time in the United States in the future.
Bob Harig's mailbag
How will Tiger Woods fare for the rest of 2011? Can the Americans prove their mettle vs. the Europeans? Drop ESPN.com golf writer Bob Harig a line, and every Thursday, he'll respond to some of the best questions. Ask Harig a question
Ishikawa, 19, has played the majority of his tournaments in Japan, where he has won nine times. Trips to the U.S. have been met with lukewarm results, although he tied for fourth at the recent WGC-Bridgestone Invitational, where he was in the final pairing with eventual winner Adam Scott. A week later, however, he was shooting 85 in the opening round of the PGA Championship and missing the cut.
Because of the big check he earned at the Bridgestone, Ishikawa has earned more than the 150th finisher on last year's money list. That means he can be a temporary member, getting unlimited sponsor exemptions. The trouble is, he's not eligible for the upcoming playoffs. So it must mean he plans to play the four Fall Series events in Las Vegas, San Jose, Sea Island, Ga., and at Walt Disney World.
Ishikawa has earned just over $473,000 this year. He would need to earn more than the 125th finisher on the money list this year to be fully exempt in 2012. Right now, that number is approximately $540,000, but sure to go higher. Last year the 125th-place finisher earned just over $786,000.
Still, it smacks of desperation and devalues the other majors in the process.
Bob Harig covers golf for ESPN.com. He can be reached at BobHarig@gmail.com.
Birdies And Bogeys
BIRDIES

Dufner
1. Keegan Bradley. He bounced back from a late triple-bogey to make two birdies, then defeated Jason Dufner in a playoff to capture the PGA Championship in his first major start.
2. Jason Dufner. It was his tournament to lose with four holes to play, and that's exactly what Dufner did. But for a guy who had never been in that position, he handled the aftermath with grace and class.
3. Sergio Garcia. He began the year in a funk but managed to make the cut in all four majors, including two top-10s. He tied for 12th at the PGA.
BOGEYS

Woods
1. Tiger Woods. The four-time PGA champion looked lost at Atlanta Athletic Club, although at least he was healthy. A break to work on his game at his pace might be good right now.
2. Phil Mickelson. Lefty might very well be correct in his criticism about modern design, but when it comes to designer Rees Jones, it seems to be a negative he can't get out of his head.
3. Lee Westwood. It's getting to the point to which you wonder if a major is ever going to happen for the Englishman, who seems more and more frustrated by his putting.
• This week's Wyndham Championship has one of its best fields as a slew of major championship winners -- including Ernie Els, Padraig Harrington, Justin Leonard and Angel Cabrera -- are outside the top 125 in FedEx Cup points with the playoffs beginning next week at the Barclays.
• After his playoff defeat on Sunday, Jason Dufner headed home to Auburn, Ala., where a couple of assistant coaches for the football team asked him to come to the football complex. Unbeknownst to Dufner, he entered an auditorium full of football players who gave him a standing ovation. Dufner is back in action this week at the Wyhndam Championship.
• Keegan Bradley was 329th in the world when the year began and 108th heading into the PGA Championship. He is now 29th after winning the PGA.
• Tiger Woods, who missed the cut at the PGA, has dropped to 33rd in the world after starting the year at No. 2. He will continue to lose points for victories or high finishes in late 2009. Various projections put him falling out of the top 50 before his next scheduled start, the Australian Open in November.
• Only one club pro (out of 20) made the cut at the PGA Championship: Mike Small, who is the golf coach at the University of Illinois. Small finished 69th and is a three-time winner of the PGA's national tournament.
• Masters champion Charl Schwartzel was one of 11 players to make the cut in all four majors, had the lowest aggregate total in relation to par -- 14-under -- by 10 strokes. Then there is Jonathan Byrd, winner of the season-opening Hyundai Tournament of Champions. He missed the cut at all four majors.
"It seems like a dream and I'm afraid I'm going to wake up here in the next five minutes and it's not going to be real,'' -- Keegan Bradley, after winning the PGA Championship on Sunday.
Catching up with '10 champ
Arjun Atwal became the first player from India to win on the PGA Tour when he captured last year's Wyndham Championship, the last event of the PGA Tour's regular season. It wasn't enough to qualify for the playoffs, but he did earn more than $1.5 million for the season and secured a two-year PGA Tour exemption.
Good thing, because Atwal would be in danger of losing his card this year. He is 120th in FedEx Cup points and making the cut this week would likely assure at least one playoff start. Atwal has missed nine cuts in 23 starts and has just one top-10, a tie for eighth at the Byron Nelson Championship. He missed the cut last week at the PGA Championship.