Luke Donald spices things up at PGA Tour finale

By Bob Harig
Archive
LAKE BUENA VISTA, Fla. -- He ultimately might come up short of his goal to win the PGA Tour money title along with the one in Europe. And there is plenty of competition for player of the year honors.
[+] Enlarge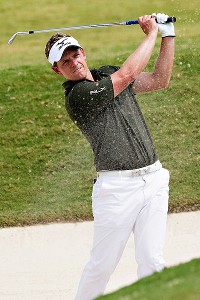 Allan Henry/US PresswireLuke Donald needs to finish no worse than a tie for second this week at Disney World if he's to claim the 2011 PGA Tour money title.
But regardless of what happens this week at the Walt Disney World Resort, Luke Donald should leave the Children's Miracle Network Hospitals Classic feeling pretty good about himself and his golf game.
For the No. 1-ranked player in the world, who has won tournaments on both sides of the Atlantic and while leading both money lists for parts if not all of the season, it has been some year.
Donald is coming off a stretch in which he played seven tournaments in 10 weeks, starting at the WGC-Bridgestone Invitational. From there, he went to the PGA Championship; took a week off; played the Barclays and Deutsche Bank; took a week off; then went to the BMW Championship, Tour Championship, Dunhill Links Championship in Scotland and the Madrid Masters in Spain.
He took last week off to attend his caddie John McClaren's wedding. Donald's wife, Diane, is expecting the couple's second child in early November.
If ever a guy deserved a week off, Donald is him. And yet, he added the Disney tournament to go after the money title.
"Obviously this probably wasn't a planned tournament at the beginning of the year,'' Donald said. "Everyone knows why I'm here. Looking forward to try and win possibly both money lists. I wanted to make a concerted effort to do that.''
Donald acknowledged it won't be easy, not with Webb Simpson losing in a playoff Sunday at the McGladrey Classic to pull $363,029 ahead of him on the money list. To have any chance of claiming the title, Donald needs a finish of no worse than a two-way tie for second this week -- which would bring him $413,600.
Then it depends on how Simpson fares. If he finishes better than a four-way tie for 21st, Simpson will still claim the money title.
All of this is of some significance for several reasons.
Since 1997, Tiger Woods' first year as a pro, the money title has mostly been a foregone conclusion. David Duval won it in 1998, when he won four times. From 1999 through 2009, the only times Woods did not capture the title were in 2003, 2004 and 2008. The only time he had a chance to alter the outcome late in the season was in 2003, and Woods elected not to do so.
Last year Matt Kuchar won the money title over Jim Furyk, who after claiming the FedEx Cup did not add any tournaments to try to move ahead on the money list.
So this is pretty rare. In fact, the last time someone made a move to capture the money title in the last tournament of the year? Tom Lehman at the 1996 Tour Championship, where he passed Phil Mickelson at the final event.
Donald approaches it like he has to win this week, and if nothing else, you have to like his attitude. His schedule this year has been brutal, and he was to be in the midst of a semi-break. Due to his wife's impending pregnancy, he will likely skip the HSBC Champions in two weeks. He is scheduled to play the Nedbank Challenge in South Africa in early December, followed by the European Tour's season-ending event, the Dubai World Championship, and then the Australian Masters.
"I chose to play both tours, and I think that's what makes it even more of an accomplishment to myself personally that I'm actually here and having a chance to win the money list playing less events," Donald said.
"It's a good thing. It shows I've been extremely consistent. I'm also leading the money title over there in Europe. Just speaks to my consistency throughout the year.''
Follow On Twitter

Want great insight into the game of golf in 140 characters or less? Follow @BobHarig.
No player has ever won the money title on both sides of the Atlantic in the same year, although on six occasions Woods could have claimed the honor had he been a European Tour member. He never joined that tour, nor played the minimum number of events. (The four majors and three World Golf Championship events count on both tours.)
Donald has played in seven fewer events than Simpson and posted two more top-10s on the PGA Tour -- which is saying something because Simpson, in addition to two victories and two playoff defeats, has seven other top-10 finishes. He finished second to Bill Haas in the FedEx Cup, with Donald finishing third.
"I think it's clear he is the best player in the world,'' Simpson said of Donald. "To have the success he's had, winning on both tours, being on top of the European money list and PGA Tour money list for most of the year, is incredible.''
And yet, Simpson had a chance to beat Donald out for a pretty important honor. By winning the money title, Simpson would get a five-year tour exemption, something he called "priceless.''
Donald and Simpson are grouped together during the first two rounds of the tournament, which features a pro-am format over the initial 36 holes. That means they'll be the only pros in the group for two days, all of which adds a bit more intrigue.
Tiger and Shark
Greg Norman recently voiced the same view held by many that Tiger Woods did not warrant a spot on the U.S. Presidents Cup team. Norman, at a news conference last week announcing the field for the Shark Shootout -- a team event he hosts in December -- said he would have picked PGA champ and 2011 two-time winner Keegan Bradley instead.
Although he is not alone in his opinion (the choice of Woods has caused plenty of debate), Norman's comments were nonetheless interesting for a couple of reasons. Norman is the International team captain, and Woods has been known to take great motivation out of even the slightest of slights.
And then there is this: two years ago, Norman picked Adam Scott for his team that played in San Francisco when the Aussie was coming off a poor year. Scott did not come with the same panache that Woods does, of course, but you can certainly question Norman when he said:
"I can understand the name of Tiger Woods and his history of what he's done on the golf course. But me, as a captain, I pick the guys I think who are ready to get in there and play, who have performed to the highest of levels leading up to it.''
Well ... two years ago, Scott was having a dreadful season. He missed nine cuts in 19 starts on the PGA Tour. His lone top-10 was a tie for second at the Sony Open in January. He missed the cut in three of the four major championships. All year, he shot just 10 rounds in the 60s. And on the eve of the matches, he had dropped to 65th in the world.
Really, the situation is not much different for Woods, who missed four months this year due to injury but was picked by captain Fred Couples based on past success and potential. Couples might have simply been picking a friend in need or trying to give the event a boost. Wasn't Norman doing the same thing with Scott?
For his part, Couples actually had a somewhat strong comment after his victory on the Champions Tour.
"I have no problem with Greg, he can say whatever he wants, but I'm not really into that,'' Couples said. "I play golf with my clubs. Robert Allenby is his [captain's] pick, and Aaron Baddeley, and they're Australians and I think they're great picks.
"But I think I can sit here and say Robert Allenby hasn't won a golf tournament in 10 years.''
While it might be somewhat stunning that Couples knew that -- Allenby has not won on the PGA Tour since 2001 -- his point is a pretty strong rebuttal. There are reasons other than recent form that might guide such picks. After all, that is why a captain has picks.
Allenby knows Royal Melbourne, where the event is being played, better than anyone in the competition. And he does have seven worldwide victories since his last PGA Tour triumph. (Woods has 42 in that span.)
As for Scott, the 2009 pick seemed to give him a confidence boost, although he was just 1-4 at the Presidents Cup. He has bounced back to win tournaments in each of the past two years on the PGA Tour, as well as the Singapore Open. And he is now ranked eighth in the world.
Kodak Challenge
In addition to the money title chase and players trying to secure their PGA Tour cards for 2012 -- along with various other money list distinctions that can affect the majors or Q-School status -- the Disney tournament is also the culmination of a winner-take-all $1 million bonus provided by Kodak.
Bill Lunde holds a two-stroke lead over Cameron Tringale, the only player who has a chance to catch him.
There have been 30 designated Kodak Challenge holes this year, and the player with the lowest cumulative score on his best 18 holes wins the competition. The 480-yard par-4 17th on the Magnolia course at Disney is the Kodak hole this week.
Tringale would need to eagle the hole -- at most, he'll have a crack at it three times, as the Palm course is played one of the first two rounds -- to force a tie and a playoff.
Last year, Troy Merritt won the season-long competition in a playoff against Rickie Fowler and Aaron Baddeley.
Bob Harig covers golf for ESPN.com. He can be reached at BobHarig@gmail.com.