Graeme McDowell better prepared for 2012

By Bob Harig
Archive
ABU DHABI, United Arab Emirates -- You can't miss the photo, the one just outside the locker room back home at Lake Nona, a thrilling scene of triumph and unabashed joy that
Graeme McDowell
says depicts the highlight of his golf career.
[+] Enlarge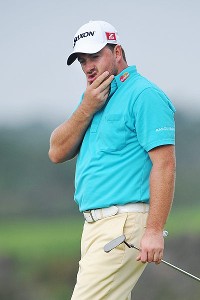 Stuart Franklin/Getty ImagesAfter a whirlwind 2010 in which he raised both the U.S. Open and Ryder Cup trophies, Graeme McDowell was left wondering what happened during a 2011 campaign in which he travelled all over the globe with little time to rest.
Interestingly, it is not a photo from 2010 at Pebble Beach, where he won the U.S. Open and hoisted the trophy with his father by his side.
It is instead, a few months later, at Celtic Manor in Wales, where the picture says it all, McDowell's arms raised, and European fans on the hill in the background deliriously cheering. McDowell had just holed the birdie putt that would prove to be the difference at the 2010 Ryder Cup, a memory beautifully captured.
"It's the greatest moment of my life from a sporting point of view," McDowell said. "Pebble Beach doesn't even come close to that, as far as how I felt emotionally. Of course for self-satisfaction and achievement, Pebble Beach is my best achievement.
"As far as feeling elated on the golf course, the Ryder Cup is the greatest moment for me. It was sort of major-esque. It was like picking off two major moments."
And perhaps it explains why McDowell has never quite recovered, or certainly not excelled to the same level. Yes, there was that victory over Tiger Woods to close out a dream year at the Chevron World Challenge, but since then, McDowell has struggled to regain the same form, the same magic. Expectations have been raised, and meeting them proved difficult.
A new season begins for him at the Abu Dhabi HSBC Championship, where a slew of the game's best will convene this week in the Middle East. McDowell is determined to learn from the lessons of too much golf and not enough rest that plagued him in 2011, even as he embarks on another worldwide schedule in another Ryder Cup year.
At a corporate day last month for Ecco shoes at Lake Nona, where the Northern Irishman makes his U.S. base, McDowell was upbeat about this year. He was coming off his final tournament at the Dubai World Championship, looking forward to some true down time, and excited about his prospects in 2012.
"It was unrealistic what I was trying to achieve," McDowell said of his 2011 season. "You can't win every week. Fifth is a hell of a week. In 2010 I felt like I could win every week. So it's been a great learning curve. I learned a lot about myself. I feel like I've put a really good, positive spin on what [had been] a frustrating year, no doubt. But I feel really good. I'm excited to get going."
It's not as if McDowell really went anywhere. He is ranked 13th in the world and in 29 worldwide tournaments, McDowell had eight top-10 finishes.
Follow On Twitter

Want great insight into the game of golf in 140 characters or fewer? Follow @BobHarig.
But it was the three missed cuts at major championships and a few instances of imploding when he was in contention -- the Players Championship and Wales Open -- that had McDowell looking for answers. In official events, he had as many missed cuts as top 10s (seven each) and made it through just two events in the FedEx Cup.
"The good times in golf and bad times in golf are so different," McDowell said. "As golfers, we're unbelievably good at berating ourselves when things go wrong. We're not so good at giving ourselves credit when things go right. And there's something to be learned there."
One thing McDowell likely needs to learn is to somehow figure out a way to cut back on an amazingly hectic schedule. This year, at least, he had no early January tournament to play as he did a year ago when he played at Kapalua and then ventured all the way to Abu Dhabi just two weeks later.
But the end of 2011 was interesting nonetheless. His journey took him from his adopted home in Orlando back to Northern Ireland before embarking on tournaments in Spain, China, Singapore, Japan, China, South Africa and the U.A.E. -- in consecutive weeks. McDowell estimated he was in the air for 80 hours during that stretch.
And yet, by the end he felt fine.
That was seven weeks ago, and a new season is upon McDowell, with a different kind of expectations.
Phil's schedule
Phil Mickelson
will no doubt get some grief because he will skip the WGC-Accenture Match Play next month, but when you look at the entire early-season schedule, it is difficult to find fault.
Mickelson made his debut at the Humana Challenge, his first appearance at the tournament since 2007. He continues with this week's Farmers Insurance Open followed by the Waste Management Phoenix Open, AT&T Pebble Beach and the Northern Trust Open.
Even if a family vacation during the week of the Match Play were not the reason for skipping, it is hard to ask a player to go six straight weeks -- as Mickelson would have to do, and as he did last year, when the Humana Challenge was the first tournament of his season.
Skip one? Well, which one? Lefty likes all of these tournaments he is about to play, and he's won all of them, too. As much as it hurts to lose a top player from a WGC (one in which Mickelson has never had much success), it is also good to see one support the rank-and-file tournaments.
Bob Harig covers golf for ESPN.com. He can be reached at BobHarig@gmail.com.
Birdies And Bogeys
BIRDIES

Clinton
1. President Clinton. His involvement with the Hope/Humana has given a much-needed boost to a once-revered tournament.
2. Mark Wilson. That's three wins in 13 months -- and nobody has done better in that span on the PGA Tour.
3. Branden Grace. The South African, who made it through European Tour Q-school in December, won his second consecutive tournament at the Volvo Golf Champions, beating idols Ernie Els and Retief Goosen in a playoff.
BOGEYS

Harrington
1. Padraig Harrington. With a chance to contend in South Africa, Paddy shot 76 in the final round to drop into a tie for 10th -- and moved up just one spot, to 88th in the world.
2. Dustin Johnson. He had to withdraw from the Humana in the second round in his first tournament following knee surgery. At least it wasn't his knee that was bothering him. It was his back.
3. David Duval. He once shot 59 at the former Hope tournament, but couldn't break 75 in three rounds this year to miss the cut.
Ernie Els and Retief Goosen failed to win the Volvo Golf Champions on Sunday in South Africa, losing to countryman Branden Grace in a sudden-death playoff. But both gave their Masters chances a boost.
Els and Goosen found themselves ranked outside of the top 50 in the world at the end of 2011, thus missing out on one of the invitation criteria for the first major of the year. Without a win on the PGA Tour between now and the Masters, their best bet is to be in the top 50 in the world rankings as of March 26, another invitation cutoff.
Although Els has not moved up since the start of the year -- at 57 he at least has held his ground -- he figured to lose ranking points if he did not play or posted poor finishes. He's now got a good chance to make the field at the WGC Match Play Championship, which could help him make the necessary jump into the top 50.
Goosen started the year 53rd in the world and after playing three straight weeks in South Africa has jumped to 45th.
Many of the game's top players make their first starts of the year this week at the Abu Dhabi Championship. The top four in the world -- Luke Donald, Lee Westwood, Rory McIlroy and Martin Kaymer -- are among six of the top 10 and 11 of the top 25 represented. Tiger Woods makes his season debut at No. 25. Kaymer is the defending champion … The Farmers Insurance Open has just one of the top 10 in the world, Dustin Johnson, who is No. 9. The tournament has six of the top 25, including defending champion Bubba Watson, and 16 of the top 50. Rickie Fowler is making his season debut … Brandt Snedeker returned after fall hip surgery and tied for eighth at the Humana and will play this week at Torrey Pines … It's been a great start to the year for Johnson Wagner, who has three top-10s, including a victory and a runner-up finish … It was an amazing comeback for Robert Garrigus at the Humana. He was 6-over par through his first 17 holes at a tournament where you have to go low. He then did, playing his next 55 in 28 under to tie for second … Ryder Cup captain Jose Maria Olazabal finished sixth at the Volvo Golf Champions. It was his first top-10 since a tie for fifth last year at the Iberdrola Open … Ernie Els makes his season debut on the PGA Tour -- and is making a long journey from South Africa to San Diego … The PGA Tour will present to players this week in San Diego a plan that would change the way players qualify for the PGA Tour. Among the ideas discussed was one in which advancing through Q-school would only get you a Nationwide Tour card. The hope is to have something new in place by the 2013 season.
"I'm really ecstatic. It's a dream come true to win such a big event -- pretty much the best tournament I've played in so far." -- Branden Grace, who won his second straight tournament at the Volvo Golf Champions after making it through the European Tour qualifying tournament in December. He defeated Retief Goosen and Ernie Els in a playoff.