Bubba, Tiger take aim from opposite ends

By Bob Harig
Archive
After a week to exhale from the delirium that was the Masters, it is no easier to fathom how the eccentricities of Bubba Watson seem to work. And for that matter, why the precision and planning of Tiger Woods -- at least for that week -- did not.
Watson, as should be clear to all who follow the game by now, is a self-made golfer who is proud of the fact that he's never had a swing coach. Woods is on the fourth major swing change of his career under the guidance of a third high-profile instructor.
All pros have their own way of doing things, some with minimal input from instructors to some who require constant consultation. It's probably no stretch to say that Watson and Woods are at opposite extremes. Watson says he'll quit if he ever needs a lesson; Woods is so immersed in the intricacies of the swing that he was bemoaning at the Masters being caught between the Hank Haney backswing and the Sean Foley downswing.
The fact that there is no exact right way to do it is one of the aspects that makes golf so fascinating, although seeing instructors on the driving range at tournaments from week to week gives credence to the idea that such is the norm -- and that Watson's way is unique.
It was nearly a year ago that Watson -- coming off a victory at the Zurich Classic of New Orleans -- caused a mild ripple when he suggested, unprompted, that Woods could do without all the instruction.
[+] Enlarge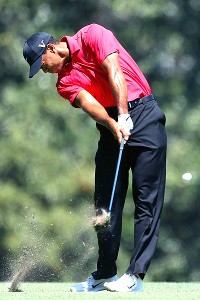 Andrew Redington/Getty ImagesTiger Woods has gone through several major swing overhauls throughout his career. On the flip side, Bubba Watson has never had a single lesson.
"It's just not my way," Watson said of having a teacher. "I'm good friends with Sean Foley. I'm good friends with Hank Haney, with Butch [Harmon.] I know them as people, I know them as friends, but … I don't ask them for advice. It's just not the way I go about it.
"All of us are good at golf. Sometimes I think some of the great players, they get too wrapped up in the mental part.
"I think … yeah, I'll just go ahead and say it. I think Tiger is going the wrong way. I think he's so mental right now with his swing. Just go out there and play golf. He used to hit shots, used to bomb it, used to do all that stuff … I think sometimes he gets carried away on that. And a lot of guys do. The mental part of it, I get carried away sometimes. I think I'm not very good. I complain to [caddie Teddy Scott] all the time how bad I am at golf. He's like, shut up.
"But yeah, when you start talking about other people trying to help you with your swing, look at this, look at that, I think they take a step back. So I'm hoping they all get coaches.''
Watson was laughing at himself at the end, the insinuation being that he's better off without a coach than the rest are with one.
Almost a year later, and with a green jacket in his closest, his comments have a little more value.
And as he said earlier this year at Doral: "You know some guys want somebody there. Some guys want somebody there to cheer them up, to keep them going, to tell them that the swing looks good, to help them. I just choose not to. There's other guys that have a swing coach that chases them around everywhere they go. It's just all about preference, and for me it's just not having one.''
You can bet that Woods feels differently, and it doesn't mean either is right or wrong. Just different ways of approaching the game.
Watson returns to competitive golf at next week's Zurich Classic, while Woods will wait another week and return at the Wells Fargo Championship.
"Sean and I have some work to do, but I'm going to take some time off and not look at the clubs for a while and then get back after it,'' Woods, who tied for 40th at the Masters, said last week on his website. "I know what to work on. It's just a matter of getting out there and doing it. Just putting in the reps and the time. I just wasn't able to do it at the Masters."
The new PGA Tour schedule
When commissioner Tim Finchem on March 20 unveiled the framework of a plan that will have the PGA Tour season overlap the calendar beginning in the fall of 2013, he was admittedly short on details.
Among the things to be figured out as part of the new system would be how the Nationwide Tour would funnel players to the PGA Tour -- with the Qualifying Tournament stocking the Nationwide and not the PGA Tour -- and if those fall events would receive full FedEx Cup points.
There at least appears to be some movement on the latter. While the decision would still have to be approved by the tour's policy board, granting full FedEx Cup points to those events in the fall -- including tournaments in Malaysia and China -- is the recommendation of the player advisory council.
"The thinking was if we're going to go through all this trouble to change the schedule and incorporate the fall events into the regular season, the points should be equal to the other events on the schedule,'' Jim Furyk, one of the players on the policy board, told GolfWorld.
The tournaments this applies to are the Justin Timberlake event in Las Vegas, the Frys.com Open, the McGladrey Classic, the Children's Miracle Network tournament at Walt Disney World and cosanctioned events in Malaysia and China, the latter a World Golf Championship event that previously was deemed unofficial on the PGA Tour.
While there has apparently been considerable debate about this move, it only makes sense to treat the tournaments the same. If they count toward the FedEx Cup, why would the tour decree them less important? How would you attract any kind of decent fields to these tournaments if they do not carry the same weight?
As it is, these tournaments are likely to draw less-than-stellar fields, especially the four domestic events. After the Tour Championship ends in late September, the top-tier players will be looking for a break after a grueling stretch of four playoff events preceded by the PGA Championship and the WGC-Bridgestone Invitational. Ryder Cups and Presidents Cups will also be contested in this timeframe.
But to give them anything less than the full allotment of points would render them virtually meaningless. They would be easy to skip, even for the rank-and-file players. No longer are they going to be the final events in the money chase; they'll be at the beginning of a long season.
At least, however, those who do go know they are getting a jump on the FedEx Cup points race. Those who prosper in a couple of these events could set themselves up for a big year. Those who elect to take time off or go overseas do so knowing they might be digging themselves a hole. If anything, perhaps this helps the early part of the PGA Tour schedule in January, when players might sense they need to get going as to not get too far behind.
Also to be determined about those fall events: Will winners get an invitation to the Masters? As of now, only full points FedEx Cup events get that honor. Will Augusta National go along?
Bob Harig covers golf for ESPN.com. He can be reached at BobHarig@gmail.com.