For McIlroy, added scrutiny comes with territory

By Bob Harig
Archive
After winning the 2011 U.S. Open by eight strokes before a spirited run to No. 1 this year that included a slew of top-five finishes, Rory McIlroy was bound to hear the Tiger Woods comparisons, regardless of whether they were premature.
McIlroy has been destined for greatness since turning pro as a teenager, and the promise began to take shape with his dominating performance at Congressional and his run of consistency through the early part of 2012.
Of course, when things go bad, the analysis is going to be far more intense, too -- something McIlroy could have a lengthy chat with Woods about. With the spotlight comes scrutiny and the young Northern Irishman is living it now.
When he shot 79 on Friday at Wentworth, McIlroy, 23, missed the cut at the BMW PGA Championship, the European Tour's flagship event. That came after having missed the cut at the PGA Tour's top tournament, The Players Championship.
[+] Enlarge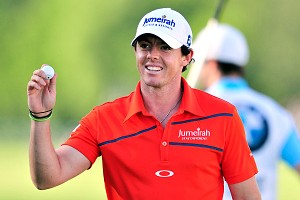 Glyn Kirk/AFP/GettyImagesWith Rory McIlroy's impressive run since his U.S. Open victory in 2011, the Northern Irishman will certainly face the glare of the intense attention both from the media and golf fans around the globe.
Suddenly, McIlroy had missed consecutive cuts -- something Woods has never done. And by the end of the weekend, McIlroy had dropped to No. 2 in the world behind Luke Donald, who successfully defended his title at the BMW PGA Championship.
Of course, comparisons to Woods are inevitably unfair. Woods has missed a total of eight cuts in his PGA Tour career. McIlroy has missed seven, and has a handful more in Europe.
And to be fair, coming off a disappointing tie for 40th at the Masters (same as Woods), McIlroy nearly won the Wells Fargo Championship, losing in a sudden-death playoff. So we're only talking about two poor tournaments. It happens in golf, even to the best.
But the performance at Wentworth was a bit troubling. It included a tossed club during an opening-round 74. There was a stretch of several bogeys during the second round when it became apparent he needed something to happen to make the cut. A final-hole birdie was necessary just to break 80, and he was 21 strokes behind halfway leader James Morrison. McIlroy missed the cut by eight. It was his first missed cut on European soil in four years, and if there has been a disappointing sign, it has been McIlroy's inability to fight through, to grind through, the bad stretches.
He couldn't stop it during a poor third round at the Masters, he was in good position to make the cut at The Players, and then he blew up at Wentworth.
At least give McIlroy credit for his honesty.
"I did not practice as hard as I might have," McIlroy said at Wentworth. "I need to work hard and get it back to the level that it was leading into the Masters. I just feel like I've lacked competitive rounds."
McIlroy had caused some murmuring when he immediately left The Players Championship after missing the cut for the third straight year and headed to Rome to meet his girlfriend, Caroline Wozniacki. McIlroy went to Paris on Saturday to see Wozniacki at the French Open, but it was a brief trip and followed an hours-long practice session at Wentworth.
He made the return trip to London on Sunday and was headed to this week's Memorial Tournament on Monday night.
As to his lack of competitive rounds, McIlroy clearly will garner some second-guessing there. Since winning the Honda Classic in early March -- where he beat Woods by 2 shots -- McIlroy has played just five tournaments. He followed with a third at the WGC-Cadillac Championship, his disappointing effort at the Masters, and now three tournaments that included two missed cuts.
To that end, McIlroy has added next week's St. Jude Classic in Memphis to his schedule. The plan after Memorial was to head to the Titleist testing center in California before a few practice rounds at the Olympic Club, site of the U.S. Open in two weeks. He might still accomplish that, although the schedule will be much tighter.
"I just need to hit a lot of balls," he said. "For that reason maybe it was a good thing I've got these two days off to practice to get my game sharp."
He's also got this week at Muirfield Village, which has been a good venue for him, with consecutive top 10s, including a fifth last year.
Dufner's rebound
When he lost the 2011 PGA Championship in a playoff to Keegan Bradley, Jason Dufner said: "I'm not going to let this define my career.''
Strong words, said in the disappointment of defeat, when Dufner was surely kicking himself for letting such a big tournament get away. Three straight bogeys from the 15th through 17th holes at Atlanta Athletic Club -- coupled with two Bradley birdies -- meant a five-shot lead was squandered in moments.
And when you blow a tournament in such fashion, having never won, it's easy to say you'll be back or that you'll win again. Many others thought the same thing, and their brush with fame never did propel them to such heights again.
So kudos to Dufner for doing exactly what he said he would do: he did not let that loss define his career.
Dufner won his first PGA Tour event in a playoff over Ernie Els at the Zurich Classic of New Orleans in late April. He then got married, returned at The Players Championship where he made the cut, then won the HP Byron Nelson Championship before finishing second at the Crowne Plaza Invitational at Colonial.
The only cut Dufner missed this year was at the Sony Open in Hawaii, his first event. He has five top-10 finishes this year and has been out of the top 30 just four times. All of that has propelled him to the top of the FedEx Cup standings, to near-lock status for the U.S. Ryder Cup team and now eighth in the world.
Dufner said he'd take a lot from that PGA loss, and as it turns out, he was correct.
Bob Harig covers golf for ESPN.com. He can be reached at BobHarig@gmail.com.
Birdies And Bogeys
BIRDIES

Johnson
1. Zach Johnson.
Fortunately for Johnson, he had enough in reserve to overcome his 2-shot penalty on the last hole at Colonial for his eighth PGA Tour victory.
2. Luke Donald. He successfully defended his BMW PGA Championship at Wentworth and went back to No. 1 in the world after his second victory of the year.
3. Jason Dufner. It's hard to knock a guy for a runner-up finish. Dufner has been on some roll of late, surging into the top 10 in the world.
BOGEYS

McIlroy
1. Rory McIlroy.
He made a lot of them in an eight-hole stretch to miss the cut at the BMW PGA Championship.
2. Armchair rules officials. The high-definition view of a ball that barely moved in the trees -- how could you tell otherwise? -- cost Graeme McDowell 2 shots during the first round at Wentworth. As he said, how would you know where to replace it? He missed the cut by one.
3. Darren Clarke. The reigning British Open champion has not posted a top-10 since, and this year has not made a cut in an event that is not a limited-field, no-cut tournament. Now he's got a groin injury -- first suffered before the Masters -- that will keep him out of the U.S. Open.
He won't be playing in the U.S. Open at the Olympic Club, but give Scotland's
Colin Montgomerie
credit for trying. After shooting an 81 on Sunday at the BMW PGA Championship at Wentworth, Monty was planning to stick around London for a 36-hole qualifier on Monday at Walton Heath, where 11 players advanced to the Open at Olympic.
But Monty first took a detour. A 900-mile detour. He got in his car, drove to his home in Scotland to fetch a putter that he really wanted, spent some time with the family, then got back in the car and headed back to London.
"Who in their right mind would do that? But yes, I did," Montgomerie said. "I left Wentworth at 2 p.m., was home at 8 p.m., had tea with the family, left at 11 p.m. and got here just after 6 a.m.''
Monty, the 2010 European Ryder Cup captain, shot 68 in the morning to put himself in good position, but could manage just a 72 in the afternoon. He ended up missing a playoff for the last spots by 2 strokes.
Last year was the first time since 1989 that Monty did not play in any of the four majors. He will attempt to qualify for the British Open at a June 25 qualifier.
Sweden's Alexander Noren won the qualifier and will defend his title this week at the Wales Open.
The U.S. Open now has 88 players exempt into the field with two ways left to get in: being among the top 60 in the world by June 11, for those not already in the field; and the 11 sectional qualifying sites around the country on June 4.
Luke Donald is No. 1 in the world rankings for the fourth time, and it's the second time he got there by winning the BMW PGA Championship. He is among seven of the top 10 players in the world competing this week at the Memorial. … The Memorial field is the best of the year outside of the majors, World Golf events and Players Championship. It also has 11 of the top 15 in the world, 20 of the top 30 and 30 of the top 50. …The three players in the top 10 who are not playing Memorial are
Lee Westwood
,
Matt Kuchar
and Jason Dufner. …
Bubba Watson
is playing for just the second time since winning the Masters, his first being a tie for 18th at the Zurich Classic of New Orleans more than a month ago. …
Dustin Johnson
and
Steve Marino
are returning after long absences due to injury. …
Rickie Fowler
has been among the top five in his last three starts, including his victory at the Wells Fargo Championship. … Zach Johnson, who has not missed a cut in 13 tournaments this year, now has a victory and two runner-up finishes in his last three starts. … Rookie
John Huh
tied for fifth at the Colonial and now has seven top-25 finishes, including a victory, in 15 starts this year. … Dufner has moved up to No. 2 in the U.S. Ryder Cup team standings and Zach Johnson has moved to sixth. The top eight following the PGA Championship will automatically make the U.S. team, with captain Davis Love getting four picks.
Steve Stricker
is ninth and
Tiger Woods
is 10th.
"I feel very lucky. There is a number of adjectives that I am calling myself right now, and lucky would be the biggest one I can think of. Blessed would be another one. And humbled would be another one. It's an honor to put this jacket on once. [It's a] shock I got it twice.'' -- Zach Johnson, who incurred a 2-stroke penalty on the final hole for failing to replace his ball mark but still managed a 1-stroke victory for his second Colonial title.