Love plays through it

By Bob Harig
Archive
For all involved in the Ryder Cup, teeing it up in a tournament just a few days later had to be an incredible mental obstacle. The event is that draining, that all-consuming, that energy-sapping.
Perhaps Europeans Martin Kaymer, Peter Hanson and Paul Lawrie were still fueled by euphoria last week as they traveled across the ocean to play in the Dunhill Links Championship in Scotland. Lawrie missed the cut, while Kaymer and Hanson were not a factor in the European Tour event.
American Dustin Johnson also made the trek, finishing tied for 47th, well out of contention.
No other player on either team entered a tournament last week, and it's completely understandable.
[+] Enlarge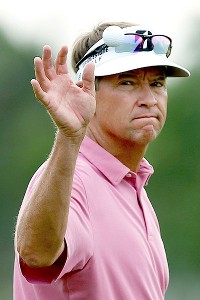 Scott Halleran/Getty ImagesDavis Love III is staying busy after his Ryder Cup disappointment.
Then there is U.S. captain
Davis Love III
, who somehow made it to Las Vegas and got his name on the leaderboard in the early going, before fading on the weekend.
"It's good to get back to playing,'' Love said. "It distracts me for four, five hours a day from thinking about [the Ryder Cup]. I've got a lot of great memories, and when I get by myself I start second-guessing and start wishing that we would have done something a little different and could've gotten those guys a win.''
Asked how long he figured such thoughts would be going through his mind, Love said: "A long time. I don't think it'll ever go away. It was a great team. They played great. They had some bad breaks on Sunday and some guys holed some putts on 'em and turned it over. You can't take away from a great week, but winning is what it's all about and we didn't win.''
Some 10 days later, and the U.S. captain is still agonizing over the 14½ to 13½ loss to the Europeans that saw the American team win only 3½ points out of 12 on the final day after taking a 10-6 lead into the singles session.
And he was not alone. Tiger Woods, who went 0-3-1 at Medinah, disclosed in Turkey where he is competing in an exhibition that he apologized to the rookies on the U.S. team for his performance. "It has been difficult, there is no doubt,'' Woods said.
The U.S. has suffered its share of disappointment in the event in recent times, winning only one of the past six Ryder Cups. But this one appears different. The loss has stung more, lingered longer.
Perhaps that is because Love has been open about his disappointment and the fact that he wonders how it might have been different.
"If there is any sadness in the whole thing, I'm sad that it's over because it was so much fun,'' said Love, 48, a 20-time winner on the PGA Tour. "My heart hurts for the players because they put so much into it and didn't get the result they wanted. Unfortunately what we knew was going to happen was if we got close they were going to put too much pressure on themselves, and one of the pressures was they didn't want to let the captain down.
"Like I didn't want to let [prior captains] Tom Kite down or Ben Crenshaw or Lanny Wadkins. I think in the end, the enormity of it all … we might have been better off tied. Might have played better Sunday tied rather than trying to protect the lead.''
The second-guessing will continue, but three big ones stand out, all of which can be refuted.
• Why did Love sit Phil Mickelson and Keegan Bradley in Saturday afternoon best-ball? The duo had gone 3-0 and needed only 12 holes to win their alternate shot match on Saturday morning -- or the equivalent of about six holes apiece. But Mickelson had asked to sit, and you don't put someone in who doesn't want to play. Love had committed to giving all of his players a break, and there's no guarantee the twosome would have won again. Some suggested Love play Bradley in the afternoon with Tiger Woods, but the two had never practiced together.
• Why did Love put Tiger Woods in the last spot when it was possible his place in the order would not matter? Woods said he and Steve Stricker asked to go last, and Love stuck to a game plan in which he kept his teams near each other. While you can second-guess the order, the fact is that the first five out for the U.S. lost their matches and they were among the best on the U.S. team.
• Why does the U.S. not play well as a team? Ironically, one of the constant knocks against the Americans was completely flipped this time. They built a 10-6 lead in the team portion, then couldn't come through in the individual matches where they typically thrive.
"Everybody watches on TV and thinks they know how they could have done it better … that's my job,'' Love said. "That's why I signed up for it.''
Getting back to golf turned out to be a good thing for Love, even if it was somewhat amazing he had any game at all. Love had not played since missing the cut at the Barclays more than a month ago. There was barely time to practice, and yet he opened the tournament with rounds of 68-67 before a 73-76 weekend and a tie for 66th finish.
Through it all, Love has managed to earn nearly $800,000 this year to rank 108th on the money list. He's playing this week's Frys.com Open as well as next week's McGladrey Classic, where he is the tournament host.
"The mental grind of [the Ryder Cup] caught up with me,'' he said. "Now that we actually played it, I want to go back to playing. Those guys have been playing in the FedEx Cup and the Ryder Cup. I've been sitting there watching, so I'm ready to start playing.''
The state of John Daly
With a 69-63 start in Las Vegas, John Daly seemed poised to make headlines with good golf for one of the rare instances in recent times. He has shown flashes throughout this year, and put himself in position to do something he hasn't accomplished since the 2006 season -- be a fully exempt player on the PGA Tour.
At 132nd on the money list, and with at least two more starts granted through sponsor exemptions, Daly was a strong weekend away from moving well into the top 125.
And then came Saturday.
After a par on the first hole, Daly went double-quad-bogey-bogey-bogey. He was 9 over through the first six holes.
On the back nine, he had a double, a triple and two bogeys. For the round, he made only two birdies. He finished with an 86.
Even for Daly, who has had his share of high rounds over the years, this was stunning stuff. He went from 63 to 86? A difference of 23 strokes?
Was there an injury? Did he quit? Daly has shown a propensity for both.
"No, I was just hoping I would stop the bleeding,'' he said afterward. "I can't remember a time when I had a stretch of so many bad holes where I hit a couple bad shots but didn't really hit that many bad shots.
"This course, everybody shoots it low, but there's times where nothing just goes right. I short-sided myself all day. If I missed a green, I had the most impossible chips. I couldn't make a four-footer today, and I had the lefts going, which usually if I miss the ball, it's right, so that confused me a little bit.
"It's almost you get off to a start like that, your body just almost goes into shock, and every time I tried to hit a cut, I'd hit a pull, and every time I'd try to hit a draw, I'd flare it right. I asked Johnny the scorer when I got done if there was a chance I could get my amateur status back, and he said, no, it would take too long.
"It's just a rough day. Just a tough day, and the good shots that I hit like on 17, I was able to chip in, but it was like that all day, if I hit a really good shot, it just turned out bad. Just one of those days.''
That's more than a tough day. Pros don't shoot 86 in benign conditions on an easy course without something wrong. And yet, Daly seems to have done just that. He dropped from 132nd to 137th on the money list and needs to finish among the top 125 to be fully exempt in 2013.
Bob Harig covers golf for ESPN.com. He can be reached at BobHarig@gmail.com.
Birdies And Bogeys
BIRDIES
Moore
1. Ryan Moore. The once highly decorated amateur got his second PGA Tour victory with a win in his hometown of Las Vegas, where he starred in college.
2. Branden Grace. The South African won for the fourth time this year on the European Tour and has moved to third on the European Tour's Race to Dubai money list.
3. Ken Venturi. It was long in coming, but Venturi -- the 1964 U.S Open champion who also had a long career as a CBS broadcaster -- is headed to the Hall of Fame.
BOGEYS
Daly
1. John Daly. With a chance to secure his PGA Tour card, Daly went the wrong way in Vegas, shooting 86 and eventually finishing last among those who made the cut.
2. The World Golf Hall of Fame. At least they righted a wrong by putting Ken Venturi in through the Veterans Committee, but this should have happened at least 10 years ago.
3. Ernie Els. The Big Easy hasn't found it so since winning the Open Championship at Royal Lytham. Els has not finished better than 26th in any tournament since, including a tie for 34th last week in Scotland.
This week's Frys.com Open is one of several Fall Series events that fills out the golf calendar and won't get a lot of attention. Next year brings drastic change, but how much of an impact comes with it will be interesting to follow.
A year from now, the Frys.com tournament will "kick off'' the new PGA Tour season. Just a week after the Presidents Cup concludes and only two weeks following the Tour Championship, the "new'' season will begin.
It's all part of the PGA Tour's plan that calls for a wrap-around season. The Fall tournaments that remain will now be part of the FedEx Cup schedule, meaning players will earn full FedEx Cup points. The tournaments in Malaysia and China -- the latter a World Golf Championship event -- also will be official PGA Tour events, with FedEx Cup points and money earned counting on the money list.
These tournaments will matter just as much in terms of points as events in Hilton Head, San Antonio and Hartford. And yet, they are still going up against football, at a time of year when golf fans -- at least the casual ones -- check out.
Branden Grace became the first player in European Tour history to win his first four tournaments in one season. He captured the Dunhill Links Championship in Scotland. … The Old Course at St. Andrews is one of the three venues used for the Dunhill, and two players shot the lowest scores since the course was lengthened several years ago in advance of the Open Championship. Victor Dubuisson and George Coetzee each shot 62s. The previous record was 63, held by Rory McIlroy, Luke Donald and Simon Dyson. … Ryan Moore's victory at the Justin Timberlake event in Las Vegas was a matter of time. Moore has played well of late, and tied for third at the Tour Championship. … Timberlake is out as host of the event after a five-year run. … This week's Frys.com Open is one of three official events remaining on the PGA Tour. Next week is the McGladrey Classic. After unofficial events in Malaysia and China (which become official in 2013), the tour returns for the Children's Miracle Network Classic at Walt Disney World. … Here are the players ranked No. 121 through 130 on the PGA Tour money list with the top 125 cutoff looming: Kevin Chappell, Gary Christian, Billy Mayfair, David Mathis, Jeff Maggert, Rod Pampling, Retief Goosen, Bill Lunde, Bobby Gates and Richard H. Lee. All need to finish among the top 125 in order to be exempt next year, except Goosen, who is injured and applied for a medical extension.
"It is awesome to win an event at St. Andrews as I have really dreamt of this moment all my life.'' -- South Africa's Branden Grace after his victory at the Dunhill Links Championship in Scotland.