Rejuvenated Ernie Els focused for '13

By Bob Harig
ESPN.com
Archive
After a lengthy holiday break in which he spent time with family in his native South Africa, Ernie Els changed things up this year by adding two events in the Middle East to give himself an early three-event start to the season.
A tie for 18th at the Volvo Champions in South Africa followed by a tie for 39th at the Abu Dhabi HSBC Golf Championship had the reigning Open Championship winner fretting a bit about his form, and hoping to find it this week at the Qatar Masters in Doha.
[+] Enlarge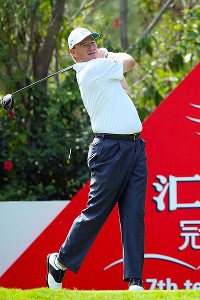 Andrew Redington/Getty ImagesAt the 2012 HSBC Champions event in China, Ernie Els finished tied for second. That is his only top-10 finish since winning the Open Championship at Royal Lytham & St Annes in July.
"I'm playing much better than my score is indicating," Els said after the final round in Abu Dhabi. "I want to play better and it's not happening at the moment. But I'm looking forward to a good year. I want to get things moving in the right direction and it's not quite there.
"A little frustrating. It's been a busy week, too. There was stuff to do every night, so my patience is a little short."
Of course, Els was being paid for his appearance in Abu Dhabi, so making himself available is part of the deal. Clearly, however, he is committed to performing better, and wants to build on the surprise major championship victory last summer at the Open Championship, where he won his fourth major title.
That victory got him an exemption into the other majors for the next five years, meaning all the drama that surrounded his run-up to the 2012 Masters is gone. Els had fallen outside of the top 50 in the world and ended up missing out on a trip to Augusta National.
"I'm not [upset] about what happened last year. I'm not angry," he said about not receiving a special invitation to the Masters, where he had played 18 straight years, with six top-10 finishes. "Some people have asked if the win at the Open was sweeter now because of what happened with the Masters; it really doesn't bear any thought.
"I've played so many Masters, and I should have won it. It didn't happen. I didn't qualify last year and I'm glad they didn't invite me because of the way it all went down. I'm excited like any other player to go the Masters, but like any other player I want to have my game there and I want to feel like I have a chance to compete and win. I just want to try and be ready to play. I just want to play good golf wherever I play."
To that end, Els has a lot of golf scheduled between now and then. After this week's tournament in Qatar (which starts on Wednesday), he'll make his PGA Tour season debut at the Northern Trust Open, followed by the WGC-Accenture Match Play, Honda Classic and WGC-Cadillac Championship.
After that, his schedule is uncertain, although he's likely to play the Arnold Palmer Invitational and possibly the Shell Houston Open. At the least, he'll play eight tournaments, perhaps nine, going into Augusta.
Since winning the Open at Royal Lytham, Els has not had much success. There was a tie for second at the HSBC Champions in China, but that is his only top-10 and one of just three top-20s in 13 tournaments.
"It was my putting again, but I've really worked on my routine a bit now," Els said. "It's not going in the hole and I'm a little frustrated with that. It's not quite where I want to be, but I think it's coming.
"I didn't play a lot of golf at the end of last year. I played the HSBC in Shanghai and one tournament in Malaysia. Other than that I didn't play, I was home, so I should be pretty fresh. I'm looking forward to getting on a bit of roll, playing some tournaments and getting some results."

Monty and the Champions Tour
One of the amazing perks of earning World Golf Hall of Fame induction is that it means fully exempt status on the Champions Tour, a point not lost on Colin Montgomerie.
ESPN GOLFCENTER
From golf instruction that will help you play the game better to all sorts of equipment that can help you lower your scores, our new ESPN GolfCenter page brings it all together.
Check out ESPN GolfCenter
The Scotsman turns 50 in June and seemed positively giddy about the prospects of playing senior golf when discussing it with a reporter in Abu Dhabi. The eight-time European Tour Order of Merit winner sees competing with his peers a much better alternative than trying to remain competitive on the European Tour, where he missed the cut in Abu Dhabi and is playing this week's event in Qatar.
"And yet the quality of play on the Champions Tour is quite good," Mongtomerie said. "I see the scores they shoot. Bernhard Langer works hard at his game, look at [Tom] Lehman and [Fred] Couples. It won't be easy at all but I'm looking forward to it."
Had the call from the Hall not come along at this time, Montgomerie would have had to rely on sponsor exemptions because he did not attend the Champions Tour qualifying tournament. Because he never played the PGA Tour as a member, he did not accumulate the career earnings that allow for many players to simply waltz from the regular tour onto the Champions Tour.
Montgomerie turns 50 on June 23, so he would be eligible for the Constellation Senior Players Championship which begins later that week, as well as the U.S. Senior Open in July.
But it is quite possible Monty won't make his debut until the Senior Open Championship. He hopes to qualify for the Open Championship at Muirfield and then play the following week in the senior version at Royal Birkdale.
Bob Harig covers golf for ESPN.com. He can be reached at BobHarig@gmail.com.
Birdies And Bogeys
BIRDIES

Gay
1. Brian Gay. He came from 6 shots back to be part of a playoff at the Humana Challenge, then won in that playoff, earning an invitation to the Masters.
2. Charles Howell III. He failed to get his third career victory, but he's off to a strong start this year with a tie for third and a tie for second as he is moving closer to the top 50 in the world -- which would get him into the Masters.
3. Jamie Donaldson. The Welshman picked a great place to get his second career European Tour victory, beating a strong field in Abu Dhabi and moving to 29th in the world.
BOGEYS

McIlroy
1. Rory McIlroy. After so much hype and fanfare, it turned into a brutal week for the world No. 1 in Abu Dhabi, where a couple of 75s ended his season debut early.
2. Tiger Woods. Lost in the rules violation that caused him to miss the cut was the fact that Woods should have never been in the position anyway. He could chalk it up to playing the first and second holes at the Abu Dhabi course -- an easy par-4 followed by a par-5 -- in 4 over par.
3. Scott Stallings. After playing so well for so long, Stallings bogeyed two of the final three holes at the Humana Challenge to miss a playoff by 1 stroke, missing a chance for his third PGA Tour victory.
The scene last week when the European Tour named its Ryder Cup captain for 2014 was yet another reminder of the enormous spectacle the biennial matches are to the European side in general and to the tour in particular.
For weeks, the European Tour let it be known that the captaincy would be decided in Abu Dhabi and the committee charged with making the decision would meet in the evening, come to a conclusion, and announce it.
While the meeting dragged on, there were reports of a deadlock and the possibility that an announcement would not be made, although in the end those in attendance said that was not the case, with Paul McGinley becoming the first player from Ireland to be named captain.
But getting to that point sure had its moments. Darren Clarke, at one time believed to be the front-runner for the post, bowed out and then seemingly put his support behind 2010 captain Colin Montgomerie. Apparently Clarke and McGinley are not pals, as it seemed obvious that McGinley would be the choice.
And yet, there was support for Montgomerie, who was viewed as the person who could match American captain Tom Watson in stature.
In the end, current player support for McGinley, 46, a three-time Ryder Cup participant, seemed to push his candidacy over the top. There had been so much chatter leading up to the announcement that McGinley said he had a difficult time keeping quiet.
"I was very tempted, to be honest, to speak up," he said. "I'm very pleased. I've got great friends around me who said stay with dignity in this and don't get involved, it will work out in the long term for you, and that advice was really good. I believed that myself.
"I stepped back and watched it grow and grow and grow. It really did. It really became a big, big story, which is not all bad news. It's good for the European Tour that we are able to get that much attention and it's great for the Ryder Cup that there's such an interest in who the captain is going to be."
In winning for the fourth time on the PGA Tour, Brian Gay continued a trend of big comebacks. He was 6 shots behind through 54 holes, and seven players won last year after being at least that far behind entering the final day. ... Charles Howell III now has 14 runner-up finishes in his career. ... David Lingmerth can't feel too bad about losing out in the playoff after a final-round 62 got him there. ... Tiger Woods and Phil Mickelson headline the field at the Farmers Insurance Open at Torrey Pines, where both have won multiple times. It will be the season debut for Woods on the PGA Tour. Mickelson played last week at the Humana Challenge, where he tied for 37th. ... The European Tour moves on to Qatar, where 10 of the top 35 in the world are entered, including Abu Dhabi runners-up Justin Rose and Thorbjorn Olesen. Louis Oosthuizen, Ernie Els and Paul Casey are also in the field, as is American Jason Dufner. ... Dufner suggested last week that he might like to one day take up European Tour membership after getting a taste of some European events the past two years.
"I just played great golf all day, all week, and to win in this field just makes it feel extra special. You know, obviously the lads, some of the top names didn't make the cut, but they were here and it made it a very big, grand tournament with a tough field, and it's a brutally hard golf course. So it just makes it all the more special for me." -- Jamie Donaldson on his win at the Abu Dhabi HSBC Golf Championship, where both No. 1 Rory McIlroy and No. 2 Tiger Woods missed the cut