Rory McIlroy's critics continue to pounce
>AKRON, Ohio -- Perhaps the best way for Rory McIlroy to get back to being Rory McIlroy involves the decision he made last week to return home for a few days of golf and relaxation with his buddies.
It might mean nothing or it might mean everything in McIlroy's quest to regain the form that saw him garner so much attention. He is suffering through a maddening year that has seen him drop from the No. 1 spot in the world and get career advice -- and marriage tips -- from a couple of major champions.
After missing the cut at the Open Championship, McIlroy visited for a few days with girlfriend and tennis star Caroline Wozniacki in Monaco before heading home to Northern Ireland. There, he teed it up for several days and, at one point over the weekend, played the final seven holes at his hometown Holywood Golf Club in 7-under par.
He also used some of the time to work with his longtime coach, Michael Bannon.
"It's nice to go out and play for the sake of playing, not playing because you have to ... play," McIlroy said Wednesday at Firestone Country Club, site of this week's WGC-Bridgestone Invitational. "Just go out and play and enjoy and play some courses that I played growing up.
"It makes you realize why you play the game. It makes you realize why you started, because you love the game. And when you were younger, you'd sort of do anything you could to sort of get out on the golf course. It's great just to go out and play with friends, play with friends that you've grown up with and it makes you realize why you play this game."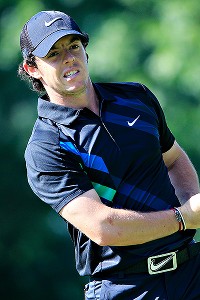 Sam Greenwood/Getty ImagesRory McIlroy's 2012 season turned around at the WGC-Bridgestone Invitational. Might that happen again after his slow start in 2013?
McIlroy has been in search of something, and maybe this is it.
Two weeks ago, after a first-round 79 at the Open Championship, McIlroy admitted to being in a bad way mentally, that he couldn't quite figure out what was wrong.
It was a surprisingly candid assessment of his plight in a year of disappointments that has seen him go winless while dropping behind Tiger Woods and Phil Mickelson in the world rankings.
Much has been made of his equipment change to Nike, the $100-plus-million endorsement deal, his management changes and his relationship with Wozniacki.
But lest we forget, McIlroy, 24, experimented and tested the Nike clubs for months, even while he was winning at the end of last year; the endorsement deal only made him richer, as he was enormously wealthy already; he had already once changed management companies; and he began dating Wozniacki in 2011, not recently.
However, none other than six-time major champion Nick Faldo questioned the equipment change -- as well as McIlroy's commitment level -- while nine-time major winner Gary Player recently weighed in on McIlroy's relationship status, suggesting that he "needs the right wife."
McIlroy, though, chooses to look ahead. He noted that his best stretch of golf began at this tournament a year ago, when he tied for fifth a week prior to winning the PGA Championship.
"It's like everything; you're going to have ups and downs," he said. "My highs have been incredibly high, and my lows have been pretty low. It's just about trying to stable everything out and try and make it a little more on an even keel."
If there is any urgency for McIlroy, it is on the European Tour. Among the alarming stats on McIlroys 2013 résumé: He currently ranks 84th in the European Tour's Race to Dubai. Last year, he won the season-ending tournament in Dubai to cap an extraordinary season; this year, he is not yet eligible for the event. Only the top 60 on the money list qualify, and McIlroy is scheduled to play just four more events that count toward the total.
"I'm looking forward to the rest of the year," McIlroy said. "I've got a lot of great events coming up and events that I did well at last year. So hopefully those positive memories can see me through, and I can start to play the golf that I know that I can."
Elk's Twitter troubles
Former PGA Championship winner Steve Elkington found himself having to apologize on Saturday at the Senior Open Championship for a derogatory Twitter post about Southport, England -- the site of the tournament at Royal Birkdale -- and two references to Pakistanis. The tweets were later removed from his account.
Elkington, 50, is prolific on Twitter (@elkpga) and often links to his witty and creative cartoons. But his candidness has often toed the line of indelicacy -- it would not be surprising to learn that he has been for previous tweets.
In this case, his reference was considered a racial slur to Pakistani people, and his description of Southport, its food and people, was far from flattering. Elkington had a police presence when he teed off in his third round. He eventually tied for 11th.
The first offending tweet listed Southports features as: "fat tattooed guy, fat tattooed girl, trash, ice cream store guy and s--- food."
Elkington later deleted the tweets and issued an apology.
"Being Australian, I was unaware that my use of language in relation to the Pakistani people would cause offense," his statement said. "But having been made aware, I now deeply regret the use of that terminology.
"Southport is a beautiful place and I have enjoyed playing at Royal Birkdale as my positive content on Twitter has shown. My comments were borne out of frustration over what had happened to a colleague."