Playoff scheduling could hurt fields
video1>
There was a good bit of grumbling last week in Atlanta, more so than usual, about the difficulties of playing so much golf over a short period of time to end the PGA Tour season.
It's nothing new, really, as the FedEx Cup playoffs and their conclusion in September have been played in some form during the past seven years.
But this seemed different, and a bit more dire. Even Tour Championship and FedEx Cup winner Henrik Stenson admitted that fatigue was getting the best of him during the playoffs.
There was a $10 million bonus at stake and a huge payout for every one of the 30 players in the field. But from the first tee shot last Thursday, there also seemed to be indifference.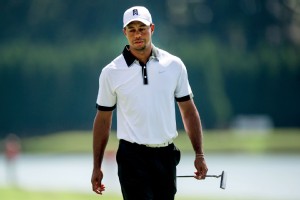 Kevin Liles/USA TODAY SportsWill top PGA Tour pros like Tiger Woods play all the FedEx Cup playoff events in 2014 with all four events played in consecutive weeks or will they skip an event?
"It seems like a lot of lackluster play," said Steve Stricker, who played a limited schedule this year and ended up third in the FedEx Cup standings, earning a $2 million bonus. "I think guys are flat. It seems like a lot of guys are tired. You know, it's the end of the year."
But it's also a system lobbied for by the game's top players.
A decade ago, Tiger Woods and Phil Mickelson both made it clear that they favored a season that ended sooner, giving them time to either recuperate or play overseas. Neither likely envisioned the start of the new season beginning a few weeks later. Or the hectic pace the current end-of-season schedule requires.
Last Friday, Woods made the surprising admission that he was tired. And wondered how the situation will be any different going forward.
"Next year is going to be an awful lot in a condensed period of time," he said, referring to the fact that all four playoff events will be staged in consecutive weeks. "[And in] '16 ... we've got to put Rio in there as well. So that's going to be a lot."
In 2016, golf will be on the Olympics calendar in Rio de Janeiro, necessitating the Open Championship and PGA Championship to be played close together in order to give room for the Games in August. No other top PGA Tour golf can take place at the same time, meaning the playoffs will have to be squeezed in prior to the Ryder Cup.
Mickelson also suggested that too often, he was not at his best in 2013.
"I had some great highs and I had some lows," he said. "I don't play at my highest level every week. I have kind of ups and downs and I'm a very emotional player.
"I think that I'm going to have to factor that into some of my scheduling and maybe cut out 25 percent of my events in an effort to play at a high level when I do play, because I know that I'm not able to do it 25 weeks a year. Maybe I can do it 18 or 20, though."
One thing is pretty clear: The groundwork has been laid for players to skip playoff events in 2014. If players were fatigued with an off week in the middle this year, they will be in a tough way next year, when all four are played in a row.
The reason for four straight is because the PGA Tour was in a difficult spot; the PGA of America asked for a week off prior to next year's Ryder Cup in Scotland. And the PGA Tour obliged, with the main bargaining chip being that the PGA Championship no longer be called "Glory's Last Shot," in deference to the FedEx Cup playoffs.
The tournament that could be hurt the most is the BMW Championship, which will be played in Denver at Cherry Hills. It follows a Monday finish at the Deutsche Bank Championship. At the very least, the tour should insist that for one year only, the Deutsche Bank end on Sunday rather than Monday. Another option is to make the BMW pro-am optional -- although that is the single biggest revenue source for any tournament.
"I think we're going to see some of these guys taking some of these playoff events off, especially next year, when there's four in a row leading up," Stricker said. "And then the guys play Bridgestone and the PGA. Some guys feel they need to play Wyndham (the week prior to the playoffs). So there's a lot of golf there at the end of the year.
"I see next year some of those top players taking a break in there maybe to refresh themselves and get ready."
Solutions to the issue are not easy. Cutting out a playoff event would appear to be a logical move, but which one? And the PGA Tour is not into forgoing $8 million purses for its membership.
Perhaps the long-term view is to look at the schedule and simply give a bit more space after the PGA Championship, and stretch the playoffs into late September or early October. Move one of the fall events -- Frys.com, Vegas -- into the weeks following the PGA Championship. There would be scheduling issues to deal with in Ryder Cup years, however, which makes any proposal difficult.
Vijays Debut
When a player turns 50 and is set to make his first appearance on the Champions Tour, the PGA Tour all but trips over itself to let the world know that a rookie will be making his first start.
That was hardly the case last week when Vijay Singh played for the first time on the Champions Tour. Unless you paid attention to the small print and noticed his name in the field list, there was no fanfare whatsoever.
We're talking about a Hall of Famer and three-time major winner who turned 50 earlier this year and played on the PGA Tour all season.
Of course, Singh also was involved in a controversial breach of the tour's anti-doping policy early in the year that resulted in a long investigative period. First, Singh was sanctioned, followed by an appeal, and then a finding that the substance Singh took -- which was illegal at the time -- was no longer banned by the World Anti-Doping Agency (WADA).
Singh then sued the PGA Tour during the week of the Players Championship -- that litigation continues -- and Singh has not said a word since, except during television interviews at the Pacific Links Hawaii Championship.
Briefly in contention during the final round, Singh ended up shooting 73 to finish in a tie for eighth. It was the first time he played since missing the cut at the Wyndham Championship in August.
This week, Singh is entered in the Dunhill Links Championship on the European Tour in Scotland.