Singh raises questions about drug testing policy
Vijay Singh's lawsuit against the PGA Tour continues, and here's betting that Briny Baird's name has never been broached as part of any drug testing discussions.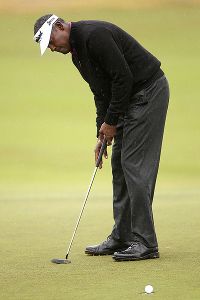 Robert Prezioso/Getty ImagesThe statements made by Vijay Singh's attorneys in a lawsuit against the PGA Tour cast a questionable light on whether the tour is even-handed in doling out punishments under its drug testing policy.
Front Nine
Put in place more than five years ago, the PGA Tour's drug testing program remains controversial, if for no other reason than a good number of players who endure the random tests are of the belief that performance-enhancing drugs are of no use to a golfer.
There is certainly an argument to be made as it relates to golf, but the fact is that, since July 1, 2008, PGA Tour players have been subject to random tests. And for the program to have credibility, it must be administered properly, with sanctions doled out to those in violation.
Singh's attorney has brought that into question.
Peter Ginsburg, who is representing Singh in his lawsuit against the tour for the way it handled his drug suspension (which later was rescinded) earlier this year, said in a recent hearing that the PGA Tour has made exceptions in its drug program in whom it tests and how they are punished.
"For some reason … the PGA singles out Mr. Singh and treated him in a way that it has not historically or uniformly treated other PGA [Tour] members," Ginsburg said in the court hearing recently.
That is some pretty strong stuff, and it undoubtedly would make the tour's anti-doping policy a farce if it were the case.
Singh was deemed in violation of the drug testing policy in February after he admitted in a Sports Illustrated story that he had taken deer-antler spray, which at the time contained a substance that was banned as part of the tour's drug testing program.
Where the situation gets complicated is that Singh never tested positive for any banned substance; in fact, he immediately submitted to a test after discussing the situation with the PGA Tour. The tour, which conducts only urine tests and not blood tests, has no test for the substance in deer-antler spray, but it considers an admission of use the same as a failed test. (All of this is clearly spelled out in the tour's anti-doping policy.)
FOLLOW GOLF ON ESPN
Stay up-to-date with the latest news, stories and analysis.
Follow ESPNGolf on Twitter
Then the tour followed its procedure: Although the tour didn't announce anything at the time, it suspended Singh for 90 days, then allowed him to play while he appealed. It later cleared him after the World Anti-Doping Agency determined that deer-antler spray did not offer a strong benefit.
Then, on the eve of the PGA Tour's signature event, the Players Championship, Singh sued, citing, among other things, "humiliation."
As the case continues, there are a couple of things to consider. Only one player previous to Singh was deemed in violation of the policy. In 2009, Doug Barron tested positive for testosterone after he was denied a therapeutic use exemption. He and the tour later settled out of court.
Singh and his attorney are asserting that the tour is not testing properly, is not dishing out punishment for failed tests or both. That is a serious charge, one that would prove catastrophic if true. Of course, it is also wholly unfair if it is not true because how does anyone who is painted with such a large brush prove otherwise?
To that end, in the context of the Singh case, Tiger Woods last week in Turkey was asked specifically about the charge. Woods had no idea what the questioner was talking about.
"I know that we get regularly tested throughout the year. I think it's -- I may have been tested like five times this year," Woods said. "That's usually about the number for most guys. But that's all I've heard about it until you just mentioned it."
It is important to again point out that Woods was and has been one of the staunchest supporters of drug testing on the PGA Tour. At a time when commissioner Tim Finchem was against it, Woods spoke out in favor of it; soon after, a program was put in place.
As to the charge of special treatment, it would seem that Singh would be among those the tour would want to protect if the rules were not to be administered fairly. He is a Hall of Famer with three major championships to his name. He has 34 victories in his PGA Tour career, and to suspend such an accomplished player could not have been easy. There is no way the PGA Tour wanted this mess.
But Singh -- by the tour's rules -- was in violation of the policy, and the tour followed its protocol.
Are we to believe it hasn't done so in every case?
Here's where the tour allows for doubt: through its lack of transparency when it comes to punishment of players in all other instances. If a player, for example, is deemed to have used recreational (not performance-enhancing) drugs, there is no public finding. Penalties are administered in private. It is the same for any other violations of policy, including fines administered for slow play.
The only thing made public is a violation of the anti-doping policy, and that only gets acknowledged after the appeal process and if a penalty is to be served. In Singh's case, because he admitted to using a banned substance in the media, the tour had no choice but to acknowledge it, but then kept everything private, including his sanction, until it announced that all penalties had been rescinded.
As is its custom, the tour doesn't respond or comment on any of this -- which makes the situation all the more uneasy.
At The Turn
Jamie Donaldson made a spirited run at the Turkish Airlines Open title Sunday, aided by a hole-in-one at the 16th hole that briefly had him tied for the lead before he eventually finished 2 strokes behind winner Victor Dubuisson.
The Welshman, who won earlier this year in Abu Dhabi, is fifth in the Race to Dubai standings and has a shot at the overall title.
But, failing that, he can at least relish one of the game's more interesting perks.
By making that ace in Turkey, Donaldson was awarded 1,000,000 Turkish Airlines frequent flier miles, or the equivalent of approximately 40 business class roundtrip flights in Europe.
Back Nine
No matter what happens this week at Royal Melbourne, Jarrod Lyle will walk away with a big smile -- and perhaps a few tears.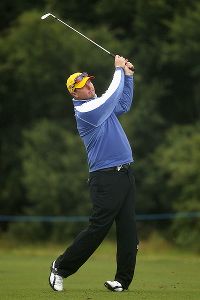 Robert Prezioso/Getty ImagesJarrod Lyle returns to competitive golf this week in Australia just months after being cleared by doctors after his second bout of leukemia. No matter what he shoots, Lyle knows he has a long road ahead to make it back to the PGA Tour.
The popular Aussie has had to endure two bouts of leukemia, the second of which struck in early 2012, necessitating a treatment program that saw him begin treatment right after the birth of his daughter.
Lyle was not able to hit balls again until about six months ago, and he told reporters in Australia that "the swing didn't feel as though it had deteriorated at all. It was kind of nice to know I wasn't completely useless."
Lyle, 32, first was diagnosed as a promising amateur in 1999. After a two-year battle, he returned to golf and became a professional, earning a PGA Tour card in 2007. But the cancer returned in March 2012, and he endured a successful bone marrow transplant later that year.
In June, he was told the cancer was in remission and set his sights on returning to golf this week at the Talisker Masters, the second of three major golf events in his homeland.
Lyle is taking the long view, thinking about a return to the PGA Tour but wanting to take his time. He does not expect to return full time in 2014, but, when he does, he will play under a major medical extension that will allow him to play 20 events and need to earn $290,000 to retain his card.
But that is getting ahead of things, as there are few expectations at this point.
"I want to do as well as I can, but if I miss the cut by 20 shots, I don't care," he said. "It's just me getting out there again and showing I can do this."
Birdies
1. Victor Dubuisson. The Frenchman held off the likes of Justin Rose, Tiger Woods, Ian Poulter and Henrik Stenson to capture his first European Tour title at the Turkish Airlines Open.
2. Adam Scott. He did not disappoint in his return home, and now goes after the second leg of the summer Australia tournaments with this weeks Talisker Masters -- where he is the defending champion.
3. Chris Kirk. He won for the second time in his career, with this one, a victory at the McGladrey Classic, earning him a Masters invitation.
Bogeys
1. Briny Baird. You have to feel for the PGA Tour veteran, who has yet to win in his career. He had a chance at McGladrey on Sunday, where he three-putted the 15th green, then topped an approach shot into the water at the 18th -- to lose by 1.
2. The PGA Championship. The tournament announced it was raising its purse to $10 million, which is great for the players -- none of whom should be too concerned about prize money at a major championship.
3. The Race to Dubai. You think the FedEx Cup has its detractors? The tweaking of the European Tour's version -- requiring starts in two of the three events preceding the finale in Dubai along with a confusing bonus points system -- has caused plenty of grumbling.
19th Hole
What do Henrik Stenson, Justin Rose, Graeme McDowell and Ian Poulter have in common?
In addition to being the top four players in the European Tour's Race to Dubai, the foursome also live within a few blocks of each other at the gated community near Orlando called Lake Nona.
This week, they vie for the top honor on the European Tour, which brings a $1 million bonus to the winner. Stenson is bidding to become the first player to win the PGA Tour's FedEx Cup and the Race to Dubai in the same year. Stenson, Rose and McDowell can claim the title with a victory at the Dubai tournament; Poulter will need some help.
Five other players, including Turkish Airlines Open winner Victor Dubuisson, have a chance to claim the No. 1 spot depending on the results of those at the top.
The European Tour pays out $3.5 million in bonus money to the top 10 on the final money list.
Notable
A preliminary look at next year's schedule -- or the start to the 2014-15 PGA Tour season -- shows a week off after the Ryder Cup, then the Frys.com Open, Shriners Hospitals for Children Open and the McGladrey Classic before the tour heads overseas for two events in Asia. … With his victory in Turkey, Victor Dubuisson not only achieved his first European Tour win but likely earned a spot in the Masters. He rose to 39th in the world, and the top 50 at the end of the year are exempt. … Chris Kirk is also headed to the Masters for the first time after his win at the McGladrey. … Tiger Woods' appearance in Turkey might not be his last. The Daily Telegraph in the U.K. reported that he had agreed to a three-year deal to return to the Turkish Airlines Open through 2016. Woods' agent, Mark Steinberg, said that no deal is done but that several possibilities are being explored. … There was a positive to Briny Baird's finish at Sea Island: By making a 25-footer for bogey on the last hole (after hitting his approach into a hazard, denying him a shot at his first victory), he locked up a tie for second and earned $480,000, which means he is fully exempt for the rest of the 2013-14 season. Baird was playing on a medical extension. … Matt Kuchar's tie for seventh extended his PGA Tour-best streak to 28 straight made cuts. He then headed for Melbourne and the Australian Masters. … This week's OHL Classic wraps up the fall portion of the 2013-14 season. The schedule resumes in January at the Hyundai Tournament of Champions in Hawaii.
Quotable
"It was something I told myself as a kid, but for a long time it wasn't really attainable. Now I'm getting close, and I would dearly love to get there." -- Adam Scott, ranked No. 2 in the world, on his chances of getting to No. 1.