A new beginning for Rory McIlroy in 2014
>
The third week of 2014 offers a choice of deserts -- the one in La Quinta, Calif., where the Humana Challenge commences after the PGA Tour has played two weeks in Hawaii, and one in Abu Dhabi, where the Abu Dhabi HSBC Championship kicks off the European Tour's Middle East swing.
Front nine
A year ago in the capital city of the United Arab Emirates, Rory McIlroy trotted out to amazing fanfare. Bright lights, a laser show, loud music on a waterfront setting with Abu Dhabi's Grand Mosque as the backdrop.
In a way, everything soured from there for McIlroy.
Sure, he had his multiyear, multimillion-dollar contract with Nike, but, a few days later, he was missing the cut at the Abu Dhabi HSBC Championship, and nothing really went right for months.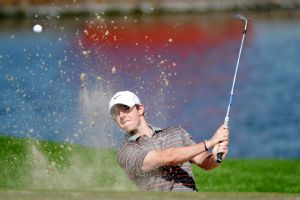 Ross Kinnaird/Getty ImagesRory McIlroy opens his 2014 season on the European Tour with significantly less fanfare than a year ago, when he had announced his new multimillion-dollar endorsement deal with Nike and changed all 14 clubs in his bag as well as his golf ball.
Now he is back in the place where it all began -- or where, at the very least, it started to unravel -- and McIlroy is convinced things will be different in 2014.
Ranked seventh in the world after beginning 2013 at No. 1, McIlroy, 24, plays his first tournament of 2014 this week.
"Reflecting back on last year, there was a lot of instability going on, but I'm starting this season on such a different sort of platform," McIlroy told reporters in Abu Dhabi. "Everything feels like it's fallen in place and I can just focus on my golf and play the way I know I can."
McIlroy disclosed that his engagement to Caroline Wozniacki on New Year's Eve occurred on a boat in Sydney Harbor while watching fireworks.
Soon after that life-altering moment, Wozniacki was on to Melbourne to prepare for the Australian Open tennis tournament while McIlroy headed to Dubai, where he spent the early days of the new year working on his game in advance of this week's tournament.
That time spent on his game should bode well. A year ago, it was unclear how much work McIlroy put in heading into the season. He had just come off a spectacular 2012 in which he won five times worldwide and captured the money titles on the PGA Tour and the European Tour.
There was bound to be an adjustment period with the new Nike equipment, and McIlroy admitted as much.
"I had so many things to think about -- am I going to use this or that, is this driver better than that? There was a lot of instability," he said. "There was a load of stuff going on which didn't let me focus 100 percent on what I needed to do -- play the best I could. This year is polar opposite. I'm using exactly the same setup that I used for the final quarter of last year. And I feel the driver and ball I put in the bag for that stretch at the end of the year has really, really helped."
McIlroy showed much improvement toward the end of 2013, and his victory over Adam Scott at the Australian Open certainly helped put a positive spin on what was an otherwise tough year.
Perhaps more important, however, is his comfort with the new equipment and a tweak in his schedule that should have him better prepared as the season progresses.
Last year, after missing the cut in Abu Dhabi, McIlroy didn't play again until the WGC-Accenture Match Play -- more than a month later -- where he was bounced in the first round. Suddenly, it was the end of February and McIlroy had just three competitive rounds to his name.
After this week's Abu Dhabi tournament, McIlroy will stay in nearby Dubai ahead of the Omega Dubai Desert Classic. He hinted he would play the WGC-Match Play but was unclear whether he might play at Riviera the week before or the Honda Classic the week after. Honda, of course, is where he walked off the course in the middle of the second round a year ago; should he skip it, perhaps that is a sign that the scars still linger from that episode.
Still, McIlroy seems in a better place -- with his equipment, with his preparation and with his personal life. Two tournaments in the next three weeks will give more clues as to the state of his game.
At the turn
Wait, golf is not leaving Hawaii just yet. After the PGA Tour began with two weeks on Maui and then Oahu, the Champions Tour is starting the 2014 season on the Big Island of Hawaii with the Mitsubishi Electric Championship. The tournament is for 2012-13 winners as well as major winners from the past five years along with eight exemptions. One of the players who failed to get an exemption was Vijay Singh.
Back nine
We are now less than two years from the rules change that will not allow golfers to anchor the putter against their body. That rule is scheduled to go into effect Jan. 1, 2016, which means major champions such as Scott and Keegan Bradley still have plenty of time to figure out something else, but the clock is ticking for any pro who still anchors.
However, if PGA of America president Ted Bishop has his way, there will be a longer grace period for amateurs.
FOLLOW GOLF ON ESPN
Stay up-to-date with the latest news, stories and analysis.
Follow ESPNGolf on Twitter
In a recent email to PGA members, Bishop said he plans to attend next month's annual USGA meeting along with PGA Tour commissioner Tim Finchem in an attempt to lobby the organization to push back the anchoring ban for amateurs.
"Our main purpose will be to formally request a 'grandfather period' for recreational amateurs who anchor long putters," Bishop wrote.
Bishop pointed out that, when the grooves rule was instituted in 2009, the USGA allowed amateurs an extra 15 years to adjust -- mainly so they wouldn't have to go out and buy new equipment.
"We believe our request for a 'grandfather period' can further assist you, the PGA Professional, in transitioning recreational golfers who do anchor, to the approved method," Bishop wrote.
He also asked his membership for real-life examples of amateur players who are affected by the anchoring ban.
Finchem's role in the process is not as obvious. PGA Tour players will be subject to the ban, but Finchem was against it for grow-the-game reasons.