Be careful with words like cheater
Tiger Woods makes his season debut at the Farmers Insurance Open this week, and we really do mean "season debut." We're now 10 weeks into the PGA Tour's new wraparound schedule that began last fall, and the only time Woods started later was in 2010, when he returned from his self-imposed exodus at the Masters.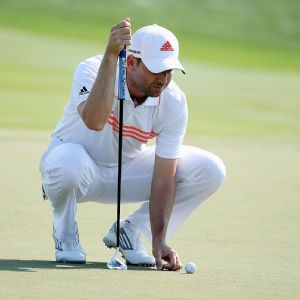 Scott Halleran/Getty ImagesSome jumped to the conclusion that Sergio Garcia cheated recently in a European Tour event. When all the facts came out, though, Garcia was exonerated of any wrongdoing whatsoever.
Front nine
The armchair rules officials who call in possible infractions are anecdotally disdained by the masses, a part of golf that seemingly makes no sense to sports fans who are accustomed to seeing rules-breaking in other sports left up to on-field referees to regulate.
Even PGA Tour commissioner Tim Finchem admitted last year that such call-ins and their possible effect on a player can be "awkward." Based on the timing of such calls, a player can be disqualified.
And yet the very people in the game who are charged with the unenviable task of trying to deal with a thick rulebook seemingly have no problem with the exercise. They know that getting it right is the bottom line; and that the rules explicitly allow for outside knowledge to be used -- in fact, demands it when presented -- in determining a rules issue.
Taking that all in, it has nonetheless become troubling that there seems to be a certain vigilante nature to these calls, especially in recent times, as well as a rush to judgment before knowing all the details.
The latest example occurred last week when Sergio Garcia was summoned by European Tour rules officials after receiving calls that he had tapped down spike marks in his putting line. That's a no-no, and every pro knows it. (England's Simon Dyson got a serious rebuke from the European Tour last fall for a similar violation.) Various websites posted the offending video, and Golf Digest went so far as to ask in a headline if Garcia had "cheated."
And therein lies the problem.
Making the leap to that word is a troubling and dangerous scenario in golf. Other sports condone and even promote trying to get away with rules breaches. Holding in football comes to mind. Or how about when a baseball outfielder traps a fly ball on the turf and comes up holding it in his glove as if he made the catch? Such behavior is encouraged, applauded.
In golf, there are numerous examples over the years of players calling penalties on themselves and an expectation that they not only follow the rules but also look to make sure their competitors do. But if they breach a rule, even one that appears obvious, does that automatically mean they are cheating? Does someone really think that Rory McIlroy cheated because his foot was on a ground-under-repair line last week? Or that Tiger Woods cheated because he didn't drop his ball close enough to the original spot at the Masters?
What happened to Garcia the other day is the unfortunate residue of the "gotcha" mentality that seemingly prevails. The video looked bad, but it didn't tell the entire story. While Garcia did tap something down in his line, what wasn't shown, according to rules official John Paramor, was his repairing a ball mark earlier -- which is allowed. Garcia stopped the process while waiting for a playing partner to putt out. He then resumed -- the part that was caught on video -- by tapping down the turf he had just repaired.
Now it's fair to raise the issue -- and the European Tour thought enough of it to question Garcia -- but is it fair to label him a cheater? Garcia appeared duly upset by the insinuation, and you can imagine what must have been going through Woods' mind last year when similar sentiments were raised.
Woods did have four high-profile rules issues, but they were the first of his 17-year career. His body of work and the words of his playing partners over the years suggested a man beyond reproach inside the ropes. Given his popularity and the constant commotion that surrounds each of his rounds, Woods has always gotten high marks from his peers for the way he conducts himself.
But an improper drop at Augusta National when the world is watching and he openly explains his actions afterward means he was cheating? Or the "oscillating ball" issue at the BMW Championship is grounds to declare nefarious intent? Sorry, but that's not right, implied or otherwise.
FOLLOW GOLF ON ESPN
Stay up-to-date with the latest news, stories and analysis.
Follow ESPNGolf on Twitter
Golf Digest took the unusual step of apologizing to Garcia after the Abu Dhabi incident and deserves praise for going further than just saying sorry.
"The bottom line is, this is an example of modern media at its weakest; jumping to conclusions based on skimpy evidence," Golf Digest editors wrote. "Repeating accusations from unconfirmed sources. Calling a man's reputation into question with one of the worst words that can be applied to a golfer -- even if a question mark is used after it."
Perhaps this latest example will lead to more reasoned response when possible rules violations occur. Players make mistakes, break rules, get penalized. But to say that someone has done so on purpose, with the intent to gain an advantage, is unfair and irresponsible.
At the turn
Woods is making his season debut at the Farmers Insurance Open and is playing the tournament for the 14th time. He has won it seven times, and through all those years he's shot just three rounds over par. Two of them came in 2011, the year he had his worst finish, a tie for 44th.
Back nine
In the aftermath of Rory McIlroy's 2-stroke penalty in Abu Dhabi, there have been questions about caddie Dave Renwick's role in the matter. He was working for another player in the group, Ricardo Gonzalez.
Renwick told The Guardian newspaper that he was 40 yards ahead of McIlroy, whose ball had come to rest in a spectator crosswalk from which he took relief. But Renwick noticed that McIlroy's foot was on the ground-under-repair line; a player must take full relief -- McIlroy did not and it led to the penalty.
Feeling it was too late to shout out to McIlroy as he was about to hit his shot, Renwick waited until after the round to tell the golfer.
Renwick left a note in McIlroy's locker to explain that he brought the matter to McIlroy's attention in "good faith" and that "I couldn't have gone to sleep knowing that I hadn't said anything."
Some have questioned whether it is a caddie's role to speak up in such an instance, which is a curious response given that both player and caddie are charged with protecting the field. Perhaps Renwick could have had his player, Gonzalez, do the speaking to McIlroy afterward.
But pointing out the possible infraction was exactly the right thing to do.
As Renwick noted, he would have stopped McIlroy before hitting the shot if he could have done so in time. And he also feared that if he did not point out the possible infraction, it could come to light later -- after McIlroy had signed his card, which would have been disqualification.
Birdies
1. Patrick Reed. To shoot three straight 63s anywhere is remarkable, and it helped him win the Humana Challenge, his second PGA Tour victory.
2. Zach Johnson. He is on some kind of roll after a tie for third at the Humana Challenge. He started 2014 with a win, a tie for eighth and a tie for third.
3. Phil Mickelson. He didn't win in Abu Dhabi, but he sure entertained. To come up a shot short after a triple-bogey on the back nine is just like Phil.
Bogeys
1. Rory McIlroy. He played very nicely in Abu Dhabi, but he has to know -- and so does his caddie -- the rule about taking full relief from an obstruction or ground under repair.
2. Henrik Stenson. The reigning FedEx and Race to Dubai champion began 2014 with a thud, missing the cut in Abu Dhabi.
3. Patrick Reed. After such an impressive performance at the Humana, it was unfortunate to hear that Reed had to withdraw from this week's Farmers Insurance Open because of a rib injury. Here's hoping it is not a serious issue.
19th Hole
The Latin America Amateur Championship announced Wednesday that it will -- like the Asia-Pacific Amateur Championship -- offer a spot to the winner in the Masters field starting in 2015. While this invitation essentially replaces the one that is going away with the disbanding of the USGA's U.S. Amateur Public Links event, the field size remains a concern to Masters chairman Billy Payne.
By adding the winners of fall PGA Tour events, the Masters' field size will again push 100 players this year and could go over depending on what happens this spring. Anything around 100 or above threatens the ability to have everyone tee off No. 1 and complete play before darkness.
"We're wild and crazy about field size and we watch it like a hawk," Payne said during a conference call. "When we made the decision to invite [PGA Tour] event winners, we kind of hold our breath. But with this, we will figure out how to make it work."
Notable
Patrick Reed led the field at the Humana Challenge with 30 birdies and finished 28 under par. ... At age 23, Reed now has two PGA Tour victories, including his playoff win over Jordan Spieth at the Wyndham Championship. Reed was the youngest winner of the event since Jack Nicklaus in 1963. ... Zach Johnson birdied his last five holes to shoot 62 at the Humana and finish tied for third. It was his 10th top-10 finish in his last 13 starts. He will now take a break until the WGC-Accenture Match Play ... Brian Stuard has three straight top-10s. ... With his tie for second in Abu Dhabi, Phil Mickelson moved up to No. 4 in the Official World Golf Ranking, while Rory McIlroy remained at No. 7. ... Winner Pablo Larrazabal jumped 50 spots to No. 53 in the world and now is on the Masters bubble. The top 50 at the end of March get an invitation. ... The European Tours Middle East Swing continues with the Commercial Bank Qatar Masters. The tournament begins Wednesday ... Among those in the field are Luke Donald, Sergio Garcia, Jason Dufner and Ernie Els.
Quotable
"I thought to myself, 'Pablo, what the bleep are you doing here?' I had Rory on my left, and I shook hands with Phil. It was very special." -- Pablo Larrazabal on the prize-giving ceremony in Abu Dhabi after winning the European Tour event by a stroke over Rory McIlroy and Phil Mickelson