Jimmy Walker's work with Butch Harmon paid off
video1>
It didn't take long to get to the final event of the 2013-14 season in California. After this week's Northern Trust Open at Riviera, the PGA Tour is done with the West Coast until October.
Front nine
Jimmy Walker joined an elite foursome when he won the AT&T Pebble Beach National Pro-Am on Sunday, capturing his third event in eight starts to begin the season -- something accomplished in the past 20 years by only Tiger Woods, Phil Mickelson and David Duval.
That's some pretty heady company for a guy who took nearly eight years to win his first tournament and next week will play in his first World Golf Championship event in Arizona.
Walker, 35, has never played in the Masters, either, something he'll do for the first time in April.
In fact, Walker has just six major starts on his résumé, his best finish a tie for 21st at the 2012 PGA Championship. He played in the Open Championship last year for the first time and missed the cut.
Where is this coming from?
It certainly didn't hurt that Walker began working with noted instructor Butch Harmon two years ago this week at Riviera.
"I'm glad he took me on," Walker said. "It's just been great."
NORTHERN TRUST OPEN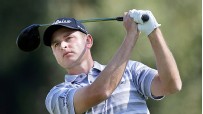 • Defending champion: John Merrick
• Tee times, leaderboard
• Experts' picks | FOREcaster
• Venue: Riviera Country Club, par-71, 7,349 yards
• Location: Pacific Palisades, Calif.
• TV coverage: Thu., Fri., 5-8 p.m. ET, Golf Channel; Sat., 1-2:30 p.m. ET, Golf Channel, 3-6 p.m. ET, CBS; Sun., 12-2:30 p.m. ET, Golf Channel, 3-6:30 p.m. ET, CBS
• Monday qualifiers: Jason Gore, Jason Allred, Bubba Dickerson, Aaron Goldberg
• Field changes: Jeff Overton (out)/Troy Matteson (in)
• Payout: 144-man field with winner making $1,206,000 of $6.7 million purse
• Format: 72-hole stroke play with 36-hole cut to low 70 and ties.
• Money leaders | Schedule | Rankings
• Follow @ESPNGolf on Twitter

Golf coaches often get too much credit and too much blame and there are numerous examples of each. But Walker does not shy away from the influence the longtime instructor has had on his game.
"I think the older you get, the harder it is to take advice from people, I think it's just the nature of people anyway," Walker told reporters this week at Riviera Country Club, where he will play in the Northern Trust Open. "So I really committed myself when I went to go see him, to come in with a blank slate, that I want help and listen. I think that's hard to give in and listen to somebody, especially when you go to make a swing change or work with anybody about anything, you've got to get in and believe and buy what they are telling you. I have and I think it's been good."
Good? It's been maybe just a bit short of spectacular -- at least as far as this season is concerned.
Walker leads the FedEx Cup points list, is perfectly positioned to make the U.S. Ryder Cup team for the first time, and has won three tournaments under vastly different circumstances.
And when you consider how few players win three tournaments in a season on the PGA Tour -- Tiger Woods was the only player to do it the past two years and nobody did it in 2011 -- it is all the more impressive.
Walker is averaging more than 300 yards off the tee and has found more than 70 percent of the greens in regulation in his three victories. He's also an excellent putter -- the 3-footer he missed on the 17th green Sunday seemed to be an aberration -- which makes up for a lot of errant drives; if there is a weakness, Walker misses a lot of fairways and is typically ranked outside of the top 170 on tour in that statistic.
A late bloomer, Walker also seems to be a good learner. He has moved up the money list every year on the PGA Tour, and figured out what works and what doesn't. And clearly going to Harmon has been a big move.
"When I went and saw him, he said, 'I believe in you and I believe you've got a lot of talent, and I think you're underutilizing what you've got,'" Walker said after winning last month in Hawaii. "He said, 'I want to work and make things better,' and I think it's been great. I really enjoy hanging out with him. He's a very confident person. When he tells you something, you believe it. And it's been great. I've really enjoyed my time with him, and I'm going to keep enjoying my time with him."
At the turn
Several big names are skipping next week's WGC-Accenture Match Play Championship, but they all are expected to be on hand the following week at the Honda Classic. The tournament that kicks off the Florida Swing in two weeks has commitments from the top eight players in the world -- Woods, Adam Scott, Henrik Stenson, Mickelson, Justin Rose, Rory McIlroy, Zach Johnson and Sergio Garcia. For now, the tournament also has 15 of the top 30.
Back nine
Both the USGA and R&A have recently approved the use of Distance Measuring Devices (DMDs) for use in their top amateur events starting this year, but they have not gone so far as to allow them in their open events, such as the U.S. Open and Open Championship. Same follows for the PGA of America and the PGA Tour, where you won't be seeing DMDs in pro competition anytime soon.
There seems to be a growing argument that DMDs will help with pace of play; obviously pointing a laser at a flagstick is faster than pacing off yardage.
But there is more to it than that at the professional level.
FOLLOW GOLF ON ESPN
Stay up-to-date with the latest news, stories and analysis.
Follow ESPNGolf on Twitter
Getting proper yardages and doing your course prep work, especially among caddies, is part of the game. It can sometimes separate those who put in the time from those who don't. For example, you might not see Phil Mickelson on Tuesday of a tournament week, but you can probably bet that his longtime caddie, Jim Mackay, will be out there walking the course, figuring out various yardages to layup spots, carries over bunkers and water hazards, and charting it all in a book. (He, of course, can use the DMDs during practice rounds, too.)
And then there is this: Pro golfers or top-level elite players are not necessarily interested in a yardage to the pin. They almost always more concerned about how far it is to the front of a green, or to the back, or to carry a bunker, etc. The actual number to the hole might be secondary; and DMDs are not always going to be able to measure that.
The devices are great for amateur players and recreational players to be sure, especially those riding golf carts. Anything to speed up the game and keep players from pacing off yardages they are unlikely to hit to anyway. And in competitions, where players might not get the practice time on a venue like a pro, by all means having these devices is a huge time saver.
But we're likely a long way from seeing them in a professional major championship or on the PGA Tour.
Birdies
video1>
1. Jimmy Walker. Impressive stuff to date from a guy who was rather anonymous just a few months ago.
2. Cheyenne Woods. The niece of Tiger Woods got her first big pro victory at the Australian Masters. Now she needs to find her way onto the LPGA Tour.
3. Pebble Beach. Hard to beat those views, which make watching bad amateurs and 5-hour-plus rounds seem OK.
Bogeys
1. Brandt Snedeker. Perhaps that Segway injury was worse than advertised. Sneds missed the cut at Pebble Beach (where he won a year ago) and is struggling two months into 2014.
2. D.A. Points. He got disqualified for swinging a training aid during the round, a no-no that he should know. Points does get points, however, for sticking around anyway to play in the pro-am the day after his DQ with partner Condoleezza Rice.
3. Dustin Johnson. OK, so he shot a final-round 66 at Pebble Beach to make it interesting, but those bogeys on the par-3s in the final round ... ouch. Could have been even more interesting.
19th Hole
Adam Scott has a house on the market for $6.2 million -- in Abu Dhabi. The reigning Masters champion apparently bought the home several years ago when he was playing on the European Tour, but never lived in it. The house, which from photos appears to be more than just a little place to hole up, is near the sea at an area called Saadiyat Island. The home appears to have all the usual high-end amenities but the sale comes with one other perk: Scott is offering to play a round of golf with the buyer.
Notable
Fred Couples, 54, who won at Riviera in 1990 and 1992, was given a sponsor's exemption so he could play in the tournament for the 32nd time. ... U.S. Open champion Justin Rose is making his 2014 debut after dealing with shoulder tendinitis since December. ... After a third-round 78 that knocked him out of contention at Pebble Beach, Jordan Spieth rebounded with a Sunday 67 and took 10 fewer putts to tie for fourth. ... In his first return to Pebble Beach since winning the 2010 U.S. Open, Graeme McDowell shot a final-round 67 to tie for seventh. ... South Africa's George Coetzee won the Joburg Open and the victory came at a good time. It vaulted him into the top 60 in the world rankings and got him a spot in next week's WGC-Match Play Championship. ... Four-time PGA Tour winner Billy Andrade made his Champions Tour debut last week at the Allianz Championship, where he tied for 46th. ... Raymond Floyd, who was picked by captain Tom Watson to be an assistant for this year's Ryder Cup, was the U.S. captain in 1989 -- the last tie in the competition. Floyd was later a captain's pick of Watson in 1993 -- the last time the U.S. won the competition in Europe.
Quotable
"It's drama, man. That was pretty good TV." -- Jimmy Walker after letting a 6-shot lead slip away and needing a 5-footer for par on the last hole to win the AT&T Pebble Beach National Pro-Am by 1 stroke.