Time will tell if new Doral stacks up
video1>
DORAL, Fla. -- As the Florida Swing moves to Miami, it's fair to wonder why Donald Trump commutes back and forth from Palm Beach to Doral each day via helicopter. Can't he get a room? He does own the place.
Front nine
Back when Doral did not have its own ZIP code and was considered a great distance from Miami (it's only about 13 miles), the PGA Tour started coming to the new resort in the middle of nowhere, with players subjected to plenty of abuse.
WGC-CADILLAC CHAMPIONSHIP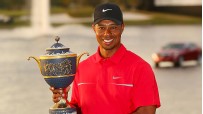 • Defending champion: Tiger Woods
• Tee times, leaderboard | Experts' picks
• FOREcaster
• Venue: The Blue Monster Course, par-72, 7,266 yards)
• Location: Doral, Fla.
• TV coverage: Fri., 1-6 p.m. ET, Golf Channel; Sat., noon-2 p.m. ET, Golf Channel, 2-6 p.m. ET, NBC; Sun., 1-3 p.m. ET, Golf Channel, 3-7 p.m. ET
• Payout: A 69-man field with winner taking $1,530,000 of a $9 million purse
• Format: 72-hole stroke play, no cut
• Money leaders | Schedule | Rankings
• Follow @ESPNGolf on Twitter

It didn't take long for the course to be dubbed the "Blue Monster" because of its difficulty, especially when the wind blew in a South Florida winter and spring. Go back in the archives, and you'll see that Billy Casper won the inaugural tournament at 283, 5 under par in 1962. The next year, Dan Sikes had the same winning score.
Those are major championship-like totals, and Doral evoked that kind of difficulty.
Fast-forward more than 50 years and Tiger Woods won the 2013 tournament played here with a total of 269, 19 under par. Despite two major renovations in the 1990s, the once feared but still famed resort course had become a bit of a pushover. And it's no stretch to say it didn't compare to the other courses used at tour events in Florida.
Now the Donald has come to the rescue.
The place is a bit disheveled as the WGC-Cadillac is set to begin Thursday at the newly named Trump National Doral, where real estate magnate Trump had a slew of bulldozers as golf course architect Gil Hanse gave the course a complete makeover.
Parts of the resort overhaul have yet to be completed, but the golf course is ready to go, and how it fares among the world's best will be a discussion that plays out this weekend.
The 18 holes of the Blue Monster are in the same places, but nothing else about them is the same. Every green was moved and changed; tees were altered, bunkers overhauled. Hanse has said it's not a redesign or a renovation but a completely new course.
And that means Woods -- who has won here four times -- and the rest of the players in the WGC field can throw away their old yardage books and green charts.
Among the revamped changes is a new first hole that was typically the biggest pushover on the PGA Tour, nearly always a certain birdie. Now 50 yards have been added and water protects the green.
The eighth through 10th holes -- a par-5, a par-3 and a par-3 -- all have been shifted while also giving room for spectator viewing. The ninth and 18th greens have been moved closer together. And the par-4 16th has seen alterations that should make for a risk-reward, go-for-the-green tee shot.
While construction continues around the property, there are numerous touches that are all Trump, including a garish water fountain near the putting green. And some will say the prices are obscene, too. Greens fees on the Blue Monster for the public will top $400, a hefty sum when there is no view of Carmel Bay (Pebble Beach) or the town of St. Andrews.
And yet, golfers like to play where the pros play, and those still snowbound in various U.S. locales will tune in over the weekend and see a sprawling layout that has been here for more than 50 years -- but is completely different.
At the turn
Victor Dubuisson enhanced his reputation with two miraculous saves from the Tucson desert before falling to Jason Day in the WGC-Accenture Match Play Championship two weeks ago.
FOLLOW GOLF ON ESPN
Stay up to date with the latest news, stories and analysis.
Follow ESPNGolf on Twitter
In extra holes, not once, but twice, his approach shots came to rest in nearly impossible places, once up against a cactus, another time in heavy brush. He seemed certain to lose the match in both cases, but managed to hit miraculous shots and saved par both times.
But give the Frenchman credit for acknowledging his good fortune.
"Those two chips I managed to do ... It could have just stayed in the rocks or in the bush," he said. "It was great, but it was like 50-50. It was not really [in] my control."
Back nine
Russell Henley was getting a bit antsy. That's the fallout from winning your first start as a member of the PGA Tour -- which the former Georgia golfer did when he captured the 2013 Sony Classic. Henley was 24 under par that week, and suddenly the world was pretty good.
He would be exempt for the next two years. He'd be in the Masters. What a start to a career.
But heading into last week's Honda Classic, Henley was pressing a bit. Had had missed four cuts in the start to the 2013-14 season. His best finish was a tie for 27th at the 30-player Hyundai Tournament of Champions.
And then he turned on the TV.
"I saw a couple Masters commercials [during the] week," Henley said. "And I'll be honest, it was tough to see them. I just can't imagine not playing again. I just feel like that would hurt me really bad."
Henley missed the cut last year at Augusta National, but he'll get another crack next month because of his victory at the Honda Classic -- which also helped get him in this week's WGC event at Doral. It was his first top-10 finish since a tie for sixth at the Memorial last spring.
Patience has been a word he's had to learn after getting off to such a fast start. Honda was just his 34th event as a member of the PGA Tour and he had made plans to play in this week's opposite event in Puerto Rico.
"I'm excited," Henley said. "I feel like this is where I'm supposed to be and obviously confident with my game ... I didn't really know how to deal with it right off the bat, and I feel like it was a lot more than I was ready to deal with. This year I'm more excited to keep playing golf and keep getting better."