Tiger's caddie, Joe LaCava, has seen this before
video1>
PALM HARBOR, Fla. -- Last year at Muirfield, Steve Williams chatted up Tiger Woods during the final round of the Open Championship -- seemingly trying to extend an olive branch to his old boss. Now at home in New Zealand, the caddie says the two have yet to "bury the hatchet." While pondering which one it really is . . .
Front nine
Standing away from the action, a particularly long round completed, veteran caddie Joe LaCava contemplated the back problems he witnessed while doing his job, wondering just how those good shots actually were hit.
"He never uses it as an excuse," LaCava said. "But I'll tell you flat out it's worse than people know."
But LaCava, Woods' current caddie, was not speaking about the recent back issues that caused consecutive painful Sundays for Woods.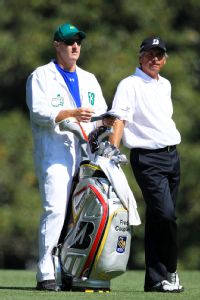 David Cannon/Getty ImagesJoe LaCava, left, said former employer Fred Couples was in more pain than people knew.
This conversation occurred more than three years ago at Riviera, when LaCava was still working for Fred Couples, his loop of more than 20 years, and was with him when it all went wrong.
They were on the driving range warming up before the final round of the 1994 Doral-Ryder Cup when, out of nowhere, Couples fell to the ground. He was the third-round leader, but his back went out, and things were never quite the same.
Couples, then 34, missed three months due to a tear in the outer layer of a disk in his lower back. Although he returned later that year to win the Buick Open, he would win just four more PGA Tour events to run his total to 15.
Although Couples never had surgery, he did undergo numerous treatments, exercises and remedies that offered varying degrees of relief -- only to have the discomfort return.
Three years ago, at age 51, Couples was contending at Riviera and birdied the first three holes on Sunday. Then he hit his drive into deep fescue on the seventh hole and tweaked his back trying to hit the shot out. It led to a double bogey, and Couples was hampered the rest of the day.
"He doesn't whine about it," LaCava said that day. "But he is in more pain than most people know. It is a credit to him to hang in there and play. But it's exhausting to him."
Now, you can't help but wonder if LaCava's current employer faces the same fate.
This in no way suggests that Woods suffers from the same issues as Couples, who has been dealing with back problems for 20 years.
Couples' back problem started at Doral, and that's where Woods was Sunday when he attempted an awkward shot from a bunker that he says set the problems in motion again. Couples' was more severe, but Woods' had been building; he withdrew from the Honda Classic a week earlier, and had treatment all week hoping to play the WGC event.
Evans: Haney's take on Tiger

Hank Haney hasn't worked as Tiger Woods' swing coach since 2010. But that doesn't mean the famed instructor doesn't have an opinion on the 14-time major champion's recent struggles, writes Farrell Evans. Column

If he would like a more current player to relate to, Louis Oosthuizen offers an example. The 2010 Open Championship winner has what he believes to be a genetic disk issue. He has been dealing with problems for more than a year, and in 2013, he withdrew from both the U.S. Open and Open Championship and skipped the PGA Championship.
Oosthuizen said he is not in need of surgery -- it is something he simply needs to deal with. He recently had a cortisone shot. "Unfortunately, the golf swing does not help it," he said. "If I take two weeks off, everything is fine. As soon as I start hitting balls again, it's there."
To deal with it, Oosthuizen said he has been working to strengthen the area in his back while also making sure he gets proper rest and stretching. He was pleasantly surprised with a tie for 40th at Doral a week after withdrawing from the Honda Classic.
Woods said his pain stems from back spasms and has not said it is anything more than that -- although questions about doctor visits, treatment and testing have gone unanswered.
Another question likely to go unanswered: Will Woods be dealing with this for longer than the short term?
At the turn
A year ago following the Tampa Bay Championship (now the Valspar Championship) at Innisbrook, Jordan Spieth was ranked 215th in the world and Patrick Reed was 373rd. Since then, they have combined for four wins, with Reed beating Spieth in a playoff for his first. Reed now has three victories after his win Sunday at the WGC-Cadillac and is 20th in the world. Spieth, whose lone victory came at the John Deere Classic, has been a consistent performer and contender. He is now 13th.
Back nine
With the Masters less than 30 days away, preparations for the year's first major are well underway -- with varying approaches. Unless there is a change of mind, Phil Mickelson and Rory McIlroy are not likely to play again until the week prior at the Shell Houston Open. Defending champion Adam Scott will play at the Arnold Palmer Invitational next week, his last event before the Masters. That is likely the approach Tiger Woods will take, if he's healthy.
The only top-10 player in the field at this week's Valspar Championship is U.S. Open champion Justin Rose. After a run of loaded fields with two World Golf Championship events sandwiched around the Honda Classic, the golf world is now stepping back and picking its spots. After this week, only the Arnold Palmer Invitational, Valero Texas Open and Houston event remain prior to the Masters. And how players decide when and where to play can be wildly different.
"It's definitely on everybody's mind," said Rose, who is playing three weeks in a row. "Each week is important to start to develop some momentum, to get some flow going, to get some good feeling about your game. It's nice to head into Augusta having been in contention once or twice to sort of get the old juices going again."
Rose will be making his ninth appearances in the Masters and has three top-10 finishes. And while spending too much preparation at Augusta National can sometimes be a detriment, Rose said it is difficult to avoid.
"It's an amazing experience doing it for the [ninth] time, to be honest with you," he said. "It's one of the few tournaments that you play practice rounds even though you don't need to play practice rounds.
"You know the course and your strategy but you can't help yourself getting out there on that golf course."