Masters continues to shine as golf's bright star
>Front nine
Having written the Augusta, Ga., dateline more than a few times over the years, a visit to the Masters never fails to leave one in a state of wonder and awe, even a few days after the winner has taken the green jacket from the premises.
Unlike many too-hyped places in a jaded world, Augusta National has this way of impressing time and again. Yes, the club has struggled with progressive issues over the years and it might be a bit too stuffy and elitist for the tastes of some.
But in putting on a golf tournament, in opening its doors to the outside world and welcoming thousands upon thousands onto the grounds each day of tournament week, the place never ceases to amaze.
For many, it is like going to Disney -- pure, unbridled joy. Perhaps it is no coincidence that Augusta National has taken to stationing workers at various points in longer concession lines to let them know the approximate wait time from that point.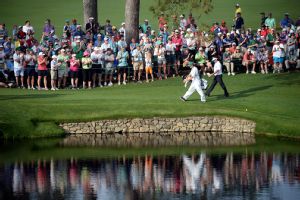 Jim Watson/AFP/Getty ImagesThere are 17 golfers who have won the Masters more than once. Sixteen of them are either in the Hall of Fame or are locks to make it someday. The 17th? Bubba Watson, who might be on his way to joining some even more elite company.
A new concession and merchandize area opened this year for the first time called the South Pavilion. Located behind the fifth green -- the farthest point from the clubhouse -- you'd have thought it had been there for years. The merchandise center was state of the art; a concession stand came with picnic table seating.
This week, it will all be dismantled, put away until next year. When it rises again in 2015, you'll never know it had ever been taken down.
Not far away, also on the fifth hole, is a hospitality venue that opened last year called Berckmans Place. (It is named after the road that runs along that side of the course.) It is not for everyone, a $6,000 price tag per year with a three-year commitment required when it opened in 2013. This is golf's version of a luxury suite times 10, with massive indoor and outdoor seating, unlimited food and drink, replica greens from the course and big-screen televisions everywhere.
Among the Augusta National members who have been seen as greeters? Lynn Swann and Condi Rice.
But what makes the Masters so unique is that while Berckmans Place might be viewed as corporate excess, a badge to the tournament is a reasonable $250. That's for all four tournament rounds. Practice round tickets are $50, available only via lottery. Parking, on club property, is free. Lunch for a family of three? $12.50.
The tournament rakes in millions upon millions of dollars, which is one of the reasons why everything is done to perfection. But the money aspect is almost never discussed. Under chairman Billy Payne's watch for most of the past decade, the club has donated hefty sums to charity through its Masters Foundation.
Bloomberg News reported that in the last year that figures were available, 2012, the club donated $3.2 million to the Masters Foundation -- the non-profit arm that has been used to bankroll grow-the-game initiatives such as the Asia-Pacific Amateur Tournament and the new Latin America Amateur Tournament.
Last year, the PGA Championship and PGA Tour held a news conference to announce that they were each going to have the biggest purse in golf, $10 million. Of course that's a big deal. The Masters? This year, without acknowledging an increase, the club used a news release to give a purse rundown. Those paying attention noticed it had gone up $1 million over last year.
It is hard to fathom now, but a club in its infancy some 80 years ago was typically on the brink of bankruptcy. It had a hard time giving tickets away, hence the loyalty to this day to Masters "patrons." As recently as 25 years ago, then-club chairman Hord Hardin rued the escalating expenses and purses in golf and shuddered at the thought of having a title sponsor.
That seems a laughable concept today as money pours in from worldwide television rights fees, ticket sales and merchandise.
There is no other place that could offer refunds for tickets purchased for as many as 50,000 spectators. But that's what happened on April 7, when poor weather caused Augusta National to close its doors after just two hours. Not only were refunds announced, but those in attendance will be offered the opportunity to return in 2015.
Augusta National can clearly afford it, as it has been able to buy up property around the course for years, leading to more parking, more hospitality, a state-of-the-art driving range -- that is basically used just for the tournament, not the membership -- and grand ideas such as future player housing.
FOLLOW GOLF ON ESPN
Stay up-to-date with the latest news, stories and analysis.
Follow ESPNGolf on Twitter
Many got a chuckle last week during Payne's annual pre-tournament news conference when a question came up about a proposed city of Augusta plan to have Berckmans Road, which runs along the spectator entrance, moved.
"It's no secret; we have significant economic success," Payne said. "And if in the case of the city [of Augusta], it being their decision to relocate the road; and once that decision was made, we were of course anxious for it to begin because it improves the traffic flow dealing with our tournament.
"So we kind of told them, don't worry about the money, that we will advance it, loan it to you, and so it helps us because the road gets built more quickly."
Think about that. A golf club lending money to city government.
What does it all mean? Well, simply, the Masters and Augusta National are a unique sporting experience. And while big-money is the rage in all of sport, the people there put it back into the game and their tournament.
As for the latter, well, it is so important, so revered, that Bubba Watson has twice cried after winning it. And you can bet that he could have cared less that his latest victory paid more than the first.
At the turn
Bubba Watson became the 17th player to win the Masters at least twice. So far, none of those who have done so previously -- excluding Tiger Woods, who is not yet eligible -- has failed to make the World Golf Hall of Fame.
Back nine
It has been a little more than a year since Rory McIlroy was displaced atop the world rankings by Tiger Woods. The Northern Irishman has now dropped to 10th in the world, the lowest he has been in more than three years.
And yet he is coming off his best finish ever at the Masters.
McIlroy was disappointed he was unable to get much going at Augusta National, even though he tied for eighth after a final-round 69. It was his best performance in six Masters.
"It's been a frustrating week because I felt like, from tee to green, I played as good as the leaders," McIlroy said afterward. "I don't think I've ever played as good, tee to green, around this course as I have this week. I just need to take some more chances that I've given myself on the greens."
Only two players took more putts than McIlroy over 72 holes. He needed 125, an average of 1.74 per hole. Rickie Fowler led the field with 108 putts and winner Bubba Watson took 116. McIlroy finished 8 strokes behind Watson.
McIlroy's 95 putts for greens hit in regulation was also poor, with only Billy Horshel's 100 putts worse.
Meanwhile, McIlroy tied for second in greens in regulation with 52 out of 72, trailing runner-up Jordan Spieth by one. McIlroy was second to Watson in driving distance.
McIlroy said he made a putting adjustment during the final round, but by that point it was too late.
"At least that gives me something to work on the next couple of weeks heading to Charlotte [for the Wells Fargo Championship] and obviously building up toward the U.S. Open.
"At least I figured something out with my putting and I can go with that. It's something to really work on and something to get right. And hopefully I can start seeing a few more putts go in, and get more confidence, because my long game is where I need it to be. It's just taking advantage of the good shots that I'm hitting."