Will anyone step up at Quail Hollow?
video1>
Front nine
CHARLOTTE, N.C. -- Perhaps we should have seen this coming. A year ago at Quail Hollow Golf Club, Derek Ernst was the fourth alternate, got into the Wells Fargo field at the last minute, somehow beat Phil Mickelson, Rory McIlroy and Lee Westwood down the stretch, and defeated David Lynn in a sudden-death playoff.
Out of nowhere? That's being kind to "nowhere." Ernst was barely on the radar, ranked 1,207th in the world at the time. He had done little before and has done little since, and is actually in the process of re-tooling his game and trying to improve while he has a two-year exemption.
WELLS FARGO CHAMPIONSHIP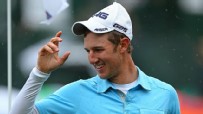 • Defending champion: Derek Ernst
• Leaderboard | Experts' picks
• FOREcaster
• Venue: Quail Hollow Club; par-72; 7,442 yards
• Location: Charlotte, N.C.
• TV coverage: Fri., 3-7 p.m. ET, Golf Channel; Sat., Sun., 1-2:30 p.m. ET, Golf Channel; 3-6 p.m. ET, CBS
• Monday qualifiers: Dustin Bray, Frank Lickliter II, Hunter Green, Fielding Brewbaker
• Payout: A 156-man field with winner taking $1,242,000 of a $6.9 million purse
• Format: 72-hole stroke play with 36-hole cut to low 70 and ties.
• Money leaders | Schedule | Rankings
• Follow @ESPNGolf on Twitter
But his surprising success at the 2013 Wells Fargo Championship was another example of the wide range of players capable of winning on the PGA Tour. A week later, Tiger Woods won the Players Championship, his fourth victory of the season, further strengthening his grip on the world's No. 1 ranking.
That standing, however, is now precarious by the week. Woods, who is out indefinitely after March 31 back surgery, could fall from the top spot virtually at any time, based on the success of those pursuing.
Of course, neither No. 2 Adam Scott nor No. 3 Henrik Stenson has managed to post a victory anywhere in the world in 2014, or one of them likely would be No. 1 by now.
But No. 4 Bubba Watson has two wins, including the Masters. At No. 5, Matt Kuchar has barely been out of the top 10 in most tournaments, with a victory two weeks ago at the RBC Heritage. No. 6 Jason Day, who won the WGC-Match Play, might have threatened for the top spot were it not for a nagging thumb problem that has kept him out of all but the Masters.
No. 7 Jordan Spieth made a spirited charge at the Masters, No. 8 Sergio Garcia had a nice run late in 2013 and into 2014, and Mickelson, at No. 9, has been mostly disappointing so far but is poised to make a run at the U.S. Open. And No. 10 Justin Rose just had a good final round at the Zurich Classic.
That leaves McIlroy outside of the top 10 for the first time in more than three years, his slide the result of just one worldwide victory in 16 months.
With Woods out of action -- and his return to competitive golf still very much unclear -- golf's void is wide, with nobody so far willing to step in and take over.
Since the start of the 2013-14 season, there have been seven first-time winners on the PGA Tour. There were also nine players who qualified for the Masters by winning. Other than Watson, the only multiple winners -- Jimmy Walker and Patrick Reed -- had never played in the Masters prior to their rookie appearances this year.
Of the six winners leading up to the Masters -- Russell Henley, Reed, John Senden, Matt Every, Steven Bowditch and Matt Jones -- only Reed was already in the Masters field.
Including South Korea's Seung-Yul Noh, there have been five players age 26 and under who have won in the past two months on the PGA Tour, none named McIlroy, Spieth or Rickie Fowler.
Meanwhile, top-notch players such as Luke Donald, Jason Dufner and Keegan Bradley have not won. In consecutive weeks, Donald and Bradley played in the final group with a shot at victory, only to come up short.
FOLLOW GOLF ON ESPN
Stay up-to-date with the latest news, stories and analysis.
Follow ESPNGolf on Twitter
Zach Johnson and Dustin Johnson both won earlier this season, but it seems a long time ago. Players such as Graeme McDowell, Steve Stricker, Brandt Snedeker, Ian Poulter -- Ryder Cup players all in 2012 -- have seen their form fall off in 2014.
Is this a sign of parity? Perhaps. It could also be a sign that the best players in the game at the moment are not capable of dominating for extended stretches of time. Other than Woods, the only players to really do so in the past two years have been McIlroy -- who won five times worldwide in 2012 -- and Stenson, who won the FedEx Cup and Race to Dubai but won just three times overall worldwide in 2013.
Meanwhile, Ernst returns to Quail Hollow this week with the good vibes from a rainy time a year ago. He has yet to finish better than 30th since that victory, and he missed the cut at the Masters. Yet he is proof that just about anything can happen.
At the turn
Two years ago at Quail Hollow, Anthony Kim withdrew after a first-round 74 at the Wells Fargo Championship and has not been seen since. At the time, he announced he was taking several months off to deal with tendinitis in his arm, then a few weeks later suffered an Achilles injury while training.
His return to competitive golf is still unclear, although it doesn't sound like it will be soon.
"I'm hopeful it will be in 2014," Clarke Jones, Kim's agent, told GolfChannel.com. But he also added that Kim has not been playing golf.
"He's not living under a bridge, he's not living in a box," Jones said. He also strongly denied that there has been any kind of suspension by the PGA Tour.
Kim, 28, starred on the 2008 U.S. Ryder Cup team and was also part of the 2009 U.S. Presidents Cup team. He won three PGA Tour titles, the last at the 2010 Shell Houston Open, and climbed as high as No. 2 in the world following the Masters that year. He is now ranked 1,529th in the world.
Back nine
Say what you will about Donald Trump, but the man loves golf and he has made a significant investment in the game at a time when there has been far more retracting than expanding.
But if the latest reports come to pass, Trump will perhaps have a stake in a major championship.
The UK's Telegraph reported this week that Trump is set to buy Turnberry on the South Ayrshire coast of Scotland for £35 million. Trump has since confirmed the purchase of the resort, which includes two golf courses, a golf academy and hotel and lodge accommodations. Perhaps most notable, however, is that Turnberry has been home to four Open Championships, the most recent in 2009, when Stewart Cink defeated Tom Watson during a playoff.
Watson had won the first Open ever played at Turnberry in 1977, an epic occasion known as the "Duel in the Sun" as he bested Jack Nicklaus over the final 36 holes, shooting 65-65 to Nicklaus' 65-66.
The Open returned for Greg Norman's victory in 1986, as well as a win by Nick Price in 1994. Transportation and infrastructure issues kept the Open from returning to the somewhat remote location for 15 years. Turnberry is almost assuredly in the plans for another Open sometime in the next 10 years.
The views to the Ailsa Craig, a volcanic island several miles off the course, as well as the quality of the links suggest the Open will return at some point. It is one of nine courses in the rotation, with Royal Portrush in Northern Ireland getting some strong consideration of late to host the Open. At this point, the Open has been awarded through 2016, with the tournament going to Royal Liverpool this year, St. Andrews in 2015 and Royal Troon in 2016.
The Open likely will go to England in 2017 and 2019, so 2018 or 2021 would be the most likely chances for Turnberry.
Birdies
1. Seung-Yul Noh. His first victory on the PGA Tour came in impressive fashion as the 22-year-old converted a 54-hole lead into a win at the Zurich Classic.
2. Lydia Ko. Only 17, Ko prevailed over Stacy Lewis in San Francisco to added to her already impressive résumé.
3. Andrew Svoboda. His first top-10 finish on the PGA Tour was a tie for second in New Orleans and it moved him to 71st in the FedEx Cup standings.
Bogeys
1. Keegan Bradley. One of the game's top young players is going on nearly two years without a victory, and he let a good chance slip Sunday when he shot 75 playing in the final group in New Orleans.
2. Stacy Lewis. She has six top-six finishes in seven starts this year on the LPGA Tour -- but no victories.
3. Rory McIlroy. He didn't even play last week, but McIlroy fell out of the top 10 in the world for the first time since January 2011.
19th Hole
The inaugural Concession Cup gets underway this week in Bradenton, Fla., at The Concession Golf Club, a course designed by Jack Nicklaus and meant to commemorate his conceded putt to Tony Jacklin at the 1969 Ryder Cup. Nicklaus and Jacklin are serving as honorary captains for the event, which is proposed to be a biennial match-play competition between mid-amateurs and older from the United States against a team from Great Britain and Ireland. The competition is Thursday through Saturday.
Notable
Seung-Yul Noh's victory in New Orleans earns him a spot in the Players Championship next week, as well as the PGA Championship, the Hyundai Tournament of Champions and next year's Masters ... Noh became the first player born outside of the United States or Australia to win on the PGA Tour this season ... For those not already qualified, the only way into next week's Players Championship is to win the Wells Fargo Championship this week ... Lydio Ko has now won six professional events, four as an amateur, her first as an LPGA member last week. She is now ranked second in the world ... David Duval's tie for 25th in New Orleans was the best finish for the 2001 Open champion since a tie for 23rd in Las Vegas in 2011 ... Jason Dufner played in last week's Volvo China Open on the European Tour and tied for 54th. Henrik Stenson could have gone to No. 1 with a victory in China but he finished fifth ... Phil Mickelson is among the top names in this week's Wells Fargo Championship field. Mickelson has played in the tournament 10 times, with seven top-10s, including a runner-up last year. But he's never won ... Rickie Fowler also returns to the site of his only PGA Tour victory, which came two years ago ... The Open Championship had to move one of its final qualifying venues due to severe winter weather that affected Royal Cinque Ports in Deal, England. Sunningdale, near London, will replace it. The 36-hole qualifier will produce three Open participants, as will the other three final qualifying sites.
Quotable
"Normally they would say sweet 16, but I would say it's sweet 17. I don't think I could have any better birthday week." -- Lydio Ko, who celebrated her 17th birthday by winning her sixth professional title but first as an LPGA Tour member.