Scottish Open warm-up aids major preparation
Front nine
ABERDEEN, Scotland -- There is nothing in golf that approximates what it is like to play a true links. Pinehurst might have looked the part last month for the U.S. Open, but the comparisons end there.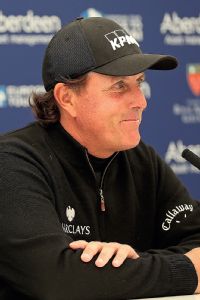 Mike Ehrmann/Getty ImagesWith his victory at last year's Scottish Open, Phil Mickelson's influence in golf might get more top golfers to play the event as preparation for the Open Championship the following week.
To adapt to what the players competing in next week's Open Championship at Royal Liverpool will face, it's best to get on a links.
And a links in competition is even better.
So welcome to the Aberdeen Asset Management Scottish Open, which begins Thursday at Royal Aberdeen Golf Club. When it comes to links golf, it doesn't get much better.
"It looks like we can get a tougher test this week than next week," Rory McIlroy said Wednesday as wind gusts rocked the interview tent where he was speaking. "It looks like we can get a bit of everything."
The sun was shining for most of Wednesday's pro-am, but it was nonetheless blustery and sometimes chilly. Rain is expected for parts of the tournament, and nobody would be surprised if conditions got extremely challenging during the week.
And that is the beauty of Royal Aberdeen -- founded in 1780 -- which offers a stern test and the kind of conditions players are likely to face next week at the Open.
Weather, of course, has so much to do with how these courses play. They are typically barren, with little in the way of trees, always near the sea. So wind plays an important role.
So does the ground, which is often the texture of a tabletop. Unless there is a deluge -- and even sometimes that doesn't do -- the conditions are almost never soft because links courses have a sandy base with excellent drainage. It doesn't take long to get them firm and fast, and it's nearly impossible to hold shots.
That means carrying the ball to the hole -- the common play in the United States -- typically results in a tough shot from the back of the green.
"To come here and see this and see the ball run and roll … you can see it's just a different way of thinking about playing golf and getting around a golf course," said Jimmy Walker, the FedEx Cup leader on the PGA Tour whose Open experience is limited to last year at Muirfield. "It's not so much, 'fly it to here, fly it to there.' You're flying it in different spots to get the ball to end in a different place.
"I thought it would be a good opportunity to get a few more rounds in, and I'd love to have a chance to compete on Sunday next week."
Phil Mickelson's success last year didn't hurt. For years, Lefty struggled playing links golf. His record at the Open was notoriously poor for a player of his pedigree.
But last year he won the Scottish Open at Castle Stuart, a modern links layout, and it carried over to the next week at Muirfield. Rickie Fowler is playing here, as is McIlroy, who had skipped the Scottish Open in recent years.
"Phil definitely opened the eyes of a lot of guys," McIlroy said. "And it's not just me. You look at the likes of Justin Rose, Luke [Donald], I ran into Rickie at breakfast this morning. Jimmy Walker. There's a few guys I think who Phil has influenced to come over here and play some links golf, competitive links golf, before the Open."
At the turn
Tom Watson said last week at the Greenbrier Classic that he expected "four or five" potential U.S. Ryder Cup team members to join him this weekend at Gleneagles in Scotland for a scouting mission. But it will be interesting to see who shows up. Watson didn't name any players. Among those who were thought to be considering taking the trip were Patrick Reed and Keegan Bradley.
Three Americans with strong Ryder Cup aspirations are in the Scottish Open: Mickelson, Fowler and Walker. So unless they miss the cut, those three won't be participating, and even then it is unlikely with the Open Championship next week.
Gleneagles is an American-style golf course -- the one for the Ryder Cup was designed by Jack Nicklaus. And getting practice on a links would seem to be imperative.
Watson's intentions seem good here, as none of the potential players on his team has any experience at Gleneagles. Then again, the U.S. precedent is not a good one. In 2006, captain Tom Lehman took a group to the K Club in Ireland, including Tiger Woods and four Ryder Cup rookies. The U.S. suffered an 18½-9½ defeat.
Back nine
A few years ago, Padraig Harrington was warming up on a practice range when he heard an unfamiliar sound coming from somewhere near but behind him.
"I'm hitting shots, and I could see his ball flight coming out, and he's the only player I stopped the whole week and turned around to watch him hit the golf ball," Harrington said. "It was Tom Watson. I've never seen a golf ball hit like that in the wind. It was unbelievable how well he hit the ball beside me. The consistency, as I said, I had to stop hitting my own shots, I was distracted by these shots going out from sort of over my left shoulder. I had to stand back and pretend I was cleaning the club and have a little bit of a look."
Watson remains a marvel at age 64. He didn't contend at the Greenbrier Classic last week, but he did tie for 34th and beat plenty of players. In the first two rounds, he played with Bradley and Webb Simpson -- two guys who hope to play on his Ryder Cup team -- and it must be a bit disconcerting to them that they didn't exactly trounce him.
Because of his Ryder Cup captain duties, Watson is skipping this week's Senior U.S. Open. But he'll be at the Open Championship next week at Royal Liverpool and is then playing the Senior Open Championship the next week in Wales. Watson has also accepted an invitation to play in next month's PGA Championship, the only one of the four majors that he has never won.