When was your #FallingForGolf moment?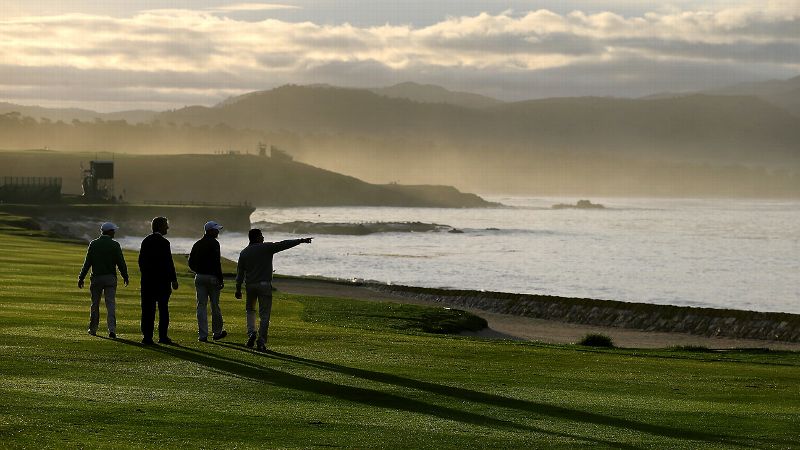 So when did the golf bug grab you? We asked, you answered, and here are the results.
A few seemed to start practically at birth while others waited until middle age.
Some are serious. Some are hilarious. All are heartfelt.
No matter when the golf bug grabbed you, we still want to hear your stories. Tweet us @ESPNGolf using #FallingForGolf.
And don't forget to check out our first installment of #FallingForGolf from the pros where Jason Day, Brandt Snedeker and Jessica Korda tell their stories.
@ESPNCaddie Front yard central Iowa with the pops #FallingForGolf pic.twitter.com/CD0dJ1v7EX

— Blake Scott (@blakescott333) February 7, 2014
@ESPNCaddie First time I picked up a bag to caddie @WGAESF #thankschick

— Jeff Grimes (@leftygolferord) February 6, 2014
@ESPNCaddie #FallingForGolf. Wife took me to driving range 11 years ago. Her fault I haven't stopped playing since.

— Tom Cammalleri (@Broncfan07) February 7, 2014
@ESPNCaddie when I moved behind a nine hole exec. course found errant shots in my yard. neighbor gave me a 5 iron,I started sneaking on

— marc mccaffrey (@mvm215) February 6, 2014
@ESPNCaddie winter park municipal. 9 holer $13 green fees. 2470 from the tips!

— Matt MacDonald (@Matt__MacDonald) February 6, 2014
#Fallingforgolf started playing after High School and never stopped. Watching @SharkGregNorman was the reason I started playing Thanks Shark

— The Golf Traveler (@GolfTravelerBOS) February 7, 2014
Caddying for my dad when I was 9yrs old. Got soda & hot dog after 9. Started working at golf course when I was 14 #FallingForGolf #50years

— Greg Moore - PGA (@gdm43pga) February 7, 2014
@ESPNGolf got started so that I can one day beat my lil brother @gilyim so that he can stop trash talking. #FallingForGolf

— Grant Yim (@grantyim) February 7, 2014
@ESPNCaddie my 4 year old daughter loved twilight golf with daddy this past year #FallingForGolf pic.twitter.com/ImYZ51MMd8

— The Original LINDY" (@OGLindy) February 7, 2014
@ESPNCaddie Minor Park in KC. Falling in love w/ golf and the guy who became my husband at the same time. #FallingForGolf

— Cindy McCaffrey (@heymccaffrey) February 7, 2014
@ESPNCaddie Jr High, troubled kid, Dad took me 2 9hole executive/range 2learn patience 1st swing club went farther than ball #fallingforgolf

— Blake Richey (@blakkerichey) February 7, 2014
@ESPNCaddie #FallingForGolf Love golf? I hate it. That's why I spend every spare moment & extra dollar trying to get better! Maybe one day.

— Greater Than (@DrinkGT) February 7, 2014
@ESPNCaddie Pineview Golf Club Three Rivers, MI with my Dad teaching me the ropes #FallingForGolf

— Lori Hoeksema (@lorihoeksema) February 7, 2014
Executive course in Akron, PA.$2.50 for 18 holes. Comic after asks, "Well?" I hold up a $5, "I'm staying for a bit." #FallingForGolf

— Michael Collins (@ESPNCaddie) February 7, 2014
@ESPNCaddie When I saw my daughter swing like this #downsyndromecan'tstopher #FallingForGolf pic.twitter.com/qCUMvQsStU

— Barbara Mitchell (@barbaralynnm) February 7, 2014
#FallingForGolf @ESPNCaddie LACC early 70's.

— Patrick McLaughlin (@VerbalHarpoon) February 7, 2014
@ESPNCaddie with my dad at 3 years old in Long Beach, IN. Took me to the putting green. Still have the itch 30 years later! #FallingForGolf

— Marty Bergerson (@MartyBergerson) February 7, 2014
@ESPNCaddie #FallingForGolf At 10yo, friends & I mowed "greens" in a nearby former pasture. We took turns with a wooden shafted 7i.

— Kent (@DKBruce1) February 7, 2014
@ESPNGolf my grandkids wanted lessons before an Arizona visit. PGAmerica offered free lessons-took five -began to work with a pro-Hooked!

— Sharon Dennis (@sddphoto) February 6, 2014
#FallingForGolf Mid Rivers GC outside St. Louis. It was my home course for years... It's a subdivision now.

— Frank A. Wood, Jr. (@f_wood09) February 7, 2014
Rescue 3 hybrid from the previous fairway after a sliced drive. Hit a fade into the wind from 205. Inside 4 feet for bird. #FallingForGolf

— Chip Sanders (@ChipSanders1) February 7, 2014
@ESPNCaddie Aronomink. Dad played 9 after work in summer, I'd putt/chip/try shots @ practice green. Moved to Fla next winter #FallingForGolf

— Ken Jackson (@Phoulballs) February 7, 2014
@ESPNCaddie cut a green in backyard as a kid. Realized the best way to cut the dogleg was over the house! #FallingForGolf

— Glenn Davis (@lhgman3) February 7, 2014
@ESPNCaddie #FallingForGolf 1st volunteer work, South Africa 2002. Got there on Sun, met mentor on 9th, played while briefing me about job.

— J. Storm Delaney (@stomedy) February 7, 2014
@ESPNCaddie Third round I played, hit it 1' from the hole on a Par 3. Two putt for par, didn't even break 100. I was hooked. #FallingForGolf

— swvadon (@swvadon) February 7, 2014
@ESPNCaddie age 13 at a 9 hole course in Institute,WV w/ my WW II veteran grangpa. Played (and walked) into his 80's. #hero

— Dean Rose (@DRose62) February 7, 2014
Days like today have us reminiscing about #FallingForGolf and longing to get back out on the course ASAP! @ESPNGolf http://t.co/025qLVfGxg

— Louisiana Golf Assn. (@LGA1920) February 6, 2014
@ESPNCaddie #FallingForGolf After my dad asked me if I wanted to caddie and it led to a @WGAESF scholarship

— Mark Wittig (@MarkWittig) February 7, 2014
My Dad took me to the 1993 @PGAChampionship. The @SharkGregNorman surfaced. That's when I started #FallingForGolf. pic.twitter.com/r7exnTBzwZ

— Nick Eber (@nicholaseber) February 7, 2014
@ESPNCaddie when the "best player at the club" owed this 12 year old 6$ when we got done first time we played. #lovethatmoney

— Josh Dickinson (@TourCaddieJD) February 7, 2014
9 hole course, Albuquerque, UNM north course. In my early teens my dad taught me the game on this course. Saturdays were fun #FallingForGolf

— Todd Montoya" (@ToddCaddie) February 7, 2014
@ESPNCaddie Backyard at 4yo with little tikes clubs before moving on to dad's cut down set #fallingforgolf pic.twitter.com/DfhbUQirzj

— Curtis (@Curtis_Bressert) February 7, 2014
@ESPNCaddie Berlin. Dad was stationed there. Saturdays @ the range and putting green, cheeseburgers after. #FallingForGolf

— John Cook (@jthe505kid) February 7, 2014
@ESPNCaddie 2013 Open in Philly...worked part time at the Merion. Sensed there was something cool about this sport. #Fallingforgolf

— Sneed (@King_Sneed) February 7, 2014
#fallingforgolf Addington Palace GC in Surrey. First ever pure hit using balata and a PGF Status forged 4 iron. 6". Total love!

— Tim Pressman (@Ringsthecaddy) February 7, 2014
@ESPNCaddie Aeropines Golf Club, NAS Oceana - 1st time breaking 100; shot 88 w/a 9 on 18 becuz I got nervous #FallingForGolf #Veteran #USN

— DownTown (@DwnTwnDelFuego) February 7, 2014
Or maybe the first time I played Waterford Golf Club and looked down at the city from the 18th tee. #FallingForGolf pic.twitter.com/e1LQIag9pf

— Chip Sanders (@ChipSanders1) February 7, 2014
@ESPNCaddie watched golf on tv when young- didnt start playing until 40. Love the game more now that I play!!!!!

— Tina Gottron (@gottron7) February 7, 2014
@ESPNCaddie Hartwell Park in LB There was a 5 yr old kid that was better than me I worked on my game but TW worked harder #FallingForGolf

— Ted Muller (@TedMuller) February 7, 2014
@ESPNCaddie @EFGolfClub in Tulsa, OK faded a 5 wd over water (unintentional lol) & stuck it inside 15 ft with @The_Dynassty #FallingForGolf

— Tony Weaver (@TWeaver14) February 7, 2014
@ESPNCaddie Lake Arrowhead Country Club #1979 #FallingForGolf

— TJG (@tjgnorcal) February 7, 2014
@ESPNCaddie went from interest to true passion when my 9yo daughter starting playing. About to start 5th year of jrgolf. #FallingForGolf

— Wayland Y Boozer (@wbooze) February 7, 2014
@ESPNCaddie Husband took me home to meet folks & his dad was head pro at club. Gave me lesson & I striped 1st drive 160yds. #FallingForGolf

— Breadchick (@Breadchick) February 7, 2014
Sweet 16 birthday at @The_Masters with my best friend. Par 3 with Freddie and Watson. Started it all @AugustaGolfGirl. #FallingForGolf

— Sandie Crowley (@SandieCrowley) February 7, 2014
@ESPNGolf I was 8yrs old and my papa bought me a jr set of clubs for my birthday. I've been on a golf course every week since that day.

— Chris Turner (@TurnerTymes0508) February 6, 2014
#FallingForGolf played Sienna Plantation with my wife's uncle 2yrs ago haven't stopped since then @ESPNGolf

— Coach Reese (@mann_at_arms) February 7, 2014
@mvm215 when I moved behind a nine hole exec. course found errant shots in my yard. neighbor gave me a 5 iron. I snuck on. #FallingForGolf

— Michael Collins (@ESPNCaddie) February 7, 2014
@ESPNCaddie LaFayette Golf Course, LaFayette, GA. Would 'check out' of school early to go play #FallingForGolf

— craigdedmon (@craigdedmon) February 7, 2014
My dad took me to the range when I was 4 and to the course when I was 6. Love the game and the bonding time #FallingForGolf @ESPNGolf

— Cam Boon (@lilboon) February 6, 2014
@ESPNCaddie Dubsdread Golf Course! === #FallingForGolf

— Brandon Farraye (@BFarraye) February 7, 2014