As Tiger waits to return to the scene, Watney jumps into spotlight

I'm a firm believer that neither of Padraig Harrington's major championship victories against Tiger Woods-less fields last year should be adorned with an asterisk.
Nor should Vijay Singh's FedEx Cup title, Camilo Villegas' two late-season playoff wins or any other accolades that came while the game's No. 1-ranked player was recovering and rehabilitating from knee surgery.
If we're ever going to find reason to simultaneously hit the "shift" and "8" keys next to a winner's name, though, this may have been the week. Woods had won each of the last four editions of the Buick Invitational and, as you may have heard, he also took last year's U.S. Open at Torrey Pines.
While the burning question still revolves around when Tiger will return, the Weekly 18 begins with the notion that it may be time to amend the most important inquiry about his comeback.
Ever since Woods prevailed over Rocco Mediate in a sudden-death playoff on June 16, 2008 at the U.S. Open, the most prevalent question in golf -- in all of sports -- has been one simple word: "When?" No further clarification necessary.
Sobel: Bouncing Back
It seems that any time Tiger Woods has been faced with an emotional impediment, he only returns with greater success. Now that Woods is a father for the second time, expect just that, writes ESPN.com's Jason Sobel.
Blog
•
Tiger's wife gives birth to a boy
•
Tiger Tracker index
The answer is ... we still don't know. For months, TW has been toeing his own company line, usually offering some variation of this seemingly sensible explanation: "I'd like to be back soon, but I don't know when 'soon' is. That's the most frustrating thing for an athlete, is that usually you have certain dates that you can look forward to and prepare and know mentally and physically that's & when I'm going to compete again."
As he readies himself for a return to competition, it's becoming apparent that "soon" really is the imminent future, with guesses ranging from the WGC-Accenture Match Play Championship in Tucson at the end of February to the WGC-CA Championship at Doral in early March to the Arnold Palmer Invitational at Bay Hill in late March. All of which would allow for some tournament rounds in advance of the Masters. And so our biggest query should shift with this revelation as well -- from "When?" to "How?"
Mark J. Rebilas/US Presswire
When Tiger Woods left us, he was pulling off a major victory for the ages at the U.S. Open. Although we don't know yet when Woods will return, you can be sure he will bring all his usual excitement and drama to whatever tournament is lucky enough to host his first appearance since June.
How will Woods fare when he gets back to tournament golf? How will the surgically repaired knee feel? How will it affect his swing? How much will he be able to practice? How many events will he play this season?
Allow his recent comments to serve as the latest indication that all is progressing according to form, a hint that we should expect the same ol' Tiger Woods when he does tee it up again.
"Many people have asked me if my swing has changed since the surgery, and the answer is no," Woods posted to his personal Web site on Tuesday. "I'm doing all the things I've been trying to do for a long time, but I can actually hit into my left leg without my bones moving. It's a nice feeling! It is so much better than it ever has been because my bones aren't grinding against each other."
If you're guessing that it may take some time for Woods to ease back into the grind upon his return, well, guess again. The one thing we continually hear from Camp Tiger -- echoing a sentiment that he's long offered whenever the opportunity has presented itself -- is that the 65-time PGA Tour champion has never entered an event in which he didn't believe he could be victorious. That's not about to change when it comes to his 2009 debut, either.
Woods knows there will be millions of eyeballs concentrated on his every move during his first tourney back and wants to kick things off with a bang, not a thud. When will that comeback happen? Soon. How will it unfold? In dramatic fashion. We shouldn't expect anything less.
2 Nick Watney. He may be the least sexy of the PGA Tour's five 2009 champions so far -- following bigger names Geoff Ogilvy, Zach Johnson, Pat Perez and Kenny Perry -- but the Buick Invitational winner is hardly a fluke.
Truth be told, I couldn't tell you why the soon-to-be 28-year-old only owned one career victory entering this week. Or why he finished in the top-10 at a rate of only once every 10 appearances before this season. Or why he finished a lowly 121st on the money list last year.
Dude has all the swagger of an elite player and may very well be on the road to becoming one. As I wrote prior to the start of this season:
"Sometimes the numbers lie. Sometimes they don't tell the full story and can't provide an accurate indicator of things to come. In these cases, trust the eyeball test. It's an examination that Watney passes with flying colors; watch him on the range, and you'll see he has one of the most impressive swings on any given week. Of course, watch his results, and you'll notice that it hasn't totally translated into success, save his 2007 Zurich Classic win. That will change this season, as the Fresno State product becomes even more comfortable in his fifth full season on tour. He's ranked No. 204 in the world right now, but if the putter comes around just a bit, he'll soar up the list."
At Torrey Pines, his putting did indeed come around, as he ranked T-13 in putts per round, highlighted by a game-changing 38-footer from the fringe on 16 that vaulted him into a share of the lead on Sunday. And that eyeball test? Yes, he still looks every bit the type of player who will only continue to improve with more experience.
As if we needed more proof of Watney's skill set, consider this: His victory would have qualified him for the Masters, except for one little problem -- he was already in the field based on a T-11 finish last year. He's already played well on a major stage; don't be surprised if he takes it to the next level in April.
3 Paul Goydos. Three weeks ago, the longtime Tour veteran learned of his ex-wife's death and immediately took a leave of absence from his playing career in order to be with his two teenage daughters on a more regular basis.
Though Goydos' full-time return is still undetermined, the Long Beach, Calif., native decided to compete in the relatively local Buick Invitational, commuting from home each day.
In what could only be considered a pure example of karma, though, he didn't just compete. He contended.
With rounds of 72-66-72 to start the week, Goydos found himself in a share of fourth place entering Sunday, just six shots behind 54-hole leader John Rollins. Though a final-round 75 proved to be his undoing -- that total dropped him to T-17 upon the tourney's completion -- Goydos should be commended for his recent decision and the impending result at Torrey, whether he think so or not.
"I play golf," he said bluntly. "I enjoy playing golf. It's what I do. I do it when I'm home. I do it when I'm out on tour. I do it at Christmas if I can. It's what I do."
4 Beavers and Ducks. Play the sport long enough, and you'll run into someone who's simply better than anyone else you've seen -- the guy who has long, straight drives, crisp iron shots, the ability to get up and down from anywhere. Inevitably, you will ask, "So, how come you aren't playing on tour?" But this guy already knows what so many others have found out the hard way: It ain't easy.
Two news items in the past week reminded me once again just how difficult it is to achieve success in this game at the most elite professional level.
Vincent Johnson, an Oregon State grad who won two college titles and 68 others at the junior level, will get his initial chance on the PGA Tour this month, reaching the field of the Northern Trust Open as the first recipient of the Charlie Sifford Exemption. Johnson, who graduated in three years with a degree in finance and a minor in music, has been trying to compete on the minitours but has run into issues thanks to a lack of sponsorship funds.
"The financial backing is a challenge," Johnson told The Associated Press. "I don't have the résumé that I'd like to have, and also the economy. There couldn't have been a tougher time to turn pro."
It's not as if he's been raking in the big bucks, either. In three starts on the Gateway Tour, Johnson has two MCs and a T-65, and has earned a grand total of $800.
University of Oregon product John Ellis also will get a chance via sponsor's exemption at this week's AT&T Pebble Beach National Pro-Am. I've heard for an awfully long time that this guy is a pure stick, and he proved it on last year's Canadian Tour, winning three times in just 12 starts while topping the money list with $113,315 -- which may be akin to breaking the $10 million barrier on the PGA Tour.
"When I get to the PGA Tour, I am going to look back on this season and say that it was a real stepping-stone in my development," Ellis said after earning the Canadian Tour's player of the year honors in 2008. "I felt like I climbed over a big hill this year, and that the PGA Tour is right there."
It is -- but he won't be playing there full time this year unless something somewhat miraculous takes place on the Monterey Peninsula. Although his Canadian Tour status earned him a berth in Q-school's second stage last year, he didn't reach the finals and is once again left to play his major league game in Double-A ball when he doesn't receive a special exemption. Ellis has made five career appearances in the bigs -- three of which came at Pebble -- but never finished in the money.
Who knows? Stick Johnson and Ellis in 30 PGA Tour events this year, and each may be good enough to retain status for another year. But as any player who has tried to reach the PGA Tour knows, getting there ain't easy.
5 Phil Mickelson's putting stroke. Prior to making his season debut at last week's FBR Open, Mickelson discussed the putting woes which he contends plagued him for much of 2008, though you wouldn't know it by his final ranks of 22nd on tour in putting average and 27th in putts per round.
"That was a big issue for me last year," he said. "I just didn't feel comfortable on the greens and struggled and tried a lot of different things. I went to the putting studio of Callaway to get on the monitors and see what was going on. [Dave] Pelz and I went there just before the Ryder Cup to try to get this thing ironed out. I found that the stroke was actually how I had wanted it, but my face angle and alignment was off almost a full degree, so I've been spending the offseason, even though I haven't been playing, using devices that train my eyes to line up properly.
"I feel like if I can line up properly it will help my putting immensely. It has felt better ever since. I putted good at the Ryder Cup, I putted the best week of the year at the Tour Championship, and in the offseason it has felt just as good, so I feel confident this will be a good putting year because of that."
Instead, Mickelson needed a combined 60 putts for the opening two rounds, posting scores of 76-73 to miss the cut by seven strokes at TPC Scottsdale. Never fear, though, Phil fans; the poor result was explained away by a couple of bad breaks that led to scores not necessarily indicative of his play.
"It doesn't feel like it's that far off," he said. "I feel like I hit the ball fairly solid, but just made a lot of errors here and there."
As if to prove his point, Mickelson opened with a 2-under 70 on the Torrey Pines South Course -- just one stroke shy of the day's best score on the much tougher of the two host venues.
"I'm starting to really understand the breaks now that I've played here a number of times since the redesign, and I took a lot of notes at the U.S. Open, so I'm starting to read them well," he said afterwards. "I made some good putts today."
He followed with a performance that cemented his place on this week's "Three Down" list. Though Mickelson totaled 26 putts in Thursday's first round, he needed 32 the next day on the North Course, where he missed a mind-boggling eight putts inside of 6 feet.
Let's review that again for those of you who missed the highlights and just glossed over the previous paragraph: One of the world's best putters ... feeling confident in his short game ... on a course he's played hundreds of times ... said he missed eight putts inside of 6 feet. And yes, it was as ugly as it sounds, as Lefty had more burned lips than a Marlboro convention.
Then again, at least his confidence wasn't shattered.
"It feels like I'm just missing some putts," he said. "It doesn't feel far off, but the score isn't what I expect."
His wild week included the use of at least two different putters and an uncharacteristic four-putt on the sixth hole on Sunday. When it was all said and done, Phil averaged 29.5 putts per round, ranking 25th in the final 71-player field while finishing T-42.
For a guy whose shortcomings have often been defined by late Sunday afternoon slices off the tee and overly ambitious lashes toward the green, this flatstick fiasco presents an entirely new problem. Until he fixes it, don't expect to see Mickelson in a winner's circle -- or anywhere close.
6 The 2018 Ryder Cup in ... Dubai? Yes, you read that right. Based on recent reports, there's a very good chance that in nine years, when "Europe" hosts the Ryder Cup, the event won't be held in England or Scotland or Ireland or Spain. Instead, it appears the Euro Tour may be intent on bringing the event to a non-European locale for the first time, such as the United Arab Emirates. Or Qatar. Or Abu Dhabi.
What in the name of Samuel Ryder is going on around here?
As if you couldn't guess, the answer to this question starts with a "$" and ends with a "$" -- with a whole bunch of "$$$$$$" in between. David Spencer, golf chief executive of Leisurecorp, a company owned by the Dubai government, was recently quoted by the Sunday Telegraph as saying, "It's a given that the Ryder Cup in 2018 will not be in the U.K. or Ireland. & Is it possible for the United Arab Emirates or Qatar to make a bid? Yes. Would a company like Leisurecorp want to be part of that and spearhead that bid? Most definitely."
Could anything dissuade tournament organizers from the current thought process? Well, there's perhaps only one thing the committee will believe is more important than the almighty dollar, and that's actually winning the Cup. According to at least one U.S. player, such a move wouldn't only negate the home-field advantage for the Europeans, it also could mean a pro-American crowd. "It would be interesting for us to not have those fans there, to be a neutral kind of fan base, probably pro-us because of Tiger Woods; they don't get to see Tiger Woods that much, Phil Mickelson," Hunter Mahan said before the Buick Invitational. "That seems very odd, because the European fans, they go ballistic for the game of golf. I mean, they love it. To take that away from them, to kind of take that advantage, kind of home-crowd feeling, it would definitely have a weird feel. It's surprising to hear that."
The Ryder Cup has been held in Europe on 18 different occasions a number that will extend to 20 by the time 2018 rolls around. (Celtic Manor in Wales will host next year; Gleneagles in Scotland will host in 2014.) Let's hope, for the sake of tradition, that Euro Tour officials have a change of heart and decide to keep the event in Europe for all future editions. It only makes sense.
Play it again, Samuel.
7 PGA Tour personal grooming guidelines. In a recent GolfWorld magazine article, John Hawkins uncovered a memo from tour headquarters that ambiguously asks for players to clean up any unkemptness without offering any clear definition of what exactly this means. Hawkins writes, "Facial hair and untucked shirts have become matters of concern in Camp Ponte Vedra, perhaps not the lead topic of discussion at weekly meetings but certainly important enough for Rick George, the tour's chief of operations, to get something down in writing."
There is only one proper response to such lunacy, and it needs just five words:
You've. Got. To. Be. Kidding.
For a tour that has gradually started to produce a few players with individuality who don't look the part of prep school grads in khaki slacks and saddleback spikes, asking for personal makeovers sounds like a triple-bogey on an easy par-5. If anything, officials should be cultivating a culture of originality, which would lead to more identity throughout the tour's membership while appealing to a broader range of fan. (Though I'll readily admit that "slovenly" should never be an option.)
From Ryan Moore's tennis-style shoes to Ian Poulter's Claret Jug pants, from Charley Hoffman's mop-top 'do to the "Whose hair can grow longest?" contest between Sergio Garcia, Adam Scott and Tim Clark a few years back, preserving a player's particularities should be a priority, not a prohibition.
Of course, don't expect too many players to be called onto the carpet for a personal-appearance infraction any time soon.
"[It's] more of a guide than a policy," George told GolfWorld. "There are no parameters, per se. We just want the players to be neatly groomed, and there are a lot of ways to interpret that. We want them to be mindful of their overall appearance."
Don't worry -- they are. Although a player's idea about his external outlook might not fit the mold from the handbook, it shouldn't be cause for castigation.
8 I wish all those casual fans that balked at watching PGA Tour events without Tiger Woods in the mix would actually take notice of the entertainment value that has been provided so far in 2009.
Let's review: The season-opening event featured a former U.S. Open champ (Geoff Ogilvy) playing three rounds of flawless golf before holding off the game's newest superstar (Anthony Kim) on Sunday. The next week gave us an ex-Masters winner (Zach Johnson) besting a former PGA Championship title-holder (David Toms). Since then, we've been treated to a long-deserving, first-time winner (Pat Perez), buoyed by what could be one of the shots of the year; a 48-year-old fan favorite with an eye injury (Kenny Perry) claiming the most attended tourney of the year; and an up-and-comer (Nick Watney) coming from behind to secure victory on a vaunted venue.
OK, so maybe I sound like I've been reading too many liner notes from the marketing folks in Ponte Vedra Beach, Fla., but it's difficult to argue with the product through the first five weeks.
It also speaks to the depth of talent out there right now, too. Phil Mickelson hasn't finished inside the top-40 in two starts. Vijay Singh has missed a month due to knee surgery. Padraig Harrington has made only one start. Jim Furyk and Sergio Garcia have yet to tee it up.
It's a good start. If those aforementioned players get into the mix sometime soon -- including that fella named Woods -- it may only lead to bigger and better things.
9 I wish Lorena Ochoa didn't always have to follow in Annika Sorenstam's footsteps.
The current No. 1 player in the Rolex Rankings superseded Sorenstam as only the second player to reach that milestone. Now that Annika has hung up the soft spikes -- remember, don't call it "the R word"; she has never said it's a retirement -- it appears Ochoa may at least be thinking about a time after her playing career.
"I think I'm going to be playing golf for the next four or five years," she said from her Guadalajara, Mexico, home during a publicity commitment for the HSBC Women's Champions in Singapore. "I'm not going to retire any time soon. I promise that."
Like Sorenstam, though, Ochoa is primed to begin the next phase of her personal life, having recently gotten engaged to AeroMexico CEO Andres Conesa, whom she will marry in December. And although her promise that she won't retire any time soon should ease the worries of those who want to see her win armfuls of major championship trophies, Ochoa's claim that she'll be playing for "four or five years" could mean she'll pull an Annika and walk away at only age 31 or 32.
It's impossible to criticize a player for wanting to quit playing golf someday in favor of raising a family, so don't take this "wish" the wrong way. I'd like to see her continue playing full time for the next two decades purely for selfish reasons; in that time, and with her talent level, I think Ochoa could break records and become one of the LPGA's all-time greats.
It appears she may be just as motivated, if not more so, by more personal pursuits -- and there's nothing wrong with that. Perhaps the real wish here is that Lorena Ochoa achieves everything she desires -- on the course and off it.
10I wish I knew the true motivation behind Mark O'Meara's recurring commentary. Either he simply speaks his mind when it comes to analyzing young talent ... or he gets a wicked kick out of tweaking his buddy Tiger through the press. Maybe it's a little of both.
After the opening round of last week's Dubai Desert Classic, which would become the site of Rory McIlroy's first professional victory three days later, O'Meara was asked to compare the 19-year-old's game to that of a young Woods.
"Ball striking-wise at 19, he is probably better than Tiger was at 19 -- his technique is better, I think," the two-time major winner said. "Certainly Tiger has developed his game and swing over the years and made modifications to be able to hit the ball pin-high, but Rory is already doing that and he's 19, so he's already a step ahead."
Sound familiar?
It should, because O'Meara made similar comments when comparing Anthony Kim to Woods last year.
"I played with Anthony for three rounds there in Naples [during the 2007 Merrill Lynch Shootout], and I was blown away," O'Meara said in January 2008. "I think Tiger's mental game was probably stronger [at a similar age]. I think actual technique-wise, swing-wise, I reckon Anthony's swing is better at 21 or 22 than what Tiger's was."
If these words were coming from any other source, I'd be a little wary, figuring there were more than a tinge of jealousy involved. But O'Meara took Tiger under his wing years ago and remains one of his best friends to this day -- which should make the fact that he has created these favorable comparisons only more impressive for McIlroy and Kim.
That said, I just have to wonder whether every time he makes a comment like this, it serves as a kick in the rear for Tiger -- as if he really needed one -- who may use it as inspiration to put all the records out of reach for any determined up-and-coming youngsters. If that's the case, O'Meara should get credit for being a master motivator -- and maybe a bit of a manipulator. If not? Well, then it certainly speaks volumes for McIlroy and Kim.
• Poor John Rollins. He owned two PGA Tour victories entering this past week and yet his most famous "highlight" remains the 2004 Accenture Match Play Championship, when he had Tiger Woods on the ropes only to choke it away on the last two holes.
• At some point in the next few weeks, some guy will be playing the first hole at the Torrey Pines South Course from the trees and find a Titleist with "CH" marked on it. Wonder if he'll realize that was Charley Hoffman's opening drive of the third round that went up and never came down until it was too late.
• Though she toiled largely under the radar, Katherine Hull was one of the LPGA's best players in the second half of 2008, with seven top-10s in her last 10 starts, including a win at the Canadian Women's Open. Based on her victory at the ANZ Ladies Masters on Sunday, she'll be a force to be reckoned with again this season -- whether anyone notices or not.
• It's a shame the LPGA decided to do away with its annual hard copy of the media guide, opting for an online-only edition instead. I know it's not the green thing to do, but I may print up the entire Internet site in the name of handy reference.
• Can anyone actually watch Robert Garrigus putt without laughing? That short flatstick of his looks like a cut-down version for a 6-year-old.
• I'd love to see more young players display the resiliency and positive attitude that John Merrick recently displayed. Prior to speaking with him before last week's FBR Open, just days after he finished painfully close to winning the Bob Hope Classic, I expected to find a guy still disoriented from the turn of events. Instead, he told me, "I started the day 8 shots back, so when you're coming into the day like that you don't really expect to win; it's not like you're in the lead. I played great on a tough day, moved up, had a chance to win and it was cool. It was fun."
• It's too bad Arron Oberholser can't stay healthy. Guy's got a ton of talent, but has undergone myriad injuries in the past year, including a recurring issue with his left wrist that knocked him out of the Buick on Friday.
• I didn't write anything when I saw Rocco Mediate walking to the FBR Open's 16th tee reprising the role of the 2,000-year-old man, but it was painfully obvious something was wrong last week. Turns out it was his knee, which was so bad it kept him from a return to Torrey Pines and should preclude him from playing for at least a few more weeks, too.
• Am I the only one who got a Van Halen song stuck in my head every time I checked the leaderboard for the Nationwide Tour's season-opener in Panama?
• While we're on the subject, that tournament's champion sounds like he should be included in a Will Smith lyric. Give it to me now nice and easy/Since I moved up like Vance Veazey.
• If Tiger Woods' return from knee surgery is the most anticipated ever, where does that of Vijay Singh rank? In the top 100? Granted, Singh only missed four weeks, but there's been nary a mention of his return at Pebble this week, where he lost in a playoff last year.
• Would be nice to see Manuel Villegas, who MC'd in his first Nationwide start this past week, give older bro Camilo a run for his money someday. Can't get enough of the Villegas boys -- or so the ladies tell me.
• After a strong start, Kent Jones finished T-63 this week -- not good enough to make us forget this damning statistic: In 291 career PGA Tour starts, he's never fared better than T-6.
• Hopefully, the Puerto Rico Open will be just one of several upcoming sponsor's exemptions for mighty mite Tadd Fujikawa.
• There's nothing worse than a European Tour bye week. Believe me, the alternative programming at 9 a.m. ET from Thursday-Sunday -- morning talk shows, reruns, cartoons, infomercials -- can't compete with the entertainment derived from the dulcet tones and dry wit of the Euro announcers.
• Now this is what I call a good run: Lynn Swann was on the field for the Super Bowl XLIII coin toss, watched his Pittsburgh Steelers win the game and will now celebrate with a trip to play in the AT&T Pebble Beach National Pro-Am alongside fellow Keystone State man Jim Furyk. "He is my favorite [pro] to tee it up with," Swann, who plays to a 12.9 index, told me during a phone interview this past week. "I've had the pleasure and the honor and the privilege of playing with Greg Norman in the past, with Freddie Couples, with Tiger Woods, with Kenny Perry, with a lot of folks. All of them have been great, have given pointers and been very kind. It's terrific getting out there and getting to know the guys." If his hot streak continues, though, consider it a surprise. After undergoing hip replacement surgery late last year, Swann has recently been trying to find his game on the heated practice ranges of Pennsylvania.
• Can't wait for my first hosel-rocket of the year, so my golfing buddies can predictably break out a "Shankopotamus" reference. Stupid E*Trade commercial.
• There are currently 88 golf books adorning my basement bookshelf. I wish I had time to read one (instead of just counting 'em all).
Jason Sobel is a golf writer for ESPN.com. He can be reached at Jason.Sobel@espn3.com.

When the PGA Tour released its new schedule in conjunction with the inaugural FedEx Cup playoffs before the 2007 season, one of the many overlooked changes was the AT&T Classic's moving from the week before the Masters, replaced in that spot by the Shell Houston Open.
It was a win-win for both events. The Atlanta-based AT&T no longer had to weather the cold, rainy conditions that often plagued it during the first week of April, and the Houston tourney could bill itself as a worthy Masters tune-up, going so far as to set up its Redstone GC venue as much like Augusta National as possible.
Two years later, the AT&T has been expunged from the schedule, but the Houston event continues to thrive in its current role. Though we're still two months from saying, "Houston, hello!" already a bevy of international stars have committed to the tournament in hopes of readying their games for Augusta. Among those early declarations are Greg Norman, Rory McIlroy, Lee Westwood, Darren Clarke and Alvaro Quiros; expect many of their compatriots to join them in coming weeks.
Of course, the question remains: Are these players heading to Houston just to find their form for the year's first major, or is a course hundreds of miles from Augusta adequately preparing players for the Masters?
"A few of the holes I noticed that, you know, they resemble some of the holes in Augusta, like the greens, they undulate toward the water. If you don't hit a good shot, the ball is going to land and roll into the water," Houston resident K.J. Choi said last year. "Things like that, they've done a good job. & Although the greens are probably different, I think & the roughs are pretty similar."
Consider Stuart Appleby among those who doesn't see too much of a comparison.
"They're two very, very different golf courses," said the 2006 winner of the Houston event. "They try to make [Redstone] like Augusta. It's an attempt, that's all it is and, thank God, they make that attempt. I think that helps. You can't get the greens the speed, you can't get the chipping. You know, that's what makes Augusta. It's as good as we can get to correlate toward the next week, outside of playing on a course much like Augusta in the sense of the topography."
Whatever the case, the event has two major things going for it: Many of those who have already qualified for Augusta will be there in hopes of gearing up for the next week, and those who aren't will be attempting to gain the last spot in the Masters field, a la Johnson Wagner last year.
The result is a regular-season PGA Tour event that will have the star-studded look of a major or WGC event.
From Webb Simpson to Scott Piercy to James Nitties, rookies already are making a major splash in the PGA Tour's early season.
But none of those guys will be the top first-year player of 2009.
Although they may not be usurped by a fellow pro on the same tour, this year's LPGA rookie class is among the strongest in recent memory, anchored by some names with which you're already very familiar.
In advance of this week's LPGA season-opening SBS Open at Turtle Bay, let's rank the top five contenders for rookie of the year:
5. Mindy Kim: The three-time Futures Tour winner will have the unfortunate coincidence of starting her LPGA career in the same year as the other four players on this list.
4. Michelle Wie: Forget the ballyhooed amateur career, the multimillion-dollar sponsorship deals and her forays onto the PGA Tour. After all that, she'll just be another 19-year-old rook this season.
3. Stacy Lewis: With a kinda-sorta win already to her name (she was declared unofficial champion of the 2007 NW Arkansas Championship, which was shortened to 18 holes because of weather delays), she also finished T-3 at last year's U.S. Women's Open.
2. Vicky Hurst: Last year's dominant force on the Futures Tour is already drawing favorable comparisons to No. 1-ranked Lorena Ochoa. (For more, see below.)
1. Ji-Yai Shin: Hmmm, this seems a little backward. Last year, Shin won the Women's British Open and the late-season ADT Championship as a non-LPGA Tour member. This year, she'll finally take up full-time membership, making her eligible for the award.
Phil Mickelson's recent physical changes will benefit his golf game.
I don't need to restate any of the verbal jabs at Mickelson's physique throughout the years, because anyone worth his -- and I say this with tongue firmly planted in cheek -- assumed lesser weight as a golf fan has either enjoyed some fun at Mickelson's expense or at least been privy to the catcalls.
My guess is that Mickelson himself has overheard the heckling, too, and wants it to stop. Why else would a player who won major championships in consecutive years from 2004 to '06 suddenly attempt to, ahem, round himself into shape, purporting a different body type than the one, uh, exercised at the apex of his career?
Before I go any further, let's set one thing straight: Mickelson was never, nor will he ever be, unhealthily out of shape. Sure, he's a couple of pounds past the young hard bodies on tour -- ask Phil, and he may reiterate his famous line about a layer of "subcutaneous fat" on his body -- but the game of golf was never supposed to be part-Mr. Olympia contest in the first place.
From Craig Stadler to John Daly to Tim Herron, many weighty pros have altered their waistlines throughout the years, only to find that their game had been adversely affected as a result. Since Mickelson started hitting the weight room more frequently, his results haven't exactly diminished, but they haven't mirrored the previous successes, either.
For his part, Lefty says he isn't trying to bulk up; it's all done with an eye toward improving his game.
"I didn't have any intent on building upper-body strength, it was more lower," he said recently. "We did a lot of leg stuff to create a better base and foundation and so forth to accommodate some changes that Butch [Harmon] and I made, but that was more the focus."
Let's file this one away under the category of, "If it ain't broke, don't fix it." Just as many tour pros spend hours working on their games at the range just so as to not feel outworked by their peers, similar competitive streaks can be found in the gym, where too often players are working hard without totally understanding the impact -- beneficial or not -- it can have on their playing careers.
I don't believe this is the case with Mickelson, who if anything tends to overthink and overanalyze everything that surrounds his game. Then again, the results speak volumes. Physical changes might not make him any worse, but they haven't helped him improve, either. Consider the above statement to be fiction.
Still four months shy of her 19th birthday, Vicky Hurst is the new It girl on the LPGA Tour -- and deservedly so.
Last year on the Duramed Futures Tour, Hurst not only earned five titles in 14 starts, she also proved she can triumph both in dominating fashion and close calls, winning by stroke margins of three, four, one, eight and one.

Before she set out for the Aloha State to make her debut as an official LPGA member this week, Hurst spoke with me about her upcoming rookie campaign.
Q: I know some people say they were born to play golf, but you were almost literally born on a golf course, right?
A: Yeah, almost. My mom was pregnant with me, and she was playing golf in Washington, D.C. On the 16th hole, her water broke, and she had to go to the hospital, and I was born.
Q: She doesn't still hold it against you that she couldn't finish the round, does she?
A: No, she doesn't [laughs].
Q: She actually caddied for you last year on the Futures Tour. Is she going to be back on the bag again this year?
A: No, but she was my caddie last year, and we made a great team. She was definitely part of the reason why I won five tournaments, but we made this decision together, so we both kind of have more independence, instead of being together 24/7. She's still going to travel with me, and she's still my coach, but I think we want to have more of a mother-daughter relationship off the course than a player-caddie one.
Q: That makes sense. Has the bond between the two of you grown since your father passed away in 2006?
A: Yeah, it has. It's always been really strong because she traveled with me all through junior golf, but I think especially after that, my sister and my mom and myself have all grown closer.
Q: How old were you when you first started playing?
A: I played all sports growing up. I played soccer, basketball, swimming, tennis, golf pretty much throughout, but I really focused on golf at about 13 years old. Got good at local stuff, then started playing national tournaments at 15 years old.
Q: Give me the Vicky Hurst scouting report. What are the strengths of your game, and which parts still need some work?
A: Looking back at last year, I felt pretty strong with all parts of my game, but over the offseason I've been working really hard on improving my short game because that is the most important part on the LPGA Tour. Distance isn't as much on the LPGA as the PGA Tour, and so, I mean, all of those ladies out there, they can all get up and down from 100 yards and in. So I've really worked hard on focusing on my short game. I'm always going to try and improve all parts of my game, but I've definitely been focusing on my short game lately. Over the last couple of years, my long game and ball striking have always been the strongest part of my game.
Q: You were the AJGA Player of the Year, won five events on the Futures Tour last season and some are already calling you the next face of American golf. Do you feel a lot of pressure to succeed right away on the LPGA Tour?
A: I just focus on my next tournament, and I think maybe when I get 10 years into my career, I can start thinking about my whole image or whatever.
Q: You've got some pretty talented fellow rookies to contend with.
A: Yeah, I've heard this is going to be one of the strongest rookie classes in the last couple of years. I'm really excited to be part of that and hopefully do my best this year and play hard against those other rookies.
Q: Will there be any kind of special bond between Stacy [Lewis] and Michelle [Wie] and yourself and Ji-Yai [Shin] -- I know she's been out there a little bit already -- just being rookies together on the LPGA Tour?
A: I think so. I hope so. This is going to be our first year together, and we'll probably be playing together for the next 10, 15 years -- who knows? I look forward to playing with them, competing with them and getting to know Stacy, Michelle and Ji-Yai and all the rookies and all the other players, actually.
Q: What goals have you set for yourself going into this season?
A: For right now, I just want to take it week by week, play my best and have fun, because you only have one rookie season. If I get rookie of the year, that will be a great accomplishment for me. I'm just looking forward to playing my best; if any awards or wins come my way, then I'll be even more excited.
Q: Have you spoken with any LPGA veterans about what to expect as a rookie?
A: A little bit. I got some advice from some of the players. I spoke with Jean Bartholomew and a couple of the Futures Tour players who played on the LPGA Tour. They've all given me great advice on what to expect and how the courses play. That's helped a lot.
Q: How about off the course? What are you most looking forward to on the road?
A: I love traveling. I love going to new places and seeing different countries. I love to sightsee and learn about other cultures, so that's the biggest thing I'm looking forward to when I go to Europe and Asia and Mexico.
Q: And is Mom always part of those plans, or do you get some alone time, too?
A: Well, she's going to be traveling with me the whole time. We're like best friends, and I think we have a lot of fun off the course when we're traveling and just relaxed.
Q: Last question: How many of those Kangol-style hats do you own?
A: I've been asked that a lot. [I own] a lot, actually [laughs]. I have a lot of those hats. I haven't actually sat down and counted them, but I have every color.
Q: Are we talking a number into the triple digits?
A: No, no, no. Not that many. I have enough, you know [laughs]. They go with all of my outfits.
Hallelujah! No, my Buick Invitational pick to win didn't actually claim the title, but after a dreadful January in the prognostication game, I finally made a choice that registered on the radar screen, as Luke Donald climbed into a share of second place at one point during the final round before sliding to a T-7 result.
My selection of Donald was based on the purely original strategy of looking at strong recent results combined with successful past performances on that venue. Well, no point in varying from such methodology for this week's pick.

The stars of the entertainment world -- well, a few of 'em, at least -- will be on site at Pebble, where the real stars are aligned for Mike Weir, who's been knocking on the door with seven top-10s in his last 10 starts, dating back to July of last year. And he's proficient at this tourney, too; the little lefty owns six top-10s this decade alone.
Watch out for Nick Watney, John Mallinger, Mathew Goggin and Davis Love III, but Weir is the guy in who's hands I'm placing my one-in-a-row solid pick streak.
"It hurts on the backswing. When I get to the top I have to flinch a little bit, and at impact it doesn't feel real good. And the follow-through -- that hurts, too. Walking up and down hills, too. Other than that, it's fine."
-- Jason Gore on a back injury that flared up for the first time this past week.

Though there was no immediate update on the severity of the injury, if I was a betting man, I'd have to wager that it looks like something that could keep him out for a while. Asked if he's ever had back problems before, Gore said, "Never. That's why I'm being such a wuss about it."
And yet the erstwhile Prince of Pinehurst -- as a Nationwide Tour regular, he contended for the 2005 U.S. Open title before a final-round 84 left him in a share of 49th place -- continued to play through the pain, eschewing the idea that he could have walked off and taken a WD. He was rewarded with a strong 70-69 start, but ballooned to scores of 80-75 on the weekend to finish T-63.
Consider it terrible timing. As the 134th-ranked player on last season's money list, Gore owns only conditional status for 2009 and isn't assured of getting into too many events unless he can better that position with strong in-season results.
In layman's terms, he needs the cash. Here's hoping the injury subsides enough for him to win more of it next time.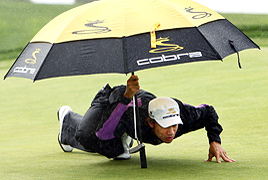 Donald Miralle/Getty Images
Now that it's raining more than ever
Know that we still have each other
You can stand under my umbrella
You can stand under my umbrella.
Perhaps Camilo Villegas wasn't quietly singing Rihanna lyrics to his putter at Torrey Pines -- the CBS broadcasting team broke the news on Sunday that he's more of a Shakira kind of guy -- but he was proficient with the flatstick in hand, barely missing several lengthy attempts by mere inches in the final round alone.
What's even more remarkable than knocking a few putts into the hole is the above image. As if that whole lotus-style putt-reading deal was just too easy in benign conditions, Villegas somehow kept his balance while keeping dry.
Perhaps this photo should come with a "do not attempt this at your home course" warning. Best-case scenario: A slight tumble and a resulting grass stain. Worst-case scenario: Uh, have you ever tried to extract an impaled umbrella? Ouch.