Kelly just finds a way to get it done for victory on the Bayou

Jerry Kelly was hungry for a victory. More importantly, he was just plain hungry.
Following his Wednesday pro-am at the Zurich Classic, Kelly revealed -- no, bragged -- that he had put away three-dozen char-grilled oysters at the turn. Which was nothing, really, considering his all-time personal record of 58 in one sitting.
During a week in which French Quarter eateries are often more populated by PGA Tour players than the driving range, Kelly's appetite was finally satisfied with a final-round 71 that ended with a par on the 72nd hole to win by a single shot.
And so it was only fitting that he preceded the final 2 strokes by rubbing his belly while walking down the fairway and was later served -- what else? -- more oysters as a celebratory victory meal.
This edition of the Weekly 18 begins with a look into the incredible, edible week that was for Jerry Kelly.
I'll admit it: Like many of you, I contracted a case of draft fever this weekend -- which is only slightly less inhibiting than a bad case of the shanks. So pardon me as I play the role of Mel Kiper Jr. by analyzing the strengths and weaknesses of the most recent PGA Tour champion:
Jerry Kelly
Height: 5-foot-11
Weight: 165
Age: 42
Career Victories: 3
Stan Bad/Getty Images
Don't tell Jerry Kelly it's been 200 starts since his last PGA Tour victory. After claiming the Zurich Classic title behind a final-round 71, the former hockey player from Wisconsin earned $1.1 million -- the largest paycheck of his career.
Strengths: Bulldog competitor ... great locker room presence, the kind of guy who inspires others and thrives in match-play situations ... very athletic, as evidenced by inclusion on the all-city hockey team in high school ... consistent player who has finished 59th or better on the money list in every season this decade.
Weaknesses: Not much of a closer ... took him 200 starts to win his first title in 2002, then after a second victory that year, needed 200 more starts before earning his third win in New Orleans ... stats leave something to be desired, as he doesn't hit the ball a long way, only hits an average amount of greens in regulation and isn't a very strong putter ... at 42, may be on the down side of his career.
If the PGA Tour held a draft (save your e-mails; I understand it doesn't make complete sense, but let's stick with the analogy anyway), Kelly would be a third- or fourth-rounder, the kind of guy who might not look too intimidating on the field of play yet always seems to fare pretty well.
"Can't feel much better than to win a golf tournament outside of my family life," Kelly said afterward. "This has been a long time coming."
At the Zurich, he posted four under-par rounds of 68-66-69-71 to claim his third career title and first in seven years. During that span, Kelly has finished as high as 17th on the final money list and never made the cut in fewer than 15 events.
Sobel's On Twitter
Want to know what ESPN.com's Jason Sobel is up to? Sign up to track him on Twitter.
Follow him
On Sunday, Kelly was hardly as flawless as in previous rounds. He bogeyed Nos. 8 and 10, but was able to counter with birdies on 11 and 14, playing the final eight holes in 2 under par -- the only player in the top six on the final leaderboard to accomplish that feat.
"I think the swing held up fantastic," said Kelly, who led the field in greens in regulation this week. "I played better on the back side than I did on the front side. I really didn't miss many shots on the front. ... I was happy with the way I struck it on the front, but I struck it even better on the back. That's a testament to the swing that is getting better all the time."
Kelly is what Kiper might call a sleeper pick. Doesn't have the greatest tools in the game, but he proved once again Sunday that he can get the job done down the stretch.
2 Tom Lehman. In the time since turning 50 on March 7, Lehman has made the cut in all three PGA Tour starts, including ownership of the 54-hole lead at the Transitions Championship before finishing T-8.
Hunter Martin/Getty Images
In his first appearance on the Champions Tour, Tom Lehman (left) became the 13th player to win his debut event when he paired with teammate Bernhard Langer (right) to capture the Liberty Mutual Legends of Golf on Sunday.
Along with the likes of Fred Couples, Tommy Armour III and Kenny Perry, the five-time champ is proving that sometimes the old fogeys can still hang with the young whippersnappers on the world's most elite tour. And yet, Lehman isn't apologizing for using the Champions Tour status that came when he turned the Big Five-Oh.
Lehman contends that his schedule for the remainder of the season will make about 15 starts on the PGA Tour and 10 more on the Champions Tour.
"I'm in a unique opportunity-type situation where I get to pick and choose," Lehman said during a pre-tourney news conference for the Liberty Mutual Legends of Golf. "I get to pick and choose those on the PGA Tour where I really enjoy playing, and I get to be exempt for all of the tournaments I want to out here, as well."
Lehman is using a one-time exemption for being among the top 25 on the PGA Tour career money list to gain entry into events in 2009.
That got me thinking about this query: Would Lehman rather contend on the PGA Tour or win on the Champions Tour? So I asked him ...
"Without question, winning would be the primary goal," he said. "It's nice to play well, but it's even nicer to win. So whether it was here or there, you know, being a champion is important to me. So I guess to answer your question, I would rather win out here than contend out there."
Four days later, Lehman was indeed a winner in his first start on the senior circuit, teaming with Bernhard Langer to defeat Craig Stadler and Jeff Sluman in a Sunday playoff.
While stars like Nick Price (who finally earned his first senior win last week) and Mark O'Meara (who is still searching for his first) may be sticking pins in their Tom Lehman voodoo dolls right about now, don't expect it to have much of an effect. This is a guy who keeps coming close against the young guys; he may clean up against the older folks.
3 The LPGA rookie class. First things first: Apologies to the LPGA and its criteria, but I simply can't think of Jiyai Shin as a 2009 rookie.
After all, this is a woman who won three titles last year, including the Women's British Open and the season-ending ADT Championship, and has already followed up with her fourth career LPGA victory at the HSBC Women's Champions last month.
(Need further proof? She's already released a hit single, translated from Korean as "Don't Say Goodbye." How many other first-year players can make such a claim? None!)
Even without Shin, who does technically still qualify for rookie status, the LPGA's freshman crop was supposed to be among the most talented of all time. Until this week, though, the talented triumvirate of Michelle Wie, Vicky Hurst and Stacy Lewis had been severely underwhelming -- so much so, in fact, that I originally thought this entry would be more suitable for the "Three Down" section of the W18.
Can't blame me, considering their results this season entering the Corona Championship ...
• Wie: 2, T-57, T-67
• Hurst: T-15, T-73, T-22,
• Lewis: T-20, MC, MC, T-64
Other than Wie's solo second-place finish at the season-opening SBS Open -- a tourney she really should have won -- none of the three had made much of a splash in their official LPGA debuts.
That changed in Mexico, as Wie and Hurst each finished in a share of 10th place at 14-under with Lewis 7 shots further back at T-26.
Combined they posted 11 of 12 rounds under par, totaling two eagles and 52 birdies, with each player making at least 16 during the four rounds.
OK, so none of the trio put much of a scare into eventual winner Lorena Ochoa, but at least these results can be seen as a positive, perhaps a sign of things to come for later in the season.
Don't say goodbye? Hmmm, maybe Shin was on to something ...
4 Thongchai Jaidee. Can't say I've ever been to Jeju Island. Sounds like a nice place, though. Exotic. Tropical. Probably littered with those awesome white-sand beaches.
That may in fact be the case, but for Saturday's third round of the Ballantine's Championship, the South Korean locale resembled something more like the brutal U.K. conditions that so often envelop the British Open.
With cold temperatures and ever-swirling winds, players were left battling for survival on the leaderboard, as Francois Delamontagne was the only player of the 74 to make the cut who shot an under-par round.
"It was very tough," Robert-Jan Derksen said after the round. "I think it was unfair and unplayable."
That's not just sour grapes, either. After all, Derksen was actually leading the tourney when he made those comments.
All of which helps us to understand how a player could shoot a third-round 5-over 77 and still be very much in contention entering the final 18 holes.
Such was the case for Jaidee, who parlayed a T-3 position on Sunday morning into a playoff victory over Sung-Hoon Kang and Gonzalo Fernandez-Castano.
"I never think about winning a tournament, but this is my biggest win in terms of prize money," said Jaidee, who now owns 12 career Asian Tour victories and four on the Euro Tour. "My aim for this year is to reach the top 50 in the world."
Considering he was 49th entering the week, Jaidee should hold on to that status for awhile.
The victory led to an interesting post-round exchange in the interview room. Jaidee, who says he doesn't drink alcohol, earned some of the Ballantine's brand Scottish whisky for his troubles.
When it was suggested his caddie could assist in vanquishing the beverage, he offered the following story: "I told him, don't drink too much on the last night. Just enjoy. You have to work hard for tomorrow, and one bottle of beer is fine. Tomorrow, you have to work hard and you cannot walk on the course -- it's very windy on the course. You'll lose everything. You'll lose your job. I told him, and he said, 'OK, OK.' I just told him, one bottle of beer for last night is fine and he said OK."
Here's guessing that on Sunday night, though, it was party time.
5Charles Howell III. The look on his face said it all. Had you not witnessed one shot of the final round on Sunday, only clicking over to the Zurich Classic coverage as Howell stood just off the 18th green after playing the final four holes in 2-over-par, there's a good chance you still could have guessed his final result.
Another title contention. Another eventual frustration.
For the 12th time in his career and second time this season, CH3 finished runner-up -- and this one was hard to swallow. With birdies on six of his first 11 holes, Howell actually held a 2-stroke advantage at one point down the stretch, but couldn't convert that into his third career victory.
"You know, I don't know what to say," he lamented after the round. "I got myself to 15 [under]; I got in a position to do it. You know, didn't finish it off. Obviously, would have loved to, but I hit a lot of good shots today. I played a lot of good holes. I just wish I could have finished a little better."
Closing has never been Howell's strong suit. After winning the now-defunct Michelob Championship in 2002 -- his third full season on tour -- Howell posted nine second-place results before earning victory No. 2 in a playoff against Phil Mickelson at Riviera.
Sunday's result reminded me of the 2007 Sony Open, when Howell led on the back nine but couldn't find the winner's circle. After that one, he explained to me in a post-round interview session that there are good, morale-boosting runner-up finishes and bad, self-defeating runner-up finishes. This most recent result would again qualify as the latter.
Like Howell said afterward, "There are times to look at the positives of it, but this one is a little frustrating."
6 Andres Romero. The defending champ in New Orleans doesn't think he's very superstitious -- and yet, he chose to take a similar path this week as he did last year, right down to staying in the exact same hotel.
"The only difference is my game," he said on Wednesday. "I'm not with the confidence that I was last year when I played here."
Coming off a week of celebrating with Masters champ Angel Cabrera in their native Argentina, Romero admitted that his game wasn't in great shape entering his title defense.
Turns out, his counting wasn't, either.
Evoking memories of another Argentine, Roberto De Vicenzo, Romero was disqualified from the Zurich after signing an incorrect scorecard on Friday. After making bogey on the par-5 final hole, he signed for a par. Then again, it didn't matter much. Had he added correctly, Romero's score of 73-76 still would have left him a half-dozen strokes shy of the cut line.
7 U.S. Amateur champions. Of the half-dozen ex-U.S. Am champs in the Zurich Classic field, Scott Verplank (1984) and Ryan Moore ('04) were the only ones to make the cut, each finishing well back in the pack at a share of 42nd place.
For the other four, however, MCing in the Big Not-So-Easy simply served as a microcosm for the season to date.
Colt Knost ('07) shot a respectable 72-74, but still failed to reach the weekend by 3 strokes. In 10 starts so far this year, he's made six cuts but has yet to finish better than T-25 at the Bob Hope Classic back in January.
One stroke further back was Jeff Quinney ('00), who has now missed the cut in two consecutive starts after a two-month layoff due to a back injury.
With scores of 76-75 in his professional debut, Danny Lee ('08) hardly impressed, posting seven bogeys, two doubles and a triple in 36 holes. Attempting to gain PGA Tour membership through sponsors' exemptions, Lee at least has a fall-back option: As a winner already on the European Tour, he owns full status on that circuit through the end of the 2011 season.
Meanwhile, bringing up the rear of the 155 players to complete two rounds was Ricky Barnes ('02). After a lengthy, arduous journey on the Nationwide Tour, Barnes is finally a rookie in the big leagues this season, though his results leave something to be desired. In nine starts, he's finished in the money on four occasions, with a season-best T-53 coming at Torrey Pines.
8 I wish I could have watched the final-round showdown between Lorena Ochoa and Suzann Pettersen.
Did you see Pettersen hang with the world's top-ranked player down the stretch? Did you see Ochoa hang on to claim victory on the final hole?
The answers to those two questions, unfortunately and unequivocally, are no and no -- unless you happened to be on site in Morelia, Mexico.
What appeared to be one of the most exciting final rounds of the season was not televised in the United States, leaving inquiring minds to rely on the refresh button to the live leaderboard.
Get used to it, golf fans.
The LPGA will not have a formal network television deal in 2010. While many events will be televised on Golf Channel, it's entirely conceivable that more future tourneys either won't be aired live or at all, alienating an already sparse fan base.
My advice to LPGA commish Carolyn Bivens: This may just be the new media journalist in me talking, but these events should be "televised" online. It would give fans a chance to watch the proceedings unfold and would eliminate future occurrences of missing two elite players go head-to-head, as happened on Sunday.
9 I wish the PGA Tour would move up its deadline for committing to the next week's event.
I'm about to drop some inside-the-ropes, ear-to-the-ground knowledge on you: Tiger Woods is a big drawing card.
I know that may come as a surprise, but it's very true. Tournaments with TW in the field sell more tickets, draw bigger television ratings and generally garner more interest in every possible way.
And yet, these events often don't promote Woods' inclusion until less than a week before the opening round. That's because the No. 1-ranked player is a notoriously late committal for non-major tourneys, usually making his intentions known just hours before the Friday, 5 p.m. ET deadline.
With a greater focus on promoting events due to the poor economy, it seems Woods has come under more fire for such actions so far this season than ever before. When asked to explain his reasoning prior to the WGC-CA Championship, he simply answered, "Kind of typically what I always do. ... I just tend to do things that way."
While Woods shouldn't be given a free pass for failing to support these events by signing up earlier, it should be noted that he's well within the tour-imposed guidelines. And he's not alone. Same goes for other superstars -- from Phil Mickelson to Sergio Garcia -- who wait until the 11th hour to publicize their decision.
Which only leaves one proper solution: The PGA Tour should move up the deadline for committing to an event.
This doesn't have to be a major change, but just 48 more hours or so -- making the deadline Wednesday, 5 p.m. instead -- would give tournaments that much more time to promote certain players in the field. That means Woods and Co. would have to reveal their intentions earlier each week, considering there's no way to circumvent this rule -- no matter what your name is.
10 I wish there was a better way to elect players into the World Golf Hall of Fame.
There are currently five ways for players to be inducted into the HOF: 1. Receive 65 percent of the vote on the PGA/Champions Tour ballot (50 percent if none are higher). 2. Accumulate 27 points as an LPGA member. 3. Accumulate 50 points on the international ballot. 4. Earn election in the Veterans category, as voted on by the HOF board of directors. 5. Through the Lifetime Achievement category.
In light of last week's announcement that Lanny Wadkins will be the newest WGHOF member, and the fact that Jose Maria Olazabal reportedly soon will follow, my editor kicked over some questions about determining which players should receive such status: "What should the criteria be? Is a major a necessity for election? Does 15 wins get you in the discussion and with 20 you're a lock?"
Not sure I have an answer to these questions and not sure I have a solution to the above stated wish. After all, when you're combining both a voting process and a points system, there aren't too many qualified candidates who will slip through the cracks.
As for criteria, I think it's less tangible than win totals or major championship performances. Having covered and been a fan of other sports, I've always believed that a player needs to be in the top 2-3 percent of all top-level pros for a majority of his career in order to receive admission to a Hall of Fame. Tough information to quantify, but it should serve as a good yardstick for those who vote on such matters.
• I don't know what the Will County Amateur Championship is -- and I guarantee I've never written about it before -- but I do know it was impressive when Dallas Cowboys quarterback Tony Romo shoots a final-round 3-under 69 to win the 36-hole event in Crete, Ill., this past Monday.
Romo has attempted to qualify for several professional events in the past, most notably the U.S. Open on multiple occasions, without success. He's already submitted his entry to try to qualify for Bethpage Black, site of this year's U.S. Open. Wonder if the Will County can springboard him to greater heights.
Seriously, though, every pro jock from John Smoltz to Michael Jordan has stated a goal of wanting to reach the senior tour upon retirement. I'm going with Romo over the rest of 'em.
• Lee Westwood is always good for a few laughs in the interview room and this week at the Ballantine's Championship in South Korea was no different. Prior to the event, he was asked about the journey to Southeast Asia.
"The high point was being alive when we got here, for sure," he said. "We apparently were the only flight that tried to get in here yesterday early, I guess. ... We flew from Shanghai. Tried to land here. Failed twice, and flew to Seoul. That was a diversion. And then gave up and heard there was a later flight and drove to the other part, and flew down about 7:55, 8, got in at 9 and to the hotel for 10. It was quite an eventful day. ... But the funniest thing was when we landed in Seoul, the China Eastern Airlines girl must have been reading off a card, her English is probably not that good. She said, 'Thank you for flying China and Eastern Airlines, we hope you had a nice flight.' And everybody was green on the flight, so it was quite amusing."
• With birdies on four of his final six holes, Roland Thatcher rallied to finish T-9 in New Orleans in just his second start of the season, earning $176,400 in the process.
Playing on a Major Medical Extension due to a wrist injury last year, Thatcher entered the season having to make $407,540 in 13 events to retain full playing privileges for 2010. He's now got that number down to $231,140 with 11 starts remaining.
• Plenty of press releases find their way into my inbox each week, but this one actually caught my attention: "Poker champion and one-time golf prodigy Dusty Schmidt is staking $1 million that he is the world's best combination golfer/poker player. On Wednesday, Schmidt formally announced the 10thGreen.com Million Dollar Challenge. The Portland resident says he will play anyone in the world in poker and golf to prove he is the globe's foremost practitioner of both crafts."
Turns out, Schmidt, 27, "broke many of Tiger Woods' records as a junior player in Southern California," according to the release. He currently plays to a plus-2.9 handicap.
Here's what the "match" would entail ... Day 1 and 2: Thirty-six holes of golf each day, consisting of four separate nine-hole matches for $50,000 each; Day 3 and 4: Five heads-up poker matches each day for $50,000 each. The overall winner of the running 72-hole overall match will win $100,000. Poker matches are pot-limit hold 'em with 500 blind stacks.
If he's up for the challenge, I'll throw a few quid on Rocco Mediate, who finished 600th (out of 5,619 entrants) at the 2005 World Series of Poker main event and also -- oh, by the way -- was runner-up at last year's U.S. Open.
• Coolest promotion I've heard about in a long time: Through Russ Holden's tireless "Caddie for a Cure" charity, Sharpie and Office Depot have teamed up for a sweepstakes in which one lucky fan will win a chance to caddie for Boo Weekley. You can enter the contest here.
Jason Sobel is a golf writer for ESPN.com. He can be reached at Jason.Sobel@espn3.com.
And the winner is ...
More than a few players have contended that the USGA could come to Quail Hollow with only a few days' notice and host a U.S. Open. And perhaps to no one's surprise, the tournament's champions list reads like a who's who of Open champs, near-Open champs and would-be Open champs.
The last four champions at the erstwhile Wachovia Championship have been Anthony Kim, Tiger Woods, Jim Furyk and Vijay Singh; all four are in the field at this week's event -- now called the Quail Hollow Championship -- plus a host of other elite-level players.
One tough player who always gets going when the going gets tough is Geoff Ogilvy. The Aussie owns six career victories and five against strong fields, including this year's Mercedes-Benz Championship and WGC-Accenture Match Play Championship. In five career appearances at Quail Hollow, he's never finished lower than T-24. Ogilvy is already among the world's elite players; he will only enhance that status with a third victory of '09 this week.
Oh, and don't forget: Ogilvy is a U.S. Open champ, too. Seems like a perfect fit for Quail Hollow.
Back in 2002, the back nine at Bethpage Black started with a devilishly frightful driving hole and featured one even more brutal just two holes later.

Through all the player complaints that week about everything from the thick, gnarly rough to the ferociously sloped greens, no caterwauling was louder than that in regard to the 10th and 12th holes.
At No. 10, there was a forced carry of roughly 247 yards off the tee, though it played into the wind in cold conditions, meaning shorter hitters couldn't reach the fairway. Their only option? Aim for the 4-foot-wide walking path that led down the hole and hope for a good bounce. Meanwhile, No. 12 featured a cross-bunker that also required a lengthy carry, leaving many players short of that fairway, as well.
This time around? Expect a fairer setup.
I was on site at the Black a few weeks ago with Mark Long, who when not working as Fred Funk's caddie, produces many of the yardage books used on professional courses, including the one that will be given to loopers in advance of this year's Open. And I can safely say that complaints at this year's tourney will be aimed elsewhere, as each of these two holes have undergone changes to avoid a similar situation as seven years ago.
The carry on No. 10 will now be more like 235 yards or less, meaning every player should be able to reach the short stuff. (Warmer weather will only help matters, too.) On No. 12, the fairway has undergone a fairly major reconstruction; it's still 270 to carry that bunker, but there's more room to miss, too.
We've seen a kinder, gentler and -- yes -- fairer USGA in recent years and that trend should continue when it comes to the setup of these two holes.
"It's my first time to Korea, and I have heard that the fans are excited to have everybody back here for the tournament. I would like just to have them to get to know me a little bit better, and hopefully I can show off some good golf and win a few fans over here with my clothes on."
-- Henrik Stenson, prior to competing in the Ballantine's Championship in Jeju Island, South Korea.
Ever since stripping down to his skivvies to hit a shot from that water hazard at Doral, Stenson has handled the reaction with a proper measure of humor and sarcasm.
Recently, he intimated the nearly Full Monty may have been a profitable move, as well. The boxer-brief man was approached by Hanes to represent the undergarment company, though he was forced to say no.
"I'm under contract with Hugo Boss," Stenson said, "and that would be sort of a conflicting issue."
You could say the offer was buffed. And that's the naked truth.
It's been a solid, consistent season for Hunter Mahan so far in 2009. A six-year PGA Tour veteran who is still a few weeks shy of his 27th birthday, Mahan has made the cut in all nine appearances, including a T-10 at the Masters.

This past week, though, Mahan traded playing golf for playing host at the Under Armour/Hunter Mahan Championship, an American Junior Golf Association tournament that was held at TPC-Craig Ranch in McKinney, Texas. Prior to the event, I spoke with Mahan via phone about giving back to the AJGA, winning majors and the Ryder Cup experience.
Q:How did this tournament come about?
A:Well, they've had the tournament at Craig Ranch for the last couple of years. I was out here practicing one year and I just saw the AJGA was in town. So I went out there, watched some of the kids play. Some of the kids are looking at colleges and being an Oklahoma State guy, I was trying to pump up my alma mater in any way I could. But I just saw an opportunity there, kind of got the wheels turning a little bit and now we've got the Under Armour/Hunter Mahan Championship at Craig Ranch.
Q:And have you talked any kids into going to Oklahoma State yet?
A:No. You know, I just give the kids information. I give them nonbiased information and try to help them pick the school of their choice where they can have a productive college career and enjoy the experience, because I had an incredible college experience at Oklahoma State. As long as they have a great experience, that's all I'm going to ask for.
Q:I hear you're not just lending your name to the event. You've been actively involved, haven't you?
A:Yeah, I'm trying to be. I'm trying to do as much as I can. Anything they want me to do, I'm trying to be a part of. Any way I can help the tournament and help these kids get better at golf and fulfill their dreams, I'm going to try to do that.
Q:It's been 10 years since you were AJGA Player of the Year. Does it feel like that long?
A:No, especially being out on tour. Thinking about 10 years ago, it's amazing what's happened since then.
Q:How did that experience help prepare you for college golf and life on the PGA Tour?
A:There are so many great tournaments nowadays for kids. Even back then, the AJGA had big tournaments every week and you kind of got into a little bit of a rhythm and the experience of playing every week, playing in different spots. It's definitely not like life on the tour, but it gives you an education on what it's like to be a tour player, week-in, week-out. Tour players go from January to pretty much October, so for a little bit of summer you can feel like one.
Q:Speaking of life on tour, two weeks ago at the Masters, you finished tied for 10th. Happy with that result?
A:Yes and no. Obviously, I wanted to play a little bit better, but I did a lot of great things. The fact that I felt like I was in the tournament all week, started off second and really never dropped too far out of it, I felt like there was always a chance to make a run. I feel like it's a place I can play really well at, and every time you go there you get a lot of great emotions and a lot of great memories. So I was very happy with the way I played. I feel like my game is definitely capable of winning that tournament.
Q:You've now competed in every major at least three times. Do you feel like you're on the verge of winning one of these on a Sunday afternoon?
A:Well, I feel like I can. I feel like I have a really good understanding of what it takes to win a major. I've had some pretty decent finishes and I feel like I know what it takes. Just have to get my game ready. The next one is the U.S. Open at Bethpage, which suits my game pretty well, so I'm going to try to prepare myself for that, but yeah, I feel like I have a chance. Hopefully, I can be a contender for every major.
Q:You say you know what it takes. Well, what does it take?
A:Since my first major as a pro, I've learned that you need to be 100 percent mentally ready on Thursday. Your game can be sharp, but if you're not mentally there, if you're a little tired, you really have no chance, because it is a mental grind for four days. You need to be mentally sharp for each round and especially on Sunday, where it seems like every shot is huge. You need to be really sharp.
Q:Let's talk Ryder Cup. You were widely criticized for comments you made before ever playing on the U.S. team. ["You're just a slave that week," he told Golf Magazine in reference to numerous mandatory player functions.] Now that you've gone through it, what are your thoughts on the experience?
A:Oh my gosh, it was the best golfing experience I've ever had. To be part of a team like we had and the way captain [Paul] Azinger made us all feel like there was doubt how we were going to play -- we were all going to play great. And I had an incredible partner in Justin Leonard. He's a fantastic mentor and it was just great to have that kind of experience right there next to me.
I learned a lot from the Presidents Cup and I just felt like I knew what I was going to have to do to play well. It was just an amazing, amazing week -- a week I'll never forget. To bring back the Cup to the United States after a few years of some rough matches, it was nice to get the Cup back, especially on home soil.
Q:I've posed this question to some players who have won both the Ryder Cup and majors with mixed responses, but which one would you rather have?
A:Well, winning a Ryder Cup, I tell you what, it only happens every two years, so I think it's even more special to win that, but obviously winning a major is huge. You do get four chances, though, to win a major every year and the Ryder Cup is only every two years, so I understand both answers. But I tell you, winning a Ryder Cup -- every tournament I go to, people are like, "Hey, thanks for bringing back the Cup. Congrats." And that was six, seven, eight months ago, so it's going to carry on for a long time.
With the election of two more players -- Lanny Wadkins and reportedly Jose Maria Olazabal -- into the World Golf Hall of Fame this past week, it's a fitting time to examine the HOF chances of some other high-profile players.
This week's edition of "The List" proffers five candidates who are currently on the bubble, listed here in ascending order from most likely to reach the Hall to most bubblicious.
5. Padraig Harrington. No eligible three-time major champ in the modern era has failed to gain entrance into the HOF.
4. Davis Love III. His record (20 wins, one major) is nearly identical to that of Wadkins (21 and one) and Tom Kite (19 and one), both of whom are already in.
3. Retief Goosen. With seven wins in the U.S. -- including two U.S. Opens -- and two dozen others worldwide, I've got to think he's done enough.

2. Fred Couples. His 15 titles make him very borderline (22 percent of the vote this year), but Freddie's popularity might put him over the edge.
1. Kenny Perry. A green jacket at age 48 would have done wonders for his résumé; instead, he'll need a few more three-win seasons to keep hope alive.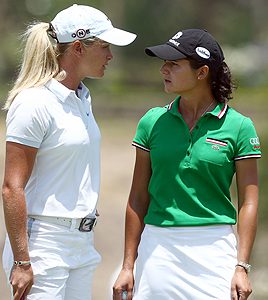 Donald Miralle/Getty Images
If a picture really is worth 1,000 words, then the above photo told the lengthy tale of Sunday's final round at the Corona Championship, which turned into a head-to-head battle between Lorena Ochoa, right, and Suzann Pettersen.
Holding a 1-stroke lead entering the final round, Ochoa was actually playing at a disadvantage on the final day as her regular caddie, Dave Brooker, reportedly broke his foot playing in a caddie soccer game Saturday evening and wasn't available for the final 18. Enter Rafael Alarcon, Ochoa's longtime instructor, who flew from Guadalajara to Morelia to loop for his most important pupil.
The move paid off, as Ochoa fired a 5-under 68 to hold off Pettersen by that same single-stroke differential -- no other player was closer than 7 from the lead -- as the world's No. 1 player successfully defended her Corona title and picked up her second win in six starts this season.
For the record, that's the 26th victory of Ochoa's LPGA Tour career, which puts her in some lofty company, tied with Judy Rankin and Marlene Hagge for 20th place all time.
This week's e-mail comes from David Axelson in Atlanta -- and might be one of the best to hit the inbox all year. In it, he discusses Phil Mickelson's new-found allegiance toward wearing a white belt for competitive rounds:
It's a trend that bears watching. I understand that this is an epic waste of time, but I've been able to document 21 of 23 stroke-play rounds. (He also wore a white belt in his Match Play defeat.) In five of those rounds the cursed belt was worn, only once was he able to break par -- at Poppy Hills in Round 2 of the AT&T -- for a stroke average of +1.8 compared to a -1.2 season average and -2.3 in dark belt rounds.
In wins, the white belt was only worn for the second round at Riviera, a 1-over 72 after shooting 63 in the first round. No white belts at Doral, although three white shirts -- a decision that may have won him the championship.
At the Masters, he wore the white belt in the first round (1-over 73), but never again, posting scores of 68-71-67 in the final three rounds.
Two initial reactions after reading that e-mail:
1. Can someone in the ESPN research department sign up David for an internship or something? That was some strong number-crunching.
2. If Mickelson ever gets wind of these numbers, we may see him retire the white belt for good. I'm serious. This is a guy who deeply believes in the power of statistics; knowing that he plays 4˝ strokes per round worse with this accessory around his waist could be enough info to keep him from traversing to that side of the closet ever again.
As stated in the e-mail, this exercise might be "an epic waste of time," but it bears watching to see whether Mickelson continues donning the white belt -- and whether his scores keep inflating with each instance.
Wanna be considered for future W18 columns? Hit me at Jason.Sobel@espn3.com.