Anything possible on the shores of Scotland

Before commencing this all-British Open edition of the Weekly 18 -- or all-Open Championship, depending on your preference -- allow me to proffer a brief caveat: I'm writing to you from the past. Either that, or you're reading this in the future.
Jason Sobel's Live Blog
If there's another golf major on the horizon, it must be time for Jason Sobel's Live Blog. Our blogger extraordinaire will be opining on all things British Open from on site at Turnberry all next week.
If you're confused, don't worry, because I am a little bit, too. Chances are, by the time you've clicked on this link, I'm either en route to Scotland or already swerving around sheep while attempting to drive on the right -- er, correct -- side of the road.
Here's where that caveat comes in. Due to my travel schedule, there will be no mentions of the weekend's results in this W18. No reports of last-minute player qualifications for the Open. No updates on the latest weather conditions at Turnberry. All of that will come once I'm on site and reporting in the live blog. For now, though, everything else Open-related is fair game, beginning with the idea that we'll likely see some unforeseen storylines develop along the coastline in Ayr.
One year ago, 53-year-old Greg Norman held the top position on the leaderboard entering the back nine on Sunday afternoon at Royal Birkdale. This was the same Greg Norman who last won a British Open title in 1993. The same Greg Norman who no longer played competitive professional golf on a regular basis. The same Greg Norman who -- did I mention this already? -- was 53 years old!
Unpredictable? Absolutely, but unpredictability has long been a hallmark of the year's third major championship.
Warren Little/Getty Images
Newlyweds Greg Norman and Chris Evert were all the rage during the 2008 British Open at Royal Birkdale. So what can we expect for an encore at Turnberry?
There are always storylines at the Masters. Whether it's the guy who eventually claims the green jacket grabbing attention or an elite player falling agonizingly short, the final result will produce headlines worldwide. Same goes for the U.S. Open -- no matter when it concludes. Even the PGA Championship, the red-headed stepchild of the majors -- no offense, PGA! -- always conjures up some wistful images.
There's something different about the British Open, though, that elicits more unexpected drama than the other three. Take last year's festivities as an example. In addition to Norman, there was David Duval's surprise contention and inevitable fall from the leaderboard; Chris Wood's T-5 result, only the third top-10 for an amateur at the Open since 1970; and, oh by the way, Padraig Harrington's successful title defense to earn the Claret Jug once again.
We shouldn't expect anything less at an event that often features seemingly horizontal rain, a three-club wind and perfectly benign, sunny conditions -- often within the same afternoon.
This is a tournament so fickle that it can turn a world-beater to whirled and beaten within 24 hours. Just ask Rod Pampling, who once led after Round 1 of the Open ... and missed the cut one day later.
In three previous Open Championships held at Turnberry, however, unpredictability yielded to chalk -- on the final leaderboard, at least -- as the world's No. 1 player earned the title. During the Duel in the Sun of 1977, there was no Official World Ranking yet, but winner Tom Watson was in the midst of a five-win season and four-year reign atop the PGA Tour money list. Nine years later, Norman was the top-ranked man when he claimed his first major championship. And in 1994, Nick Price held that honor when he vanquished all comers at Turnberry.
Even if the No. 1-ranked player wins this week for a fourth straight time at Turnberry, don't expect all of the proceedings to unfold according to plan. After all, this is the British Open -- the most capricious of all four major championships. Unpredictability is an annual affair.
2 I wish there was a way of examining Tiger Woods' record at major venues on which he's never played a professional event.
Oh, wait -- there is. I recently researched Woods' record on these courses as opposed to those where he has previously competed. And the numbers speak volumes about the difference in the two.
Excluding the Masters, since Woods has played at Augusta National each year since 1995, he has competed in 35 career majors as a professional. Surprisingly, only a dozen of these occasions came on courses that he had already played in competition; 10 were the result of that venue having already held a major in which he's participated, while the other two, Pebble Beach and Torrey Pines, were each the site of PGA Tour stops.
Sam Greenwood/Getty Images
The last time Tiger Woods planted a kiss on the Claret Jug was his emotional victory at Royal Liverpool in 2006, just months after his father Earl passed away.
Of these 12, he's won an eye-popping six titles, including the 2000 U.S. Open at Pebble Beach, 2000 British Open at St. Andrews, 2005 British Open at St. Andrews, 2006 PGA Championship at Medinah, 2007 PGA Championship at Southern Hills and 2008 U.S. Open at Torrey Pines.
Like an elite major league pitcher knifing his way through a batting order in the middle innings, Tiger finds more success in familiar surroundings.
That leaves 23 major venues on which Woods has competed for the first time in a major. Maybe some he had seen before during his amateur days, some he had played practice rounds on or seen recreationally and still others he had never viewed before that week's tournament. Of these 23 occurrences, he owns four victories. That's still an unduly impressive 16.7 percent, but a far cry from the 1-for-2 mark on courses he's played competitively in the past.
His wins: 1999 PGA Championship at Medinah, 2000 PGA Championship at Valhalla, 2002 U.S. Open at Bethpage and 2006 British Open at Royal Liverpool.
Why are these stats so relevant this week? Because Woods has never before visited Turnberry, this week's British Open venue.
"I've never played it, never been to it. I've only seen it on TV," Woods said recently. "There's only so much you can see on videotape. I'll have to get there in person. But the whole idea before I get there is actually to have everything dialed in, feel comfortable with my swing, short putting, everything dialed in. Then start getting the feel for how to play over there. Then you gotta get your sight lines, and all that means is I have to do more homework once I get there and do more prep work on the greens and make sure I truly understand how to play the golf course and have a game plan come Thursday."
On the surface, Woods won't be at much of a competitive disadvantage, considering only a handful of the players in this week's event took part in the 1994 edition when it was last held at Turnberry. Then again, two forces are working against him, too. Many of the European players have at least played the course in amateur competition or recreationally in the past. And lack of prior course knowledge on the part of Tiger tends to level the playing field.
Don't believe me? Just look at the numbers.
3 I wish there was more talk about a possible three-peat.
Two years ago, Padraig Harrington prepared for Carnoustie by competing the week before in the Irish PGA Championship, which may sound like a big-time deal, but is little more than a tournament for club pros in that country. He won the event, then parlayed that into a British Open victory. So last year he decided to stick with what worked and once again pulled off the double.
This time? You knew he wasn't going to mess with success.
"I'm not a superstitious person, but I do like to prepare properly," Harrington wrote on his personal Web site prior to the event. "For this reason, I am back in Ireland for the Irish PGA. I have absolutely no doubt in my mind that this event has played a big part in getting me ready for the last two Opens that I won. The fact that it is played on a great links course like the European Club is a massive benefit, as there is no better preparation for links golf than actually playing it. The fact that I can come here and get competitive practice is massive for me."
Harrington needed the competition, since he hasn't seen a tournament weekend in quite some time. The two-time defending Open champ has failed to make the cut in each of his past five appearances on a major tour, including a 76-76--MC performance at the U.S. Open. He has retooled his swing and refocused his practice habits in an attempt to regain the level of each of the past two years.
"I know that my form hasn't been great this year, but after the two rounds in Paris last week I am very happy that I am on the right road," he wrote. "I would definitely like to have some better performances under my belt but there is nothing that I can do about it now. I have this week's event to help finalize my Open preparations and get myself tournament ready. I want to be leaving here with my game ready to tee it up next week in the Open, as I don't want to be going to Turnberry still thinking about where my game is and what I need to do."
Perhaps this recent run of poor results is one reason Harrington's quest isn't making major headlines right now, but he's still on the verge of history. Only four golfers have previously won three consecutive Open titles and three of 'em did so in 1882 or earlier -- Bob Ferguson (1880-82), Jamie Anderson (1877-79) and Young Tom Morris (1868-70). The only one to accomplish such a feat in the modern era? Peter Thomson, who earned three of his five wins from 1954 to '56.
If that's not enough to prove how difficult a three-peat would be, try this: Bobby Jones, Jack Nicklaus and Tiger Woods each won this tournament three times in their entire careers! Granted, Woods is still gunning for more, but to pull off something no one in that trio has done would be an incredible story.
And if Harrington is to win a third straight, he will once again credit competing in the Irish PGA one week prior as a major factor. But, uh, it's not like he's a superstitious person or anything.
Uh-huh. Sure he isn't.
4 I wish Colin Montgomerie has one last title contention in him.
He will compete in his 20th consecutive Open Championship this week, but Monty's game is a far cry from the form he showed in finishing runner-up to Tiger Woods four years ago at St. Andrews.
"I was thrilled with the support I had in 2005 at the Open when I was out with Tiger on that Saturday. I'll never forget that round of golf -- mainly because I beat him," the Scotland native said with a laugh prior to the Scottish Open. "But apart from that, the crowd is fantastic, and because it's Ayrshire and because it's home for me, if you like, you know at Turnberry, I hope to get somewhere in that position to give the crowd something to shout about."
At 46 and using much of his off-course time for his role as Ryder Cup captain, Monty is hardly a contender these days, having failed to finish in the top 10 in his past 25 European starts dating back to more than a year ago. And yet, he feels as if he's turning it around just in time.
Wouldn't it be something if the man once seemingly destined to win one of these things could put it all together one more time?
If so, Monty will surface on the leaderboard without pressure from the home folks.
"Now the expectation is not the same, so I can go in somehow under the radar and enjoy next week," he said. "I feel at home there. ... It's a confidence thing and I think that I'm just getting back into a vein of confidence, if you like, and some form. Yeah, fingers crossed, we look forward to this. I'm really looking forward to this."
5 David Duval.
His co-runner-up finish at last month's U.S. Open has been heralded as "The Return of David Duval," but it was less than a year ago when he had previously surfaced on a major championship leaderboard, albeit not for the entire tournament.
How quickly we forget that at last year's British Open, fresh off missing the cut in 10 of his first 11 starts of the season, the 2001 champion opened 73-69 at Royal Birkdale -- good enough to play in the second-to-last pairing of Round 3. Though he could only muddle his way around in blustery conditions with a 13-over 83 that day and finished T-39 when it was all said and done, this notion that the guy known as Double-D is just now starting his comeback is just plain erroneous.
"I don't see myself as back, or vindicated. I just did what I've been expecting to do and what I feel like I'm capable of doing," Duval said prior to the John Deere Classic. "I was asked something along the lines of, 'Why all of a sudden are you back and you're having a chance to win the U.S. Open?' I'm like, yeah, all of a sudden out of the seven years or six years I've been working and busting my tail."
It's true. For years, Duval has been telling anyone willing to listen that he's "close" to where he wanted to be. Earlier this year, he amended that comment to say he was playing well, but not getting much out of his rounds, scoring-wise.
He's still not at the No. 1-rank level that he was exactly 10 years ago -- and there's a great chance he may never get there -- but Duval is certainly on the right track to success. Another strong showing at the Open would go a long way toward getting there.
6 Lloyd and Elliot Saltman.
Sure, their names may sound like a pair of brothers presiding over the law firm Saltman & Saltman, but in reality these siblings are making history at the Open.
After advancing through the final qualifying stage this past week, Lloyd and Elliot will become the first brothers to compete in the same Open since Seve and Manuel Ballesteros back in 1983.
"Wow. It's just fantastic that both of us are going to be at Turnberry," said Lloyd, who was low amateur at this event in 2005, when he finished T-15.
It wasn't easy, though. Lloyd posted a 10-under-par total in the final qualifying stage at Kilmarnock Barassie, then had to wait five hours to ensure his score would be enough to advance. During that time, he traveled to Glasgow Gailes and watched as Elliot snuck into the field by a single stroke.
Competing in the Open will be nice, but if the Saltman boys really want to reach the record books, they've got some work ahead of them. Willie Park Sr. (1860, 1863, 1866, 1875) and Mungo Park (1874) are the only pair of brothers to win the championship.
Well, if the Saltmans recall a pair of litigators, then this Italian sensation must sound like the Azzurri's big-time striker from Serie A.
Instead, Manassero is golf's latest phenom, already making Ryo Ishikawa seem old, Rory McIlroy past his prime and Anthony Kim absolutely ancient. At 16 years, 62 days, Manassero recently became the youngest player to win the prestigious British Amateur, eclipsing the previous mark, set in 1966 by Bobby Cole, by nearly two years. He's also the first golfer from Italy to claim the title in its 124-year history.
"I never imagined once that I could win this tournament," he said at the time. "I'm shocked. It's unbelievable."
Not really. Oftentimes, such amateur championships will be won by the player who makes the fewest mistakes during the match-play portion of the proceedings, whether he plays the best golf over the course of the entire event or not. Manassero, however, became just the third player to win the British Amateur after having the best score in stroke-play qualifying and he trailed only once in five matches leading up to the final against Sam Hutsby.
This week, Manassero will compete in his first British Open as the youngest player in the field -- but not the youngest ever; that honor goes to Young Tom Morris, who competed at age 14 in 1865 -- and should he retain amateur status, he will receive an invitation to the 2010 Masters.
Oh, and just to put that age thing into perspective one final time, there's this: Manassero is 43 years younger than this week's oldest competitor, Tom Watson, and less than half as old as Tiger Woods.
8 The pound.
Prize money for the British Open will remain exactly the same as a year ago ... and yet, American players (and all others based in the U.S.) will earn less for their results based on the current value of the pound against that of the dollar.
Once again, the entire prize fund will be 4.2 million pounds. In 2008, that total was the equivalent of nearly $8.4 million in U.S. funds, as the exchange rate was just under twice as much. Based on the most recent currency conversions, however, this year's purse will only boast a total of $6.76 million.
Let's break it down for the actual champion: Last year, the winning share of 750,000 euros equaled about $1.5 million; this year, it will likely be right around $1.2 million -- a decrease of $300,000 for the winner.
That also means the first-place check will be at least six figures less than those from each of the other three majors and a whopping $500,000 less than that of the Players Championship.
9 John Daly.
One of the tracks on Daly's solo album, "My Life," is entitled "I Found It," which could have been an apt description for his golf game in 2009. While reportedly suspended by the PGA Tour for six months, Daly competed on the European Tour in the first half of the season, making the cut in four of eight starts, including a T-2 finish at the BMW Italian Open, before returning to the U.S. and reaching the weekend in his lone start in Memphis.
Instead, though, it appears Long John may be heading in the wrong direction -- and it has nothing to do with his past off-course travails. In the first round of last week's Open de France, Daly wrenched his back on a swing and was forced to withdraw from the tournament. Though he appeared healthy while competing in the Scottish Open, it remains to be seen what kind of health status he'll have for the Open.
Even if Daly is fully recovered, he's a long shot to climb the leaderboard at any point this week. Since winning the Open in 1995, he has finished in the money on only three of 11 occasions and not since 2005. Last year, JD shot 80-89 at Royal Birkdale for a 29-over-par total that tied someone named Jamie Howarth for dead last among those who finished the first two rounds, 5 shots clear of the next closest competitor.
Perhaps a more appropriate title track for Daly's career right now would be, "Where I Am Now." We may just get a sense of that at Turnberry.
10 Robert Karlsson.
Until recently, he was the most underrated player in the top 10 of the Official World Golf Ranking. Now that he's dropped five spots out of that placement on the list, the lanky Swede must settle instead for life as the most underrated player in the top 15.
Problem is, he could be falling even farther very soon.
Hampered by what has been reported as a "long-term eye problem," Karlsson has already followed up last month's pre-tournament withdrawal from the U.S. Open by WD'ing at the British, as well.
According to a Reuters report, he is suffering from -- commence wincing now -- a blister behind his retina, an injury which has kept him out of competition since the European Open back in May.
Karlsson owns a curious career record at the British Open. He has solid bookend results, with a T-5 in his initial appearance as a pro in 1992 and a T-7 last year at Royal Birkdale. In between, he's missed the cut in nine of 10 starts with his only money-maker coming three years ago in the form of a T-35 finish.
Jason Sobel is a golf writer for ESPN.com. He can be reached at Jason.Sobel@espn3.com.
It is counterproductive for Tiger Woods to win in his final start before a major championship.
In his last PGA Tour appearance before this year's Masters, Woods earned a come-from-behind victory at the Arnold Palmer Invitational. Two weeks later, though, he couldn't replicate that success, finishing T-6 at Augusta National. Later, he won in similar fashion at the Memorial Tournament, but again fell short of that result in his next start at the U.S. Open, again finishing T-6.

Now that he has won for a third consecutive time in his final start prior to a major, taking his own AT&T National over the Fourth of July weekend, it's worth asking the question: Is Tiger peaking too soon?
In order to answer this, let's uncover his results in similar situations during past seasons. Entering 2009, he had won his last start before a major (counting only those played one or two weeks beforehand) on nine occasions, then converted those into victories at the major three times for a tidy 33.3 percent clip. Those titles include the 2007 WGC-Bridgestone Invitational and PGA Championship, the 2006 Buick Open and PGA Championship and the 2000 Memorial Tournament and U.S. Open.
Meanwhile, he's won majors when not only coming off those three victories, but also a few runners-up and other strong finishes. He's also won when coming in an un-Tiger-like 23rd, 31st or 53rd in his previous start.
Bottom line? Woods' most recent result doesn't seem to have much of a bearing on how he fares at the majors. Without even knowing the numbers, this makes perfect sense to those who have watched him on a regular basis throughout his career. While success and failure are cyclical occurrences for most players, Tiger never appears to feed off his victories nor carry over any ill effects from his defeats.
He may win this week's Open or he may not, but Woods' result will have little to do with his recent victory at Congressional. Despite failing to turn his other two wins this season into major titles, consider the above statement to be FICTION.
There are a few quirky ways of qualifying for the British Open. One is that the highest non-qualified finisher who finishes in the top five in each of the final two PGA and European tour events prior to Open week earns his way into the field. Another is from a special six-week PGA Tour money list, in which the top two players not already entered punch their tickets, as well.
If it sounds a bit confusing, you're not alone. After finishing T-5 at Congressional last week, Brandt Snedeker figured he had missed out because he came in a stroke behind Bryce Molder. What Snedeker didn't realize, though, is that Molder qualified that day based on the money list exemption, leaving a spot for Snedeker at Turnberry.
I recently spoke with Snedeker, who explained how and when he found out he'd be competing in the British Open once again this year.
Q: Pretty cool the way you snuck into the British Open with a top-five at last week's AT&T National.
A: I didn't even know until I got on a plane leaving D.C. on Sunday night. Got a call from Doug Ferguson of the AP asking what I thought about being in the British and I had no clue. I was floored. It was certainly a surprise. I had planned on going to play in Milwaukee. I was playing good. Now with this coming up, I feel great about it. I can't wait to get over there.
Q: So you had no idea when you left the course that you were in?
A: Zero. I knew that top-five last week would get you in, but Bryce Molder finished ahead of me by a shot, so I figured he got it. I didn't even think about it, to be honest with you. I was just excited to play good and get ready for this week at the John Deere. When I found out about the British on Sunday night on that plane, I was absolutely excited. Called everyone I knew, told 'em I was going and started making plans to get over there.
Q: No plans to pull a Kenny Perry and just go to Milwaukee instead, right?
A: No. Uh-uh. After seeing my good friend Lucas Glover win the U.S. Open, it really got me fired up. I want to get out there, start competing a little bit more, give myself a chance to win those big ones.
Q: How difficult is it to make travel and housing arrangements after qualifying so late for this event?
A: I got very lucky because they have the two shuttles from the John Deere and the charters to Canada [after the Open], otherwise it would have been a complete pain in the butt. That makes it so much easier. And they have the hotel right there [at Turnberry] and I actually got relatively lucky and got in there. But it's definitely a worry. When you get in last minute and you're going overseas, you've got to change your plans so much, worry about getting dinged for last-minute airfare, that kind of stuff. It worked out good.
Q: You missed the cut last year at Royal Birkdale in your first British Open experience. What are your thoughts on golf over there? Is it something you enjoy?
A: Everyone always says you've got to play the British Open in nasty conditions. Last year, it was blowing 45 mph every day and I never really felt comfortable in that type of atmosphere and that kind of weather. You know, it was good to see it; hopefully, this year is not as bad.
I had a good first round, played a bad second round. But the British Open, you've got to be ready for nasty weather and I typically love that kind of stuff, love being in tough conditions and playing hard golf courses. I love the imagination that is involved in the British Open, so I'm excited to get over there and give it another chance.
I feel my game suits up well for it. You'll have a lot of 5-10-footers for par. The greens over there are typically perfect, there's not a lot of grain in them, so they're a little slower, but you see a lot of guys hole long putts at the British Open. So that kind of suits my game and I'm just excited to get over there, see if I can improve on last year. I want to take the experience of last year, realizing you're going to have a tee time that's three in the afternoon or could be six in the morning. Just gotta roll with it and be excited to play in it.
Q: Tell me everything you know about Turnberry.
A: In 2000, I played the British Amateur at Prestwick and we stayed over there for an extra week -- me and a group of guys -- and we played Turnberry. So I've seen it once before. I know it's a great golf course; everyone I've talked to says it's fantastic. I'm interested to see how it's changed since I played it. I've heard they've added length to it and kind of toughened it up.
It's got one of the hardest opening holes, I think, of any British Open golf course. You get out around that rock, out there on the ocean, and it's brutal. So it's just a great track, very picturesque. A lot of slopes, a lot of undulations for a links-style golf course on the water. There are a lot of ups and downs. It will be interesting to see how it plays.
Q: You've had a rib injury for most of this year. At the U.S. Open, you said you were 95 percent. Is that closer to 100 percent now?
A: Yeah, I feel pretty good. I still have some pain, but I feel good. It's been a long year, needless to say, with the way I've played. I had a shoulder injury in the offseason and then it kind of lingered into this year, then I had my rib injury, which knocked me out for eight weeks. So I haven't really been healthy for a long time.
I'm starting to feel like I'm finally getting healthy again. It was just a matter of time before I started playing good. When you go through a bad stretch like that -- and everybody goes through it once or twice in their career -- it's tough to see the light at the end of the tunnel, but I kept my head up. I knew it was going to turn around and get my game back to where it was a year and a half ago and I feel like I'm starting to get there.
In 2008, the good folks at the John Deere Classic decided to trade in the tractor for a pair of chartered flights to the British Open for its qualified participants. Great idea. And yet, more than a few players may have become airsick had they known the fate that awaited them on the other side of the Atlantic last year.
At Royal Birkdale, not a single man from the 23-player John Deere contingent finished better than T-32, as Todd Hamilton, Heath Slocum and Tom Lehman each shared those honors.
Before you start thinking that teeing it up in Silvis, Ill., isn't the best way to prepare for links golf, though, let's examine some previous records. Last year's JDC champ, Kenny Perry, opted to compete in Milwaukee instead of flying to England, but each of the prior three winners earned a modicum of success the next week.
In 2007, Jonathan Byrd finished T-23; in 2006, John Senden was T-35; and in 2005, after scrambling to secure a passport en route to St. Andrews, Sean O'Hair pulled a T-15 result.
This time around, another 23 already-qualified players entered the Quad Cities event, including former champs Lehman, Hamilton, Mark Calcavecchia and David Duval, plus U.S. Open winner Lucas Glover.
I know people like you. You still have the balata used to make your first birdie. Your dream foursome is your dad, brother and son at the local muni. You get a little teary-eyed when Roy McAvoy continues hitting shots into the drink in "Tin Cup."
Hey, you're a sentimental fool -- and there's nothing wrong with that. We've all got a little sentimentality in our bones.
With that in mind, this week's edition of "The List" offers the five greatest scenarios of winners who could hoist the Claret Jug on Sunday. Improbable? Yes. Impossible? Well, there's no such thing when you're a sentimental fool.
5. Kenny Perry. After skipping the Open last year and faltering at the end of this year's Masters -- and with two ailing parents back home -- a win would go over big in the U.S.
4. Darren Clarke. Three years after his wife Heather passed away, he would have legions of support if in contention on the final day.
3. Greg Norman. Once is an accident, twice is a trend. The Shark would silence any doubters with a second straight rally up the Open leaderboard.
2. Colin Montgomerie. Now 46, he's running out of chances, if they haven't passed him by already. He'd love to contend one last time in his native Scotland.
1. Tom Watson. The only thing better would be if Jack Nicklaus was in that final pairing alongside him, reprising their Duel in the Sun.
If you think the American journalists can't get enough of Boo Weekley, you should see the British guys get their hands on him. Boo held a pre-tournament news conference from the Scottish Open and, as usual, I couldn't pare it down to just one quote ...
On his knowledge of the game: "I don't know nothing about the history of golf. It was like I was sitting in there yesterday with Sandy Lyle and I never even knew he won the Masters. Seriously, I don't keep up with golf."
On why he became a golfer: "I've played everything. I played football, basketball, soccer, baseball, and I got hurt in every one of them, so I figured I would find another sport that the worst thing that could happen is you get hit with a golf ball or get hit with a club if you got mad."
On his accommodations for the week: "When I got here, I didn't even know where I was staying here. I just go. When I get to where I'm at, I just keep asking the question until somebody finally takes me in."
On reprising his ride-the-pony exuberance from the Ryder Cup: "You never know. I mean, if I've got a 10-stroke lead on 18, I might ride it all the way up the fairway. I might even walk on water across there."
If Boo Weekley walks on water, well, they just might write a few stories about that, don't you think?
Once again, one quick Twitter note about needing some "From the Inbox" material elicited a ton of responses from fellow tweeters. Let's address three of 'em ...
ptwall@jasonsobel Will iron work be the key to the Open Championship?
I always have a tough time with this kind of question, but here is my generic, formulaic answer that can be used prior to just about every major championship: The rough will be penalizing, so there will be a priority on keeping the ball in the fairway, and iron play is important to give yourself birdie opportunities, and if the wind is blowing then chipping will be vital to save par when iron shots miss the greens.
All of that said, putting is the single most crucial element to any major. I can't guarantee that the best putter for the week will win, but I can guarantee that the winner will have putted well.
Mike_Thomson@JasonSobel are the pros changing their usual loft for the conditions?
Honestly, I'm not sure how much, if at all, players will adjust loft on their clubs prior to the opening round, but you can expect to see them tinkering with the proper 14 in the bag. Speaking of Twitter, @Paul_Casey -- aka, world No. 3-ranked Paul Casey -- has already tweeted that he will eschew a 5-wood in favor of a 2-iron this week. Expect other players to make similar moves, leaving a fairway wood or hybrid in their locker for the week.
danperry@JasonSobel How much will the weather dictate the value of Turnberry as a test for the best golfers? If it were sunny, would it be a test?
That's the great thing about how the R&A prepares its British Open venues. They're annually set up the way the organization wants them to play. As for scoring, if we see calm, dry conditions over the course of four days, it may take a total of 18-under-par to win the Claret Jug; if the wind blows and it rains sideways, even-par might be enough to get it done. Sure, it will be a challenging test either way, but obviously inhibiting weather would cause the course to play much tougher.
Wanna be considered for future W18 columns? Hit me at Jason.Sobel@espn3.com or follow along on Twitter.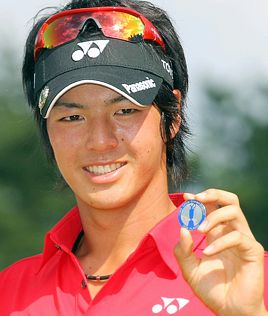 AFP/Getty Images
Damn kids today. All brash and confident. Just because they've successfully maneuvered through puberty, they think they're ready to take on the world.
Take Ryo Ishikawa, 17, for example. That's him in the photo above, showing off his prized pin for gaining entry into the British Open after winning the Japan Tour's recent Mizuno Open. When asked about his chances at Turnberry, the kid basically told the official engraver to start etching his name on the Claret Jug.
"I may have to face my worst score ever," he said. "I may easily go double-digit over par."
Uh, wow.
So much for brash and confident, huh?
His stellar record in Japan notwithstanding, Ryo understands he's simply a not-ready-for-prime-time player at the Open. In four PGA Tour-sanctioned starts so far this season, he's finished 71st at the Transitions Championship and missed the cut at the Northern Trust Open, Arnold Palmer Invitational and the Masters.
It was at the last of those that Ishikawa got his first taste of major championship golf, shooting 73-77 to MC by 5 strokes. The result was hardly embarrassing, but it left him knowing that his current game is a far cry from where it needs to be in order to contend at these events.
"Majors are still out of my league, but I feel a little more relaxed than last time," he said. "I'd like to be on the course as long as possible, so I hope to make the cut and play all four days of the tournament."