Tiger plays role of myth buster at Cog Hill

You're off the hook. If you barely watched any golf Sunday, if you saw more from the Bengals and Lions than Tiger, I'm giving you a one-time-only free pass.
Even though the PGA Tour was playing its third of four playoff events, it's tough to neglect the NFL's opening weekend -- one reason the tour adopted a playoff format to shorten its season in the first place.
BMW Championship highlights
Tiger clinched his 71st PGA Tour win Sunday by a whopping 8-stroke margin at Cog Hill.
Watch highlights

So here's what you missed while creating that butt-sized crater in the couch cushions catching all the gridiron action:
Jiyai Shin further bolstered her case for the LPGA's Rookie of the Year award with a playoff victory at the ludicrously named P&G Beauty NW Arkansas Championship Presented by John Q. Hammonds … James Kingston prevailed on the European Tour over a leaderboard littered with Hansens and a Hanson … the United States team rolled en route to a third consecutive Walker Cup triumph at Merion …
Oh, and some guy named Tiger Woods romped by an 8-stroke margin at the BMW Championship.
This edition of the Weekly 18 begins by examining how Woods disproved a few recent myths about his game.
If there's one thing Tiger Woods enjoys more than winning, it's winning when others are starting to doubt him.
Just in case you can't recall popular public opinion about Woods' performance in the month since failing to turn the 54-hole PGA Championship lead into his 15th career major title, allow me to refresh your memory: Confidence in the No. 1-ranked player started wavering for maybe the first time in a half-decade, as skepticism about his skills ran rampant on both sports talk shows and at the Monday morning water cooler.
Harig: Setting The Stage
Yes, Tiger retook the lead in the FedEx Cup points race with his 8-shot win, but he's hardly clinched the $10 million prize. No one knows that better than the bevy of players who were jostling for position behind him at Cog Hill this week.
Bob Harig
And yes, this is the very same guy who had returned from knee surgery to win five times in 15 starts entering this past week and was fresh off two straight wins before losing at Hazeltine.
None of that seemed to halt the conjecture, however, as the runner-up finish at the PGA, T-2 at The Barclays and T-11 at the Deutsche Bank Championship were met with increasingly fervent support for the notion that TW either lost his edge or could no longer "intimidate" his fellow players.
By winning in runaway fashion at Cog Hill, he likely dispelled any such thoughts. Well, let's hope so, at least. Here are three recent myths should be busted with his decisive victory:
• He doesn't win like the "Old Tiger" anymore.
Some of Woods' greatest victories came when no one else was within shouting distance. He won the 1997 Masters by a dozen strokes, the 2000 U.S. Open by 15 and the 2000 British Open by 8.
In recent years, though, when gaining an early advantage on the field, Woods seems content to simply play mistake-free golf over the weekend and cruise to another trophy rather than pile onto the differential and further deflate the psyche of his opponents.
Really, he employed the same strategy at the BMW, extending a 7-shot margin through 54 holes to 8 by the end of Sunday's round. Yet there was never one second during the day when there was any doubt as to who would claim the hardware when it was all said and done.
"There are certain times when I get rolling and I can make some birdies," Woods said. "You have to have the right golf course, first of all, to do it on. You're not going to win by big margins on some of the easier venues because everybody is going low."
After wins of 1, 1, 1, 3 and 4 strokes this season -- a combined differential of 10 shots -- Tiger once again proved that overwhelming victories weren't confined to earlier in his career.
• He plays too conservatively with the lead.
With a 4-shot cushion at the halfway point of the PGA, Woods admittedly took a conservative approach to the third round, aiming for the fat part of the greens and happy to lag putt and make par rather than pressing the pedal to the metal.
Of course, by the end of that round, his lead had shrunk in half, which in turn led to a loss one day later.
In a topic that received plenty of airplay in the days after the tourney, there was a prevailing sentiment that Woods is at his best when firing at flagsticks and trying to jar every single birdie putt. Those making this claim, though, failed to notice Tiger's near-flawless record when playing in front during the latter half of his career. Whereas the "conservative approach" often holds negative connotations, he has used this strategy to win on dozens of occasions in the past.
On Sunday at the BMW, he was often playing simply to limit his mistakes -- he posted 14 pars with an eagle, two birdies and a bogey in his round of 3-under 68 -- rather than trying to run up the score.
No, this strategy wasn't successful last month at Hazeltine, but that doesn't mean he's of the wrong mindset.
• His putting stroke looks terrible.
Following those recent losses at Liberty National and TPC Boston, Woods admitted he didn't make enough putts to win, but he never confirmed that was the result of a poor stroke. Instead, he pointed to the gimmicky greens at the former venue and his numerous lipped-out putts at the latter as his reasons for failing to hole more of 'em.
On newly renovated greens at Cog Hill, those putts started dropping.
"I made a few more putts this week and got some momentum," Woods said afterward. "As we all know, you have to make putts to win championships. This week I certainly made my share."
For the tourney, Tiger averaged 26.5 putts per round -- and never more than 27 on a single day -- which left him in a share of second in the field. And he owned a putting average of 1.640, good for fifth.
The secret to his success? Keeping the status quo.
"I didn't change anything," he said. "You know, it's just one of those things where I was hitting a lot of lips, they just weren't going in. That's the way it goes. You're not going to make every putt. You're going to have stretches where that happens. I kept telling myself through those stretches, I was hitting good putts, they just didn't go in. So be it. As long as the ball starts off on line and I've got my pace right, that's the way it goes. You read the putts better, eventually they'll start going in. It's just a matter of time. I was patient, and here we are."
And here is Tiger Woods, erasing any myths about his game that had been floated in the past month, thanks to a convincing victory at the BMW Championship.
"Absolutely, it's one of my best years. There's no doubt about that. You know, I haven't won as many times as I did in 2000, didn't win any majors this year, but I've never had a year where I've been this consistent, either, this many high finishes and the number of events I've played."
Those were the words of Tiger Woods, discussing where this season ranks among his best as a pro.
The numbers don't lie -- and neither does Tiger. The Tour Championship notwithstanding -- which will almost assuredly be his final PGA Tour start of the 2009 season -- let's investigate where this campaign falls in comparison with the best of his career.
Starting with his first full season in 1997, we can look at each one individually. First, we should eliminate all others in which he didn't win a major. There shouldn't be much doubt as to whether this year is better than 1998 (one win), 2003 (five wins) or 2004 (one win). This is absolutely his best major-less season.
Next, let's be realistic and call this year somewhere below any season in which he claimed two or more majors. That means 2000, '02, '05 and '06 should remain, in some order, as his four best seasons.
But has 2009 been better than any of his one-major years? It might be.
Woods won the Masters in 1997, but had only three other wins. I still maintain that victory was among the most important in the history of golf, but I'll take this year over that one.
In '99, he won eight times and had 16 top-10 finishes. Those are some pretty gaudy numbers. Even though he's coming off injury this year, I'm inclined to give the nod to that season of a decade ago when comparing 'em. In 2001, he "only" had five wins and though it included the Masters, he was more consistent this season. In '07, his seven victories were led by a PGA triumph and the inaugural FedEx Cup; that year trumps this one -- barely. And his U.S. Open victory in '08 was one for the ages, but a half-season doesn't beat a full one.
So there you go. I'd put Woods' 2009 campaign somewhere behind 1999, 2000, 2002, 2005, 2006 and 2007, but in front of 1997, 1998, 2001, 2003, 2004 and 2008, making this the seventh-best season of his 13-year PGA Tour career, right in the middle.
Pretty average, huh?
Now this is the way to close out an amateur career.
The world's No. 1-ranked amateur, Fowler helped lead the United States team to a 16½-9½ victory over Great Britain & Ireland at the Walker Cup this past weekend.
"The whole reason I waited around [to turn pro] was for this weekend," said Fowler, who joined Peter Uihlein as the only U.S. players to go 4-0 at Merion. "The days leading up to it and the practice we had was just an awesome experience, and to go 4-0 and get the Cup back, it can't get any better. It's going to be tough to top this weekend."
His wait won't last much longer, as the Murrieta, Calif., native by way of Oklahoma State University will turn professional in advance of this week's Boise Open on the Nationwide Tour.
Don't be surprised if the kid remains unblemished there, too.
Last month, Fowler posted rounds of 66-66-70-68 at the Nationwide Children's Hospital Invitational, only to lose in the second hole of a playoff to Derek Lamely. With only a half-dozen events remaining on the schedule -- including the season-ending Nationwide Tour Championship, for which he isn't qualified -- the newest pro will have to make up a lot of ground in an attempt to finish among the top 25 on the money list and earn full PGA Tour playing privileges for the 2010 season.
Then again, even if that doesn't happen, there's always Q-school. It won't be long before we're hearing about Fowler in the big leagues.
4 Jim Furyk.
With a tie for second with Marc Leishman at Cog Hill -- or a tie for first in the "B" flight, as the case may be -- Furyk moved into third place in the FedEx Cup standings entering the Tour Championship. With a win at East Lake in two weeks, he would clinch the Cup no matter where anyone else finishes. Same goes for the other four players in the top five, too.
Of course, that's easier said than done.
Furyk hasn't won a PGA Tour event since the 2007 Canadian Open. That means 52 appearances without anything in the W column, the longest streak since starting his membership with 60 consecutive starts before his first victory in 1994-95.
Of course, if he does prevail at East Lake, expect plenty of questions in regard to the FedEx format. Should a player be able to win it all without previously winning this year? Should there be more weight placed on the regular season than the four playoff events? Should he profusely thank commissioner Tim Finchem for implementing the new system before this season?
In order, I say yes, no and maybe.
If this is going to be a true playoff system, then the final four events need to be worth a lot more than those over the first eight months of the season. Though Furyk may be a surprise champion after another year in which he continually kept coming close but couldn't break through to the winner's circle, he will have earned it by winning when it counted most.
Isn't that what playoffs are all about?
5 Jiyai Shin.
The LPGA's 2009 rookie class was quite possibly the most heralded in tour history, with a quartet of players garnering most of the expectations.
Michelle Wie owns six top-10 finishes in 16 starts, Vicky Hurst had made the cut in all but three of her 16 appearances and Stacy Lewis currently ranks in the top 50 on the money list.
The accomplishments of those three, however, pale in comparison with those of Shin, who now appears to have the ROY award -- which is based solely on points -- all locked up.
With her playoff win Sunday, the 21-year-old from Seoul now has three victories this season, matching her total from last year, which begs one question: How is she still considered a rookie?
It's because Shin won each of those titles -- including the Women's British Open -- as a non-member in 2008, and didn't take up LPGA membership until before this season.
How impressive has she been? Consider this: Even without those three victories, Shin would probably still be leading the ROY race, with seven top-10s and no missed cuts since the season-opening SBS Open. Wie, Hurst and Lewis have each been successful in their own right, but Shin has shined as the tour's top freshman this year.
Harig: Monumental Mistake
Brandt Snedeker broke what must seem like every mental rule of golf when he 4-putted the 18th green Sunday to miss out on the Tour Championship and all the perks that go with it.
Bob Harig
Before the final round of the BMW Championship, Snedeker discussed his Sunday tee time opposite Woods, with whom he had never before played, even in a practice round.
"I've got to do something spectacular," he contended, "and he's got to maybe have a heart attack out there for me to have a chance."
It was a humorous line at the time, but one day later, it looked like Snedeker was the one gasping for air on the final green.
Though he never did anything spectacular, Snedeker was 2-over-par for the round and in solo sixth place when he came to the final tee box. That meant he needed just a bogey on the par-4 18th hole to remain inside the top 30 on the points standings, thereby qualifying not only for the Tour Championship, but next year's Masters, U.S. Open and British Open, as well.
Perhaps his biggest mistake was knowing exactly where he stood at that point.
Snedeker flared his drive to the right, where it landed precipitously in the rough bordering a fairway bunker. From there, he was forced to lay up into the fairway, then knocked a wedge shot to 13 feet.
Easy two-putt bogey, right? Uh, not exactly.
He slid the par attempt about 3 feet past the hole, then missed the come-backer. Knowing his fate was then sealed, he missed another tap-in for good measure, then finally cleaned up for triple-bogey.
If you're scoring at home, that's a 4-putt from 13 feet, dropping him from inside the number to 33rd on the list, losing out on all of those aforementioned perks.
So maybe Snedeker did accomplish something spectacular Sunday. It just wasn't the kind of spectacular he was hoping for.
7 Paul Casey, Tim Clark, Ryan Moore, Ian Poulter, John Rollins and Rory Sabbatini
There were exactly 24 players who completed the BMW Championship in both the top 30 on the money list and the top 30 on the FedEx Cup points list, meaning that if no playoff system was ever implemented (with the Tour Championship just being moved up six weeks and still taking players via the money list), each of these guys would have qualified anyway.
That means six players currently outside the top 30 on the money list were able to earn enough points over the past three weeks in order to reach the festivities at East Lake. Those players are Ernie Els, Marc Leishman, Steve Marino, John Senden, Heath Slocum and Scott Verplank.
Of course, with a half-dozen players moving up, that means there are six guys who finished up there in the money, but won't be making the trip to Atlanta.
Casey gets a free pass. Due to a rib injury, the world's No. 4-ranked player was unable to compete in any of the first three playoff rounds.
With not altogether terrible results of T-24, MC and T-30 in the playoffs, Clark dropped to 36th on the points list.
After winning the final non-playoff event of the regular season in Greensboro, Moore never finished better than 30th in any of the final three and fell to 47th.
If anyone is kicking himself for failing to reach East Lake, it's Poulter, who fell one point shy of Senden at No. 30. A final-round 75 on Sunday, including a bogey on the last hole, proved to be his undoing.
In 10 playoff rounds, Rollins -- the winner in Reno last month -- posted only one sub-70 round and never finished better than 38th.
As the opening-round leader at Cog Hill, Sabbatini was clearly inside the number, but subsequent rounds of 70-72-74 left him in 34th on Sunday evening.
8 Vijay Singh.
Exactly one year ago, Singh was fresh off wins at The Barclays and Deutsche Bank Championship, then a T-44 at the BMW, which ensured he needed only to finish the Tour Championship upright and breathing in order to clinch the FedEx Cup.
Not only will he not win it all this year, Singh didn't even qualify for the final two playoff events.
In a season during which he turned 46 and underwent knee surgery, the Big Fijian never really got things going, failing to win a tournament for just the fourth time since joining the PGA Tour in 1993 -- and the first time since 2001.
Singh's major championship results were emblematic of his play throughout the year: not awful, but hardly great. He finished T-30 at the Masters, T-27 at the U.S. Open, T-38 at the British Open and T-16 at the PGA Championship.
Needing a strong couple of weeks in the playoffs to at least qualify for the BMW, he missed the cut at The Barclays and was T-54 at the Deutsche Bank to finish 11 places out of the final spot at Cog Hill, ensuring he wouldn't claim the FedEx Cup for a second straight year.
But hey, at least he finished while upright and breathing once again.
9 I wish PGA Tour pros wouldn't complain about the current schedule of FedEx Cup events.
I know, I know. These guys are only answering the questions being asked and simply giving their honest opinions.
And yes, I get the fact that playing so many events in a row, on a short week, with a hectic travel schedule, on one new venue and another with resurfaced greens (meaning more practice time is needed) can lead to some worn-out competitors.
That said, any grousing about being tired is often construed as callow whining, met by the public with a big, fat "Suck it up!"
When asked their opinions on the tight turnaround from a Monday finish in Massachusetts to a Thursday start in Illinois, many players countered with viable ideas that ranged from moving back the Deutsche Bank Championship to a Sunday final round to moving the bye week up, so it fell before the BMW Championship instead of after it.
Like I wrote, each is a viable idea. But lobbying for a change isn't going to help anybody's public image.
Baseball players compete in six or seven games per week, moving to a different city after each road series. NASCAR drivers don't have the luxury of sitting out selected events throughout the season, like golfers do. Even football players take part in only one game a week, but still show up for practice every single day, bruised and battered from their profession.
Whether it's a complaint or just a suggestion, PGA Tour players only help themselves fit the stereotype of the pampered athlete when contending that events in at least three consecutive weeks is enough to wear 'em out.
10 I wish Ryuji Imada wasn't getting such a bad rap for his edited comment that's been getting frequent airtime.
"It's bigger than winning a major."
Those are the exact words from Imada, as shown during a televised PGA Tour marketing campaign for the FedEx Cup.
Of course, you'd like to believe that the "it" in this comment represents Imada's career or his family or even life itself. But no, in this case, he really was talking about the playoffs.
And yet it's very much misrepresentative of his inner thoughts.
I had the chance to speak with Ryuji a few times during last week's Deutsche Bank Championship and he said the sound bite was part of a longer explanation, in which he explained how each of the four majors is only a four-round tournament, while the playoffs last 16 total rounds, thereby rendering them "bigger."
Get it?
He also told me while he has yet to catch the commercial spot, he's heard from a handful of reporters and fans who have questioned his sanity for such a comment. Imada would like to set the record straight, though: He'd much rather win a major.
11 I wish every professional golfer had watched the U.S. Open these past two weeks.
I'm not just talking about the matches, though. In this case, the really noteworthy stuff is what happened afterward.
Upon completion of matches, players signed tennis balls and whacked 'em into the stands. They chatted with fans. Heck, Novak Djokovic even called commentator John McEnroe down from the booth and knocked it around with him on center court.
Can you imagine Tiger Woods finishing up a round, then challenging Johnny Miller to an emergency nine?
In terms of entertainment value and fan appreciation, the folks with racquets just beat those with clubs in straight sets. Or, if you prefer, by a score of 9 and 8.
Don't get me wrong. It's not that the world's top touring pros aren't friendly and don't sign autographs. It's just that more of this can be showcased during the course of play and directly afterward.
Being the best in the world isn't enough. Golfers need to recognize they are also entertainers, whether they like it or not.
Maybe some of 'em will take a cue from the tennis players. Then again, Johnny shouldn't expect that call anytime soon.
Jason Sobel is a golf writer for ESPN.com. He can be reached at Jason.Sobel@espn3.com.
Believe me, players want to win the FedEx Cup. Maybe not more than a major, but that doesn't mean they're discrediting the idea of clinching this season-ending title.
In this week's edition of The List, let's examine the top five perks of becoming the 2009 FedEx Cup champion:
5. A 2010 Masters invitation. Heck, you don't even need to win. Even last place at East Lake takes home this nice parting gift.
4. Being able to say you beat Tiger Woods. Unless, of course, you are Tiger Woods.
3. No Fall Finish appearances. Sure, the winner can play some more ... but why? It's football season!
2. An undefiled trophy. Despite the inaugural season's marketing campaign, Woods never kissed the Cup -- and I doubt Vijay Singh did much smooching last year, either.
1. The $10 million first-place prize. It's like Nelly once sang ... hey, must be the money!
Greg Norman made the right call by naming Adam Scott as one of his captain's picks to the Presidents Cup team.

Usually in this section, I will discuss the topic, give my opinion, then declare whether the statement is fact or fiction in the final paragraph, but this time I just can't wait to shout out ... FICTION!
Heck, this one makes that old joke about the priest who aced a par 5 on a Sunday morning look like FACT.
As one of his two wild-card selections to the International team (Ryo Ishikawa was the other), Norman called upon his fellow countryman and mentee, who has played in each of the past three editions of the event, but has looked like a double-digit handicapper at times this year.
Since finishing in a share of second place at the Sony Open during the season's second week, Scott has missed the cut in 10 of 16 starts with a top finish of T-33 -- and that was only for losing in the opening round of the WGC-Accenture Match Play Championship. In doing so, he's dropped from No. 3 in the Official World Golf Ranking to 52nd.
As if those numbers don't paint an ugly enough picture, let's examine a few more. Here is Scott's rank in some of the PGA Tour's more notable statistical categories:
• Driving accuracy: 57.57 percent (151st)
• Greens in regulation: 62.27 percent (168th)
• Sand save: 46.67 percent (137th)
• Putting average: 1.838 (194th)
• Putts per round: 30.21 (193rd)
• Birdie average: 3.15 (168th)
• Scoring average: 71.76 (174th)
Maybe Scott will turn it around at Harding Park. Maybe the confidence shown in him by his hero will equate to some stellar play next month. Maybe he'll become the best story of Presidents Cup week.
Even if all of that happens, however, it won't mean that he was the right pick for the team. Norman didn't have many terrific options, but players like Jeev Milkha Singh, Rory Sabbatini, K.J. Choi and John Senden have performed much better this season.
I do think Scott still has a world of talent and will once again become one of the better players in the game. That hasn't been the case recently, though, rendering Norman's selection one of favoritism more than anything else. Based on the numbers, once again the answer couldn't be anything other than FICTION.
This week's e-mail comes from Scott in Strickerville -- er, Madison, Wis.:
As we wind down another year on the PGA Tour calendar, it still seems like the FedEx Cup ending is flawed. I know it is still a relatively new concept and being tinkered with on a yearly basis, but I am still not pleased with how the final will be played out.
After giving this some thought, I came up with a new idea: Having a match-play tournament end the season! All other major sports in the U.S. (with the exception of NASCAR) conclude their seasons with a bracket-style tournament, so why can't the PGA Tour make it work?
Allow me to answer your question with a few questions of my own: How much of the 2007 Accenture Match Play final between Geoff Ogilvy and Henrik Stenson did you watch? How about David Toms and Chris DiMarco two years earlier? Or even -- gulp! -- Kevin Sutherland and Scott McCarron back in '02?
The match play format is like the wrestling matches of ancient Rome, in which eye-gouging was the only foul, spawning the phrase, "It's all fun and games until someone loses an eye." In this case, the eye of the FedEx Cup storm is, of course, Tiger Woods. Watch him bow out in the second round -- as happened this past February at the Match Play -- and remote controls around the world will be clicked to something else faster than you can say, "Heath Slocum and Jason Dufner are all square through nine!"
As if you needed more far-reaching analogies, it's as if Tim Finchem is starring in one of those Frosted Mini-Wheats commercials. The kid in me craves a volatile format in which anyone can win! But the grown-up in me wants to retain market share and annually increase revenue platforms!
Then there's this: Even if we forget about the business side of this equation, the simple truth is, match play is a more arbitrary way of choosing an eventual winner than the current format. If there's a problem with the points system right now, it's that it doesn't properly reward the top players over the season's first eight months. Determining a champion through head-to-head matches would only further devalue the regular season.
Wanna be considered for future W18 columns? Hit me at Jason.Sobel@espn3.com or follow along on Twitter.
The writing was on the wall. We should have known this was coming.
With top-10 finishes in four of his past seven starts dating back to late June, Scott Verplank was on the verge of something special. At last week's Deutsche Bank Championship, he turned it up another notch, posting four rounds of 68 or better at TPC Boston.
Verplank's final total, however, left him a stroke shy of winner Steve Stricker on Labor Day afternoon in his search for a sixth career PGA Tour victory.
Prior to competing in this week's BMW Championship, Verplank sat down on the Hot Seat to discuss that result and more.
Q: I never know what to say to a guy after he finishes in second place. Should I go with, "Congratulations" or "My condolences"?
A: Well, a little bit of both. I mean, it was a good tournament to finish second in, because I moved up in the playoffs, but obviously I wanted to win. I guess it's kind of like the Arizona Cardinals getting to the Super Bowl last year. You know, great year -- but you didn't win.
Q: You moved up from 37th in the FedEx Cup standings to fifth. Is that too much? Too little? Or does it sound just about right?
A: I can't decide that. It may be a little bit much, but obviously I'm a happy recipient of that. I think it's better this year than it's been the first two years. They're probably always going to tweak the thing. They want to get it to where you reward the right guys and this year it's better. They've rewarded the full season more than they had, but they're also giving you a lot of extra zip for the playoffs.
Q: Is the point system itself too difficult to understand?
A: No, it's not for players and golf fans. I mean, you kind of know that you did your seeding going in. It's kind of like everyone is a wild-card team going into the playoffs. If you play well, everyone has a chance to go to the Super Bowl or the World Series. With that being the case, I think these tournaments have an added importance and I think last week kind of showed that a little bit. You know, Tiger wasn't really in the hunt and it was still a pretty compelling and exciting tournament.
Q: Based on getting into the Tour Championship, you've earned some pretty cool perks, including getting back into the Masters.
A: Absolutely. That's a great deal. You know, I missed the Masters and the British Open this year for the first time in about 10 years and I really missed 'em. You know, I missed 'em mentally. So I'm excited that I think I'm going to be exempt into all of those again and try to get back on my normal schedule.
Q: You're in Chicago this week. I know it's a different tournament name at a different course now, but does it still amaze you that you won this title as an amateur back in 1985?
A: A little bit. It's a pretty rare feat in golf -- or in any sport, really -- but it was a really interesting time and I was really playing good as an amateur player. I just played like I had been playing for a couple of years. It just so happened that I played well enough to get in a playoff with big Jim Thorpe. It was pretty compelling and probably pretty good TV, as well.
Q: Did you think the wins would always come that easy once you turned pro?
A: No, no, no. I never thought that. I've got a few different issues than most guys, being diabetic and having some health issues. I've got different priorities than most guys that are playing. So I never thought that I'd be winning every week, I can tell you that. If I hadn't gotten hurt two or three different times, then yeah, I would probably have expected to win a little bit more than I have.
Q: Through all of that, are you surprised that you're still playing such good golf at this point in your career?
A: No, I'm not surprised because that's how I am. I love to compete. I don't give up very quickly. I've kind of had to fight through things my whole life and I enjoy the fight, to be honest with you. It's a pretty good challenge for me to try to compete with guys who are literally half my age and have different skills and talents than I do. To be able to compete with them and sometimes beat them, it's a big thrill, but it's also a tremendous challenge. That's what keeps me motivated.
"It's hard to wipe the smile off my face at the minute. The Masters has always been a dream to play that. We used to set the alarm at 4:30 in the morning to get up and watch it when I was back at home as a kid. … If I'm home, I still do it now. To just go there would be great. But to play in the Masters is going to be amazing."
-- Marc Leishman on qualifying for the 2010 Masters, along with next year's U.S. Open and British Open.
A few years ago, the folks in green coats at Augusta National reinstated the rule by which any winner of a regular-season PGA Tour event automatically receives an invitation to the next Masters. When the FedEx Cup system was implemented, it was noteworthy that they also left in that which states any competitor at the season-ending Tour Championship also makes the field.
Before 2007, this meant that only the top 30 on the money list would benefit from such a bylaw -- and in most instances, these players were already qualified anyway. But with the increased volatility in the current system, a player can now get hot for a couple of weeks in early September -- Leishman being the latest example, joining the likes of Bubba Watson and Dudley Hart last year -- and earn his way onto the hallowed grounds seven months later.
I have no inside knowledge about this, but I wouldn't be surprised to see Augusta National officials rescind this rule after next year's Masters. A player should have to accomplish something special to receive entry into the field and, quite frankly, a few decent finishes and a trip to East Lake don't necessarily fulfill that goal.
Be happy for Leishman. Be very happy for him, in fact, as he will live a dream by competing in the Masters next year. But don't be shocked if his is one of the last stories about a player earning his way into the field via that rule.
A collection of my recent tweets (JasonSobel) on everything golf …
• Updating last week's personal stat of 2009: In events I've covered this year, TW is 1-for-10. Of the six I haven't covered, he's 5-for-6. …
• And in the one event I covered that he won (AT&T Nat'l), I didn't stay for the weekend. How long until TW pays me off to keep away from him? …
• Prez Cup picks: Glover and Mahan. Ishikawa and Scott. Hey, didn't there used to be another golfer named Adam Scott? Oh, same guy? Uh-oh. …
• Jason Dufner is in a bitter battle with Jason Bohn and Jason Day for the title of "World's Best Golfer Named Jason." I'm in 895,876th place. …
• Today's jumbo bucket of range balls came with a side of f-bombs from the dude hitting next to me. No, it wasn't Tiger Woods. …
• Tiger leads by 7 entering the final round. Troy had a better chance against Florida than the field does of catching him tomorrow. …
• After opening with a 65 at the E Tour's MBC, Soren Hansen claimed, "It seemed silly easy." Not so silly easy? Avoiding tax evasion charges. …
• Wonder why TW doesn't sign more autographs? Two little kids nearly got trampled in the stampede that went after him. Dangerous situation. …
• Now I understand Greg Norman's logic! Rory Sabbatini tiring himself out by co-leading the BMW, while Adam Scott remains well-rested.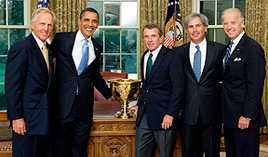 Official White House Photo by Pete Souza
One day before he faced the nation, President Barack Obama -- along with Vice President Joe Biden -- faced PGA Tour commissioner Tim Finchem and Presidents Cup captains Fred Couples and Greg Norman just after the wild card selections were named at the National Press Club.
Yours truly wasn't invited to the Oval Office, but rumor has it Obama's first words in the meeting were, "Adam Scott? Really? Our nation thanks you for your generosity, Greg."
And supposedly Couples, who has struggled with career-long back problems, was very interested in the President's healthcare plan.
Obama will serve as honorary chairman for the Presidents Cup, which will take place Oct. 8-11 at Harding Park in San Francisco.