Commentary
Rory McIlroy bids adieu to U.S. golf in '11
Updated:
August 14, 2011, 7:10 PM ET
By
Bob Harig
| ESPN.com
JOHNS CREEK, Ga. -- U.S. Open champion Rory McIlroy played his last round of 2011 in America on Sunday, a 4-over-par 74 that left him with a somewhat bittersweet feeling about his year in the major championships.
[+] Enlarge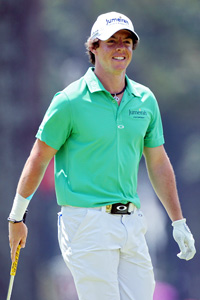 Andrew Redington/Getty ImagesRory McIlroy isn't expected to tee it up again in the United States in an official event until the WGC-Match Play in 2012.
It would obviously be judged a success based on his Open victory in June at Congressional, but McIlroy left Atlanta Athletic Club thinking it could have been even better.
"Looking back at the results, with the win, obviously the win was great," McIlroy said. "But 15th at Augusta and 25th at The [British] Open and then [64th] here ... the first 2½ majors, I was right in there, and just one bad day on the Saturday at The [British] Open really cost me, just unfortunate.
"I feel comfortable in these events, and the win this year in the U.S. Open will give me a lot of confidence going into them next year again."
McIlroy's week at the PGA Championship was marred by the wrist injury he suffered on the third hole Thursday, one that had him contemplating withdrawing and saw him play with it taped and bandaged the rest of the time.
Although McIlroy ended up shooting his best score of the week during the opening around, the injury suffered when he hit a tree root turned out to be too much to overcome.
"It was a struggle," McIlroy said. "I basically played 70 holes of this tournament not at 100 percent, so it was always going to be tough. Still, some good play out there the last few days, birdied the last, so nice to come off with a positive each day. Looking forward to a couple of weeks off, and you know, get rested up and get ready for the end of the season."
McIlroy will now concentrate on the European Tour, with events coming up in Switzerland and Holland next month, followed by the Dunhill Links in Scotland as well as year-end events in China, Hong Kong and Dubai.
Follow On Twitter

Want great insight into the game of golf in 140 characters or fewer? Follow @BobHarig.
He won't play in Tiger Woods' Chevron World Challenge in early December as he did in 2010 -- it is the same week as the Hong Kong event -- and he's not scheduled to go house hunting this week in Florida, either, as he had originally suggested.
Instead, he'll head to Cincinnati. "I heard it's nice there this time of year," he quipped.
That's where tennis star Caroline Wozniacki, whom McIlroy has been romantically linked to, will be playing an ATP Tour event this week.
The look for a house will wait, he said. McIlroy said he plans to play the PGA Tour as a member in 2012, but his first start is not likely to be until the WGC-Accenture Match Play in late February.
Bob Harig covers golf for ESPN.com. He can be reached at BobHarig@gmail.com.
SPONSORED HEADLINES
MORE GOLF HEADLINES
MOST SENT STORIES ON ESPN.COM
2011 PGA CHAMPIONSHIP
From Johns Creek, Ga. to the shores of Cape Cod, Keegan Bradley's dramatic playoff win at the PGA Championship on Sunday rung true for a multitude of reasons. Gene Wojciechowski
Championship Central
Date:
August 11-14
2011 champion:
Keegan Bradley
Course:
Atlanta Athletic Club
Where:
Johns Creek, Ga.
Yardage, par:
7,467 yards, par-70
Past PGA champions:
Complete list