Commentary
Round 4 PGA Championship grades
ROCHESTER, N.Y. -- Sunday of the final major of 2013 means the final day of grades for the best in the world. It's been a wild year, with all kinds of drama. We leave the majors with more questions than answers. Good thing the playoffs are coming up. But before then, let's have a look at those final overall grades.
Tiger Woods World Ranking: No. 1 | Score: 71-70-73-70

I guess none of us should be surprised. You have NEVER shot a round under par at this venue. But all those who were so convinced that you were gonna win because of how you played at Bridgestone need to remember that fact when you win at Bay Hill next year before the Masters. Check out the fairway stats, then tell me again how you're gonna win a major. (4/14 FIR's, 12/18 GIR's, 30 putts)



Phil Mickelson World Ranking: No. 2 | Score: 71-71-78-72

You were asleep at home before I even started writing this. Your overall week barely gets a passing grade, but I won't fail you because of one bad round. Still, for the man who is loved by so many, much more consistency in majors would be appreciated. We realize that finding fairways is not really your "thing," but hitting your fans with errant tee shots doesn't need to be your "thing," either. (8/14 FIR's, 13/18 GIR's, 31 putts)



Rory McIlroy World Ranking: No. 3 | Score: 69-71-67-70

One horrific mental mistake kept you from a top-5. But to see you hitting quality golf shots and making putts was refreshing for us, and even more so for you. Know that you still have a LOT of work to do to get back to where you've been, but I believe after the showing you had this week you also see the light at the end of the tunnel. The trick now is to stay on the tracks. (7/14 FIR's, 15/18 GIR's, 30 putts)



Justin Rose World Ranking: No. 4 | Score: 68-66-77-72

So now you know: Winning two majors in one year ain't easy. While one round ruined your chances, it was good to see you grinding so hard on Sunday. I do think -- now that you've got a major victory and thought about winning two -- your hunger and drive will be fired, not cooled. In any case your performance this week was neither amazing nor horrible. (7/14 FIR's, 15/18 GIR's, 30 putts)



Adam Scott World Ranking: No. 5 | Score: 65-68-72-70

You did it again -- put yourself in position to win a major. Has anyone played as well as you in majors this year? Doubt it. There is a just a hint of disappointment knowing what could have been because of how solid your swing looks. Unfortunately, starting with a bogey and finishing with two bogeys of the last three just won't get it done. You should be ashamed of making bogey at a reachable par-5, except even with ALL of that, you managed a tie for fifth overall. Expecting BIG things from you next year. (6/14 FIR's, 9/18 GIR's, 27 putts)



Scott Piercy World Ranking: No. 46 | Score: 67-71-72-65

Having caddied for you in the past, I can vouch for the strength you have to get the ball out of the rough, but to do it as well as you did on Sunday and hit the greens from the rough is to be impressed. The fact that you were able to score on this course from the rough, and even threaten to tie the course record making eight birdies on Sunday, should be marveled at. (4/14 FIR's, 15/18 GIR's, 28 putts)



Oak Hill CC World Ranking: N/A | Score: N/A

Shout out to the staff that made this course play so great. The thing I love about a PGA Championship is the ability to give guys the chance to go low. Find the fairway, and you can give yourself a realistic chance at birdie. Find the rough, and, on occasion, you will still have the chance to make a 30-footer. Getting that set up just right, even after Mother Nature throws in her two cents Thursday and Friday, is like walking barefoot on a razor blade and trying not to get cut.

Jeff Corcoran, Fred Doheny, Phil Cuffare, Chuck Zaranec, Martin Clarke, Ron Pluta, Dan Farrell, J.R. McCarthy, Scott Wheeler, Craig Harmon and ALL YOUR STAFF: Take a bow! Now go get some sleep. You deserve it.




Jason Dufner World Ranking: No. 21 | Score: 68-63-71-68

Clutch driving when necessary? Check. Make putts with bad strokes that you should've missed? Karma check. Set the course record? Check. Beat the best in the world? Check. Leave with a huge trophy and have the world "Dufnering" again? Check and check. Did I miss anything? I'll be sitting on the floor up against the chalkboard, practicing major champion golf attitude! Know this about Jason Dufner: As the Steven Wright of golf and newest major champion, he will not be a one-hit wonder.


Senior writer/video talent for ESPN.com
Worked for several players as PGA Tour caddie
Former stand-up comedian
SPONSORED HEADLINES
MORE GOLF HEADLINES
MOST SENT STORIES ON ESPN.COM
THE PGA CHAMPIONSHIP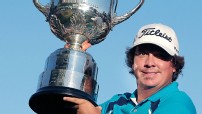 Jason Dufner exorcised the ghosts of PGAs past with a resounding victory at Oak Hill.
Gene Wojciechowski
SUNDAY
EDITORS' PICKS
A new book may revolutionize how golf is watched, played.
Maguire »

Which practice tool are pros willing to pay for?
Michael Collins

Joe LaCava worked for ailing Fred Couples, now Tiger Woods.
Harig »