Commentary
Day 3 Presidents Cup U.S. grades
DUBLIN, Ohio -- Because Mother Nature has decided she hates golf and threw a huge monkey wrench into the Presidents Cup match schedule, my grades are like Phil Mickelson's Frankenwood … a combo of Friday's and Saturday's play for the U.S. squad. Some said I was a bit hard on my grades for Day 1, my answer to that is: Play better!
Keegan Bradley Foursomes: 1-0-0 ; Four-ball: 1-1-0; Overall: 2-1-0

Even after withstanding being down early on both Friday's and Saturday's morning matches, his energy would not be quelled. Reeling off six birdies of his own Saturday afternoon, it was Bradley that was the fuel energizing the pairing with Phil Mickelson. I would be lying if I said I wasn't nervous about just how much he'll have left when they finally get to the singles matches.



Jason Dufner Foursomes: 1-1-0 ; Four-ball: 1-0-0; Overall: 2-1-0

Dufner also was part of the hard-fought loss in Friday's foursomes match and was sat for the morning session Saturday. But even his partner Zach Johnson was impressed by the precision iron play by the quiet funny man. It won't be an issue for him on Sunday unless Dublin runs out of dip!



Bill Haas Foursomes: 0-1-0; Four-ball: 1-0-1; Overall: 1-1-1

After the beating he took with Hunter Mahan on Friday, redemption was his and Brandt Snedeker's mission Saturday morning. Mission accomplished as he accounted for eight birdies in the round that never made it to the 16th hole.



Zach Johnson Foursomes: 1-1-0; Four-ball: 1-0-0; Overall: 2-1-0

A tough, hard-fought loss Friday was followed up by an whole bunch of awesomeness Saturday in the only match to finish in the afternoon session. He was benched for the morning session Saturday, which was a smart move by captain Fred Couples because Johnson will be pretty fresh for the singles matches. What scares me is he had a stomach bug when he got here and he told me he ate a huge plate of Mexican food Saturday night before the news conference. Might not want to follow him into the Porta John on the course on Sunday. Just warning ya.



Matt Kuchar Foursomes: 1-0-0; Four-ball: 2-0-0; Overall: 3-0-0

Sometimes it's about being a great teammate, and Kuchar proved that on the par-3 12th hole Friday when, from behind the green, he told Tiger he was going to put him in the bunker on purpose with his second shot. They won the hole with a bogey. Then on Saturday it was his birdie on the 14th that kept the pedal to the metal.



Hunter Mahan Foursomes: 0-1-0; Four-ball: 1-1-0; Overall: 1-2-0

Even though his two birdies on the first two holes in Saturday's morning four-ball session with Brandt Snedeker against Louis Oosthuizen and Charl Schwartzel were halved, they were pivotal in staving off momentum for the Internationals. Mahan's birdie on the 11th gave the U.S. a lead they would never relinquish in his only victory so far. Unfortunately in foursomes, he and Bill Haas got waxed by the Ernie Els/Brendon de Jonge duo, which wasn't all Mahan's fault but it could've been closer. Mahan will sit until singles, which is good because he'll be hungry for redemption.



Phil Mickelson Foursomes: 1-0-0; Four-ball: 1-1-0; Overall: 2-1-0

So much for that flat start on Thursday. I asked him point blank if the loss on Thursday burned his "blank." He paused, looked me dead in the eye and said, "Yes. Seriously, Mike, it did." After starting a bit flat Saturday, six birdies in a 10-hole stretch were enough to win for the second straight time. Is there enough left in the tank of the guy who said he's got to cut 25 percent of his schedule next year?



Webb Simpson Foursomes: 0-1-0; Four-ball: 1-0-1; Overall: 1-1-1

Yes, a close loss is worth something when it comes to my grades, and the loss of the Friday match on the 18th hole Saturday morning was motivation enough for Simpson to come out firing later in the day. Throwing four of his own birdies on the card, he was the perfect teammate for Bill Haas in a Saturday four-ball win.



Brandt Snedeker Foursomes: 0-1-0; Four-ball: 1-1-0; Overall: 1-2-0

After losing for the second straight day in Friday foursomes, he redeemed himself a bit on Saturday getting his first win of this Presidents Cup. There's still a lot of work to do if he even wants to sniff a .500 record. That putter needs to be as hot as we've seen it at times this year.



Jordan Spieth Foursomes: 1-0-0; Four-ball: 1-1-0; Overall: 2-1-0

As big as some of the shots were he hit in Friday's foursomes win, the fact that he accounted for only one birdie in the Saturday morning four-ball loss tells me there is still a lot of growing to be done by the youngster. But being 20 doesn't dismiss you from harsh grades if you're on this team. Stricker won't always be there to carry you.



Steve Stricker Foursomes: 1-0-0; Four-ball: 1-1-0; Overall: 2-1-0

While I understand he lost Saturday's four-ball match, he made seven birdies. Now if that's not going down swinging, I don't know what is. Even after going 1-1 over Friday and Saturday's matches, he is the man that no one from the International team wants to face. He has found the fountain of youth and the water told him to play less because he'll play better. Keep drinking it Steve!



Tiger Woods Foursomes: 1-0-0; Four-ball: 2-0-0; Overall: 3-0-0

Inspired exhaustion is all I can call it. Playing with Matt Kuchar has brought out a fun side of Tiger we haven't seen for a while on the golf course. After his birdie on the 13th Saturday afternoon, he had that look again. Then came the fairway wood from the heavens from 255 yards out on the 15th that told their opponents, "Not today, boys!" As much as I want to say he is unstoppable and unbeatable, he'll have to deal with age and exhaustion along with golfers that are coming after him Sunday.


Senior writer/video talent for ESPN.com
Worked for several players as PGA Tour caddie
Former stand-up comedian
SPONSORED HEADLINES
MORE GOLF HEADLINES
MOST SENT STORIES ON ESPN.COM
THE PRESIDENTS CUP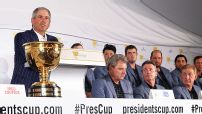 Yes, the U.S. won (again) at the Presidents Cup, but what could have been a Sunday spark simply fell flat. Bob Harig
PRESIDENTS CUP -- DAY 4
EDITORS' PICKS
Martin Kaymer's Players win catapulted him higher in 2014.
Bob Harig »

Rory McIlroy sealed his place in golf's elite with PGA win.
Harig »

Rory's Open win set him on course for a great stretch of golf.
Harig »