Commentary
Fred Couples exudes smooth style
Updated:
October 2, 2013, 10:37 AM ET
By
Farrell Evans
| ESPN.com
There will be much made this week of the team captains at the Presidents Cup. The leadership, strategy and communication skills of Fred Couples and Nick Price will be scrutinized, along with their ability to send out pairings that contain good chemistry.
Yet these qualities can be acquired mostly through experience and gained through the advice of past captains and assistants.
But Couples has an attribute that can't be taught. The 53-year-old Seattle native is the definition of cool. This effortless charm and charisma is his greatest contribution to a U.S. team that has seven of the top 11 players in the world.
Evans: Captain's Hopes

Nick Price played an integral part in the early years of the Presidents Cup. Now, he hopes to write that next chapter by bringing the International squad its first victory on American soil, writes Farrell Evans. Story

These superstars don't need a Bill Belichick. They have sufficient self-confidence and they know what to do. In Couples, they have a player's coach they like and respect for his lack of hubris.
The cool trait is one that Couples shares with -- among other sports and cultural icons -- Joe Namath, Frank Sinatra, Clyde Frazier and Arnold Palmer, who personified the sophistication and growing affluence of post-World War II middle class America with his dangling cigarette, swashbuckling style and army of fans.
"He's just so cool," Rory McIlroy said of Couples in 2012. "I hope I'm that cool when I'm 52."
Couples' lovable persona and gift for never alienating anybody inside the insular golf cognoscenti helps to explain why he was inducted to World Golf Hall of Fame in May, despite just 15 career wins, including the 1992 Masters.
His popularity as the Presidents Cup captain is owed partly to his very high likability factor. He exudes a calm and detachment that seems to lessen the stress that often pervades these matches.
Over the years, captains in both the Ryder Cup and Presidents Cup have sometimes carried the weight of the matches on their shoulders like a heavy burden.
As a player, Couples never appears on the course like anything could threaten his equanimity. Even as his Maxfli ball hung gingerly on the steep slope fronting the par-3 12th green during the final round of the 1992 Masters, Couples' composure assured everyone that he would survive the drama and go on to win what would be his only major championship victory.
He has carried that relaxed posture over to his duties now in his third consecutive stint as the head of the U.S. Presidents Cup team. In 2009, he made Michael Jordan an assistant on his first squad that defeated the Internationals 19½-14½ at Harding Park in San Francisco. The former basketball star's job was simply to have fun with the players.
Last year at Medinah, Davis Love III made Couples an assistant captain at the Ryder Cup primarily for his familiarity and popularity with the players. Couples repaid the gesture by appointing Love as one of his captains to this year's team at Muirfield Village.
However, Couples hasn't merely gotten by as a successful captain solely on his charm and good nature. He has taken in career and life lessons in large quantities from his 33 years around the tour. He is a multi-generational player: comfortable with Lee Trevino and Nicklaus as he is with Jordan Spieth and Keegan Bradley.
FOLLOW GOLF ON ESPN
Stay up to date with the latest news, stories and analysis.
Follow ESPNGolf on Twitter
He's also capable of making tough decisions and learning from his mistakes. Leaving Bradley off the 2011 Presidents Cup team after he had won two events, including the PGA Championship, went into Couples' decision to make Spieth one of his two captain's picks for this year's team. That choice meant leaving Jim Furyk off an American squad for the first time since 1996.
Before the 2011 Presidents Cup, Couples urged the struggling Tiger Woods to add an additional tournament for a warm up to the matches as a condition for selecting him to the team.
"I'm the captain, and [Tiger] wants to be on the team," Couples said. "This is my chance to hold my rank above him one time. And I'm going to do it."
Yet Couples understands his role in this job. On Tuesday at Muirfield Village, he tried to downplay his influence on pairings, the main responsibility of the captain.
"I have consistency in Steve Stricker, Phil Mickelson and Tiger, and pretty much whatever they say is going to happen," he said. "They have been on 50 teams probably amongst the three of them."
The Americans have never trailed after any session of the past two Couples-led Presidents Cup teams. The PGA Tour could make Couples captain for life. His popularity and wisdom is only going to grow richer in the coming years. He would be the perfect individual to usher in the next generation of top players that come after Tiger and Phil.
His generosity of spirit and cool demeanor will always give his teams a great advantage.
Senior golf writer for ESPN.com
Wrote for Sports Illustrated/Golf Magazine for 9 years
Played college golf at Florida A&M
THE PRESIDENTS CUP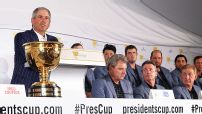 Yes, the U.S. won (again) at the Presidents Cup, but what could have been a Sunday spark simply fell flat. Bob Harig
PRESIDENTS CUP -- DAY 4
EDITORS' PICKS
Tiger acknowledged Rory's comments, laughed them off.
Harig »

Horschel showed he might be golf's next superstar.
Four-Ball »

Horschel's timing couldn't have been better -- and worse.
Harig »