Commentary
Garcia poised for Ryder Cup return
Originally Published:
September 24, 2012
By
Bob Harig
| ESPN.com
If golf were a team sport and the Ryder Cup a major championship, Sergio Garcia surely would have collected his share of big-time hardware.
That is how much he loves the team concept that comes around every two years at the Ryder Cup, and that is how successful he has been in the format.
Sergio's Success
Some of Sergio Garcia's wins came against more than one player. For example, Garcia and Luke Donald defeated Tiger Woods and Jim Furyk in Friday foursomes in 2006.
| | |
| --- | --- |
| Opponent | Garcia's record |
| Jim Furyk | 5-1-1 |
| Phil Mickelson | 4-0-0 |
| Steve Stricker | 0-0-1 |
| Tiger Woods | 3-1-0 |
Throw in this week's venue, Medinah Country Club, where Garcia scissor-kicked his way into the hearts and minds of golf fans 13 years ago at the PGA Championship, and you have the perfect place for his passion to again be on display.
Especially when you consider that just two years ago Garcia was so down, his game so poor, that he didn't come close to qualifying for the European team at Celtic Manor. And everyone understood when captain Colin Montgomerie didn't consider him for an at-large pick.
"It's great to be back on the Ryder Cup team," Garcia said. "It's been four years since I last played and it feels like it's been 10 or 12 years. I'm very excited about it, obviously. You know how much the Ryder Cup means to me. It's easy to guess what it means to me."
Well … everything.
Garcia, who joins his European teammates Monday for the start of the four-day buildup to the matches, attended his first Ryder Cup as a 15-year-old as part of the Junior Ryder Cup in 1995 at Oak Hill and was immediately taken by the experience.
"I remember the Wednesday, we went to the course, all of us juniors, and I said hi to Seve [Ballesteros] as he was practicing on the 12th hole," Garcia said. "I took a picture there. It was awesome to be there with him and the other players there.
"And when I saw the way the crowds … the energy the crowds give in that tournament, both the Americans and the Europeans, it was just a moment for me where there was no turning back."
Four years later, Garcia was a pro and on his first Ryder Cup team.
[+] Enlarge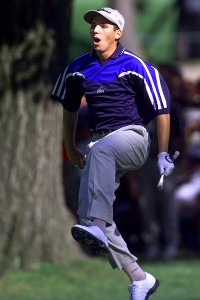 AP Photo/Michael S. GreenSergio Garcia literally jumped on to the golf scene after hitting his second shot on the 16th hole at the 1999 PGA Championship at Medinah. The Spaniard returns to the suburban Chicago course this week for the 39th Ryder Cup.
In five Ryder Cups, Garcia is 14-6-4 and the only European player on this year's team who has played in more is Lee Westwood. The Spaniard made his debut at The Country Club in 1999 at age 19, just more than a month after his exploits at the PGA, where he finished second to Tiger Woods.
And Garcia never looked more at home. The youngest to ever compete in the Ryder Cup, Garcia won 3½ out of a possible 5 points. Player after player will tell you just how excruciating the pressure is in a Ryder Cup, how nerves get the best of even the most seasoned of players. Garcia was 19 and loving every second of it.
"I remember watching it on TV," said England's Luke Donald, who has partnered with Garcia in four Ryder Cup matches and won them all. "He was playing with [Jesper] Parnevik and jumping around. He had even more energy. That's vintage Sergio in a way. We saw it in the PGA at Medinah. That was him as we knew him at his best. The Ryder Cup always seems to bring that passion out of him.
"He's just upbeat and energetic and lively. He's not going to let you get down on yourself. At times in his career, he's needed that himself on the golf course. But he really has that in abundance at the Ryder Cup."
Garcia certainly needed a boost two years ago. He seemingly lost his spark and desire to play, perhaps burdened by his major championship letdowns and expectations.
After winning The Players Championship in 2008, Garcia didn't win again on the PGA Tour until the Wyndham Championship last month. Things got so bad that he decided to take a long break from the game following the PGA in 2010, resurfacing only to help as an assistant captain for Europe that year at the Ryder Cup.
"It was great to be there in 2010, but at the same time it was hard," Garcia said. "You can only do so much as a vice captain. It was nice to be a part of it, but it was quite difficult to not be able to help as much as you wanted."
Ryder Cup Rosters
Now that both squads are filled out for the Sept. 28-30 matches at Medinah Country Club outside Chicago, see who made the respective Ryder Cup teams. U.S. team | European team

Garcia returned last year with a seemingly better outlook, and he showed some moxie by managing to qualify for the U.S. Open -- which kept alive his streak of consecutive majors played dating to the 1999 Open Championship. He went on to win twice on the European Tour, climbing well up in the Official World Golf Rankings after having fallen outside of the top 75. He now has 10 European Tour titles and eight on the PGA Tour.
But there have still been issues. Garcia, for all his promise after the close call at Medinah in '99, has never won a major championship despite 17 top-10 finishes, including nine top-5s. And earlier this year at the Masters, where he was in contention through 36 holes, he told Spanish media following a third-round 75 that he wasn't good enough to win a major.
"I don't have the thing I need to have," he said. A day later, asked if it was emotion getting the best of him, Garcia did not back off. "Everything," he said when discussing what was missing.
Garcia still finished tied for 12th at the Masters but didn't contend after that. He missed the cut at both the Open Championship and PGA Championship and had not assured himself a spot on the European Ryder Cup team until he came through with the victory at the Wyndham.
A week later, Garcia was in contention at The Barclays, where he tied for third, his spot on the European team already locked up.
Ryder Cup analysis

ESPN.com's Michael Collins will be tracking all 12 Sunday singles matches starting Sunday at noon ET.
"I'm delighted to see Sergio back on the team," said England's Lee Westwood, who has also partnered with Garcia seven times in the Ryder Cup, posting a 4-1-2 record. "He's been a stalwart of the European team and he's great in the team room, as well. He'll be an asset. He gets on well with pretty much everybody. It gives you options."
Garcia is glad to be going back to Medinah, but not because of what happened there in '99. It's about the Ryder Cup, and that happens to be the venue.
"The Ryder Cup doesn't need anything to make it better," Garcia said. "It's already way too good. It could be played on a putt-putt course and it would still be great."
SPONSORED HEADLINES
MORE GOLF HEADLINES
MOST SENT STORIES ON ESPN.COM
2012 RYDER CUP

A multitude of things needed to fall perfectly into place for Europe to match the greatest Ryder Cup comeback in history. With a little American help, that's exactly what transpired. Gene Wojciechowski
Championship Central
Date:
Sept. 28-30, 2012
2012 champion:
Europe, 14½-13½
Course:
Medinah Country Club
Where:
Medinah, Ill.
Rosters:
U.S.
|
Europe
Topics:
The Ryder Cup
--
ESPNChicago.com
MONDAY
SUNDAY
MORE RYDER CUP