Commentary
Bradley: 'Best day of my life' lifts U.S.
MEDINAH, Ill. -- The first-day M-V-P of Team U-S-A is a Ryder Cup rookie who plays like he gives Ray Lewis intensity lessons. So if you want to know why the Americans hold a comfortable lead going into Saturday's sessions, say hello to Keegan Bradley.
Or as the BBC radio host called him during Friday morning's broadcast, "Bradley Keegan."
The British -- and anyone else who watched the foursomes and four-ball play -- knew who Bradley was by the end of the day. He was the guy who stuck a very large needle into Team Europe's Ryder Cup balloon.
[+] Enlarge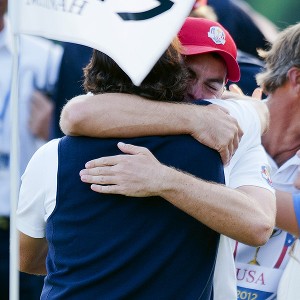 Jim Watson/AFP/Getty ImagesKeegan Bradley not only improved to 2-0-0 in his Ryder Cup career Friday, but he also helped teammate Phil Mickelson do something the nine-time Ryder Cup veteran has never done: win two matches on the opening day.
"It could be the best day of my life," Bradley gushed after teaming with Phil Mickelson to win their second match of the day.
Better than winning a major, which he did last year at the PGA Championship?
"Oh, baby, I wish I could go 36 more," he said.
Thing is, Bradley and Mickelson needed only 32 total holes to lock the previously unbeatable Luke Donald and Sergio Garcia (they had never lost a foursomes match) in a car trunk (4 and 3), followed by a four-ball win (2 and 1) over Team Europe's strongest pairing, world No. 1 Rory McIlroy and buddy Graeme McDowell. Bradley and "Lefty" still haven't seen the 18th hole.
Ryder Cup rookies aren't supposed to go 2-0. They're supposed to be overwhelmed by the moment. Their knees are supposed to slam together like cymbals.
Not Bradley. He looked like he had chugged 15 hours' worth of energy drinks. He spent the entire day man-hugging Lefty or fist-pumping to the crowd.
Even his caddie, Steve "Pepsi" Hale, couldn't contain himself. When Bradley closed out the morning match against Donald and Garcia with a 20-foot birdie putt on No. 15, Hale wildly waved the flagstick like he was trying to draw the attention of a passing jet headed to nearby O'Hare International Airport. It was nuts. It was over the top. But it was genuine.
"Having some fun?" I asked Bradley's dad, Mark, who was following his son inside the ropes.
"I know my kid is," he said.
"On a scale of 1 to 10, how jacked was he about playing in this thing?"
Ryder Cup analysis

ESPN.com's Michael Collins will be tracking all 12 Sunday singles matches starting Sunday at noon ET.
"Ten," he said. Pause. "Eleven."
Bradley wears his emotions on his sleeves, his hat, his pants, his socks. ... He played OK in the recent FedEx Cup playoff events, but his old man said "he couldn't get it out of his mind."
It. The Ryder Cup.
Bradley became a star Friday. It is one thing to win a major. It's another to do what he did in those first two sessions: arm wrestle the Ryder Cup pressure into submission, help defeat Team Europe's two strongest pairings and energize Mickelson, who had won exactly one team match since 2004.
There was a Bradley Halo Effect here. The 42-year-old Mickelson seemed to feed off the energy of the 26-year-old Bradley.
They were all-square through 11 holes against Donald and Garcia. And then Bradley and Mickelson unleashed the hounds and won the next four holes.
Against McIlroy and McDowell, they were 4 up after eight holes. The lead suffered some shrinkage down the stretch, but then Mickelson hit a 7-iron from the gods on the 185-yard, par-3 17th.
"Phil stepped up there, and without a doubt in my mind, it's the greatest shot I've ever seen," Bradley said.
The ball settled about 2 feet from the cup. End of match.
"He's just played so good all day, and it's just kept me up the whole time," Mickelson said. "It's been awesome."
Mickelson's two victories Friday match his entire win total of the previous two Ryder Cups. It's the first time in his nine-time Ryder Cup career that he's won two matches on the opening day.
Of course, a commentator from the Beeb cracked wise on Mickelson during the telecast, asking how Lefty had such a deep, rich tan, what with spending so much time in the Medinah trees.
"Ah, you know, we won, right?" Mickelson said, not taking the bait.
But Mickelson continued to dunk Bradley in praise.
"I think that it was a huge factor in my play," he said. "It was a really big deal because he's got such great, positive energy."
Bradley also has an edge to him. He looks like a guy who would take on six Teamsters in a dark alley. And do it wearing a sweater vest.
"He's got that weird eye," USA teammate Bubba Watson said of Bradley's habit of staring down a putt. "Still not sure what he's looking [at] when he does that -- scares the hole."
In four-ball play, Bradley had six birdies to Phil's three. But it was Mickelson who did the coffee-for-closer's thing on No. 17. Team effort.
There's a reason the Americans were so giddy after the first two sessions. Fridays and Team USA usually don't get along. In 10 of the previous 16 Ryder Cups, the Americans trailed after Friday's matches.
Now they're up 5-3. That doesn't mean this thing is over -- not even close -- but it beats how Team Europe is feeling right now.
Ryder Cup Rosters
Now that both squads are filled out for the Sept. 28-30 matches at Medinah Country Club outside Chicago, see who made the respective Ryder Cup teams. U.S. team | European team

"We've still got our backs against the wall, but two down after the first day -- it could have been worse," Lee Westwood said.
It couldn't have been any better for Bradley (and OK, maybe Team Europe's Nicolas Colsaerts, who single-handedly beat Tiger Woods and Steve Stricker in the afternoon four-ball). He had the day of his life. Now he'd like another.
"There's a really simple reason why Keegan is perfect for the Ryder Cup," Mickelson said, with Bradley nearby.
"Oh. ..." Bradley said, sighing.
"The more pressure the situation, the better he plays. ... And there's no more pressure situation, no higher-pressure situation than the Ryder Cup."
The pressure returns first thing Saturday morning. Bradley will be there. He and Mickelson play Westwood and Donald in the second match of foursomes.
The fist pump is ready.
Columnist / College Football reporter
ESPN.com senior national columnist
Joined ESPN in 1998
Author of "The Last Great Game"
SPONSORED HEADLINES
MORE GOLF HEADLINES
MOST SENT STORIES ON ESPN.COM
2012 RYDER CUP

A multitude of things needed to fall perfectly into place for Europe to match the greatest Ryder Cup comeback in history. With a little American help, that's exactly what transpired. Gene Wojciechowski
Championship Central
Date:
Sept. 28-30, 2012
2012 champion:
Europe, 14½-13½
Course:
Medinah Country Club
Where:
Medinah, Ill.
Rosters:
U.S.
|
Europe
Topics:
The Ryder Cup
--
ESPNChicago.com
MONDAY
SUNDAY
MORE RYDER CUP