ATLANTA -- Jordan Spieth will find himself in the final group on Saturday at the Tour Championship, that long-lost spot on the pairing sheet that has seemingly been so elusive. It's been all the way back to -- gulp -- last month since Spieth played his way into such a lofty position.
That was at the PGA Championship, you might recall, where Spieth was grouped with Jason Day at Whistling Straits, hoping to capture his third major title of the year.
But Day had other ideas, never allowing Spieth to get close, then going on his own run that has seen the Aussie take over the No. 1 ranking in the world.
Truth be told, Spieth got a bit irritated by the whole thing. Not at Day, whom he admires and likes. Simply the situation, and his inability to do anything about it.
"It can be tough to watch sometimes because you look up and there is only so much you can do,'' said Spieth, whose 4-under-par 66 at East Lake Golf Club was the best score of the day in the second round of the Tour Championship.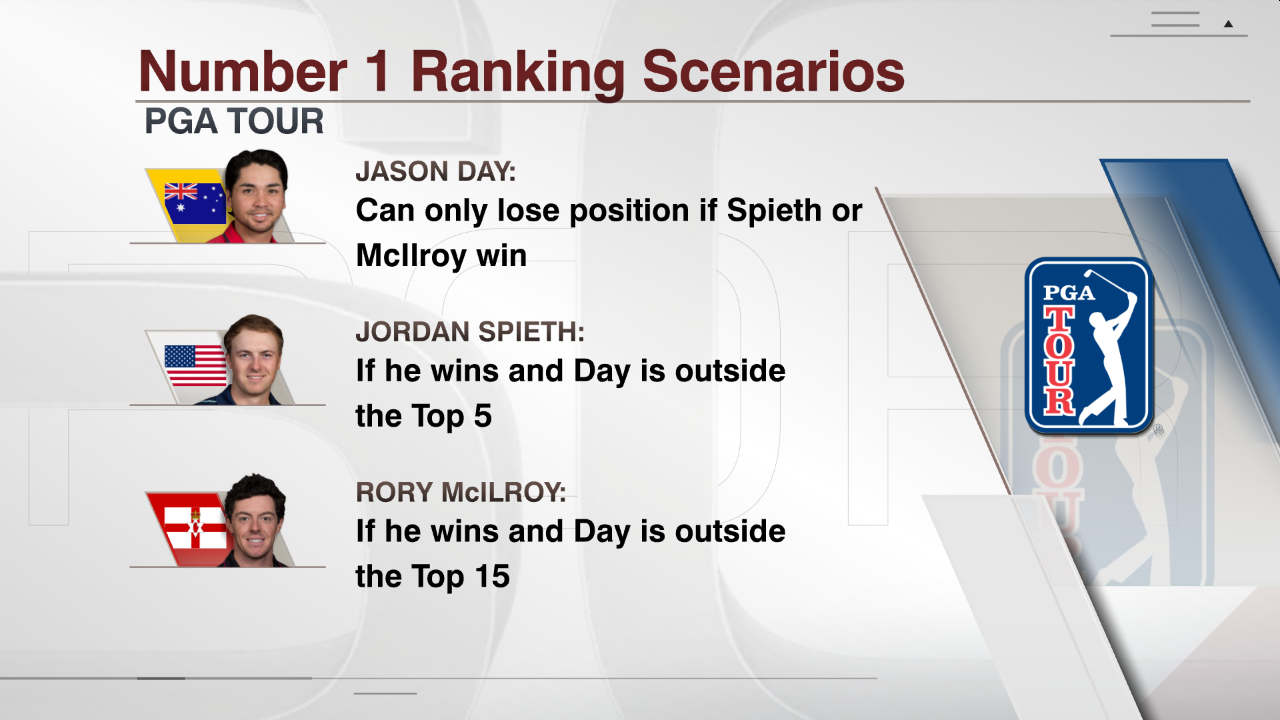 "I wasn't going to catch him last week. I say that now, but you tell me that at the time and I'll get mad at you. I don't accept that and that's my personality. This week is a little bit different because there isn't 22 under out there.''
That's what Day shot last week at the BMW Championship, winning for the fourth time since barely missing a playoff at The Open in July, including two victories during the FedEx Cup playoffs.
That win propelled him to the top of the world rankings for the first time and kept him in the lead of the FedEx Cup, where the points were reset heading into the final event at the Tour Championship.
Now Spieth finds himself in position to take the first prize, although he trails tournament leader Henrik Stenson by 3 strokes heading into the third round. Stenson, the 2013 FedEx champ, would also win the FedEx title with a victory here.
Day, meanwhile, finds himself 9 strokes back after a 1-over-par 71. It was just Day's second score over par in 30 rounds, dating to the final round of the U.S. Open.
"It is very difficult to shoot a score out there if you are not hitting the fairways,'' said Day, who is tied for ninth. "And I don't know, just a little flat I guess you would say. Not as sharp with the irons, not as sharp with the driver. Putts aren't quite going in the way they were over the last seven or eight tournaments.''
Spieth knows the feeling. After being there week after week, including his victories at the Masters and U.S. Open, followed by his tie for fourth at The Open and then finishing runner-up to Day at the PGA, his game fell off.
And some of it had to do with playing with Day so often.
Spieth was paired with Day during the first two rounds of the Barclays, where the Texan missed the cut; Day went on to win. They were grouped together for the first two rounds of the Deutsche Bank Championship, where Spieth again played only 36 holes.
Last week at the BMW Championship, they were again grouped in Rounds 1 and 2, with Day shooting 61-63 to Spieth's 65-66.
When Day started with two birdies on Thursday as they were paired together again at East Lake, Spieth said, "It would be weird if I ever saw this guy make a par.''
But after Day beat Spieth by a total of 30 shots over those six rounds together in the playoffs, Spieth finally got him by one on Thursday. They weren't grouped together Friday, when Spieth's 66 got him back to where he feels he belongs.
"I stayed mentally in it,'' said Spieth, who hit just nine greens in regulation but still managed to make four birdies, including one at the last hole. "That's what [caddie] Michael [Greller] mentioned today when we had just finished the round. He said, 'Mentally, that's the best round you've played in a while.'"
After the summer Spieth had, perhaps a bit of a letdown was inevitable. Spieth denies this was the case, but admits that perhaps there was some mental fatigue involved.
"But I'm not going to throw it to that because by the time I stand on the first tee, I've got plenty of adrenaline and excitement and I love competing, so it's still there,'' he said. "But I think the mistakes wear on me a little bit. They have worn on me a little quicker recently. Today it wasn't the case.
"In the past rounds I played with Jason, I mean he's 6 under at the turn and that's when it will really wear on you.''
It was hard for much to bother Spieth on Friday, not even the annoying rain that plagued players throughout the day. He handled it the best, and now has 36 holes to go in a season that will go down among the best ever regardless of what happens here.
And yet, you get the feeling that Spieth isn't satisfied.