NASSAU, Bahamas -- Before getting on the PGA Tour's private plane Wednesday morning to make the quick journey from St. Augustine, Florida, to the Bahamas, commissioner Tim Finchem got caught up on all the doom and gloom about the most important player of his 20-plus-year tenure.
Finchem made it a point to find Tiger Woods almost immediately upon arriving at Albany Golf Club, site of this week's Hero World Challenge, where the tournament host and five-time winner of the event will have to be a spectator.
"I kidded him because based on media reports I read before I came down here this morning, I thought he was actually dying,'' Finchem joked. "Tiger, you're supposed to be dead. I just saw him. He's alive.
"But he continues to go through these issues. Until the doctors release him to work on it, he's kind of powerless. And that's frustrating. I asked him if he can get in the water, because he loves to dive. He can't do that either. He's like any of us would be, he's going stir crazy. But I didn't really detect anything otherwise. He's sort of matter of fact about it.''
Finchem, 68, has seen purses skyrocket during his time in charge which began in 1994 -- two years before Woods turned pro. Most of the growth was attributed to the player who has won 79 times on the PGA Tour, including 14 major championships.
But while Finchem might have thought the reports of Woods' demise were overplayed, it was the golfer himself who fueled them. Five weeks after a third back procedure -- the second in six weeks -- Woods is not yet able to begin rehabilitation.
Far from that, he doesn't know when he'll be able to practice or play again.
"There is no timetable for this and that's been the hardest mindset adjustment is that I don't know,'' Woods said Tuesday. "So where is the light at the end of the tunnel?''
Now ranked 400th in the world coming off his worst season, Woods faces a good bit of doubt about his future. Meanwhile, his peers -- those who looked up to him, battled him, know him -- shared their concern while also voicing hope that this is not the end.
"It's tough to see,'' said No. 1-ranked Jordan Spieth, 22, who defends his title this week after a five-victory season that saw him win two major championships. "You just hope he gets healthy. I think now he really has his head around making sure that he takes his time getting back because he's still got a lot of good years ahead of him in my mind as long as he approaches it the right way.''
That appears to be a path of patience, one which Woods traditionally has not taken. But he has no choice this time, as a third surgery on his lower back has left him unable to do much beyond walking.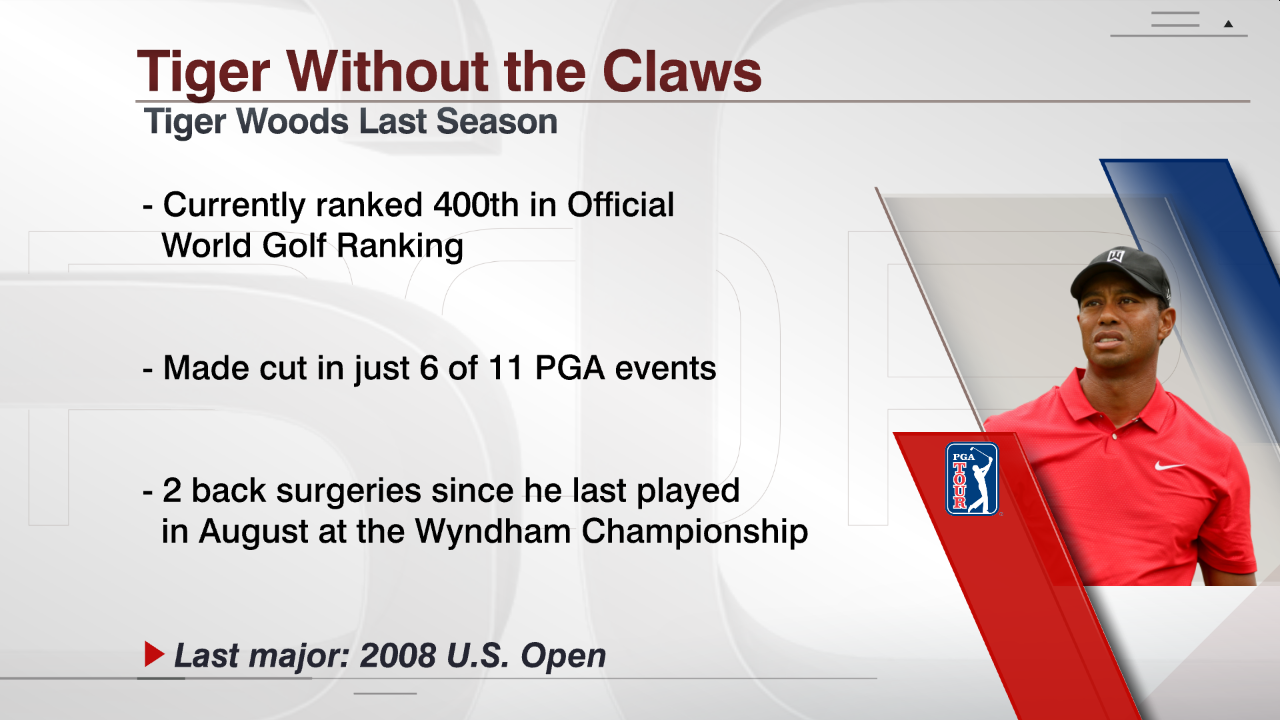 "You've got to hope that he comes back at a high level because we don't want Tiger checking out of the game any time soon,'' said Adam Scott, who first played with Woods in 2000 and got to know him at a time when they both worked with instructor Butch Harmon. "I feel so fortunate to have played practice rounds with Tiger at majors in the years 2000, 2001 and really see up close what is the best golf I've ever seen ... just head and shoulders above the rest.
"It's hard to explain to Jordan coming out now how he was just so much better than everyone at that point. We're all quick to forget that sometimes.''
Woods, who turns 40 on Dec. 30, has had myriad injuries in his career, but none that have affected him to the extent of the back problems. Since undergoing his first microdiscectomy on March 31, 2014, Woods has played in 15 events, missing six cuts and withdrawing from tournaments twice.
He missed three straight cuts this year at the major championships, but posted his best finish at the Wyndham Championship, a tie for 10th, in August. A few weeks later he was having surgery again, bringing all the unknowns about his future into play.
And it was a bit jarring to hear Woods say that anything he accomplishes after this "will be gravy'' -- suggesting that he is content with his career.
"We're all hoping for him to make a comeback, for him to get some more gravy,'' said Matt Kuchar, who as reigning U.S. Amateur champion played his first Masters alongside Woods -- the defending champion -- in 1998. "He's so great for the game. Certainly never put it past him. He's overcome some amazing obstacles. I look to what he did at Torrey Pines (where he won the 2008 U.S. Open on a broken leg.) I certainly hope to see him back and play well.''
Kuchar was scheduled to play with Woods in a team event in Mexico in October which Woods attended but did not play. "I had the sense he was into his rehab and was working on getting his body better,'' Kuchar said. "He seemed to almost enjoy the rehab and I felt sure he was going to get better because he approaches it with more vigor than anybody. I feel confident he will do whatever it takes to get back.''
Finchem, too, wants to see one of his star attractions playing again, but he's confident since others have stepped up. Spieth, Jason Day, Rory McIlroy and Rickie Fowler are just a few of the players to shine in Woods' absence.
"As I've said before, with Tiger being out, it does open a window to create new stars,'' Finchem said. "When Tiger's actively playing and winning, it's very difficult to do that, so we need to take advantage of that.''
None of those players are expected to go away. In the meantime, Woods waits to even begin the process of swinging a golf club -- a long, painful journey far removed from competing with the best.