Coming off one of the best years in golf, Jordan Spieth starts 2016 with a bang.
So it's time to break down Spieth's nearly flawless victory at the Hyundai Tournament of Champions and spin it forward after PGA Tour career win No. 7.
Our scribes weigh in on those topics and more in this week's edition of Monday Four-Ball.
1. How does Jordan Spieth's victory change your outlook for him in 2016?
SportsCenter anchor Jonathan Coachman: It completely changes my outlook. I thought Spieth would have a good year, but wouldn't win until the Masters. And watching almost every minute this weekend, I saw a new and improved world No. 1. Lydia Ko said on Monday she thought Spieth was playing from the yellow tees, he made it look so easy. I am now thinking a second-straight year of at least five wins and at least seven wins worldwide. His game is tight and is now starting to be intimidating because of a lack of mistakes.
ESPN.com senior golf analyst Michael Collins: Doesn't change my outlook at all. He's still going to win a major and should have four wins total by the end of the season. It is a bit disconcerting to know the past six guys to win the Hyundai Tournament of Champions didn't win another event the rest of their year.
ESPN.com senior golf writer Bob Harig: It doesn't. There was no reason to think he was going to fall off a Maui cliff. Spieth has a perfect attitude for such an event, where not every player was in form, but he was. The expectation remains that Spieth will be a frequent contender again in 2016.
ESPN.com senior golf writer Jason Sobel: I had some tweeters ask if I'd like a mulligan on my Rory McIlroy-for-POY selection -- we all took him, by the way -- but I'm not ready to change my mind based on a single event. Frankly, my expectations for Spieth were very high even before this win, and they'll remain high afterward. Nothing he does surprises me anymore. There are very few players about whom we can say that.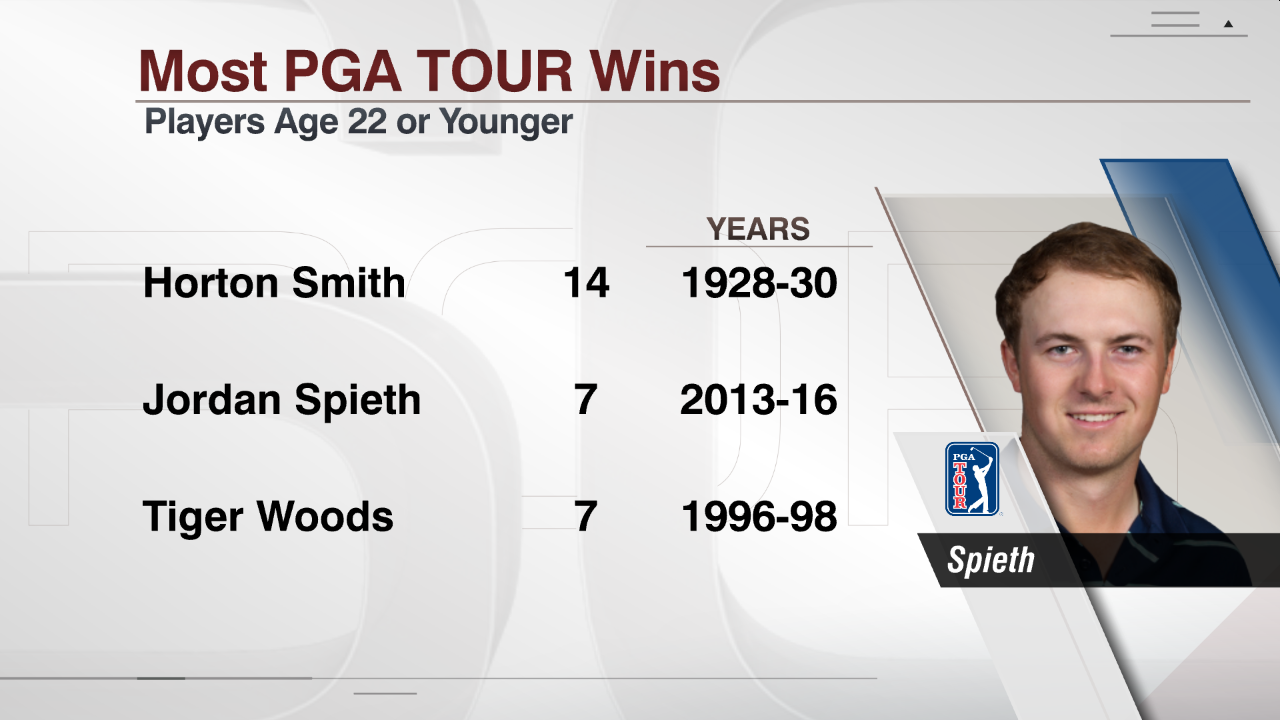 2. What was the most impressive part of Spieth's win?
Coachman: His short game. He had some incredibly hard up-and-downs, and almost every time he left himself with less than a 3 footer. And what's crazy is he has been off for a month. January is usually when players are just warming up. But because Spieth's short game is catching up with his putting, it will make bogeys few and far between.
Collins: Putting. Even though I know it's not true, Spieth makes it seem like anytime another player gets within shouting distance of him, a 40-foot birdie putt is going dead center. He seems to make more putts of more than 25 feet than anyone on tour.
Harig: Putting. It's hard to imagine anyone else making as many putts outside of 15 feet. And, of course, he makes his share of closer ones, too.
Sobel: As I wrote in my column, it was his attitude. Some big-name players (Tiger, Phil, Rory, etc.) have skipped the Hyundai TOC over the years; others use it as a working vacation. Spieth approached the week like it was a business trip. He'd still win tournaments based on talent and competitiveness, but I do think his attitude is a big reason why he's been so successful.
3. If Robert Allenby asked your advice, what would you advise him about returning to Honolulu this week for the Sony Open?
Coachman: Don't go out past 12. Hopefully this was a freak accident and it won't happy again. But if it were me, I would go to the course and then get food delivery to my hotel room. It should be a business trip and nothing more. And that advice stinks since Hawaii has so many things to do and places to eat outside of my hotel room.
Collins: Since his runner-up finish in 2010, Allenby's missed four of his past five cuts there. I'd tell him as soon as Christmas dinner was over, he should start preparing and maybe go to Hawaii a week early. No media unless you make the cut and get in contention. Most importantly -- room service all week!
Harig: To not return at all. Forget about playing in the Sony Open. Move on.
Sobel: I'd tell him: "I get it. You're playing on a one-time exemption and you might need every single dollar you earn in order to retain your PGA Tour card for next year. But there's no point in returning to the literal scene of the crime. Why dredge up those memories again? Take another week off, then head over to Palm Springs early and start your year there."
4. With the next Powerball drawing estimated at more than $1 billion, which PGA Tour pro buys the most tickets?
Coachman: Dustin Johnson. From what I hear, DJ loves to see how much the payouts are as soon as he is done. But hey, as much as he makes, most of the time I would probably be concerned for mine also. So it would make sense that DJ knocks down at the Powerball. If he wins, he would probably celebrate with a yawn.
Collins: Bubba Watson might buy a couple hundred tickets and if he wins, we'd only ever see him play golf at Augusta for the Masters and maybe three other events a year. He'd do a ton of charity work and be a stay-at-home dad doing reviews of high-end toys, i.e. hovercrafts.
Harig: Phil Mickelson. He doesn't need the money, but he's the gambling type.
Sobel: So we're basically asking to name a player with plenty of disposable income who likes a little wagering action every so often? I'm sure Phil Mickelson has room in his bank account for an extra 10 figures.