PALM BEACH GARDENS, Fla. -- The look suggested relief more than joy, the ceremony afterward more about a burden lifted than the trophy. That is the plight Adam Scott faces in a sport where defeat is suffered far more than victory is celebrated.
Scott won the Honda Classic on Sunday, outlasting Sergio Garcia as much as he beat him. The Aussie did what he needed to do, making just enough birdies to overcome the unavoidable mistakes at PGA National, a round of even-par 70 enough to secure his 12th PGA Tour title.
And at age 35, Scott proclaimed himself relevant again, a curious concept for a guy who was ranked No. 1 less than two years ago.
"Today it felt like a battle; it wasn't elation,'' said Scott, who won for the first time in 21 months. "At the end there was definitely a sense of relief and just satisfaction. Quite happy that it was over and I managed to hang on. It could have gone any way.''
It must seem like a lifetime ago that Scott won the 2014 Colonial, his long-stated goal of getting to No. 1 in the world confirmed. A week prior, while sitting at home, he ascended to that lofty perch having been in position for weeks. He finally got there with that playoff victory over Jason Dufner ... then didn't win again until Sunday. Anywhere.
Along the way he had to constantly answer questions about the impending anchored putter ban, no matter that he had won 18 worldwide titles prior to switching to a broomstick putter. He had to find a new caddie when the guy who helped him win the 2013 Masters, Steve Williams, decided to retire and then agreed to work just part-time.
And then life intervened. Scott's wife, Marie, had a baby just more than a year ago, and the golfer was in the midst of a long break from golf. He returned in March, rushing to find his game, and never quite hit his stride in 2015. On the PGA Tour, he had just three top-10 finishes. He let an excellent chance at The Open get away, and then world ranking began to slip.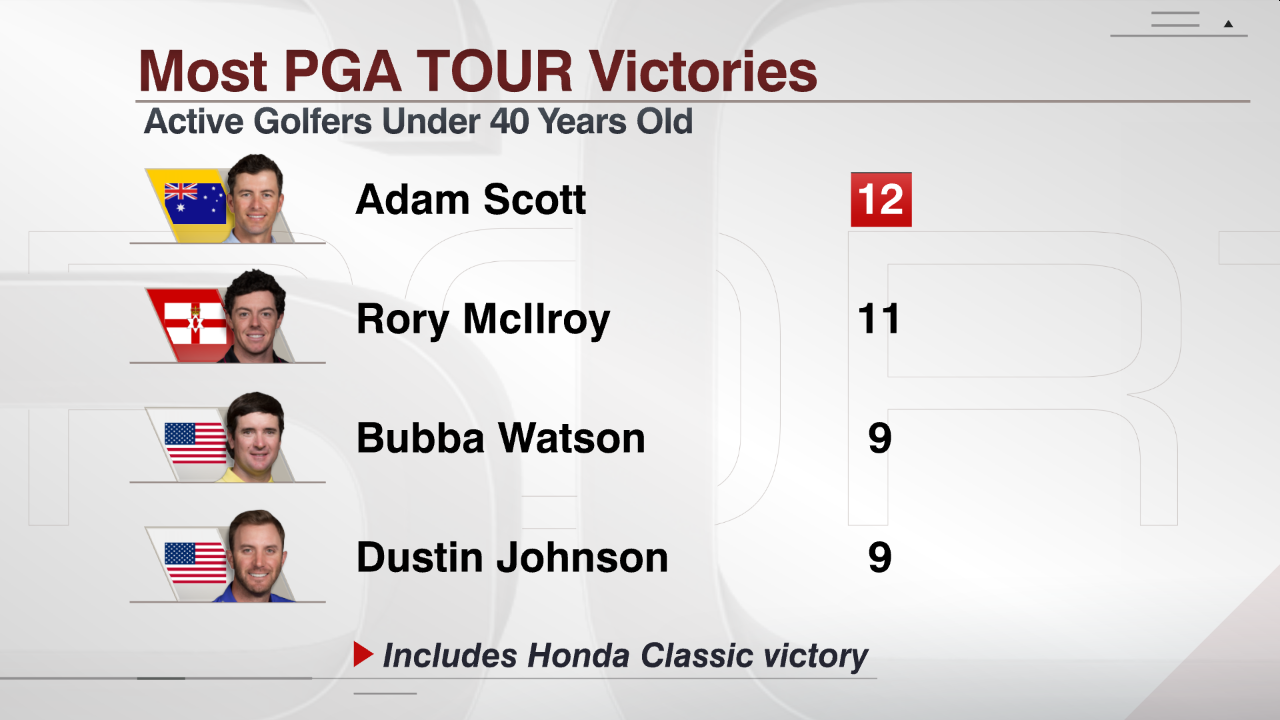 Meanwhile, his time at the top seemed a distant memory. As Scott fell down the rankings, Jordan Spieth and Jason Day dominated, and Rory McIlroy was there all along. Scott seemed so much like yesterday's news.
"I think everyone is guilty at some point of being pretty reactive to whatever happens, and time does pass quickly,'' Scott said. "If I came out at the back end of last year with the short putter and just had very mediocre results and no confidence and started really poorly this year, no confidence, I'd feel like I'm a long way behind that standard that was set.
"But it's amazing in a couple of weeks how quickly things turn around. I've played really well the last couple of week and a couple of those guys who were so outstanding last summer haven't played that great the last couple of weeks. You feel like the gap is really not that big at all. So you've got to keep some things in perspective and not get panicky.''
Indeed, Spieth missed the cut last week at the Northern Trust Open, McIlroy this week at PGA National. Day has not played much yet in 2016 and has been a bit quiet. All of them will be together this week in Miami for the WGC-Cadillac Championship, the first time in 2016 for all the top players to compete in the same event.
It was at the same tournament a year ago where Scott, fresh off the birth of his daughter, made his debut. He tied for fourth using a short putter, but then struggled from there, eventually switching back to the broom prior to the Masters.
Much will continue to be made of Scott's putting, as he became the most-cited example of a player who would struggle when the anchoring ban went into effect on Jan. 1.
But the truth is, Scott putted horribly last year with an anchored putter. He experimented with a short putter early in the year and would have been better off sticking with it. At the Presidents Cup in October, he began tinkering with a new stroke and has settled on a variation of the claw grip.
His putting is not at the top of the game -- he was 23rd in strokes gained putting for the week at the Honda Classic. The victory was more about the other areas, such as leading the field in greens in regulation (55 of 72) and finishing tied for 10th in fairways hit (39 of 56) on a wind-swept course with lots of danger.
"Adam played great,'' Garcia said. "I played with him the last two days. He played really, really good. Really solid. He just missed a couple of shots here and there and he deserved to win.''
Scott's round on Saturday will likely be overshadowed by the quadruple-bogey 7 he made on the 15th hole, turning what could have been an incredible round into what became a very good one.
He shot 66 with a quad, a remarkable feat if you break it down, as he was 8 under par for the other 17 holes. Scott became the first player in seven years and just the fourth on the PGA Tour since 1983 to win a tournament when playing a single hole in 4 over par.
That right there is an indication of how good his game is right now, and Scott is eager to get on with it.
"I know my window is much smaller than Jordan, Rory, Rickie [Fowler], Jason and a whole list of other good, young players,'' he said. "So I can't afford to sit back and just wait for it to happen. I've got to keep working on making it happen.''
Just a few weeks ago, Scott was ranked 19th in the world, his worst since the end of the 2010 season. Now he's ninth, a number that means far less than playing well.