DORAL, Fla. -- Months from now, when we review the year in golf and wonder how and when the axis of power once again tilted in favor of a freckle-faced throat-stomper named Rory McIlroy, we might consider the past two days as some sort of dynamic tipping point.
These weren't just two days of mercurial golf. The scorecard shows us that McIlroy played 36 holes in 11 under -- that's a dozen birdies against just a single bogey -- and the leaderboard confirms he's beating up on the field with a 3-shot advantage entering the final round of the WGC-Cadillac Championship.
Neither of those tangible checkpoints, though, can reveal the entire story.
It was during these two days that McIlroy's entire disposition changed. He stopped walking and started striding. He puffed out his chest just a little more. Even the tension in his face appeared lessened, despite the fact that he hadn't won anything. Not yet, at least.
Even with top-10 players Dustin Johnson and Adam Scott directly behind him on the leaderboard, you'd be hard pressed to find many observers here at Trump National Doral who don't believe Sunday's final round will turn into some sort of victory coronation for McIlroy.
That's as much about the way he's playing as the way he looks.
Everything about him right now is oozing confidence, which can often be the final piece to the puzzle for an elite player trying to find that extra gear.
Don't believe it? Just listen to Jason Day, who knows this look well. Six months ago, Day was wearing the look from one tournament to the next, more than doubling his career win total in a matter of one summer.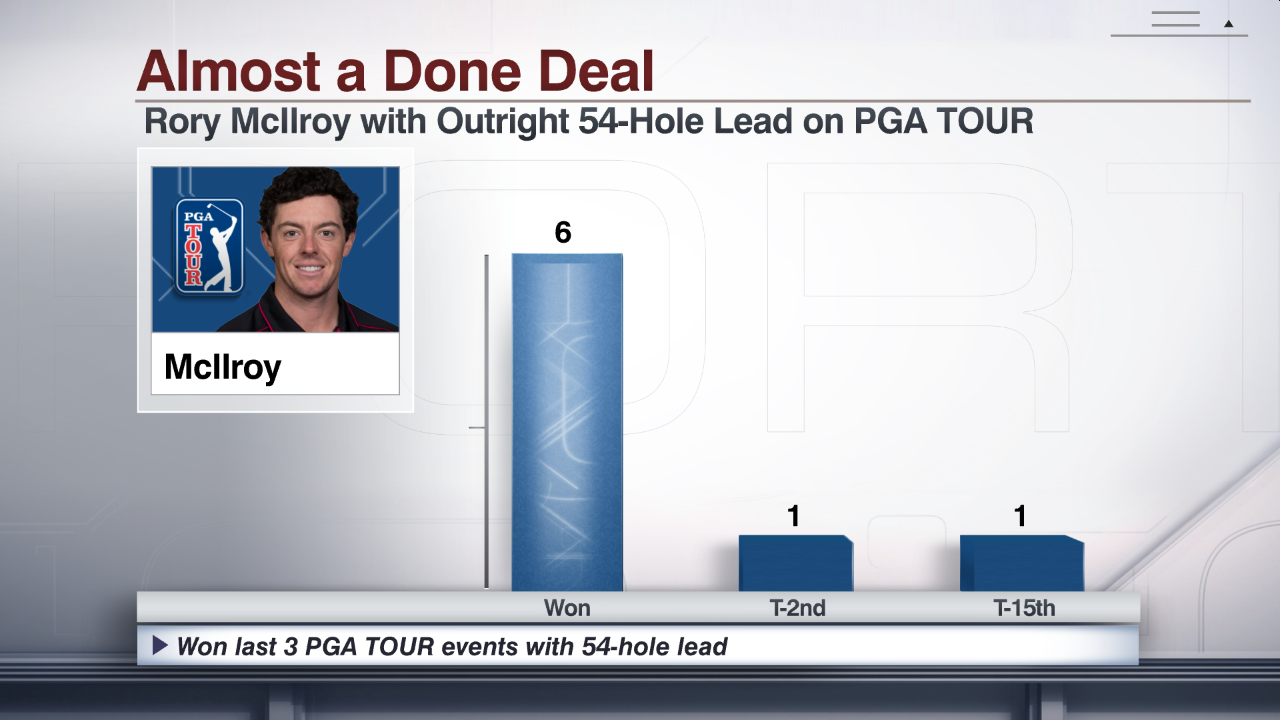 Before this week's tournament began, before McIlroy started striding around this venue with a similar look, Day spoke about being able to know it when he sees it.
"If there's, like, 144 guys on the range," he said, "I can walk up the range and say, 'OK, this guy wants it; it may not show right now, but he'll play well.' Because you can tell the way he walks, you can tell the way he's practicing, you can tell the way he's talking -- everything. He's motivated to play well compared to the other guys. So you can always tell."
You can tell right now with McIlroy, too.
After his third-round, bogey-free, 4-under 68, he was asked what could be construed as some sort of trick question: For you, does more confidence lead to better play or does better play lead to more confidence?
"That's sort of like the chicken and the egg," he said, laughing. "It's a hard one."
Then he got serious.
"I think better play has to lead to more confidence. I can gain confidence by hitting good shots on the range and your game feeling really good, but you really have to take it from the range on to the golf course and hit the shots when it matters and hole the putts when it matters, and that's what gives you the confidence.
"So playing a round like I did today, that gives me way more confidence than doing a really good two-hour practice session on the range. To go out there today when it really matters and do it, that's what gives you confidence."
That should also be a scary proposition for anyone trying to beat McIlroy in the final round -- or anywhere else in the impending future.
If playing well inspires confidence -- and confidence, in turn, leads to better play -- logic suggests this could be an endless cycle, continually leading to better performances.
Of course, this is golf -- which defies all logic -- and so the usual ebbs and flows of the game will impact McIlroy at some point. Perhaps this could happen as early as Sunday's final round; perhaps it will take months for the cycle to change course.
For now, McIlroy has the look again. It's the same look he owned during each of his four major championship titles, when he was performing better than every professional golfer in the world.
You can't see it on the leaderboard or his scorecard. You just have to watch him, striding his way around the golf course, chest puffed out a little more than before, oozing with confidence and seemingly gaining more of it by the day.