ORLANDO, Fla. -- Adam Scott hit only 10 of 18 greens in regulation during the opening round of the Arnold Palmer Invitational on Thursday morning. The average proximity to the hole of his approach shots was nearly 40 feet.
For a player with the world's prettiest golf swing, if not also its most productive, these are hardly the kind of numbers we've come to expect.
And so how did he assess his round in the immediate aftermath?
"I give myself an A for today's performance," said Scott, who finished the day in a five-way tie for second, a shot behind 18-hole leader Jason Day. "I didn't ball strike it like an A, but I played like an A."
That might sound like a contradiction, but there's a major difference between these two things -- one which Scott knows well.
Too often during the past few years he's demonstrated the opposite. There have been plenty of occasions when his ballstriking was an A, but he played like something less, his final score indicative of the rest of his game.
On Thursday Scott's swing was something less than perfect, but his overall performance didn't suffer. He successfully scrambled to get up and down eight times, including twice from bunkers; he needed just 24 putts for the entire round; and he didn't post a single bogey.
The result was a 5-under 67.
"I didn't play my best golf tee to green, but I chipped and putted really well today," he explained. "That's a nice feeling when you shoot as low as you possibly can."
Scott has been going low for a full month now. He finished out the West Coast swing as runner-up to Bubba Watson at the Northern Trust Open then promptly took Florida by storm, winning the Honda Classic and WGC-Cadillac Championship in back-to-back starts before taking a week off entering this event.
With a victory here at Bay Hill, Scott could become the first player since Rory McIlroy at the Open Championship, WGC-Bridgestone Invitational and PGA Championship two years ago to claim three consecutive PGA Tour titles.
All of which leads to a question: Is he keeping those previous two victories in the forefront of his mind this week to continue that momentum, or is he blocking them out and considering this a blank slate?
"I think I've kind of moved on from that now," he said. "I must say at Doral I was pretty pleased to win, and Honda I had a few flashbacks while I was there, because it had been a long time since I won on the PGA Tour. But I've had a whole week off to kind of digest what's happened and to make sure I came here just as hungry to win again and keep the form going and try and let this confidence snowball going into Augusta."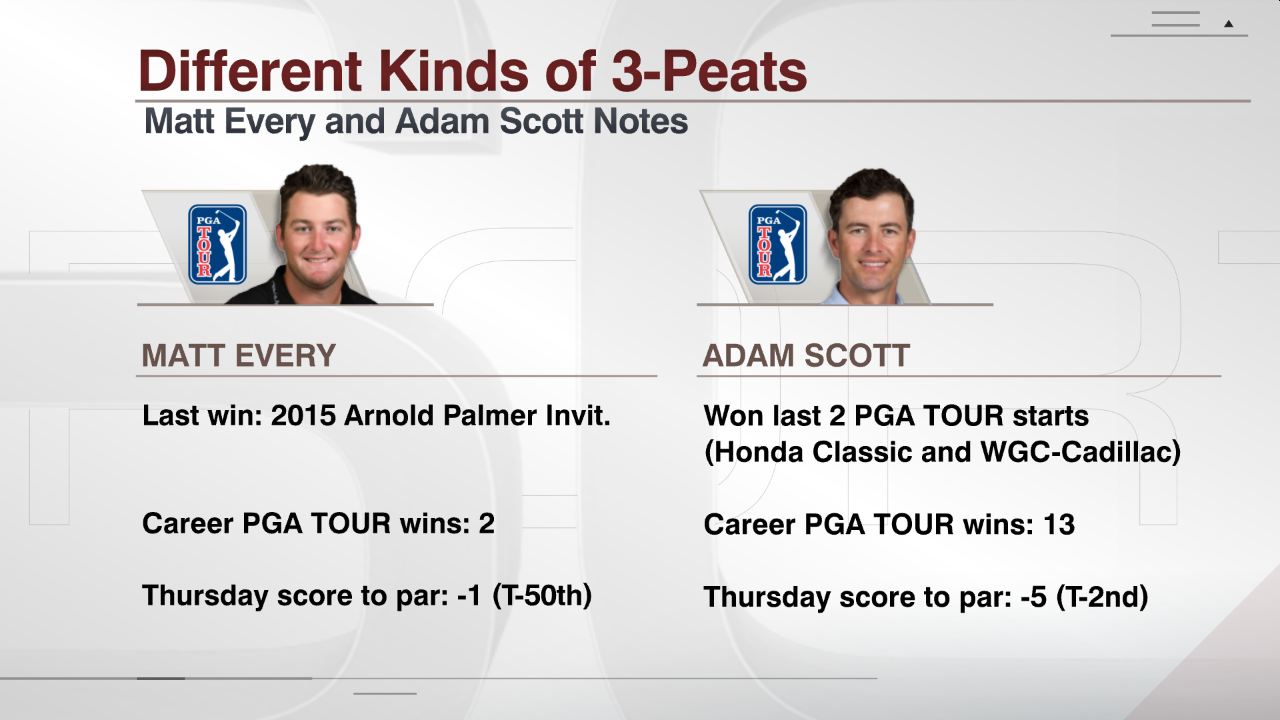 There might be no specific secret to chasing success with more success, but being able to win in more ways than one certainly doesn't hurt.
Scott has famously struggled with putting over the years, winning his Masters title while employing an anchored stroke. Many expected him to falter when that method was outlawed beginning this year.
Instead he's proved an ability to find the leaderboard with both his legendary ball-striking capabilities and a rejuvenated flatstick.
In the opening round, Scott's strokes gained putting ranked among the best in the field, picking up nearly three strokes on the greens against the field average. He wasn't exactly raining in long putts, but he did drop nine putts of at least 5 feet, including five of them to save par.
This is exactly what was missing from his game in the past.
Scott has always been an exquisite ballstriker, but if he was going to find success, there was only one way -- keep hitting it close to the hole.
In the past month, he's showing a proficiency to climb the leaderboard other ways, too.
And he understands the necessity of that.
"I'm going to have a lofty goal to achieve what I want in this game," he explained. "I'm going to have to be a great putter to win at tournaments."
So far, it's working.