ORLANDO, Fla. -- Jason Day held the lead after the first round of this week's Arnold Palmer Invitational. He continued to lead after the second round. And now, following the third round, he still leads.
That means three straight days of repeating his mantra about playing as a front-runner. Three days of saying the same thing, over and over, to the extent where he actually apologized for it on Saturday afternoon.
Patience and aggression. Patience and aggression. Patience and aggression.
"It's kind of getting old," he joked. "Everyone wants to beat my head from saying it."
At least he's repetitive for good reason.
Following a third-round, 2-under 70 in soggy conditions that gave him a 2-stroke advantage heading into Sunday, Day revealed exactly why he's taken to preaching these words -- both to himself on the golf course and publicly after his rounds.
It was Tiger Woods' suggestion.
There can be debate over whether Woods has been the greatest or most dominant or mentally toughest player the game has ever seen, but there remains little doubt about this: He is unequivocally the best closer of all time.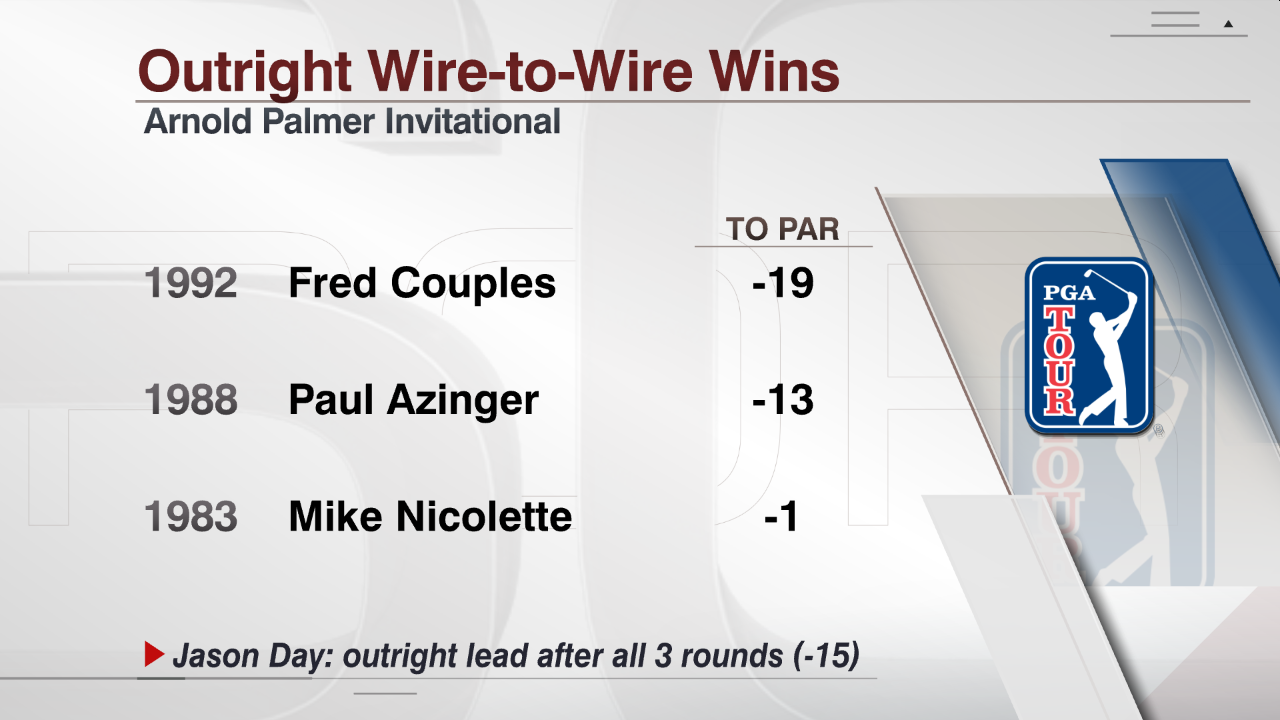 There's no better tournament at which to illustrate this point than the current one. Of Woods' eight career wins at Bay Hill, seven came with at least a share of the 54-hole lead.
So when he speaks about playing with a lead, you'd better listen, especially if you're Day, who often calls Woods for advice and recently spoke with him about this very topic.
"Patience and aggression is what he says," Day divulged after a round that included four birdies and two bogeys. "Extend the lead by one, two shots every day. And, pretty much, if it's not going your way, suck it up and just get it done somehow. That's just a typical Tiger Woods comment right there."
Day might not be a closer of Woods' stature just yet -- let's face it, nobody is -- but he's learning.
After starting his PGA Tour career 1-for-7 in converting 54-hole leads, each of Day's past three has been converted into a victory. He hasn't always considered himself a natural closer.
When asked what the difference is between him as a leader just a few years ago compared with today, he offered some brutal honesty.
"I probably would have choked," he admitted. "That's not to say I may choke in the future, as well. But that's just how it is."
For a player who so often struggled while in contention during his early years as a professional, rectifying this flaw in his game has been a major key toward maturing into one of the world's preeminent players.
That mantra borrowed from Woods -- patience and aggression -- might sound like an oxymoronic cliché, but Day understands the difference between them and how each balances out the other.
He also knows how much he'll need to keep reminding himself of these words during Sunday's final round.
"I've got to make sure that I'm aggressive when I'm comfortable and confident on my line, and when I'm not comfortable and confident, I got to take a little bit more extra leniency on where I need to aim," he said. "I know that there's still a lot of golf to be played, so I've just got to be patient."
Day hasn't just learned how to play with a lead. He's learned from the best.
Some players might be too hard-headed or too intimidated or simply just don't have the type of relationship with Woods in which they'd be comfortable seeking him out for advice.
With Day, though, who grew up idolizing Woods, he's become a dependable confidante and someone on whom he can lean for some tips, especially when it comes to one of his specialties.
To his credit, when Woods continually tells him about patience and aggression, Day listens.
"That's what you need to do to win golf tournaments, especially when you do have the lead," he explained. "That's what he's done around here and won so many times doing with that exact piece of advice that he's given me."
If Day is able to employ this advice and win again on Sunday afternoon, it won't just be another 54-hole lead conversion. It won't just be another sign that he's become more of a closer than a choker.
No, if he wins, it will be a Tiger-like win, right down to the patience and aggression, here on the very course where Woods turned converting leads to victories into an art form.